THE 2012 PREDICTION
IS BASED
ON OUR ABUSE OF NATURE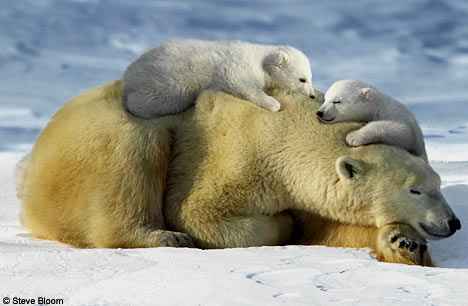 google image
AND HER LIVING THINGS
NATURE SCREAMS AT HUMAN BRUTALITY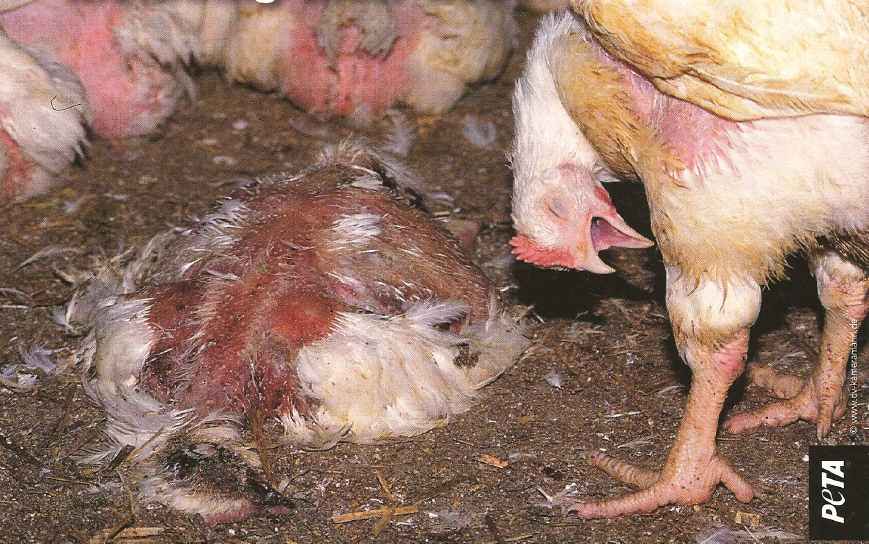 Picture from People For The Ethical Treatment Of Animals
---
Pacal Votan Who Predicted Dec. 21 2012
As The Time Of The Great Change Knew.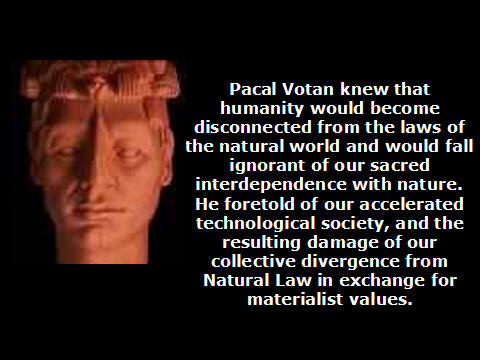 http://www.bibliotecapleyades.net/thot/esp_thot_1.htm
ABOVE: PACAL VOTAN KNEW THAT WE WOULD VIOLATE NATURE
FOR MATERIALISTIC VALUES
GREED CAUSES US TO TORTURE THOSE GOD HAS GIVEN US
He knew that greed would cause us to abuse nature.
Our bondage to the forces of profit at any cost would cause nature itself to correct the
course and end this torture being carried out against creation.
ISN'T THE PICTURE ABOVE PROOF OF WHAT PACAL VOTAN SAID?
And isn't our cruelty to animals, extended in our cruelty to one another, with our
bombings, and torture, and disregard for the poor, and the health of the sick?
OUR TORTURE OF THE ANIMALS THAT KEEP US ALIVE
HAS PLACED US ON THE BRINK OF DESTRUCTION
---
FACTORY FARMING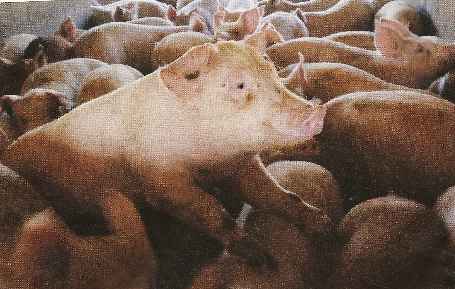 people for the ethical treatment of animals
WHY DO WE ALLOW TORTURE
OF THE ANIMALS
WE ARE GOING TO EAT?
I have often thought to myself, how the earth is a living being.
Not some plastic or inert object.
But a living thing from which life grows.
NATURE CRIES
AND WE TURN OUR BACK
And I thought of how nature could express itself in a meaningful way, so we could all see
her anguish , her suffering and horror concerning what humans have done to her.
Then I received a magazine from PETA.
People For The Ethical Treatment Of Animals.
And there was the picture which you see above.
ANIMALS TORTURED TO DEATH FOR OUR TABLE
A factory farming picture where chickens are treated in the most horrible way.
Where they are literally tortured to death for our dining pleasure.
This picture presented to me, a visible expression from nature as to what we are doing.
---
NATURE SCREAMS IN HORROR
BUT THERE IS NO ONE TO LISTEN
NO ONE TO CARE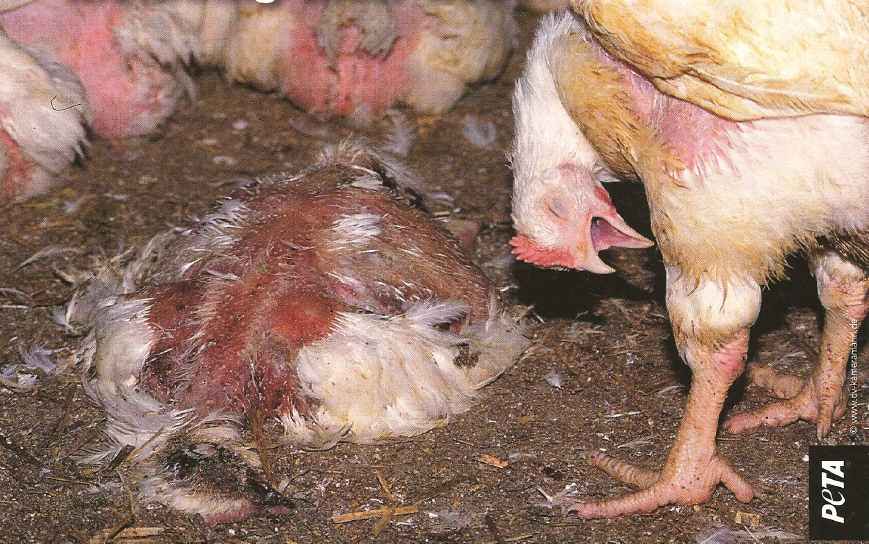 people for the ethical treatment of animals
AND YOU AND YOUR FAMILY
EAT THIS
---
THIS IS A CIVILIZED SOCIETY?
How can anyone think of themselves as civilized, and yet live in a culture that allows this.
WE GO TO CHURCH AND SING TO THE CREATOR
AND THEN TORTURE HIS CREATION
How can we file into church and sing songs to the creator and not understand what
the creator must feel towards us for what we have allowed to be done to creation?
BUT WE HAVE DOMINION OVER
THE ANIMALS
I had this picture on the internet and I received an e mail from someone saying,
God gave man dominion over the animals.
To have dominion over something means to have control.
DOMINION DOES NOT MEAN THE RIGHT TO TORTURE
It doesn't mean to torture, or abuse, or act inhumane.
The factory farms say that they can't afford to allow the animals to have humane conditions before they are killed.
They can't afford to allow them to graze outside.
This picture I believe answers that question.
---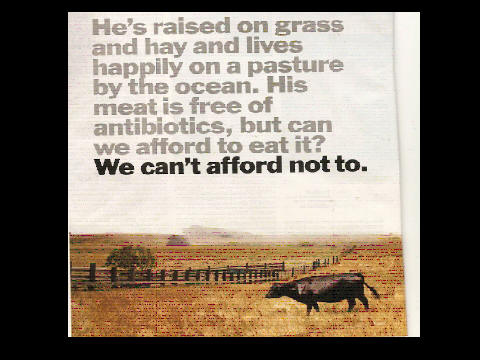 people for the ethical treatment of animals
ABOVE: WE CAN'T AFFORD NOT TO ACT CIVILIZED TOWARDS
THE ANIMALS BECAUSE WE ARE SETTING OURSELVES
UP FOR A PLAGUE
---
IS IT TOO LATE?
I don't know if its too late.
Maybe it is.
Time just continues to move in cycles of great change, and this period seems to
have generated a much harder, and faster life way.
It wasn't that long ago when the cows were in the pastures, the pigs were sloppin around
in the mud, the chickens were in the coops, or running around in the yard.
NOW WE JAM THE ANIMALS ON TOP OF ONE ANOTHER
But now it has become cement, steel, plastic.
The animals are jammed together.
Calves cannot turn around, chickens are jammed together in small cages.
Pigs are kept in steel cages where they cant move.
The animals have their babies ripped from them at birth.
---
WHERE DID THE ANIMALS GO?
It's strange but all of this just happened and we had no idea.
The chickens were gone from the yard and the coops, the cows
disappeared from the land.
Everything was placed in steel buildings that no one could see inside.
---
A FACTORY FARM
PICTURESQUE ON THE OUTSIDE
HORROR ON THE INSIDE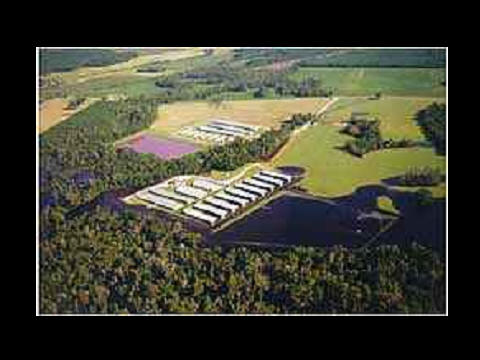 people for the ethical treatment of animals
ABOVE A FACTORY FARM
A LEGAL TORTURE CHAMBER
This is a typical factory farm.
The outside does not reveal the torture and horror going on inside.
FILTH AND HORROR HEADED FOR YOUR TABLE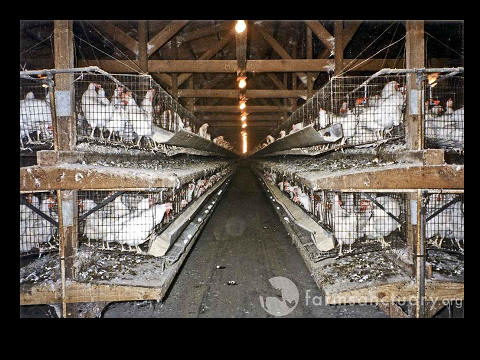 people for the ethical treatment of animals
THESE ANIMALS CANNOT MOVE AN INCH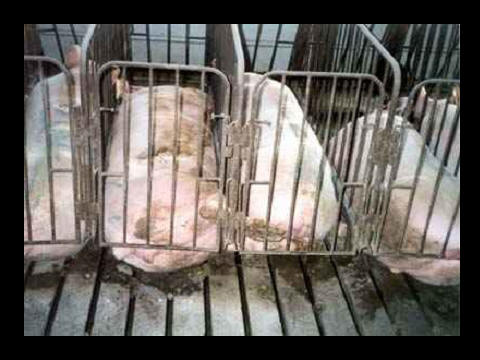 people for the ethical treatment of animals
ABOVE: IS IT ANY WONDER THAT NATURE IS STRIKING BACK?
THESE CALVES IN THE PICTURE BELOW HAVE THEIR HEADS
CHAINED TO THE WALL IN FRONT OF THEM
SO THEY CANNOT MOVE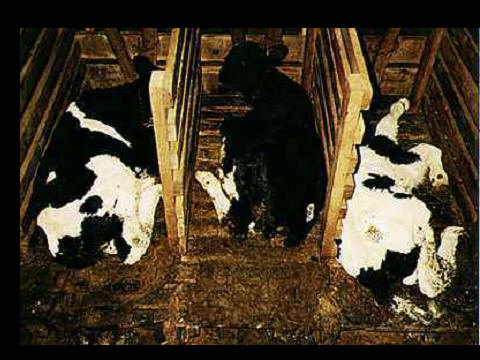 people for the ethical treatment of animals
ABOVE: DO WE DESERVE THIS BEAUTIFUL PLANET GOD HAS GIVEN US?
IN THE PICTURE BELOW A MOTHER IS FORCED TO FEED HER YOUNG
WITH CONCRETE AND STEEL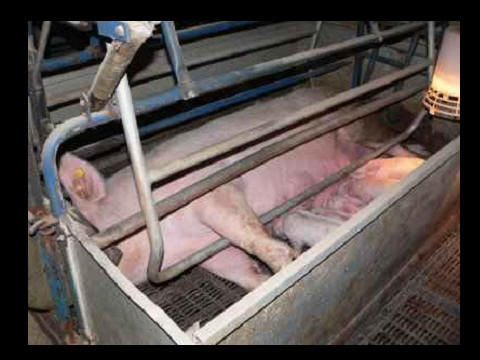 people for the ethical treatment of animals
BELOW: HOW DEPRAVED WE HAVE BECOME TO MAKE A BUCK
WHERE IS THIS MEAT HEADED
FROM THE DUMPSTER TO YOU?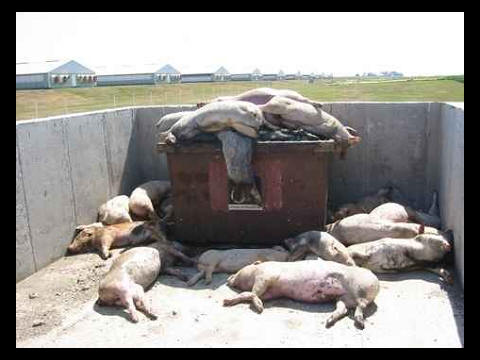 people for the ethical treatment of animals
ABOVE: YOU DON'T THINK THEY'RE GOING TO THROW IT AWAY
DO YOU?
WILL IT WIND UP ON YOUR TABLE
AND WILL YOU THANK GOD FOR IT BEFORE YOU EAT IT?
And who is going to buy these dead bodies.
A dog food company, or possibly someone else.
And where might they wind up.
On whose table.
---
WE GO TO CHURCH AND ACT LIKE
WE ARE CIVILIZED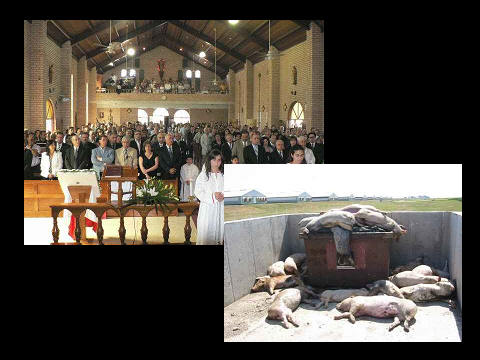 google image church--people for the ethical treatment of animals other
They all dress up for church, trying to save their soul.
They know these horrors go on but they never raise their voice.
They patronize those who commit the horrors.
IS THIS WHAT GOD REQUIRES OF US?
God through Jesus, seeks, mercy, compassion, kindness, a humane mind.
THEIR PRAYERS ARE IN THE DUMPSTER
The church group above does not realize that compassion is in the dumpster,
humane thought is in the dumpster, mercy is in the dumpster.
God is in the dumpster.
NOW GOD IS WARNING US THROUGH SCIENCE
AND IT MIGHT BE THE FINAL WARNING
---
SCIENTISTS AT JOHN HOPKINS UNIVERSITY
We read below from the scientists at John Hopkins what the inevitable result will be.
THE SLAUGHTER MAY BE TURNED UPON US
Millions of humans slaughtered by a virus that cannot be cured because of the
inhumane and terrible way we have treated the animals that provide our food.
---
THE WARNING FROM JOHN HOPKINS MEDICAL CENTER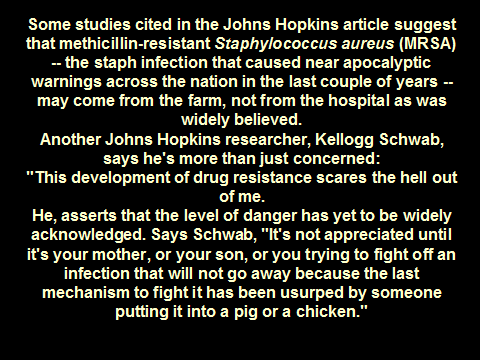 ABOVE: STAPH INFECTION MAY COME FROM THE FARM
WE MAY DIE OF INFECTION BECAUSE WE ARE EATING ANTIBIOTICS
---
CONSIDER THE PROPHECY OF PACAL VOTAN
TOGETHER WITH THE JOHN HOPKINS REPORT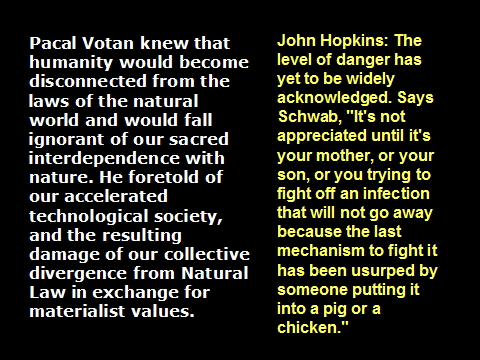 READ ABOVE: PACAL VOTAN LEFT, JOHN HOPKINS UNIVERSITY RIGHT
Saying the same thing.
Our abuse of nature will cause severe problems for ourselves.
By abusing animals, we abuse creation, we abuse God.
---
GOD SPEAKS TO THE ANIMALS
BUT NOT TO HUMANS
When the Tsunami occurred in Thailand in 2004, planes flying over the scene of
thousands of dead human bodies noticed that no wild animals had been killed.
GOD TOLD THE ANIMALS TO GO TO HIGHER GROUND
GOD DID NOT TELL THE HUMANS
EVEN THE RELIGIOUS ONES
The wild animals knew the Tsunami was coming, and went to the high ground
and were not hurt.
Was it God who told them to flee and yet did not tell the thousands of people who
went to church and prayed and did good things.
They all died.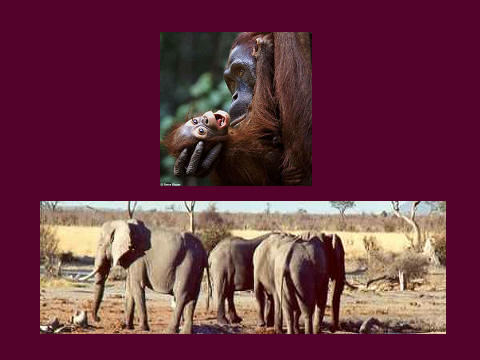 google images
---
PIER 39 "SAN FRANCISCO"
Pier 39 in San Francisco.
A tourist attraction for over 20 years.
Sea lions have congregating on Pier 39 and have been a very important
tourist attraction in San Francisco.
Suddenly in one day, every one of them had left.
PIER 39 BEFORE AND AFTER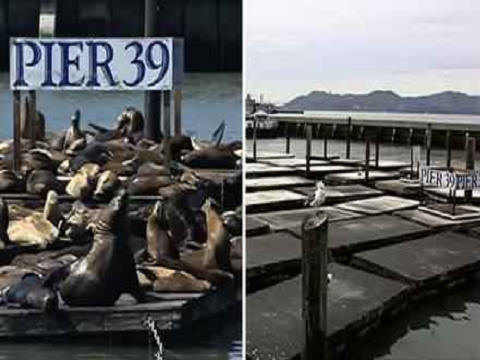 google images
A couple of weeks after they left, there was a 6.5 quake off the coast of California.
THEY WERE AWARE OF WHAT WAS COMING
Could those sea lions have known of the impending earthquake in Haiti?
Oh you say, that is too far away.
Would it make a difference?
Would not an impending catastrophe vibrate throughout the entire electrical systems
of nature and possibly cause them to move on for whatever reason.
---
AND THEN THERE IS OSCAR THE CAT
He wandered into a Nursing Home in Rhode Island.
HE MAKES ROUNDS IN A NURSING HOME
JUST LIKE A DOCTOR
He makes rounds daily and he knows when a person is about to die within 3 hours.
He jumps into the bed with that person and remains with them until they pass over.
Here is Oscar making his rounds.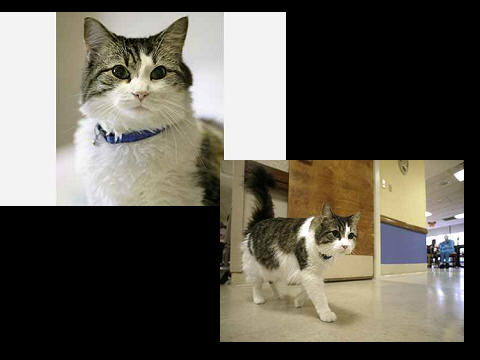 google images
THE STATE GAVE HIM AN AWARD
FOR THE CARE HE GAVE THE PATIENTS
Oscar received an award from the state of Rhode Island for his service.
The nursing home administrator said that Oscar was more accurate then any human.
NO MINISTER, PRIEST, OR RABBI, KNOWS WHAT OSCAR KNOWS
Now wouldn't it seem strange that God would allow a cat to be more understanding
concerning the nature of death then a religious person?
TO GET HEALED DON'T HAVE A CHRISTIAN LAYS HANDS ON YOU
GET A CAT TO LAY PAWS ON YOU
You could call a priest, or a minister, or a Rabbi and none of them would be able
to assist the dying person in the transition to another life dimension like a stray cat.
There is also something strange connected to a cat as it applies to human healing.
---
Alison McCook
B.S in Biology McGill University, M.A. in science and environmental
reporting, New York University
A purring cat is not necessarily a happy one.
Many species including cheetahs and some lions also purr when wounded or anxious.
Some researchers speculate that this lovely rumble may serve a function to
heal fractures, and strengthen bones.
In an as yet unpublished study from the Research Institute in Hillsborough North Carolina,
investigators determined that the frequency at which many cats purr, between 27 and
44 hertz for house cats, matches the frequency that seems to help human bones
strengthen and grow.
If correct the theory may explain why cats heal so quickly after injury.
---
THE ANIMAL PHOTON
WHO TALKS TO THE ANIMALS
BESIDES DR. DOOLITTLE?
We have animals knowing a tsunami is coming, animals knowing an earthquake
is coming, animals knowing death is coming, and animal sounds that are on the same
frequency that effects healing.
There appears to be active in animals something that is invisible to us, but directly
connected to what we call God, or nature.
A PHOTON PERSON RESIDES INSIDE OF AN ANIMAL
There is a person inside of an animal.
An electronic person.
Ask yourself, who or what is communicating with this cat that someone is going to die?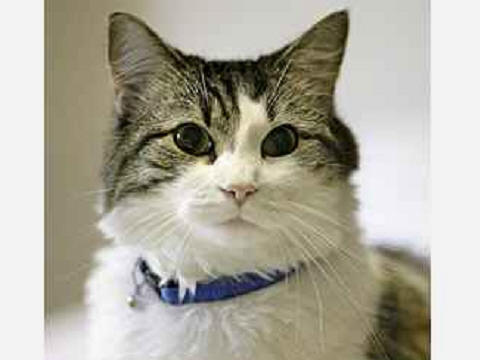 google image
THE INVISIBLE ONE TELLS HIM
BUT DOES NOT TELL HUMANS
There is something that is invisible that communicates with animals that does
not communicate with humans.
They know what to do in advance, as humans run around in confusion.
YOU MAY SAY IT'S INSTINCT
Oh yes it's instinct, but instinct that humans don't have.
INSTINCT IS INTELLIGENCE THAT THEY HAVE
BUT WE DO NOT
But instinct is intelligent.
IT IS PROGRAMMED BY GOD
It is programmed by a higher source.
Animals have it.
Humans do not.
And yet instead of watching them, and understanding them:
Instead of reverencing them for keeping us alive.
WHAT DO WE DO TO THOSE THAT GOD SPEAKS TO
We abuse and torture them in factory farming, and by abusing nature.
WE GO TO CHURCH AND THEY DON'T
BUT GOD SPEAKS TO THEM, AND NOT US
-------------------------------------------------------------------------------------------------------------------------------------
YOUR DONATION
TO HELP KEEP
HIDDEN MEANINGS GOING
nowisthetimef If you could help us with this work we would really
be grateful.
CLICK HERE
INDEX
| | |
| --- | --- |
| | |
| Johns Hopkins University | Kellogg Schwab |
| McGil University | Alison Cook |
| People For The Ethical Treatment Of Animals | |
| Research Institute Hillsborough North Carolina | |