THE UNIVERSE OF LAW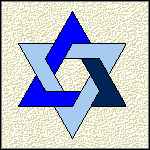 THE PERFECTION OF THE INVISIBLE
PACAL VOTAN WAS
PART OF THE EMERALD UFO FORCE THAT
CAME FROM PREHISTORIC EGYPT TO SOUTH
AMERICA
Pacal Votan Made The Prediction About December 21 2012
He Did So In 600AD
He said trouble would come upon the earth as a result of our losing
our interconnectedness with nature, because of greed.
Here is proof he was right.
---
FACTORY FARMING
Huffington Post
At a hearing of a House Energy and Commerce subcommittee on
Wednesday, July 14, 2010, a representative of the United States
Department of Agriculture (USDA) finally caught up with the rest of the world --
and his peers at the Food and Drug Administration (FDA) and
Center for Disease Control and Prevention (CDC) --
and admitted that the use of antibiotics in farm animal feed is contributing
to the growing problem of deadly antibiotic resistance in America.
Dr. John Clifford, Deputy Administrator for Veterinary Services for the USDA's
Animal and Plant Health Inspection Service (APHIS) read from his previously
submitted testimony that the USDA believes it is likely that U.S. use of antibiotics
in animal agriculture does lead to some cases of resistance in humans and the animals.
---
OPEN YOUR MIND?
from crystalinks.com
Part 7 Of The Emerald Tablet
Listen to my voice
Open your mind-space and drink of my wisdom.
In those two lines may lie a most important obstruction to the ability
of human beings to find wisdom.
Note the command to open your mind.
That means to sever your allegiance to tradition, to church, to government,
to everything you have been taught by the system.
Who will be willing to do that?
Open your mind in meditation by separating from the thoughts
of the left side.
But if you open your mind, you become alien to your church, your family,
your tradition. With them you must keep a closed mind.
---
HAVE WE BEEN TAUGHT INCORRECTLY?
Could it be possible that all of the things we have been taught
hroughout our life were wrong?
Could that be possible?
What did Jesus say in the scripture?
Matthew 15:6 You have made the commandment of God of
no effect by your tradition.
Our heritage, our way of life, our religion, our families, it is all
based on tradition.
But is it wise?
Can you look around at the world, its wars, its poverty, its sickness,
and it's neglect of so many, and declare that it has been wise?
Is the present condition of the world, the way it would have been if we
were in harmony with nature and with God?
---
PETER RUSSELL AND THE OMEGA POINT
If you will recall, some weeks ago, I shared with you comments of
Peter Russell who had written in some sections of a new book on 2012.
Peter Russell talked about life reaching the Omega Point, the Zero Point.
Are we the creations, of what we had created?
The point where our creations begin to create us.
The point where our creations begin to be destructive to nature.
When we think of the Emerald Tablet 7 saying drink in my wisdom, it is
interesting to look at what Peter Russell had to say about that.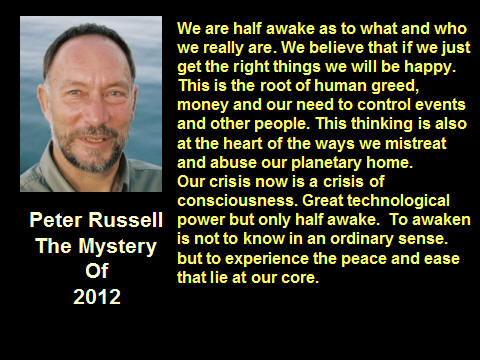 READ ABOVE: Peter Russell says we are only half awake.
We are awake only to what we can get.
This causes us to mistreat nature. We have a crisis of consciousness.
To awaken we must flow with nature at our core.
---
EMERALD 7 SAYS DRINK IN MY WISDOM
BUT WE HAVE NOT
When we consider the great destruction we have brought upon the
earth, it should become clear that though we have evolved in great
knowledge, we have not evolved with great wisdom.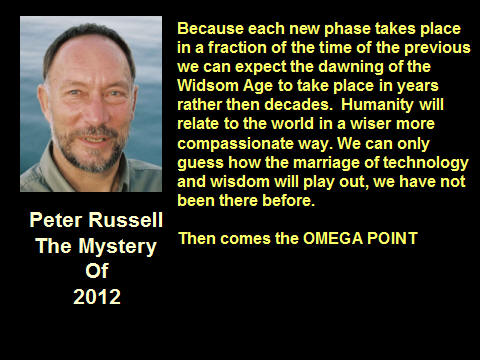 READ ABOVE: A new phase in evolution comes upon us.
We can expect the dawning of a wisdom age.
The mind will be redirected to a more wiser and compassionate
direction. It will be a marriage of technology and wisdom which has
not existed before.
KNOWLEDGE MARRIES WISDOM
---
THEN COMES THE OMEGA POINT
Then comes the Omega Point,
When comes the Omega Point?
It comes when the marriage of technology with wisdom takes place.
We Take What We Need But With Respect
In other words we revert back to the doctrines of the early American
Indians. We take only what we need and we treat what we take with
great respect .
Notice how he says the marriage of technology and wisdom is
something that has not happened before.
But it must or our use of technology only for profit and greed will
cause us as a race to self destruct.
And so the 7th Emerald Tablet Opens this way.
---
DRINK OF MY WISDOM
from crystalinks.com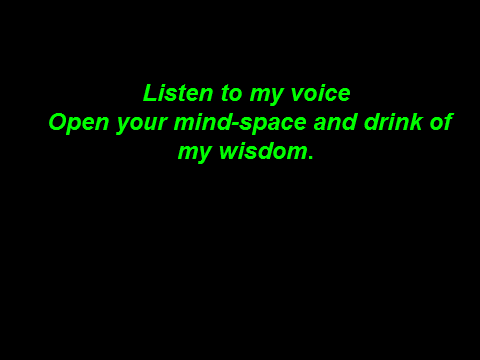 READ ABOVE: Drink in wisdom, but only if it agrees with our
particular groups version of wisdom.
And that is terribly difficult for you to do, because in spite of the
great amount of destruction religion has brought to the world, we
feel so trapped by its traditions within our families.
Even though we know the ruination it has produced, we march into
its buildings once a week and deposit our brains, and our money.
But You Do Have A Choice
You are in the midst of chaos upon the earth, and you have a choice
for you and your family.
To continue with the lunacy that has brought such trouble to the
earth, or drink in the Emerald Wisdom.
---
DARK IS THE PATHWAY THAT WE TRAVEL
from crystalinks.com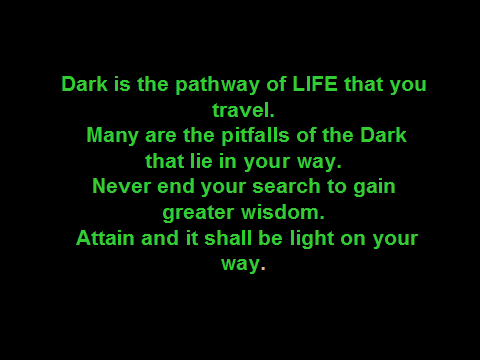 READ ABOVE: The Emerald says, the pathway of life is dark with
many pitfalls. But if you search for wisdom, it shall be a light to you.
I would add that the wisdom you seek is within you.
This is from a UFO fleet commander of 26,000 years ago and the
point that is made is something you know is absolutely true.
You Never Know From Day To Day
The pathway of life is dark and there are many pitfalls. You never
know from day to day what obstacle will suddenly loom in your path.
And for this reason the emerald says that you have to seek for
greater wisdom and when you attain it , it shall light your way.
---
THE WAY OF THE INNER LIGHT
Taking that instruction, you can go to the Biblical words of Jesus
and find just exactly how you can search for an attain that wisdom.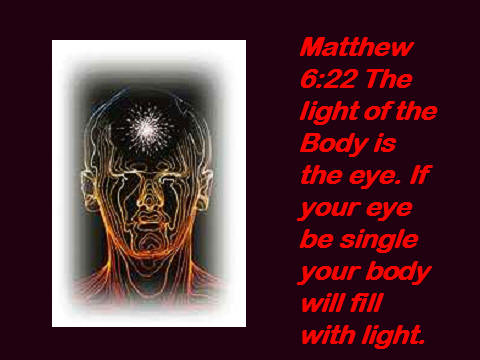 The Emerald tells you to fill with light, and Jesus tells you how to fill
with light.
If your eye be single, if you stimulate the pineal gland in meditation,
the melatonin which is the light carrier of the body will flow and fill
you with light.
So now you know how to fulfill the command of the UFO fleet
commander of 26,000 years ago.
You know how, but getting you to do it is another thing.
Let us go back to the 7th Emerald Tablet.
---
OPEN YOUR SOUL TO THE COSMIC
from crystalinks.com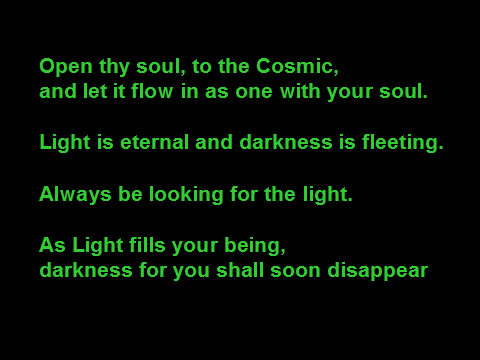 READ ABOVE : The Emerald says that your soul must flow in
harmony with the soul of the cosmos. The two must be one. As the
light fills you , darkness will soon disappear.
WHAT IS YOUR SOUL?
Open your soul.
What is your soul?
Your soul is photon, electron
As you stimulate the electrons in the pineal gland of your brain you
will absorb the photons.
By absorbing the photons you are absorbing the light.
Light is eternal because light is God.
DARKNESS COMES AND GOES
Darkness comes and goes and you know that in your everyday life.
Always be looking for the light.
That is why Jesus says, seek first the kingdom of god and then goes
on to show you that that kingdom is within you.
As Jesus said, if your eye be single( if you stimulate the pineal
gland), your whole body shall fill with light.
You heard it from the Emerald Tablet 7 and you heard it from Jesus
in the Bible.
---
THE BROTHERS OF BRIGHTNESS
from crystalinks.com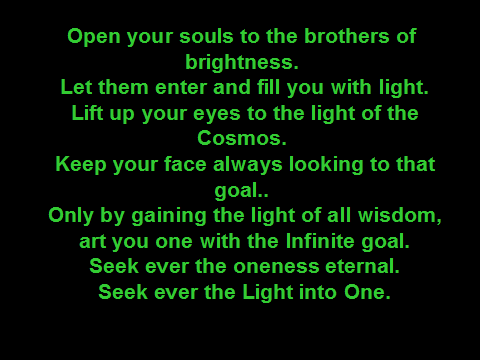 READ ABOVE: The Emerald said to let the brothers of brightness
enter within you and fill you with light.
Look up to the cosmos. Become one with the light. I would add. Keep
in mind. The Brothers of Brightness are photon.
WHO ARE THE BROTHERS OF BRIGHTNESS?
Think for a moment, what could the Emerald mean by the brothers of
brightness.?
Could it be the particles of light.
The photons?
---
AN ANGLE OF LIGHT IS AN ANGEL OF LIGHT
THE MESSENGER IS THERE BUT DIFFERENT THEN YOU HAVE
BEEN TAUGHT
We have been taught that they are God's messengers, angels of
light.
Scientifically , the photon is light defined as a
messengerparticle,and due to gravity as it passes other celestial
bodies, it enters the earth on an angle.
So, in reality, God's messengers are angles of light.
In religion they are called Angels of light.
The words angle and angel derive from one another.
---
SCIENTIFICALLY YOU CAN ABSORB GOD'S
ANGLE/ANGEL OF LIGHT.
When you follow the way to absorb this light, it will deliver
the message by arching between the synapses of your brain,
becoming an Archangel.
This is not religion, or spirit. It's scientific reality.
But how can we consider the photon or angle of light as the brother
of brightness.?
Is this a brother of brightness?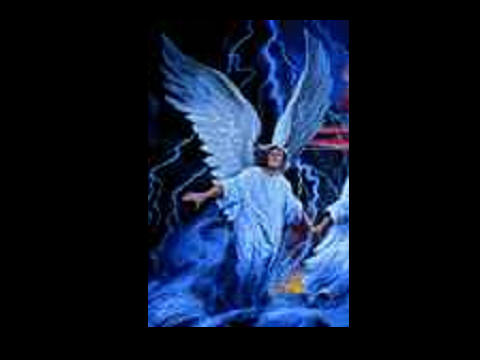 Yes its a brother of brightness all right, but its not a he, and its not a
she. It does not have wings, it doesn't wear a robe.
In fact it doesn't have a body because it is photon.
---
IDENTIFYING OURSELVES
This is the most serious problem in understanding life
and our place in it.
We simply do not understand who or what we are.
We cling to the physical body.
We identify each other by our physical appearance.
We die and go away, and we who remain cling to a hope of a
reunification with those who have passed on.
---
WE HAVE BEEN TAUGHT SUPERSTITIONS
All of this misunderstanding comes to us from the teachings of
superstitions in religion, born out of a period of history called the
dark ages.
What I am going to propose to you is that in order for you to
understand your true family and friends etc, you must abandon all
concentration on physical bodies.
UNDERSTAND THAT WHICH IS IMPORTANT
AND THAT WHICH IS NOT
What is more important.
The car or the person driving the car?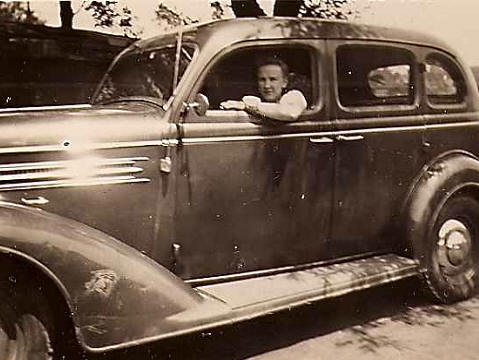 That's an old car.
That car's going to die.
But what about the person in it?
Will the person die when the car dies. Of course not.
That person will simply get another car.
Say you stop to get gas.
Does the attendant ask you how much gas you want,
or does he ask your car?
---
WE HAVE FAILED TO UNDERSTAND REALITY
This is where we have totally failed to understand reality and the
nature of life.
Because of the false teachings of religion, we are convinced that we
are the car.
Religion taught us not that we are the driver of the car which is the
body.
Religion taught us we are the car.
YOUR BODY BREAKS DOWN LIKE YOUR CAR BREAKS DOWN
Your body is a car.
You operate it. It breaks down.
You take it to the service station which in this case is the doctor or
hospital.
Finally it totally breaks down and has to be carted off to the junk
yard.
They do not take you with it.
---
ARE THESE BODIES OR PERSONS, OR BOTH?
When you look at a picture of people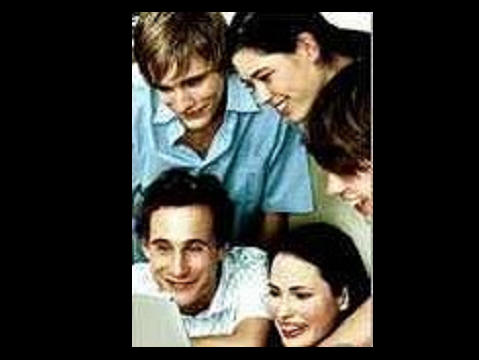 Here's a group of five people looking at something on a computer.
But let's not see physical bodies. Let's see who is really there using
bodies to look at the computer.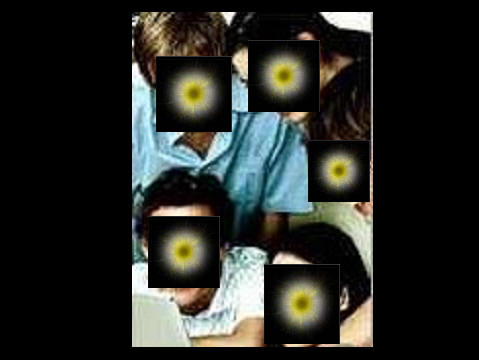 The real people are not just bodies.
The real people are the photons who operate the bodies.
They input the brain with instructions in the same way that you
input a computer.
They drive the bodies in the same way that they drive a car.
---
WHAT IS A DREAM?
Let's consider what we refer to as a dream
How Could You Be Asleep And Active In A Dream?
The fact that you are having a dream proves that you are not asleep.
Your body is asleep but you are very much awake, and amazingly are
involved in some quite complex issues, in which you and others are
doing things, and making decisions, and carrying on in life.
How could you be doing all of that if you were asleep
---
THE PARALLEL EXPERIENCE
When you dream (which is an actual parallel experience), you
immediately are inserted into your other self in that parallel
universe.
There are more then one of you in existence.
When one shuts down, you instantly are in the other one.
ARE THERE PARALLEL UNIVERSES?
Your may not believe in parallel universes.
Here is the Einstein Emeritus Professor at Princeton University
Paul Steinhardt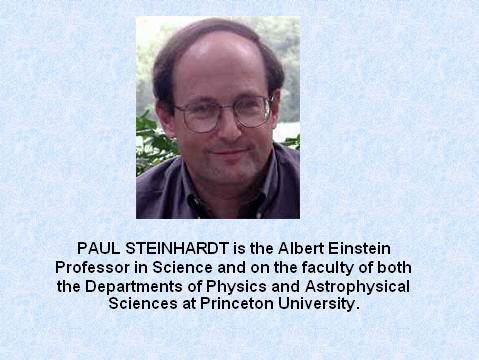 READ ABOVE: Professor Steinhardt's credentials
are quite credible and he certainly would make
a dependable witness.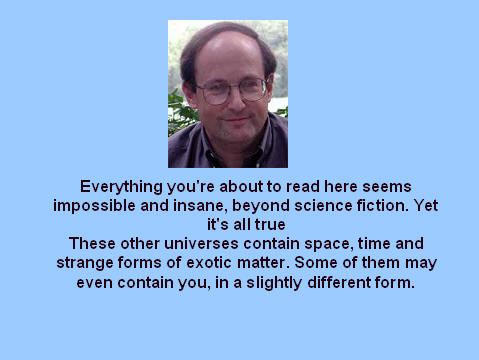 READ ABOVE: There are other universes which contain
exotic matter and even you in a slightly different form.
READ ABOVE: He says that parallel universes do exist and they are
much stranger then science fiction writers could imagine.
I would add that since they are so strange, you can understand why
your experiences in them are what you think are strange dreams.
Now you can choose who you will believe when it comes to matters
such as this.
An Albert Einstein Professor at Princeton or a pastor.
And you know what, most people will choose the pastor, and the
condition of the world is a testimony to that.
How about allowing common sense to intervene.
If you could see inside of your head what would you see.
---
THE MEAT IN YOUR HEAD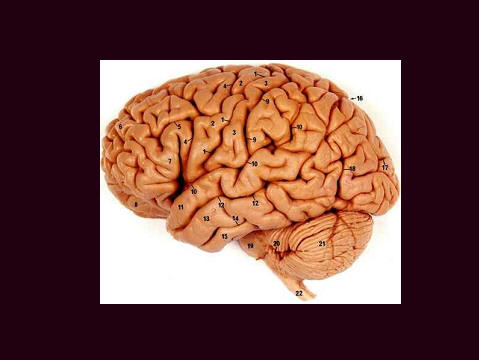 You love, you plan, you decide, you fear. You do all kinds of
wonderful things. Does common sense tell you that that brain is
what is loving, and fearing and deciding?
That 3 pound piece of meat is loving and fearing and deciding?
Or does common sense tell you that someone is operating that brain
in the same way that you operate a computer?
Does it make sense that when your body goes to sleep, that that
meat object in your head makes up all of the various adventures you
experience?
Or can you accept what Professor Steinhardt says about copies of
you existing in parallel universes, and when your body turns off
here, you turn on there.
---
YOU HAVE NEVER BEEN TO SLEEP
It is impossible for you to sleep.
Your body sleeps.
You never sleep. If you were asleep how could you possibly be
involved in all of those various dream adventures that you find
yourself in.
YOU ARE PHOTON AND PHOTONS DO NOT SLEEP
Only bodies and computers sleep.
There are other copies of you throughout eternity, and there are
other parallel universes where you exist, and where your family
exists.
Even those who have physically died, exist there, and you exist there
with them.
---
PHYSICIST DAVID DEUTSCH OXFORD UNIVERSITY
This is professor David Deutsch of Oxford University in England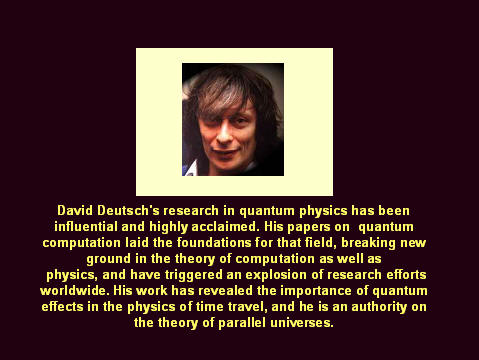 READ ABOVE: Professor David Deutsch of Oxford University is
highly acclaimed in computer computation , and he is an authority
on the theory of parallel universes.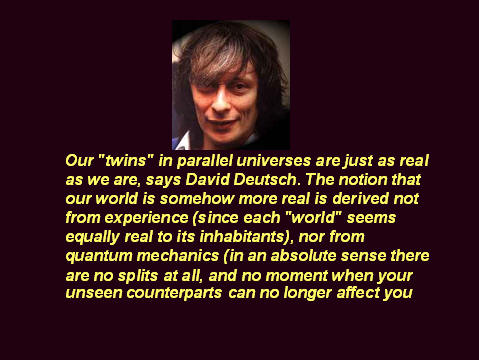 READ ABOVE: David Deutsch says our twins in parallel universes
are just as real as we. He says there is no moment when you other
self cannot affect you.
Think about that the next time you think you had a dream.
There is no moment when your unseen counterparts can no longer effect you.
When your body shuts down and you can't operate it here, you simply
go on operating your body there.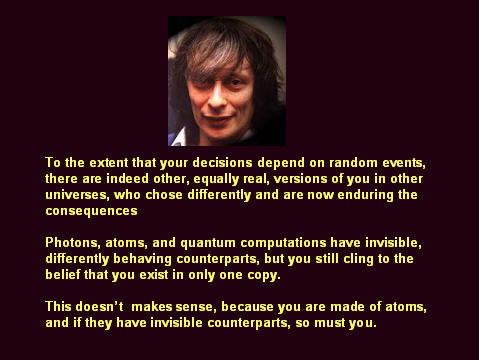 READ ABOVE: David Deutsch says that there are other real versions
of you in other universes who make different choices then you and
are not experiencing the results of those choices.
He said that photons and atoms have invisible counterparts and
since we are atoms and photons, so must we.
And so we see from David Deutsch's work, that you existing in other
copies is not something dependent on belief.
Atoms have twins and so must you.
When you think you are dreaming, you are actually living and doing
things in a parallel universe.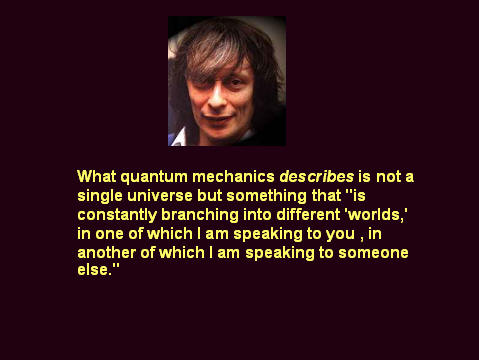 READ ABOVE: David Deutsch says quantum mechanics says the
universes are constantly branching into different worlds.
In one world you are reading, this in another world you may be
driving a car. But it's you.
And isn't that consistent with your dreams.
You're talking to people you don't know here.
You're doing things you don't do here and you are in
places that you do not go here.
---
PHYSICIST FRED ALAN WOLF
Physicist Fred Alan Wolf comments on dreams.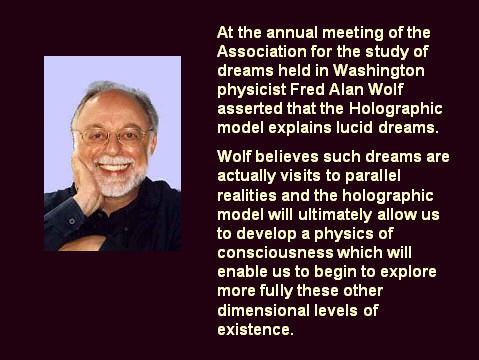 READ ABOVE: Physicist Fred Alan Wolf said that dreams are actually
visits to paralled universes. He also says that one day we will be
able to explore these other dimensional levels.
When you body shuts down here, you are immediately in your other
self in a parallel universe.
When you awake here, you think that you dreamt the experience that
really was a true physical experience.
TONIGHT YOUR BODY IS GOING TO SLEEP
BUT YOU ARE GOING OUT
Tonight when your body goes to sleep, you will actually be doing
things in a parallel universe that you think is a dream.
When your other self goes to sleep in the parallel universe, you do
things here .
When you wake up there, what went on here, you will think was a
dream.
YOUR OTHER SELF MAY WAKE UP TOMORROW AND THINK THAT
WHAT WENT ON TODAY WITH YOU WAS A DREAM
A part of your other photon may be in you right now as you are
reading this.
When your body in a parallel universe wakes up, that photon will
instantly be back in it telling people about the strange dream you
had about reading stuff on a computer about parallel universes.
---
THOSE WHO PHYSICALLY DIE
WAKE UP FROM A WEIRD DREAM
What is so interesting about this, is that the exact same
phenomena takes place when a person dies.
It is the same when the body here dies.
You will never know that you die because you will never lose
consciousness.
It is impossible to lose consciousness because you are photon, and
a photon can never lose consciousness.
You will instantly be doing something somewhere else.
---
Let's consider someone on a bed in a coma, dying.
At the same time their other self is driving down a highway.
Let's look at the 2 real you's in parallel universes.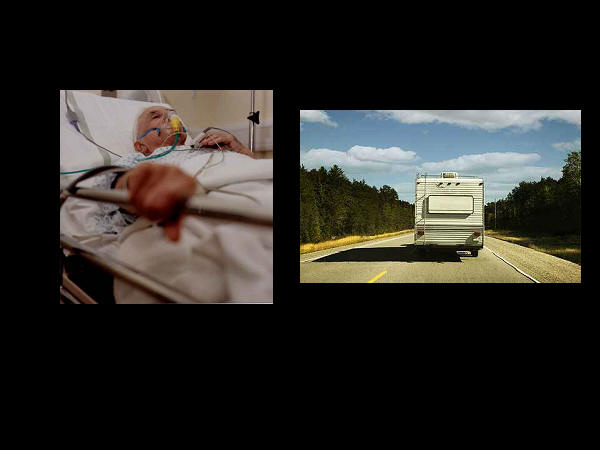 If the person you see on the bed is about to die, he doesn't know it.
He may be having a dream that he is driving down the highway in a
camper.
HE REALLY IS DRIVING A CAMPER IN A PARALLEL UNIVERSE
As soon as his body permanently shuts down here, he will be
driving down the highway in a camper there, because he wasn't
dreaming that he was driving down the highway in a camper, his
other self actually was.
He has no idea that he died. He is simply excited about the new
campsite he is going to that his friend told him about.
And if you were married to this guy, your other self is going camping
with him. That's the way this works.
WE ATTEND THE FUNERAL
So you're at a funeral parlor, crying over a casket with a dead body in
it, and he's camping on a lake , and having beer and hot dogs.
And you're at the grill cooking them.
---
Now let's talk a bit about the evolution of the mind.
How does a person develop over different life periods?
We had one photon body who was dying on the bed.
While the other photon body was heading down the road for a
camping trip.
WHERE THERE WAS ONE, NOW THERE IS TWO
Where there was one photon in each with separate experiences,
there is now 2 photons in one, and the singular photons now have
evolved to a higher understanding because of being co joined.
That is why one day you find yourself suddenly thinking differently
and moving in a different direction then you had moved previously.
ANOTHER YOU HAS COME INTO YOU AND GIVEN YOU NEW IDEAS
You have been joined by another you and now you can take from
both experiences and both streams of knowledge.
WHEN YOU DIE HERE IT'S YOUR TURN TO JOIN YOUR OTHER YOU
In other words, you will have joined the other photon in your other
self, so now there are two of you in that body.
The one who knows what it knows and the other who knows what
you know.
---
YOUR PHYSICAL FAMILY GATHERS AROUND THE CASKET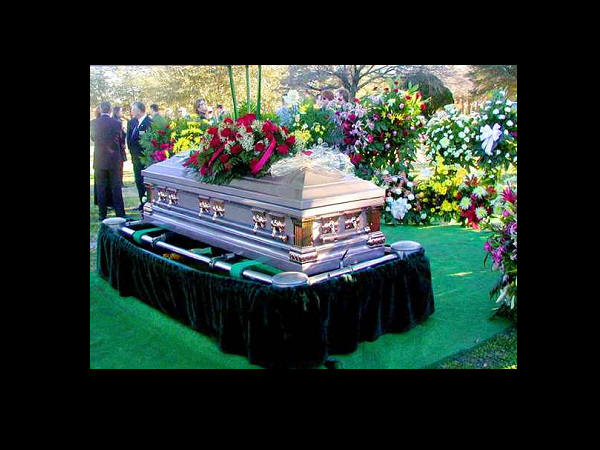 You will never know that you died, you will never know who your
family was gathered around your casket.
THEY THINK YOU'RE IN THE BOX BUT YOU ARE ACTUALLY FISHING
There they are. A gold casket with flowers adorning it, and the
person who is supposed to be inside is actually at the lake fishing
and drinking beer.
Aren't we stupid?
If we were taught this truth from childhood we would not live in fear.
But religion has found it very profitable to teach fear.
---
You belong to a photonic family.
At different quantum levels you meet with them, and communicate
feelings concerning what is going on in the physical realm.
You talk about the past, present, and future, and you know who
each other is.
You have met with them many times.
But in the physical realm you know nothing of this.
These meetings take place when your body sleeps and you do not
dream.
There is no dream because you as photon are meeting with your
other photon family and friends
---
PHOTONS NEVER CHANGE BUT BODIES DO
Though the photonic family is exactly the same for eternity, the birth
circumstances generally are different.
IN THE PARALLEL UNIVERSE YOU MAY BE DIFFERENT
Different sex, different, appearance, different names, different work
and education and government circumstances etc.
EVERYONE WILL BE THE SAME BUT NO ONE WILL REALIZE IT
Your parents will be the same parents forever, your children will be
the same children forever, your relatives will be the same relatives
forever, your friends will be the same friends forever.
This is because you belong to a photon tribe, such as the Biblical 12
tribes.
You will not recognize them in the physical realm to be the same
persons who have been with you throughout eternity, because in
the physical realm everyone looks different, has different names and
in some instances change sex.
THOSE YOU DIDN'T LIKE THIS TIME AROUND,
YOU MAY LOVE NEXT TIME
So the personalities in the physical conditions this time around, will
not necessarily be the same personalities then.
They will be the same photons and you will know that in the
quantum meetings you have with them, but in the physical realm
their bodies and personalities will be different.
The physical and DNA involvement can make radical changes which
could make the relative that was a nightmare here be a very
supportive and nice person there.
---
The next time you watch a sporting event on tv, dont see 50,000
people sitting there, see 50,000 photons. 50,000 particles of light.
It will give you a new perspective.
The important thing to remember is that though you change DNA,
and may change sex, and change appearance, as will everyone else
there, you will carry your consciousness with you.
You won't remember, but you will know as you do now, and you will
advance dramatically in that knowledge.
---
YOU MAY HAVE GAINED 30 YARDS
Think of it this way.
This life you started on the 5 yard line.
Next time you will begin on the 35 yard line.
But if things were messed up, you may have lost 30 yards,
---
THE EMERALD TABLET SPEAKS OF LIGHT
Having shared with each other this discussion about the nature of
all life as photon and how that operates in the essence of life, we
should now be able to get a deeper understanding of what the
Emerald Tablet is referring to when it speaks of light.
THE EMERALD TABLET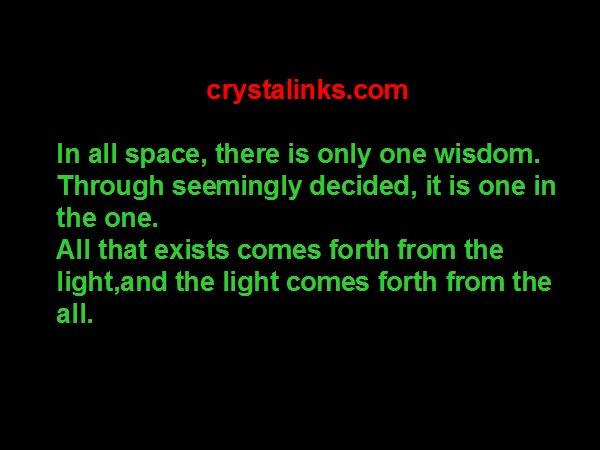 READ ABOVE: There is only one wisdom. Everything comes from the
light and the light is the all. I would add that this from the Emerald
confirms the Bible statement that God is light. God is photon.
Note that the one wisdom that exists comes from the light and the
light comes from the all.
LIGHT THAT COMES FROM THE ALL IS
WHAT ISLAM REFERS TO AS ALLAH
The word all represents what the Muslims refer to as Allah.
The photon which is you is the light.
The light which is you is the same light which is everybody else.
The photon is the light which is you and comes from the one light.
How do I explain that.
---
THE LIGHT BULB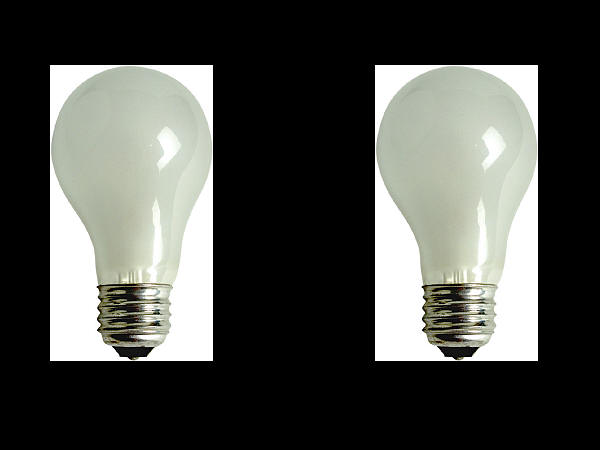 The bulb on the left is in the living room.
The bulb on the right is in the bathroom.
THE SAME LIGHT WORKS THE TWO DIFFERENT BULBS
They are two different bulbs but they are the same light
working in two different places.
WHEN A NEW BULB IS INSERTED THE LIGHT THAT IS THERE IS THE
SAME ONE THAT WAS THERE BEFORE THE BULB BURNED OUT
When the bulb burns out, another bulb replaces it but the light that
comes from it is the same light that was there originally and the
same light that is also in the bulb on the right.
So there is only 1 light that comes from the all, but that one light can
occupy many different bulbs or containers and it does many
different things.
It is photon inside of a bulb.
YOU ARE THE LIGHT INSIDE OF A BULB CALLED A BODY
You are photon inside of a bulb called a body.
When your bulb burns out you simply light another bulb or another
body.
The one light that operates in trillions of bulbs is the one light that
operates in trillions of bodies.
The difference is that photons in a body retain conscious
interaction that is possible through physical existence.
That does not occur to the photon in a bulb.
---
THE EMERALD TABLET LAW AND ORDER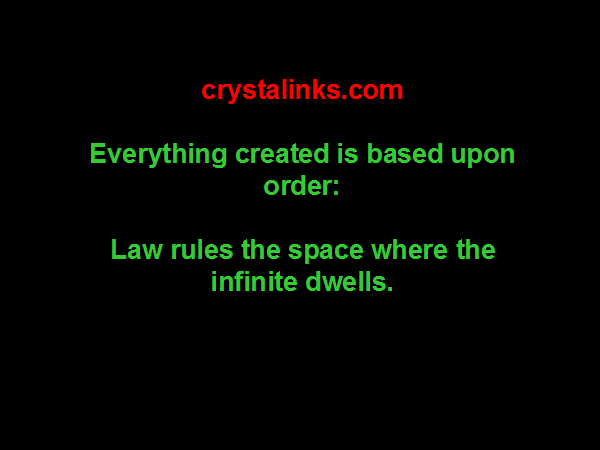 READ ABOVE: This statement from 26,000 years ago puts into
perspective the reality of life. You can pray till the cows come home
but if you are praying against natural law, your prayer will not be
answered.
This is important because if everything is based on order and law,
then we can see how science and physics is really the basis for
understanding what we call God.
You remember when we discussed Nassim Haramein and the 64
tetrahedron?
That is law and order and it operates within your body.
The law and order as Nassim Haramein outlined is found in the
tetrahedron.
The tetrahedron that Thoth of the Emerald fleet
held in his right hand.
---
THE STAR TETRAHEDRON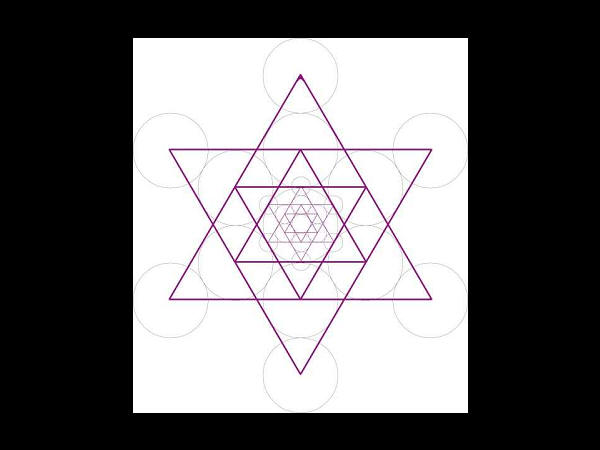 This is a four face tetrahedron. You can see how it replicates itself
in this drawing.
That is what it does in all of space and in human beings. It is the
geometric pattern that builds on itself.
It is law and order.
---
THE STAR OF DAVID IS THE TETRAHEDRON
But you say. "That's the Star Of David." Yes it is.
The Star Of David is the Tetraheadron, and the Tetrahedron is what
is in space where there is nothing, and becomes the creative
power, the replicating power or God.
The Tetrahedron Exists Where Nothing Else Exists
The Tetrahedron exists where nothing else exists in what is called
the vacuum. It is a geometric pattern life structure as the DNA
hexagon is a geometric pattern life structure.
And as we consider all of this, let us once again focus on that last
statement from the Emerald Tablet.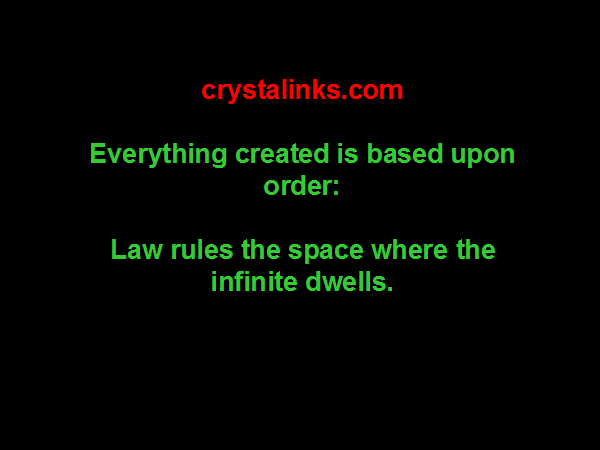 ---
TETRAHEDRON IN THE VERTEBRAE
What purpose other then creating its own change can the
tetrahedron have within us?
This is from www.intensionsdesign.com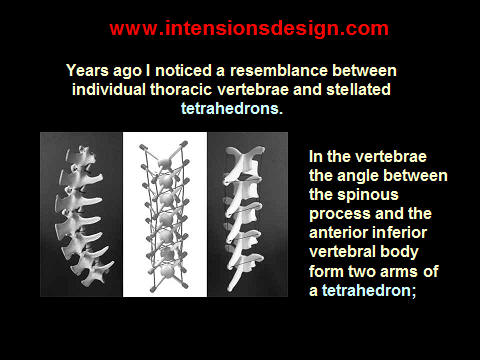 READ ABOVE: In the vertebrae (your spine), form two arms of a
tetrahedron.
This site is quite large and displays many scenes of the tetrahedron
geometric pattern within the human body.
---
THE IMPORTANCE OF TETRAHEDRON
TO THE BODY
This is how Nassim Haramein explains the importance of the
tetrahedron to the body.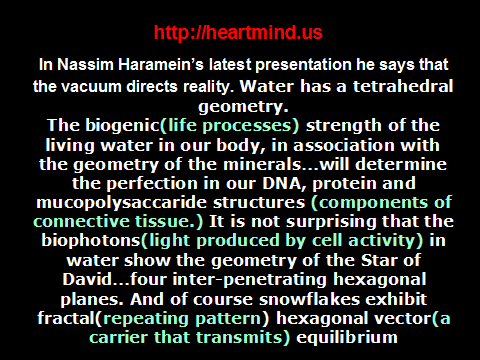 READ ABOVE Nassim Haramein says that what we
think is nothing but space actually directs physical reality.
The photons in living water within our bodies show the geometry of
the Star of David.
Snowflakes exhibit a pattern that transmits equilibrium.
So the combination of tetrahedron geometry in the water, with the
geometry in the minerals in our body, determine our bodily
perfection.
---
THE STAR OF DAVID IN WATER AND IN SNOW
The tetrahedrons in water show the geometry of the Star of David,
as does snow.
So when you are drinking liquid you are drinking the Star Of David
and when you have six inches of snow on your front lawn you have
Star Of David's all over the place.
We now have a better idea concerning the importance of the Star Of
David.
---
THE 64 TETRAHEDRON
We are beginning to see where Nassim Haramein is taking us.
We again ponder his 64 Tetrahedron which he states is the structure
of the invisible realms where we perceive there is nothing.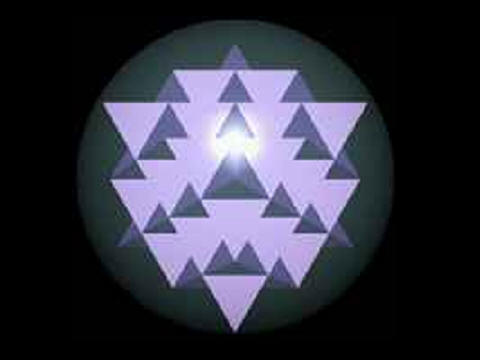 ---
THE VACUUM IS PERFECTION
When Nassim says the 64 tetrahedron grid is the nature of vacuum,
we first have to define vacuum as perfect. It is a place that is empty
of matter.
Thus the grid would have to be considered in terms of the quantum
worlds energy.
Invisible energy.
In order to reach the vacuum we have to separate from all thought
and float into the realm of nothing.
There are two scriptures to encourage us.
Jesus said: Take no thought. That takes us to perfection.
Paul said: Leaving the principles of the doctrine of Christ, let us go
on to perfection.
And there in perfection we find the Star of David
---
If You Can Donate, Or For DVD's, Flash Drives, Or E Books
Click
Here
TO RETURN TO THE HIDDEN MEANINGS HOME PAGE CLICK HERE