THE OMEGA POINT
FROM fusionanomaly.net
December 21 2012
Is That Date
The Omega Point?
PACAL VOTAN KNEW OF OUR COMING
ASSAULT ON NATURE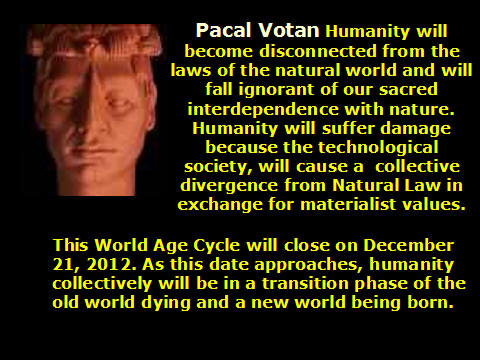 ---
FACTORY FARMING IS A PERFECT EXAMPLE
OF OUR RELENTLESS ABUSE OF NATURE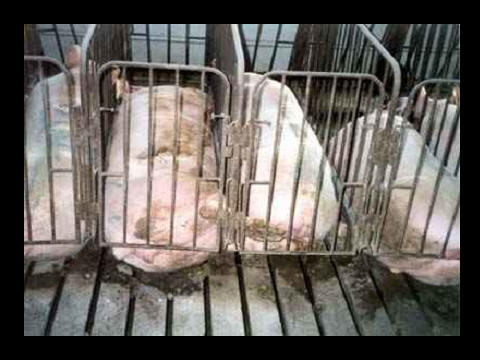 ---
WHAT HAPPENED
WHEN DID WE BECOME SO EVIL?
What happened? When did the human mass mind simply
decide to ignore that which is inhumane and plow
on for its own benefit.
When did the human mass mind decide that only getting
money was important and it made no difference how it was made.
As I was preparing this, a news headline was published by MSNBC
concerning the most recent Earthquake in Chile.
---
THE CHILE EARTHQUAKE
People have questioned me about the December 21 2012 prediction.
It is well to understand that the prediction was not for the end of the
world to occur then.
The prediction was that December 21 2012 would mark the end of the
great shaking. That between now and then there would be trouble
from nature and it would be directly related to our disconnection from
the laws of nature.
Factory farming, dumping chemicals into the atmosphere.
People argue about global warming and yet never question whether
it is right to pollute with no control.
Pacal Votans prediction has now been eerily echoed by a headline that
has just appeared on MSNBC .
Look at the headline and consider if the December 21 2012 prediction is
beginning to find its way into the text of the news.
Maybe the headline should read. Nature is in control.
You don't have to argue this on politics or what have you. Simply consider that
the prediction was
made in 600ad that because our industrialization would separate us from the
need to flow in harmony
with nature, nature would react.
From the headline of MSNBC it would suggest that nature is reacting.
And who is out of control?
Is it nature, or could it possibly be us?
---
WHO MADE THE PREDICTION BACK IN 600AD ?
Someone so very very long ago knew that the human mass
mind would evolve in a particular way that was based on
something other then history.
There was no history on the earth that would have allowed
Pacal Votan to know this if indeed he was a Mayan priest.
Only if he was something else could he know or even
suggest such a thing.
---
DEC 21 2012 WAS NOT
THE PREDICTION OF A MAYAN PRIEST
We have been over this but the 2012 prediction was not
made by a Mayan priest. The prediction was made by a UFO
commander who had come to this earth from another place.
When the Emerald UFO fleet landed in Khem which is now
Egypt 26,000 years ago, they sent out groups in UFO's
to various parts of the world.
One detachment landed in South America in the area we
now know as the land of the Mayans. From this detachment
came the Alien UFO commander we now refer to as Pacal Votan.
---
FROM KHEM (PRESENT DAY EGYPT)
A UFO DETACHMENT FLIES TO
PRESENT DAY SOUTH AMERICA
The Emerald Tablet
crystalinks.com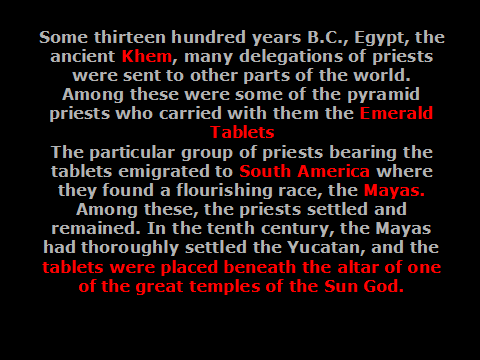 ---
THE ANCIENT ASTRONAUT
The concept that I bring to the table that Votan was an
astronaut or alien UFO commander is born out by the stone
carving that the Mayans made of Pacal Votan.
In this slide you will see the carving along side of a picture of
astronaut John Glenn in his training module.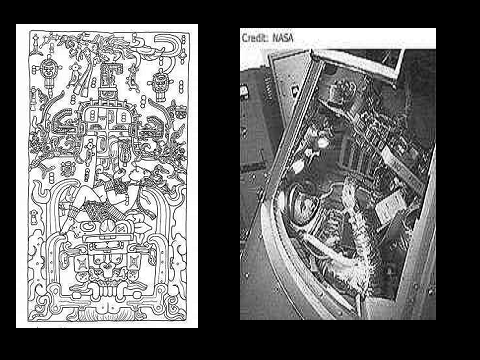 Here is a little better look at Pacal Votan in the space ship carving.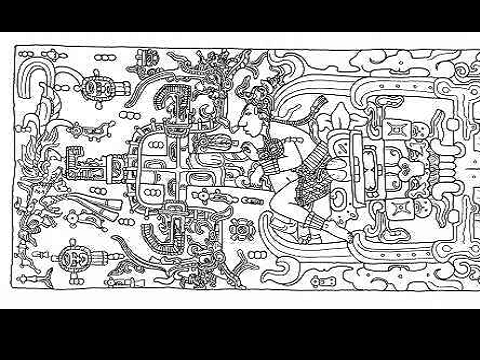 And so now we can reasonably assume that someone from
another location in space had scientific knowledge of just how
the human evolution and mind force would move.
---
THE ARRIVAL OF THE FORCE WAS SET
FOR DECEMBER 21 2012
And so we are predicted to arrive at a point established on our
calendars as December 21 2012.
The Emerald UFO force was able to predict this and their
computations are now being confirmed by others within our
own time frame who are able to calculate to what you may call
zero point or what Pierre Teilhard de Chardin referred to as
The Omega Point.
---
THE OMEGA POINT
And does the Omega Point figure into Dec 21 2012.
The answer is yes it does.
There is a point, where all things that have been changing over
space and time reach, that slams a door on what was, and
introduces a whole new way on what must continue to be.
The changes we experience in life are fractal.
That means they occur before our eyes, and yet we don't know
who ordered the change, or who created it.
It happens on its own.
And when the changes occur, we change with them.
---
YOU REACH ZERO
You reach the zero point or Omega point where because
of the rapid rate of change through technological advancement you
reach a point where you absolutely cannot go any further.
The door is slammed shut because you reach a point where your creations
begin to create you.
You reach a point where your creations must keep coming faster and faster
so that the profits and cash flow are not hampered.
It then becomes a fact that our need to profit gets to the point where even
if we abuse and hurt nature as a result, we justify it because of our
need to profit.
With that ,nature begins to falter under the onslaught of our creations.
Global warming, or climate change, from our pollution, serious viral illnesses
and resistance to anti biotics because of factory farming.
Think of a wheel going faster and faster and faster until it is on the
verge of flying off the axel.
Something has to slow it down.
We have become a threat to nature and to ourselves.
---
FASTER AND FASTER WE GO
So what we have as we move along in trying to understand existence
more fully, is the continual technological progress with the progress
coming quicker and quicker as one development builds on the back
of the one before it.
That takes us to Zero point, the Omega point which may indeed be December
21 2012. The point where we can go no further and have to start a new
path of life and consciousness.
You see, we operate physically, inventing things, changing things, using
things and we just continue on in a mundane way never considering
that there is a force that propels our ways into one cycle, then out of
it into another.
But we must create. There must be something new. What's next.
The creations are creating us.
We walk around seemingly talking to
What if we now invent something that requires us to move our eyes.
To move our eyes to change things. People walking around looking
left and then right, looking up and then down.
Left and right, up and down are eyes are flashing while we talk to
the thing in our ear.
We have changed , oh and if you think I am exaggerating look.
---
THE EYES HAVE IT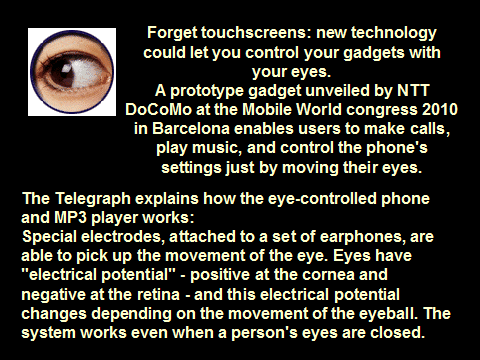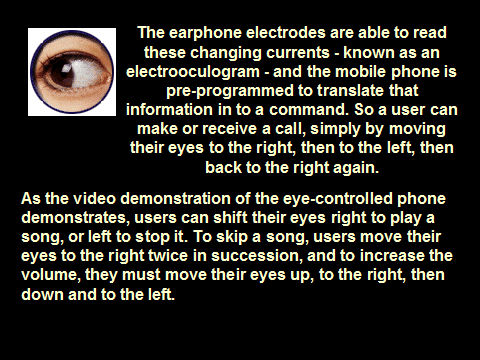 Does this give you a better idea as to what is meant by the
creations creating us?
What part of your body will be used next to turn something on
or change something. I don't want to even imagine do you.
Do you see why nature must step in.?
---
INTELLIGENT CONTROL
OF A NATURAL EVOLUTION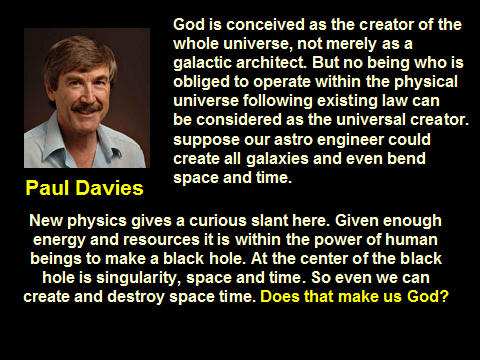 My goodness, think of that. Think of all of the amazing things that
the human mind has created in the past 100 years.
Think of how we have impacted nature in a variety of ways and
have re directed evolution through our inventions etc.
Take that 100 years and multiply it by 1 million.
Could not someone with a far superior intelligence beyond our
ability to understand here have come up with a way to rearrange
nature leading to the development of a new galaxy which turns
out to be ours, and would that person then be God?
---
IS THIS GOD ONE OF US ?
Maybe his name is Fred Jackson or Louise Smith. Why not.
How far can one go with creative evolution before hitting the Omega
point.
And the Omega or Zero point does not necessarily mean the end. It
means the end of that particular path. You have gone as far as you
should in that direction.
Now you have to take what you have developed and move in a
different direction. A course correction has to be made of what you
have created may take you into a uncontrollable dive that can result
in a crash
Such is 2012.
You have only gone 100 years in creativity. Now it is getting out of
control because of the profit and greed factor and you have to be
realigned.
---
IF WE CREATE TIME AND SPACE
WHAT NEED IS THERE OF GOD?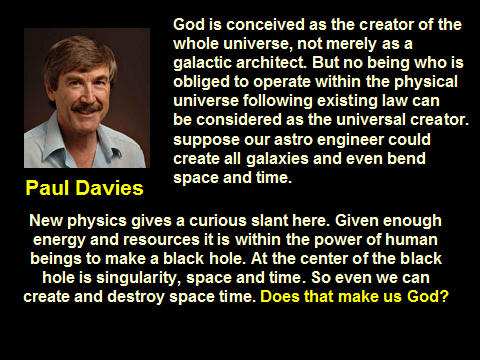 What Davies is saying here is that within the very short time that our
evolution has given us the technological creativity we have reached
a point where we can create black holes which is space time
singularity.
In other words , if we can do that how close are we to
being God?
And does not that signal why nature sets itself up at the singularity
point to adjust our course before we send the entire universe
into a tail spin.
---
SOMEONE MUST APPLY THE BRAKES
Can that be the zero point, the omega point, Dec 21 2012, the need
to change course because the speed and direction of the current
mind given the technological advances creates a threat to the
entire universe.
An intelligent mind saying, ok, let us set up a point where we have
to stop the progress, alter the consciousness and redirect the
movement to take what has been achieved and insert a new
wisdom mind set that will continue progress free of the
obsessive profit and greed motive.
The profit and greed motive was necessary to
propel the interest in creating new advances, but now it is becoming
more important to the mind then the advances themselves.
So the profit and greed has to be reshaped, modified, slowed down
so that the created aspects are allowed to function for good.
---
THE INCENTIVE WILL RETURN
Once that has been established, the profit and greed can be restored
to again propel the creative mind forward in a grander scale.
At that point the creative power will be guided more closely by the
wisdom power making the advances more friendly the planet and
its life.
Another point that Paul Davies makes is that the universe is cyclical.
Things happen in cycles and in addition the universe breathes.-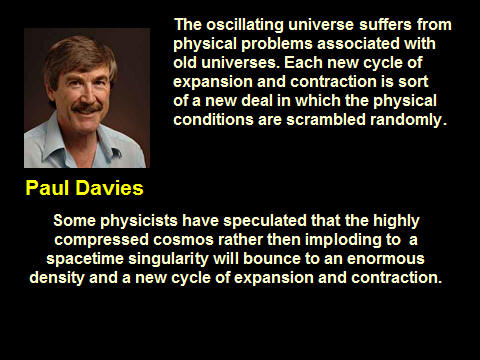 These statements give us a clearer picture of a living breathing universe.
Oscillating means it moves back and forth in a rhythmic vibration.
Also we see how the human existence flows in a harmony as human
events are based on cycles and expansion and contraction.
Thus any kind of zero point or omega point of Dec 21 2012 point would effect
not only the very living breathing universe we are part of but the quantum
photonic and atomic structures that we ourselves are.
It is not some kind of possibility that we can rationally change.
It is the life dance itself and we are on the dance floor like it or not.
The point that Paul Davies brings to us is that there is a mathematic necessity.
This is not unlike Nassim Harameins discussions about the self replicating
64 Tetrahedron.
Things happen by themselves because they have to.
Indeed Dec 21 2012 is a mathematical necessity.
All of the cosmic structures will fall in place but the question is,
is there a necessity based on something other
then simple movement governed by gravity etc.
Paul Davies quotes Sir James Jeans who once said, God is a mathematician.
That is why the ancient geometric patterns and those we see in crop formations
hold such interest.
This is what Davies says and it brings us back to the need for the universe
itself to slow the process of the earth mind down to allow wisdom to catch up
to technology.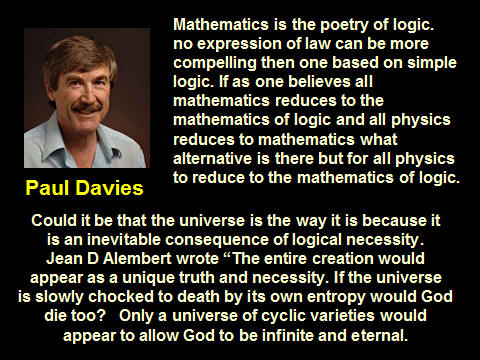 Let us study this for a moment and allow the logic to bring us to an
understanding of why such a course correction as is predicted
for Dec 21 2012 is necessary.
---
EVERYTHING IS GEOMETRIC PATTERNS
Everything fits into mathematical equations and forms of geometric patterns.
Things will not go off in crazy patterns that would be unsustainable.
The mathematical forms allow one to assess the universe as one of logic
and necessity.
Logical necessity tells us that something has to control the constantly
accelerating direction of violence, the torture of nature and its living things,
the obsession with greed and need to profit.
---
THE CHANGE MUST COME QUICKLY
BEFORE WE DESTROY EVERYTHING
It is just absolutely necessary that things change before we cause irreversible
damage to nature and ourselves.
Thus a living universe which is not choked to death by its own changes would
demand as a necessary part of its own survival that things going on that
threaten it as a creation are modified.
The living breathing universe must protect itself. That is logical and
a reasonable explanation for December 21 2012.
Now we get to the singularity concept in a bit more detail.
The Tetrahedron which reduces to one point. The concept of ourselves going
faster and faster technologically, building one on top of the other, advancing
and advancing with no comparable wisdom element to allow us to use
the creations of ourselves prudently.
The demand and movement then on the part of the universe to slow everything
down so wisdom may catch up to creation.
---
ARE WE LAWBREAKERS ?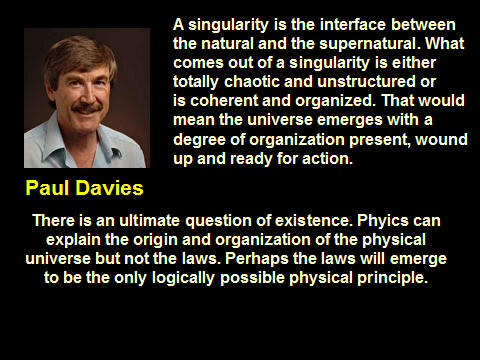 If December 21 2012 was the zero point, the omega point, the
singularity, then according to Paul Davies, at that juncture we
reach the barrier between the natural and supernatural.
---
THE NATURAL MUST GIVE WAY
TO THE SUPERNATURAL
We reach the point where what happens is ordained by a
natural law. A law that we may have violated.
As Paul Davies states the structure which formed out
of the big bang carry a coherence and organization.
If so then logically it would carry itself out to an evolution that
would resist those who would break the natural laws which
in turn threatens the structure itself.
The laws as Paul Davies says may be the only logical principal.
And now when we ponder December 21 2012 may we also
ponder our assault on nature and life in all forms as a serious
violation of the natural cosmic law which must be addressed
by the supreme authority who enforces such law
---
THE MYSTERY OF 2012
Let me introduce you to a book called The Mystery of 2012.
It presents the thoughts of several writers relative to 2012.
There are writings by Gregg Braden, Peter Russell, Daniel Pinchbeck,
Joanna R Macy, John Major Jenkins and others.
For our study here, I want to look at the comments of Peter Russell.
Here is the cover of the book.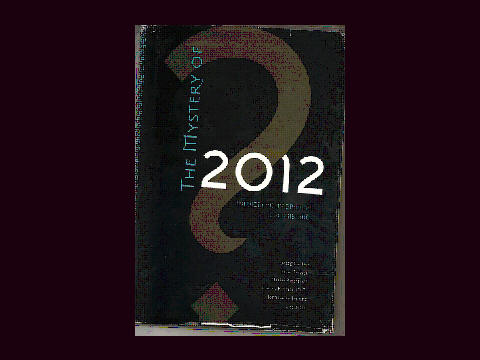 ---
A SINGULARITY IN TIME FROM THE 2012 PERSPECTIVE
We have been studying the thoughts of Paul Davies concerning
singularity which I believe has given us a better idea concerning
the nature of a living breathing universe.
Now from the Mystery of 2012 Peter Russell will provide insights
concerning singularity as it relates to 2012.
Peter Russell comments on the question of singularity which points to
a force that speeds up evolution.
The accelerated evolution is what we are experiencing now after so many
thousands of years of inactivity.
The technological creativity is such that it is racing ahead of the wisdom
needed to use much of it in a way that is beneficial to the universe.
THE RACE TO 2012
FASTER AND FASTER
A force that speeds up time bringing
the whole existence to a single point which may have been
Dec 21 2012.
---
MEET PETER RUSSELL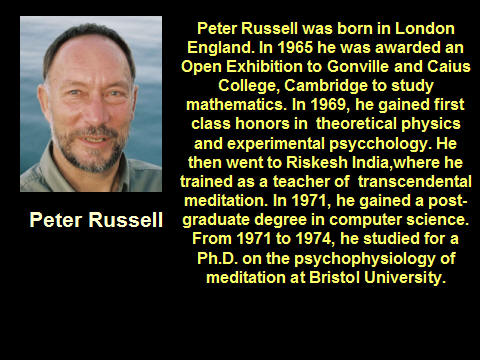 Peter Russell, a physicist who is deep into meditation.
Has to be interesting right ?
---
EVERYTHING MOVES FASTER AND FASTER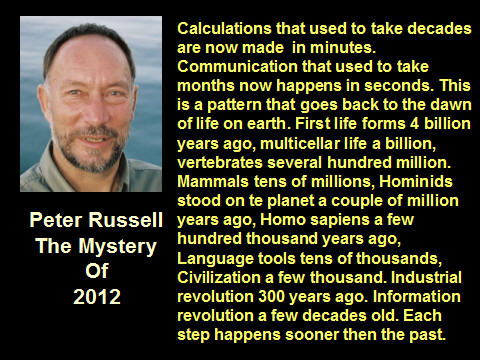 The Early Babylonians made calculations. Probably results would take years.
Now it happens in minutes. Think back to the Pony Express or other old or
ancient methods of carrying messages.
Now it is done in seconds with one finger touching a key.
But what is interesting in this statement is not so much how the acceleration is
revealed in creativity but look at life forms itself.
In other words it appears that our accelerating creativity is a part of natural
cosmic evolution.
First life forms billions of years ago.
Information a few years ago.
---
WE RIDE A MAGIC CARPET
The point here is that all of us are swept up on this magic carpet called
existence. It takes us on the wings of the wind to wherever it is going.
We accelerate as life accelerates. It is not that we are learning so fast, it is that
we are being opened to the conscious activity faster and faster.
---
KNOWLEDGE HAS OUTPACED WISDOM
That sets up the intelligent universe to understand that the speed of the
evolutionary cycle of creation has far outsped the speed of the evolutionary
cycle of wisdom.
In other words the inmates are running the asylum.
---
EACH NEW CREATION IS BUILT
ON TOP OF THE ONE PRECEDING IT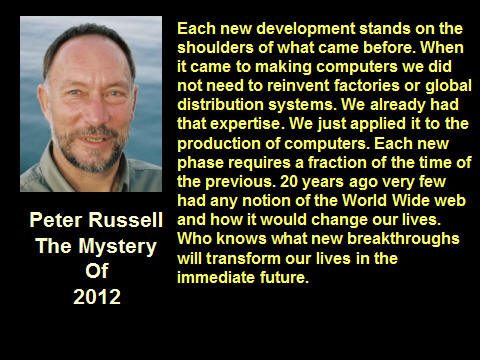 Do you see how things move faster and faster?
First we had to build factories and distribution hubs for earlier creations.
Then there was no need to do that because the factories and distribution hubs
were already there.
And so the next creation fly's into our existence much quicker then the one
before.
I particularly like the last question, what is coming next to transform our lives?
---
IS THE OMEGA POINT COMING INTO VIEW
IS THAT ITS LIGHT BLINKING FAINTLY AHEAD OF US
WAS IT 2012?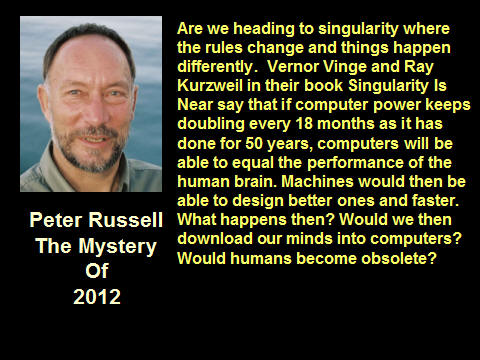 Isn't that what Pacal Votan said when we first read of his 2012 prediction?
The rules have to change to save us and the universe from us.
And obviously the rules have to change before machines begin to direct our
next step. Before we have to download our minds into computers.
Before we become obsolete.
Is it not time for wisdom to be allowed to catch up to our creativity?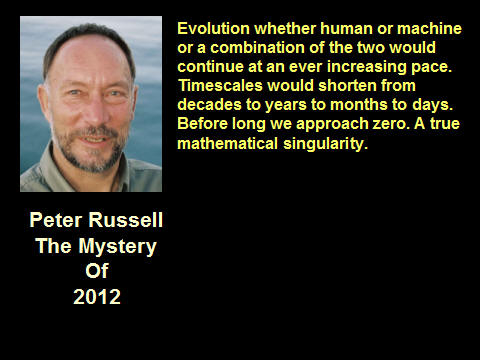 The question is whether December 21 2012 is the zero point, the Omega Point.
Here Peter Russell refers to work that was done on the evolution to singularity
by the late Terence McKenna
---
Terence McKenna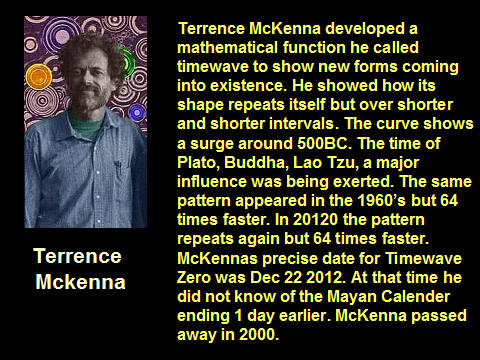 Terrence McKenna did not know about the December 21 2012 prediction
when he worked out his singularity formula.
I also call your attention to the fact that the pattern McKenna
developed repeated itself 64 times faster.
The question I have yet to resolve is if the 64 times faster element is connected
to Hassim Narameins 64 Tetrahedron which also replicates itself smaller and
smaller to singularity, or Zero point, or the Omega Point.
---
Terence McKenna And Hallucinogens
Terrence McKenna was an amazing person, gifted writer and one who believed
in taking natural hallucinogens.
He believed that plants were made for the purpose of putting people in
contact with the higher in a natural way.
Terrence McKenna died of a very aggressive form of brain cancer. He was
told that he had about 4 months to live and he gave an interview. This was
back in 1999.
It says a lot in a very few words.
---
TERRENCE MCKENNA'S LAST INTERVIEW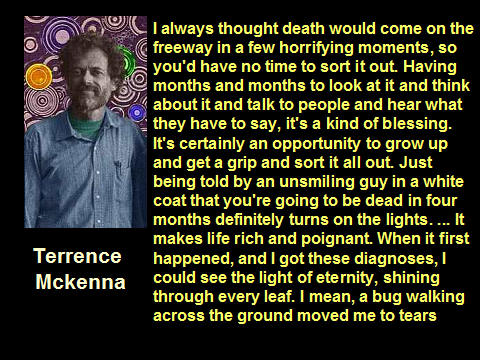 Then something very terrible happened after his death.
A different mind indeed. Through ingestion of psychedelic plants
Terrence McKenna felt the mind was taken naturally into the
higher realms of reality.
And his formula towards the zero point or Omega , without any knowledge
of Dec 21 2012 figured to December 22 2012
Before we go back to Peter Russell and the movement towards the Omega point
of Dec 21 2012, I wanted to share with you some thoughts of Terrence
McKenna.
A different mind that most could never accept, but yet, his thoughts might
touch that light in you and me.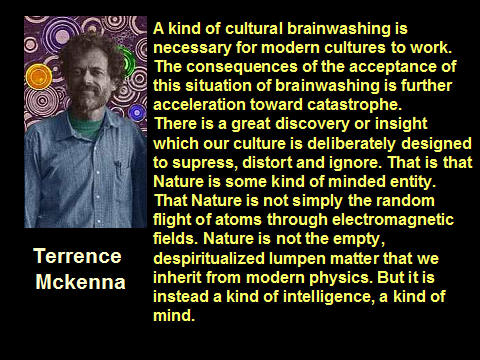 There in the first paragraph is the need for Dec 21 2012.
---
CATASTROPHE DOES NOT COME FROM GOD
IT COMES FROM US
The brainwashing from the profiteers, the banksters, has accelerated us toward
catastrophe.
The only way we can eat is to torture the animals to death. The only way we can
prosper is by pouring toxins into the atmosphere.
But what they have done is turned a violent eye towards a living beautiful
being called nature.
An intelligence, a mind , and the profiteers, or as the Bible calls
them the kings of the earth have attacked her.
Or as Pacal Votan put it, we have lost our interdependence with nature.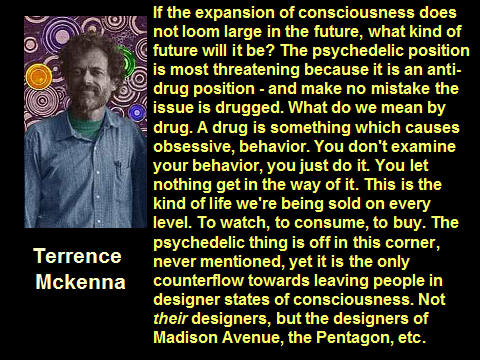 Here an interesting position is taken by Terrence McKenna. It is not
the psychedelic plant that is the drug. It is not that which destroys the
mind and obstructs reality.
---
THE DRUG IS OUR OBSESSIVE BEHAVIOR
It is the drug that causes the obsessive behavior to have, to get, to compete
for. To consume. The drug is given to us every day, by the government, by
the corporations and we are seeing things that are not true.
A brilliant thought . Religious people are waiting for the Apocalypse as some
horrible thing. But they live in a bubble that insulates them from what is
going on in so many other places where the apocalypse is a way of life.
The 60's. Indeed that was the last time we can remember when people seemed
to be alive.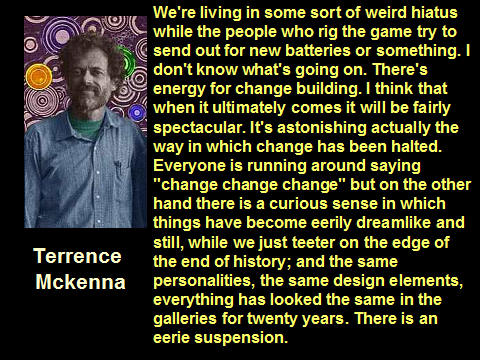 Terrence Mckenna really had his eye on what everybody feels but
no one can quite explain.
Everyday comes and goes and you just inch closer to no one knows what.
People are arguing back and forth to prove their side is right, but no one
wants to admit anything even if the other side is right.
We really seem to be teetering on the edge of history.
It seems like there is nothing more to do and those who have been the
creative ones seem like they are not interested in any creative benefits
other then what millions in bonuses can come to them.
And what they will do with the millions and billions, who knows.
There truly is an eerie suspension.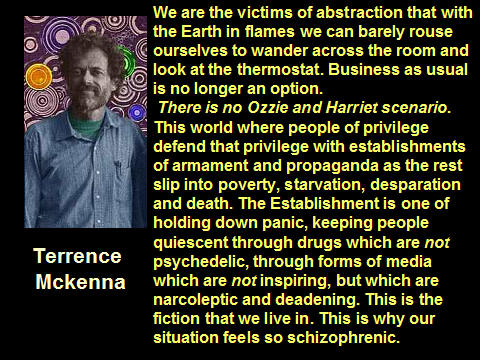 That little example in the first paragraph really is so so true.
We all seem to be standing around, watching everything fall apart
and instead of doing anything to fix what is obviously so wrong we
just lay on the couch and scream our disagreements at the television.
---
THERE MAY NOT BE A HAPPY ENDING
We don't realize that this is not Ozzie and Harriet.
There may not be a happy ending.
---
WHAT IS OUR RATIONALIZATION?
Billions upon billions of dollars must not be spent on health care or helping
people.
We must spend that money on armaments to drop bombs on people.
We must spend that money to pay off politicians or give out bonuses to
executives that screwed things up in the first place.
All the while as we lie on the couch screaming at liberals, or conservatives, or
politicians, people all over the world slip into poverty, or incurable sickness
and needless death, and we just take the remote and change the channel.
As Terrence said, we live in a fiction of our own making and it has made us
schizo.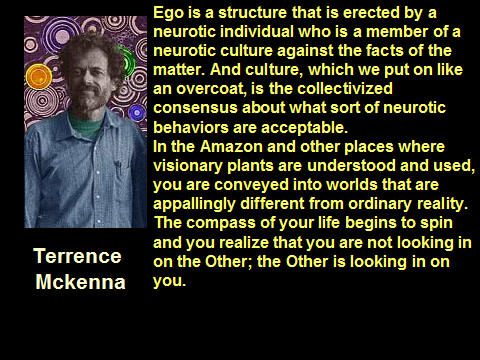 Isn't that interesting?
OUR ACCEPTABLE NEUROTIC BEHAVIOR
What kind of neurotic behavior is acceptable?
How about polluting the atmosphere with toxins.
How about torturing food animals to death and filling them with antibiotics.
How about making huge profits on people getting sick
How about selling homes people cant afford and then foreclosing on them
How about dropping bombs on people who have done nothing to us
How about encouraging large corporations to bribe politicians
Add to the list.
I also like the reference to the psychedelic. You are not looking in on
the other. The other is looking in on you.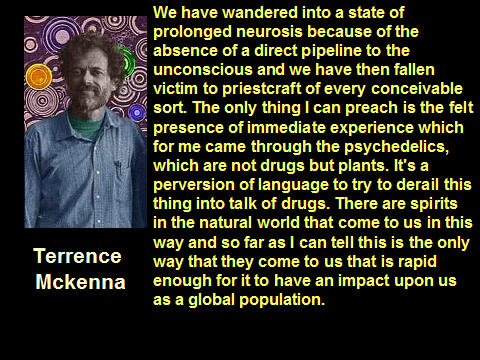 The first paragraph there is great. We are all victims of the religious.
Whether you call it the priest, pastor, rabbi, iman.
However.
We have allowed them to replace the Christ consciousness within us.
To replace the quantum force of light within us.
---
PSYCHEDELIC PLANTS
Next Terrence McKenna preaches the psychedelic plant experience. He does
make an interesting point that he does not regard psychedelic plants as drugs
because they are natural.
Obviously they are God created, and according to McKenna these are spirits of
the divine who come to us in this way and a way which he says is the only
immediate way for them to impact.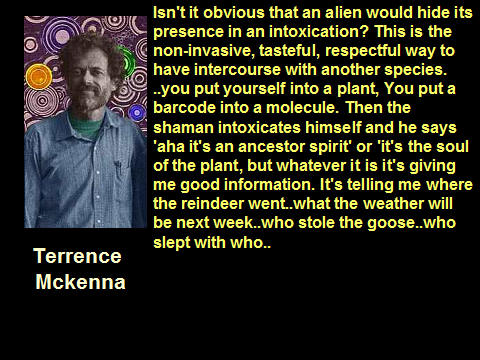 Look at that first sentence. Isn't it obvious that an alien would
hide its presence in an intoxication?
---
MANNA IN THE DESERT
A PSYCHEDELIC SUBSTANCE?
Then think of manna. If manna as thought by many was
indeed magic mushrooms, then indeed the food of the Gods was a psychedelic
plant.
If the Manna taken into the Holy of Holies was magic mushrooms
then is not the word of God speaking as did Terrence McKenna.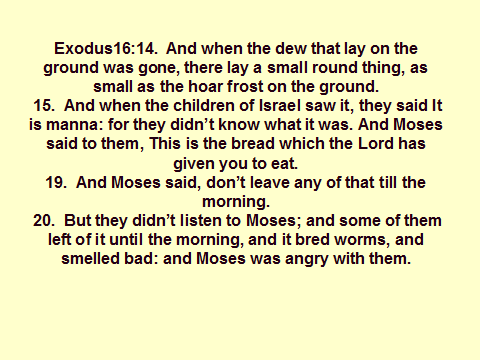 That is the Biblical description of Manna as found in the desert.
Using that, scientists were able to come up with an explanation
as to what this is describing.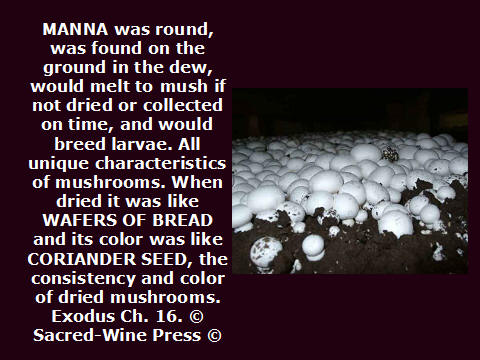 Thus iF Terrence McKenna is saying that the way for an
immediate encounter with the higher
is via ingesting psychedelic plants, the Bible seems to be in
total agreement since the food
from God, the food from heaven, seems to be magic
mushrooms, a psychedelic plant.
Even the Bible description gives this particular food a
spiritual twist.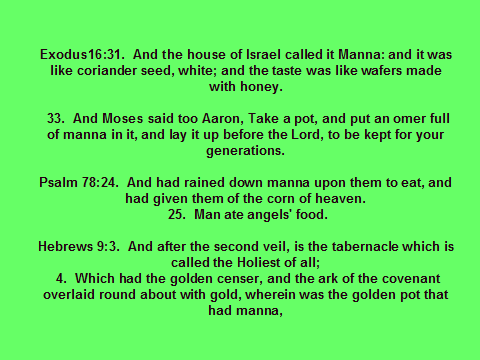 ---
THE GOLDEN POT
It was to be kept for generations.
It was angels food and it was kept in a golden pot
in the Holy of Holies. And from its Biblical description it was
psychedelic mushrooms.
Historian Dan Merkur wrote a piece about Manna and the use of
psychedelics in religious practices.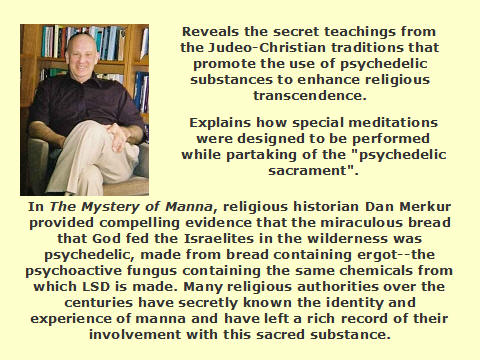 And though religious people of today may frown on Terence
McKennas way to enlightenment
it appears that the Bible confirms his point.
Two final small points that Terance McKenna made though we
will be exploring more of his thoughts soon.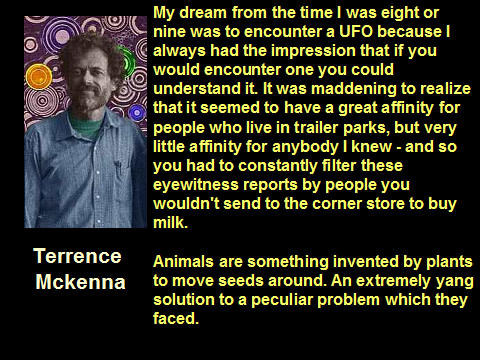 An interesting comment from Terrence McKenna on animals and UFO's.
---
TERENCE MCKENNA COMPUTED THE GREAT
EARTH SHAKING DATE OF DECEMBER 21 2012
ON HIS OWN
But remember we started all of this talk of Terrence McKenna
based on his findings that the Zero Point, or Omega Point, came
down to December 22 2012 based on his 64 number changes.
The point that was made by Terrance McKenna as we have seen is that
the culture is suffering from being drugged by a system.
A system that is totally focused on material greed and is causing death
and destruction to life on the planet and the planet itself.
Terrance McKenna figuring the Omega Point to December 2012 was
startling to him and to everyone else and takes us back to the subject
of that book the Mystery of 2012 and the comments of
Peter Russell.
Do you see the point here?
---
WE HAVE THE KNOWLEDGE BUT NOT THE WISDOM
We know how to mass produce food from animals but we do not have
the wisdom to understand the consequences of what we are doing
when we abuse these animals.
We know how to construct an industrial empire but we do not have
the wisdom to understand the consequences to the natural order.
We know how to heal many diseases but we do not have the wisdom
to understand the consequence of withholding the healing for profit.
We know how to build mighty military forces to defend ourselves but
we do not have the wisdom to understand the consequences of
forcing that power upon others.
Vast amounts of knowledge but very little wisdom.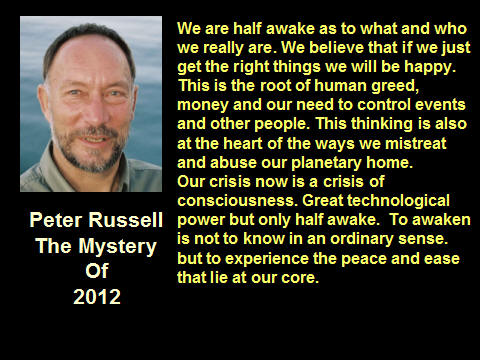 How can I add to what Peter Russell says here.
To awaken is to experience the peace and ease that lie at our core.
I think it is best confirmed by the words of Jesus Christ.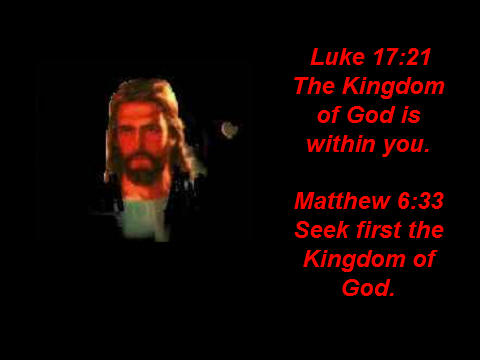 That is what lies at our core
---
THEN COMES THE OMEGA POINT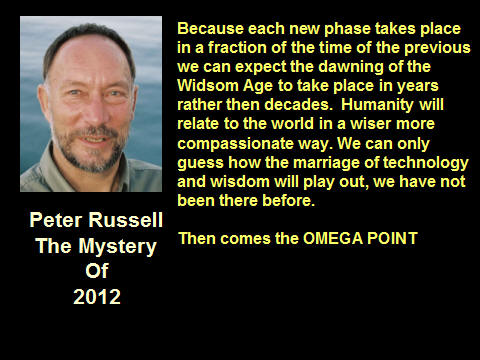 Do you see the promise of 2012.
When the greed connected to knowledge, gives way to
wisdom it will be a marriage.
Technology and wisdom.
The creative process used to benefit the earth and all life.
Then comes the Omega Point
The Omega Point as brought forth by Pierre Teilhard de Chardin
was to bring us to a new Christ consciousness.
A re creation of the mass mind.
A Buddhic consciousness, a Krishna consciousness.
If you can think of Jesus, not as the Christian but as the one who
came from above as the Emerald Commander.
Then you will be able to grasp the possibility of the 2nd coming
of the Omega Point.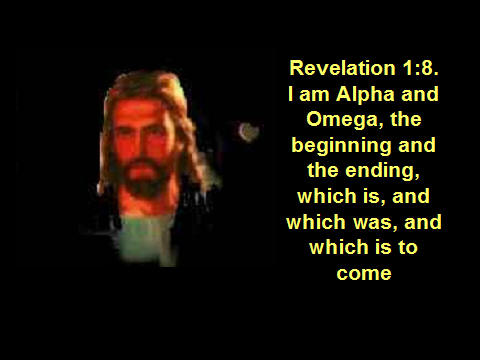 ---
JESUS
THE EMERALD UFO COMMANDER
If Jesus was the UFO Emerald Commander he would be the Alpha, the first.
If he does return at the second coming or Passover on Dec 21 2012 then he
would be the Omega.
The Alpha and Omega.
The beginning and the end.
As we consider the Omega Point and Jesus as the Omega let us compare it with
other points we have already covered.
So let's say what the possibilities are and then introduce possible evidence to
see if there is a reason to suggest such a possibility.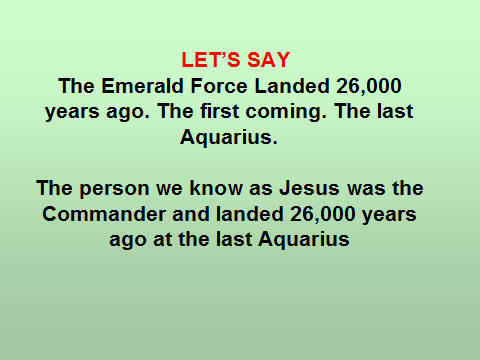 Of course the name would not have been Jesus. The name Jesus was
conceived by the Hellenists to connect to 888.
The writings suggest it was 30,000 years ago but since we are connecting
the Emerald and 2012 which is done through the Emerald detachment
landing in South America at the land of the Mayans where the 2012 prophecy
was made, I am taking the liberty of saying 26,000 years ago.
This would place the 2nd coming at December 21 2012 which would be
this Aquarius.
Let us look at circumstantial evidence.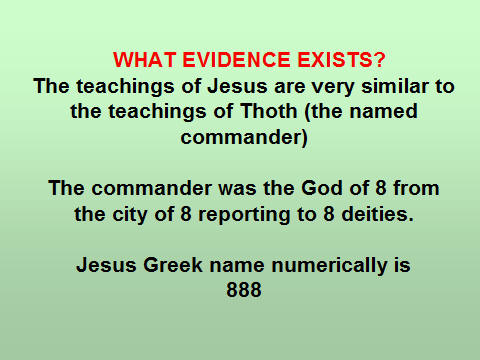 I have laid the teachings out side by side and are available by looking
through the previous Emerald Tablet messages.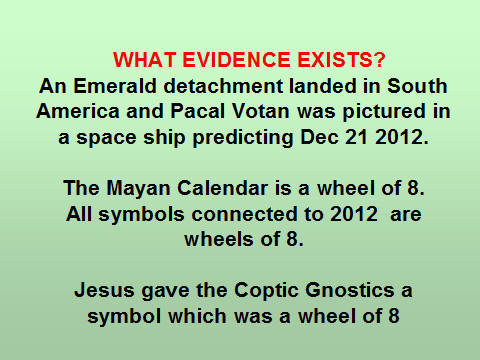 Pacal Votan in a space ship is the Pacal Votan credited with the 2012
prediction. This then also connects the Commander of 8 with the wheel
of 8 and Jesus as 888 giving the Coptic Gnostics the wheel of 8 as a sign.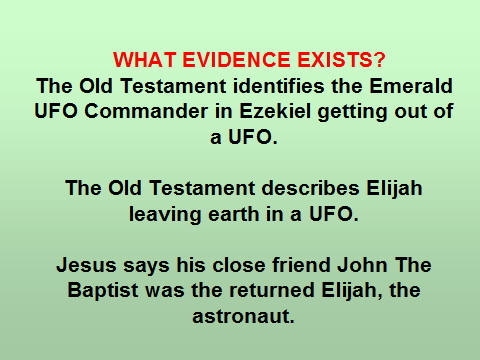 What is important here is Ezekiel saying that the person who got out
of the UFO had an inkorn at his side which connects him to Thoth
the Emerald UFO commander.
That places the Emerald UFO force in the Bible and explains Elijah riding off
in a fiery chariot or UFO and then returning to earth as Jesus close friend John
The Baptist.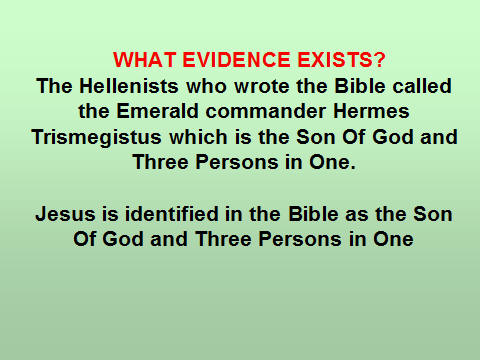 The Hellenists referred to Hermes (who was also Thoth, the UFO commander)
as Hermes Trisgmestus which is the Son of God and Three Persons In One.
This connects Jesus since it was the Hellenists who came up with the name
Jesus to fulfill the number 888 and it was the Hellenists who showed Jesus as
Son of God and three persons in one.
Inanna is picture in an ancient drawing as an astronaut.
This is noted in Zechariah Sitchins book "The 12th Planet".
Inanna is also connected in ancient lore to Venus.
Jesus in Revelation says that the Bright Morning Star is him.
A connection is made.
The symbol of Thoth is the Ibis headed being holding the cross and single eye.
Jesus connects with the commander since his symbol is the cross and he
made an important Biblical reference to the single eye.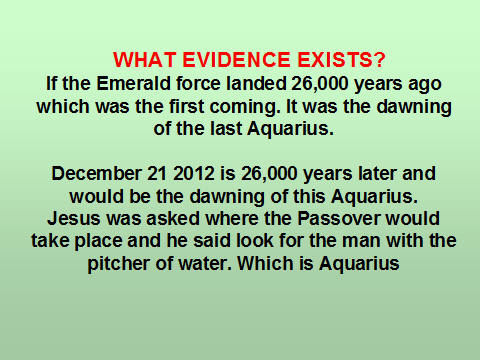 If it is 26,000 years since the Emerald Landing. If Jesus is the commander and
promised a 2nd coming at the dawning of Aquarius, then when we Passover
to this new age at that time, it would seem a reasonable possibility that
the 2nd coming of the Emerald commander could be at that time.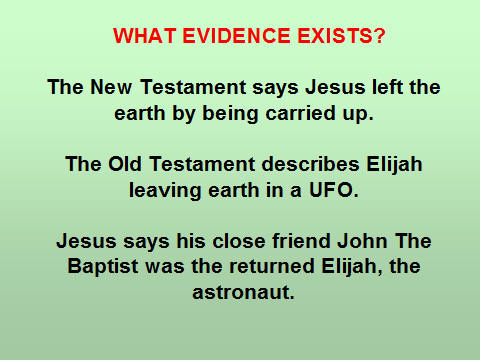 Terrance McKenna and Pierre Teilhard Chardin have computed to a
Zero Point or Omega Point.
McKennas calculations brought the point to December 22 2012,
one day after the Pacal Votan prophecy.
If that is the Omega Point and Jesus is the Omega as the Bible
says, then it could be.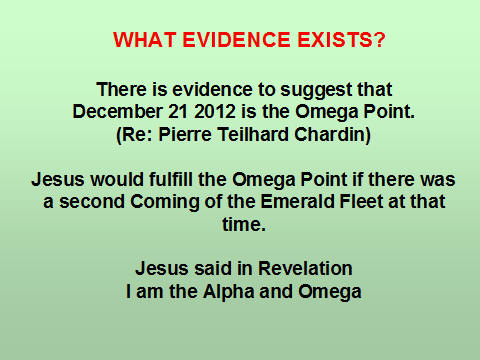 ---
If You Can Donate, Or For DVD's, Flash Drives, Or E Books
Click
Here
TO RETURN TO THE HIDDEN MEANINGS HOME PAGE CLICK HERE