OUR CHANGING WORLD
AND WHAT COULD HAPPEN
---
NASA FORCASTS
When I first began the 2012 discussions I showed
you statements from NASA concerning
their forcasts for that time period.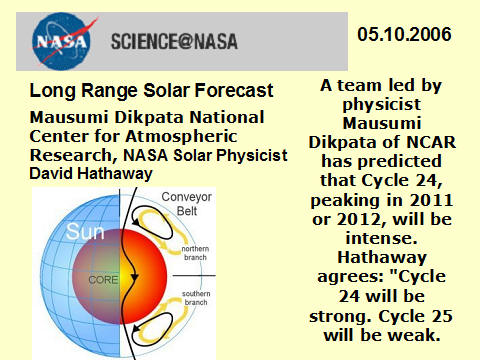 The cycle being discussed is the sun storm
cycle which they predicted would be intense
in 2011 or 2012.
Pacal Votan called the change culminating rather
then using peaking.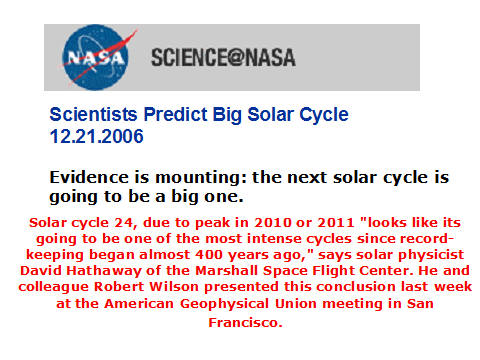 They called for intense solar activity
beginning in 2010 or 2011.
While the sun is going through this
intense activity NASA said that something
else will occur.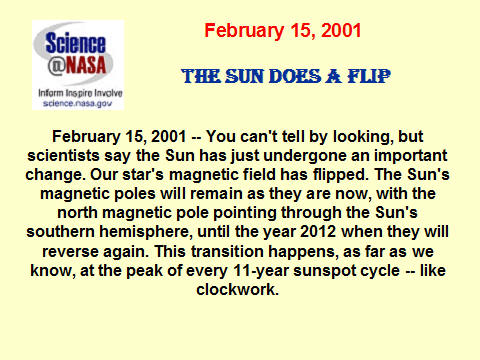 During this period of the greatest solar activity since
records have been kept the Sun will also do a flip.
Do not try to pin this down to a specific year.
It has already begun and as time passes, you will
observe the changes.
The sun flips on a regular basis but this is happening
at a time when the activity is more intense according
to NASA, then ever experienced before.
---
NEW SCIENTIST.COM AND
THE REPORT OF THE
NATIONAL ACADEMY OF SCIENCE
A website called New Scientist discussed this issue
and it is worth pondering.
I want you to keep in mind that the following
report was funded by NASA and presented to NASA
by the National Academy of Science.
I don't want you to think that I am coming at you
with some gloom and doom stuff made up by
new age groups or prophets.
The National Academy of Science is a most
prestigious group.
This slide tells you who and what the
National Academy Of Science Is.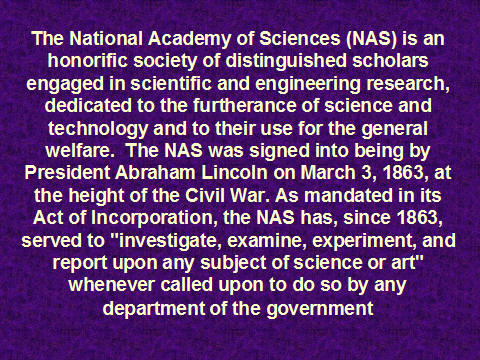 newscientist.com
This is the report the National Academy of Science
presented to NASA.
Remember we had just seen a report of concern issued by
NASA about solar storms .
DON'T CONCERN YOURSELF THAT THESE FORCAST'S WERE
MADE FIVE OR SIX YEARS AGO.
THE POWER OF THE UNIVERSE DOES NOT OPERATE BASED ON
A HUMAN INVENTED CALENDAR.
LOOK AROUND. IS RADICAL CHANGE OCCURRING?
YOU KNOW IT IS.
This National Academy of Science slide talks about
what could happen in a national power failure.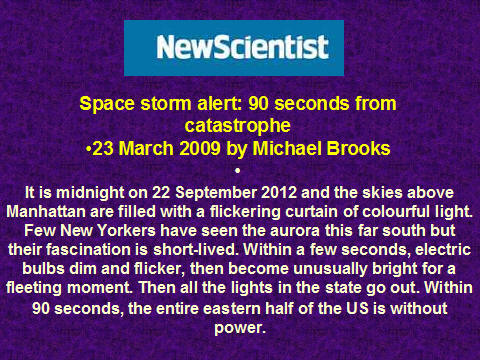 This National Academy of Science slide.
Could a storm on the sun cause such
destruction on the earth.?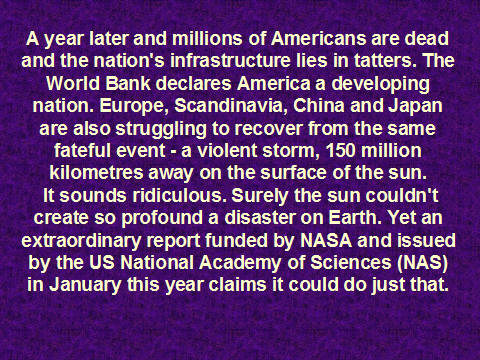 newscientist.com
An artists rendering of the earth going
through this solar storm.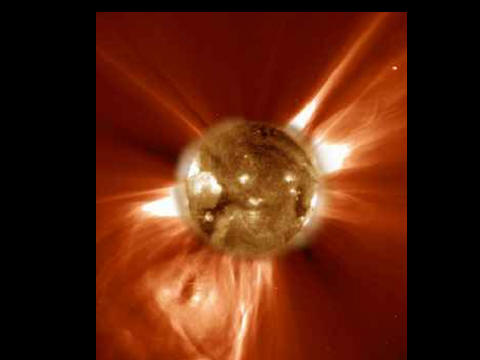 nasa
Let us go back to the 600ad prophecy
of Pacal Votan before we continue to read
the report from New Scientist.
In this slide Pacal Votan speaks
of the coming damage to earth because
of our obsession with material values.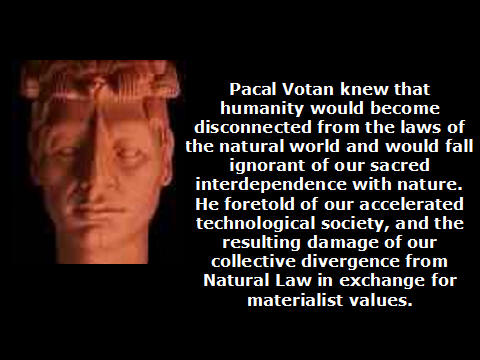 http://www.bibliotecapleyades.net/thot/esp_thot_1.htm
Considering what Pacal Votan said about the great shaking,
now let us see the report from new scientist and try to
digest each one though spoken 2000 years apart.
Here the National Academy of Science report states
how we have planted the seeds of our own destruction
with our total reliance on technology
Just as Pacal Votan said.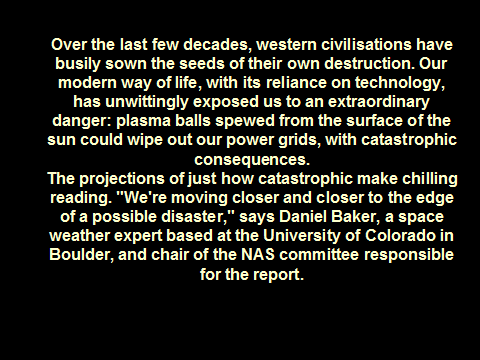 university of colorado
We have invented ourselves into mass extinction.
How could we survive without computers?
We couldn't.
Imagine no cell phones, no computers,
no tv or radio.
You would have to begin living with nature again
wouldn't you?
You would have to start interacting with people again.
The warring nations would have to go back to spears when
they could only kill each other and not everyone else
who happened to be around.
The problem is that we have industrialized totally
on the basis of what good it would do
for industry, and business and profit, and with
no regard for nature.
We do it in every town.
We cut down the trees and blacktop the earth
to get as many material based business
jammed together as we can.
We never ever consider nature and the
fact that the earth is alive.
When we are warned about global warming
politicians say global warming has nothing to
do with our actions. They say global warming
is not man made.
Of course it is not man made, but what is man made
is the pollution into the atmosphere that makes natural
global warming much worse then it is
naturally supposed to be.
But the problem is more then simply doing
without conveniences.
Continuing the National Academy of Science report.
Our high power electrical grids channel
the direct currents from the sun.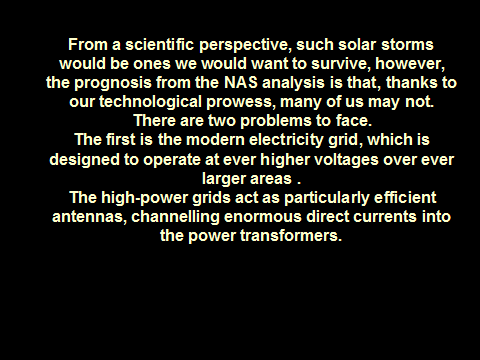 university of colorado
We have built antennas of power grids that
will bring in to us the solar
storm power with devastating energy.
We knew the benefit of the power grids but
have never considered nature.
Just as Pacal Votan said.
Here the National Academy of Science report
outlines the importance of the grid.
If the grid goes, we go, because
we are totally dependent on it.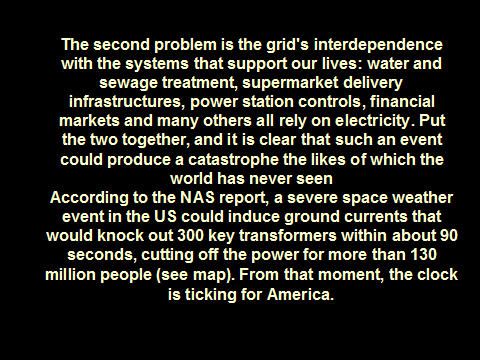 university of colorado
Notice the statement about the power grids interdependence
with the industrial and business systems and bring to mind
Pacal Votans words about our losing the
understanding of our interdependence with nature.
This National Academy of Science report asks,
where will we get water and fuel.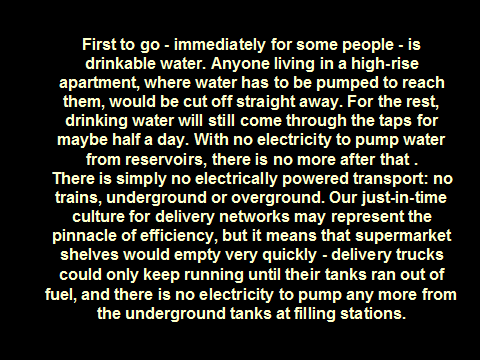 university of colorado
university of colorado
Nobody ever thought about that, but Pacal Votan in
600ad certainly did.
Now this National Academy of Science report asks,
what should we do?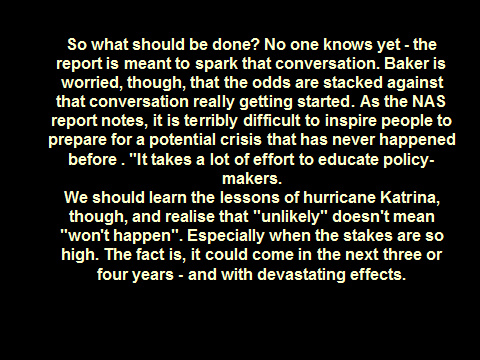 university of colorado
---
DEVASTATING EFFECTS
The change could come with devastating effects.
These are not Pacal Votan people.
These are not people who know of the 8 spoked
wheel or the Buddha, Nostradamus, and Jesus
prophecies about 2012.
This is the National Academy of Science and they
speak of the possibility of devastating effects.
We know the bees are disappearing and Einstein
said when the bees start to disappear
you have 4 years.
You read where the report said it is terribly
difficult to inspire people to prepare for a
potential crisis that has never happened before.
Let us look at the Bible for a moment and the
myth of Noahs Ark.
As Noah was warning people what was happening.
---
GET IN THE BOAT FOLKS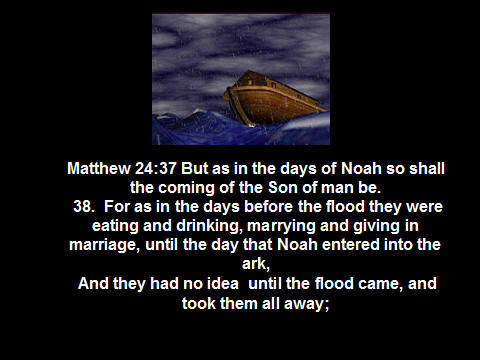 google image
Now let us take the Bible words about Noah and take
the words of the National Academy of Science
and place them together to get the message..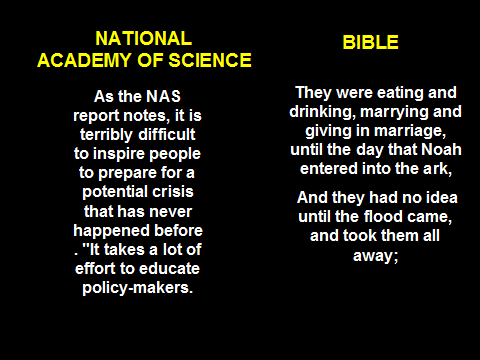 This is deadly serious and what you have
seen is the prophecy of science, NASA and
the national academy of science
lining up together.
The Bible Noah story was not true, it is mythology ,
but it was telling us to heed warnings and
build our ark of safety.
Messages are coming to us to do our
inner electrical work that we call meditation.
There is a place in the ark saved for you.
---
If You Can Help, Or For DVD's, Flash Drives, Or E Books
Click
Here
TO RETURN TO THE HIDDEN MEANINGS HOME PAGE CLICK HERE
Non Profit Org. Under New Age Christian Village Church AKA Hidden Meanings