TRANSLATE THIS PAGE INTO ANY LANGUAGE
GOD IS PHOTON GOD IS LIGHT
We are moving into a realm that no one has ever
reached before.
If you do not believe that ,
let me show you the first picture of God .
---
GODS PICTURE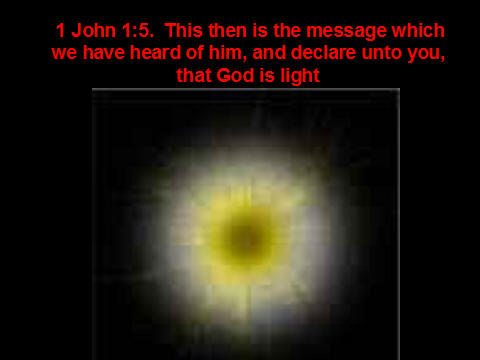 If God is light as the Bible says,
Then God is photon, and this is a proposal of what a
photon might look like.
And if we are created in the image and likeness of God
that is what we look like, and what Jesus looks like.
As you can see he has blond hair.
---
MEDITATION EXCITES ELECTRONS
In receiving information from God, and for praying to god,
the way it works is exciting an electron in the pineal gland to
either send a photon to God which is prayer, or
receiving from God, and Jesus.
Like this.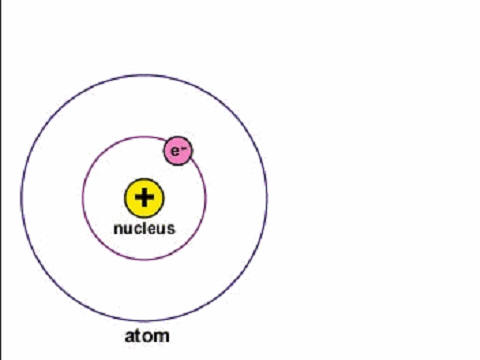 When the electron nucleus (yellow) vibrates,
it can either send out a photon (pink),
or absorb a photon.
---
JOHN CRAMER'S
TRANSACTIONAL INTERPRETATION
This is the cosmic transaction outlined by physicist John Cramer.
What he calls a handshake across space and time.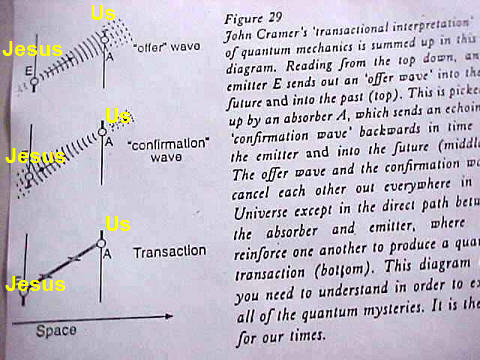 ABOVE: I have color coded and renamed the titles E and A,
as Jesus and Us, to allow us to relate to the
scientific principle Biblically.
Top
Emitter E (Jesus-Photon) vibrating, makes an offering wave
to receiver A, (you and me).
Middle
Receiver A (you and me electron), vibrating sends a confirmation
wave to Emitter E (Jesus-Photon)
Bottom
Receiver A (you and me electron), absorbs (Emitter E Jesus-Photon),
transaction is complete.
Bible: Revelation 3:20 Behold, I stand at the door, and knock:
if any man hear my voice, and open the door, I will come in to him.
---
THERE IS NO OTHER WAY
FOR THIS TO HAPPEN
That's the way science describes it,
And the way the Bible describes it.
That there is no other way but by photon and electron.
In cosmic quantum language there is no Jesus, no God, no
us, as far as names are concerned.
So we pray to photon, by vibration, and photon responds
to electron by vibration.
When photon vibrates and reaches out to us, the photon
must find a receptive vibrating electron which is us,
you and me.
There simply is no other way to communicate with God,
with Jesus, with departed loved ones.
---
IF YOU WISH TO MAKE CONTACT YOU HAVE
TO FOLLOW THE SCIENTIFIC RULES
You are photon, God is photon, Jesus is photon,
your departed loved ones are photon, and if
you wish to make contact or receive contact then you
must use the equipment.
You must go into meditation and excite the electrons
in the pineal gland, or you will not be able
to communicate with those beyond, anymore then you can talk to
someone who is somewhere else without using a phone.
You have to use the equipment made for communicating
in that way.
---
THE WORD SPIRIT
In religious terms we use the word spirit.
Spirit refers to invisible beings.
Given that the Bible has said that God is not human, but is light,
and we have determined that God must be photon, then
one would look for direction as how to contact, or receive,
from what we call God, by understanding photon.
The slide below has Biblical words in yellow and mine in red.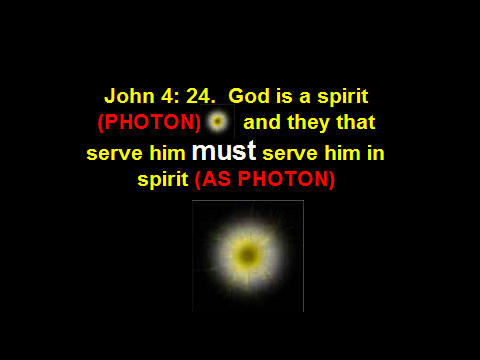 The Bible specifically identifies the nature of God so
you can understand what God really is.
It is photon, and if you are to make contact you must
complete the transaction as John Cramer outlined in the quantum realm
as photon, and electron.
In the slide directly above Jesus does not say, you should try.
He said, you must.
Thus we know what God looks like, and we know what we look like, (photons)
and we know how we communicate with the parallel worlds,
and that realm we call, higher or divine. (vibration)
---
THE TEN PERCENT
We as human beings are confined to 10%
of the universe.
We can only see and experience 10% and the rest is
invisible or dark matter.
This was confirmed by
NASA's Gary Toller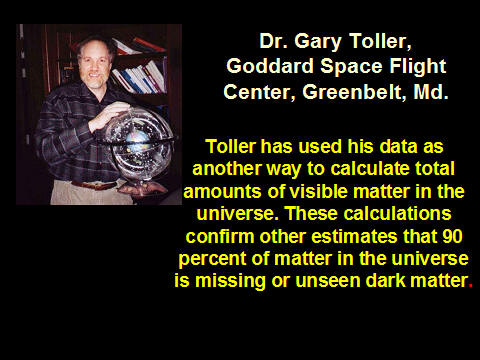 WE CAN'T FIND 90% OF THE UNIVERSE?
ABOVE: Bruce Morgan University of Washington says
we have to admit that we cannot find 90 percent of the universe.
Its anybody's guess what it is or where it is.
Isn't that an interesting statement, most of the matter in
the universe is hidden in a form that can't be seen.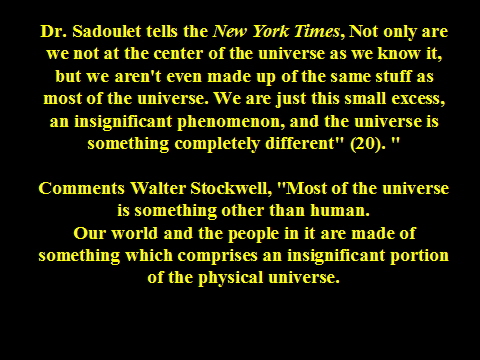 ABOVE: Dr Sadoulet we are not even made up of the same stuff
as most of the universe. Walter Stockwell says most of the
universe is something other then human.
Let's read that again
Most of the universe is something other then human.
So God turns out to be photon in a quantum world that
makes up 90% of matter or existence, which
we cannot see or experience.
God is not a human being.
---
GOD IS LIGHT
God is not a he or a she but an it.
Photon.
Like it or not.
The Bible and science confirms this.
---
WHERE LIFE BEYOND US EXISTS
Dark matter which is the 90% of the universe in the quantum realm
is where life beyond us exists.
This also is confirmed by the Bible.
ABOVE: Science 90% of the universe is dark matter.
Bible His secret place is darkness. The Lord dwells in thick darkness.
I will give you the treasures of darkness.
That is where we are at.
The entire awesome power of cosmic life is coming at us from
a part of the universe that we can not see, or experience.
Religion calls it spirit but its not.
It is photon, atom, electron, proton etc etc. It is real.
So that is the direction we have to take.
The direction that it is available to us through the
pineal gland of the brain we stimulate in meditation.
---
If You Can Donate, Or For DVD's, Flash Drives, Or E Books
Click
Here
TO RETURN TO THE HIDDEN MEANINGS HOME PAGE CLICK HERE
Non Profit Org. Under New Age Christian Village Church AKA Hidden Meanings
INDEX
| | |
| --- | --- |
| Dr Sadoulet | Dr Sadoulet |
| Goddard Space Flight Center Dr. Gary Toller | Gary Toller |
| Images Google unless otherwise noted | |
| John Cramer | John Cramer |
| King James Bible | |
| University of Washington Bruce Morgan | Bruce Morgan |
| Walter Stockwell | Walter Stockwell |