TRANSLATE THIS PAGE INTO ANY LANGUAGE
HAS THE COSMIC BAPTISM OF ETA CARINA BEGUN?
HAS THE 7TH ANGEL TOUCHED DOWN
ON PLANET EARTH ?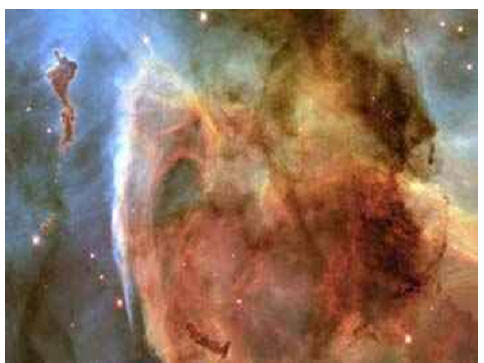 ETA CARINA
This is about the 7th Angel Eta Carina.
First elements have touched down on planet earth.
This occurred as the article says March 29th 2003 at 6:37am.
I have modified the article from SPACE DAILY here and
I have highlighted those particularly interesting areas.
Below the article you will find the link to Space Daily
so you may examine it fully.
---
It's a Nova, It's a Supernova,
No It's a Hypernova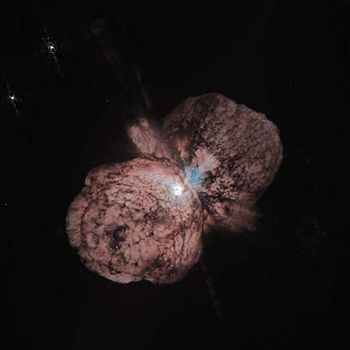 ETA CARINA
Two billion years ago, in a far-away galaxy, a giant star exploded,
releasing almost unbelievable amounts of energy as it
collapsed to a black hole.
HERE IT IS
ENERGY FROM THE 7TH ANGEL HAS REACHED EARTH
The light from that explosion finally reached Earth at
6:37 a.m. EST on March 29, igniting a frenzy of activity among
astronomers worldwide.
This phenomenon has been called a hypernova,
playing on the name of the supernova events that mark the
violent end of massive stars.
THE 7TH ANGEL
MORE INTENSE THEN ANYTHING EVER SEEN
"The optical brightness of this gamma ray burst is about
100 times more intense than anything we've ever seen before.
It's also much closer to us than all other observed bursts so
we can study it in considerably more detail,"
said Carl W. Akerlof, an astrophysicist in the
Physics Department at the University of Michigan.
"During the first minute after the explosion it emitted energy
at a rate more than a million times the combined output of
all the stars in the Milky Way.
If you concentrated all the energy that the sun will put out
over its entire 9 billion-year life into a tenth of a second,
then you would have some idea of the brightness,"
said Michael Ashley, faculty member in the astrophysics
and optics department at the University of New South Wales
and a member of the ROTSE team.
This report is from Space Daily and you can read the entire article by
clicking on this link
http://www.spacedaily.com/news/supernova-03d.html
---
THINK OF THIS
YOU HAVE JUST READ THAT THE NEBULA
I AM PROPOSING
IS THE 7TH ANGEL OF THE BOOK OF REVELATION
HAS TOUCHED DOWN ON EARTH
If I am correct, can you consider the implications ?
ANOTHER WEB SITE ON ETA CARINA
This is Space.com.
They speak of Eta Carina and the amazing power coming
from that nebula.
After the report below you will find a link to that site so
you can read the original for yourself.
This also is about Eta Carina, that I propose is the
7th Angel of the Book of Revelation.
---
HERE IS THE NEXT REPORT
ON ETA CARINA
The burning fuse
FOUR MILLION TIMES BRIGHTER THAN THE SUN
To astronomers there are two things immediately obvious
about Eta Carinae:
It is amazingly, almost impossibly bright, shining 4 million
times brighter than our sun.
It is also wildly unstable, being prone to huge flares,
outbursts and dizzying swings in brightness that give the impression
of something on the verge of self-destruction – which it may well be.
ONE HUNDRED TIMES THE MASS OF THE SUN
What causes all this strange behavior in Eta Carinae is very simple:
It's enormous, more than 100 times the mass of our sun.
On Earth we tend to think of large things as being solid and stable,
but in stars of this size the opposite is true.
Their large size causes them to burn their nuclear fuel at an extremely
rapid rate, blasting out so much heat, light and other energy that
their outer layers are shredded, roiled and sometimes completely
blown off in repeated violent outbursts.
It was just such a violent outburst that first brought Eta Carinae
to the attention of astronomers almost two centuries ago.
---
ETA CARINA'S LIFE
1677
It was first catalogued in 1677 as an unremarkable star,
barely noticeable to the naked eye.
1730 MUCH BRIGHTER
By 1730 observers noticed that Eta Carinae had grown much brighter,
having become one of the most prominent stars in its constellation.
1994 HUBBLE OBSERVED IT
At the time, no one understood what could possibly cause
such strange behavior in a star, and it wasn't until 1994 that the
Hubble Space Telescope first revealed what had happened
150 years before:
Eta Carinae had blasted out an enormous two-lobed bubble
of hot, glowing gas.
Even today it can be seen racing outward at one and a half million miles
per hour (2.4 million kilometers per hour).
The amount of material blasted out was enough to make several
of our suns, but for Eta Carinae it was just the latest outburst in
its short and violent life.
The end of a short life
That's how most supermassive stars end, but Eta Carinae is
such an extreme case that another possibility exists:
---
THE 7TH ANGEL MAY OUTSHINE
THE ENTIRE GALAXY
It could end as a hypernova, a super-supernova that at its
peak will outshine the entire galaxy.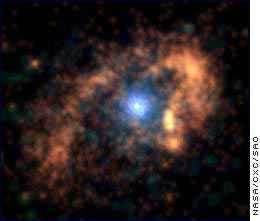 Chandra's X-ray image of Eta Carinae reveals a hot inner core
and three distinct structures racing outward at high speeds.
The blazing violence of such an event is difficult to describe.
Were it much closer it could even wipe out all life on Earth,
eradicating our thin biosphere just like an ultraviolet lamp
kills microbes.
---
NOT CLOSE ENOUGH TO KILL
BUT CLOSE ENOUGH TO DO DAMAGE
Fortunately it's not that close, but at 7,500 light-years
it's still close enough to do some damage.
However, the likely damage is not to humans directly,
but to satellites and the upper atmosphere.
That's because an explosion of this type generates
huge amounts of high-energy radiation such as gamma rays.
We on Earth are well shielded from gamma rays by our atmosphere,
but satellites in space would be vulnerable and some of their
electronics could be damaged by such an event.
---
THE OZONE LAYER
Some have speculated that a huge blast of gamma rays
could also affect the upper atmosphere, including the ozone layer.
But that remains only speculation, and any such effect is likely
to be very transient because the blast of gamma rays
would be fairly brief.
CURRENT WARNING SIGNS
What now has astronomers thinking again about Eta Carinae's
ultimate end is what has happened since 1998:
IT IS BRIGHTENING AGAIN
It has suddenly started brightening again, more than doubling
in brightness in the last 18 months.
THE LIGHT THAT NO ONE CAN LOOK UPON
The star we've never seen
What makes the puzzle particularly difficult is that we
have never actually seen Eta Carinae.
When we look toward Eta Carinae or photograph it,
what appears is not the star itself, but the huge shroud of glowing gas
and dust it has thrown up around itself.
The glowing shroud around Eta Carinae has led some
to speculate that behind the shroud lies not one star,
but two or more massive stars combining to shine so brightly.
But that still doesn't explain the burning question of the moment:
What has happened to Eta Carinae in the last few months,
and what will happen next?
No one really knows.
ALL WE CAN DO IS WATCH AND WAIT
Like geologists watching a trembling volcano,
all we can do is watch and wait.
Eta Carinae could blow anytime, or it could continue rumbling
and spewing gas until the day, perhaps tomorrow,
perhaps thousands of years from now, when it will suddenly let go
with the most phenomenal display of violence ever witnessed by humans.
BEING WATCHED AROUND THE CLOCK
It is now being watched almost around the clock, as much for the fascination as the science.
But perhaps the ultimate knowledge we can gain from Eta Carinae is not about stars, but about ourselves:
That on the grand scale of creation, we are puny creatures indeed, and fortunate to have such a protective abode.
The grand universe is fascinating, but there's no place like home.
Wil Milan is an astrophotographer living in Arizona, too far north to see Eta Carinae, but ready at any time to hop a plane south if the show begins.
If you read the Book of Revelation in the 5th chapter
you will see the significant changes planned for Planet Earth.
All in a very natural evolution of life and energy.
But it is coming and what more proof can I offer.
To read the full article at Space.com please CLICK HERE
---
WHY IS THIS SO VERY IMPORTANT ?
ETA CARINA AS THE 7TH ANGEL OF REVELATION
I am suggesting that it is the Baptism of Fire upon the earth
cast down from Eta Carina which I suggest is the 7th angel
of the Book of Revelation.
IS REVELATION BEING FULFILLED NOW?
AQUARIUS ARRIVED DECEMBER 21 2012
The forecast given of events to take place in the Aquarius
are now happening, because the power of the 7th Angel
has touched down on planet earth.
THE SEVEN SEALS BEING OPENED?
The process has begun to open those seven seals which
then creates the total change in you, bringing you back to
remembrance and the position of light you had before
this physical incarnation, and from Eta Carina and
the single eye of Supernova 1987a bringing the
cosmic Kundalini to the earth.
And it is happening now.
YOU SAW IT EARLIER IN THIS REPORT
THE 7TH ANGEL
WITH ANGELS WINGS
THE 7TH LETTER OF THE GREEK ALPHABET
THE SON OF DAVID AND THE ASTROPHYSICIST
KRIS DAVIDSON
You saw for yourself that from Eta Carina the 7th Angel
connected to the Son of David, Davidson, the first energy ,
the first light has arrived on planet earth.
---
HOW IMPORTANT IS TRUE BAPTISM ?
It is everything.
THE BAPTISM IN MEDITATION
It is extremely important that you undergo the Baptism of Water
in meditation, and then the Baptism of Fire in meditation.
THE 7TH ANGEL HAS ONE FOOT ON EARTH
In this way you will be prepared for the 7th Angel who already
has set one foot on planet earth.
In this way you will be prepared when the cosmic pineal explodes
and bathes the planet earth in its light.
You have never been Baptized until you have submitted yourself
to the water and the fire within.
But, that is totally up to you.
---
If You Can Donate, Or For DVD's, Flash Drives, Or E Books
Click
Here
TO RETURN TO THE HIDDEN MEANINGS HOME PAGE CLICK HERE
Non Profit Org. Under New Age Christian Village Church AKA Hidden Meanings