CHRISTIANITY DOES NOT EXIST TODAY
POLITICIANS USE JESUS FOR VOTES
THE ONE CHRISTIANS CLAIM AS SAVIOR
TURNS OUT TO BE THEIR BIGGEST PROBLEM
WHAT WOULD JESUS DO?
I watched a discussion in which people were questioned as to
their opinion as to how Jesus would react to certain situations.
One situation mentioned was capital punishment,
executing criminals and then the added question,
what would Jesus do.
A conservative on the panel made a reply shocked me almost
that shocked me almost off the chair.
He said, "well you know an eye for an eye and a tooth for a tooth. I would say that Jesus would support the death penalty.
THEY CLAIM TO FOLLOW JESUS, BUT THEY DON'T
These people really have no idea. They say they are Christians
and followers of Jesus Christ but they really are not.
Many of the strongest Christian leaders share this guys opinion
that Jesus would support the death penalty.
This leads me to the need to tell as many as I can the truth about Jesus.
WHO IS PREPARED TO FACE THE TRUTH?
Take Jesus out of the entertainment and political machine where
Christianity has placed him and tell the truth about Jesus.
A CHURCH BRAWL ON CHRISTMAS
Did you ever read about the Christmas church brawl?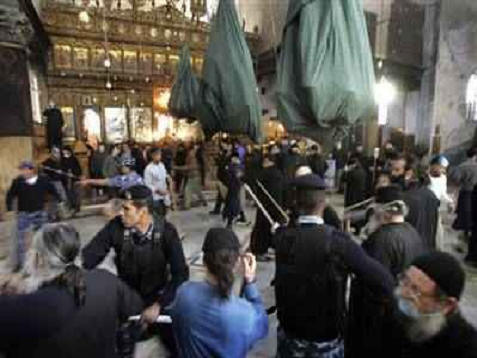 What you are looking at is a brawl.
You can see the police trying to break it up but before that
it was simply a barroom brawl but it was not in a barroom.
It was in a church.
And it was not in just any church , it was in the church that legend
says Jesus was born in in Bethlehem.
It is called, The Church of the Nativity.
It seems that there were two orders of priests in the church and
they were assigned the job of cleaning up after the midnight mass
and a fight broke out between them in the church sanctuary
and police had to come to break it up.
This is the news report.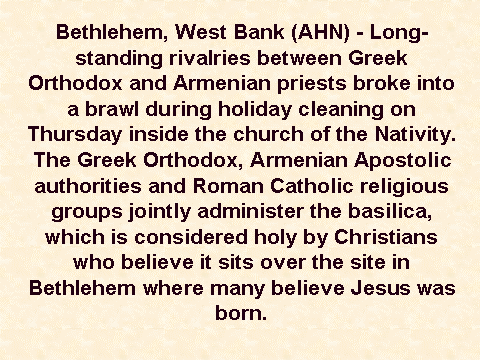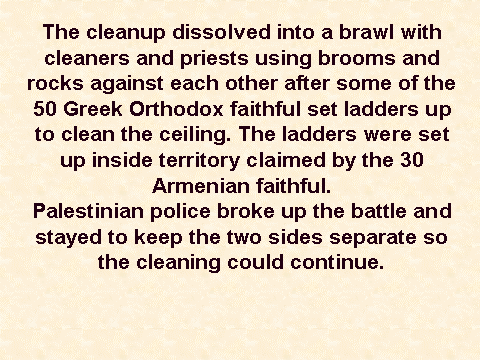 How can they have any concept of the nature or meaning
of Jesus and do something like this?
THE CHRISTIAN JESUS OF POLITICS AND
ENTERTAINMENT
We see on television and hear on the news of Jesus involved in
politics, Jesus involved in selling stuff, and extolled in
religious entertainment.
Jesus is none of these things and I am resolved to the fact that
Christianity has no idea of the true nature of Jesus.
THE JESUS NAME IS USED FOR GAIN
Whether they are sexually exploiting children, or personally exploiting
the sick and the poor on television.
Whether they are claiming Jesus in the person of their politics.
Or whether they are praying to Jesus to protect our troops as they
do battle against a perceived enemy.
The person they are praying to and claiming to follow is not
Jesus Christ and this may be the reason for the violent chaos that
exists in the world today.
WHAT IS JESUS?
Or should I say what is a Jesus.
Jesus is not a man to be exploited for members, money
or victory in battles.
Jesus is not something that belongs to Christianity.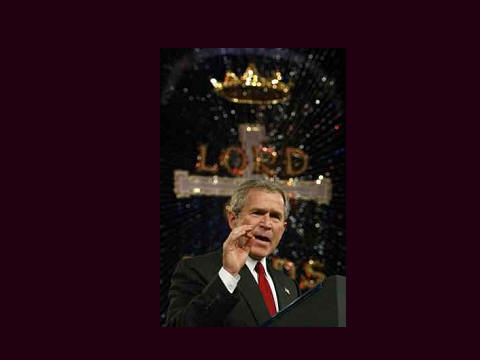 George Bush in his campaign for President answered a question
on television by saying that the person in history that has impacted
his life more then any other is Jesus Christ.
That would mean President Bush considered Jesus as Lord,
yet he personally ordered the execution of around 200 people in Texas.
As governor you can do that, as a follower of Jesus you canít.
He conducted a violent attack on Iraq, what would Jesus say,
what would Jesus do ?
Would the one that George Bush says means more to his life then anyone else in history, approve of his actions ?
PRAISE THE LORD AND BOMB THE PEOPLE
Our society which claims to be Christian backs it up, not with the
power of Christ, but with the power of missiles and soldiers.
How is this possible?
How did the millions of Christians in our country say nothing when
the President who claimed Jesus was so important to him launched
bombs and missiles down on people who did nothing to us.
HOW DID PEOPLE SUPPORT HITLER
I used to wonder about that during the 2nd world war.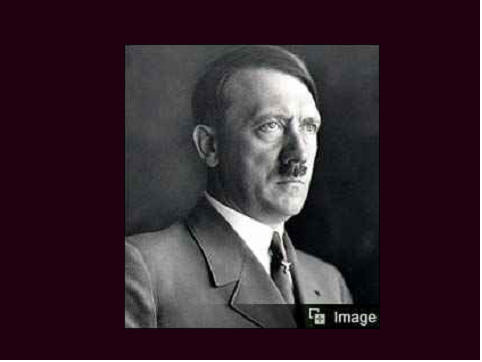 I would wonder how could the German people just sit back
and not do anything when Hitler was doing his horrible things.
But now I know.
In his time it was the Fatherland. No one dared come against the
Fatherland. Today it is the Homeland.
Homeland Security. And no one dares come against that.
Raise the flag for God and country and be sure to call yourself a Christian
and they will love you.
POLITICIANS ARE JESUS FANS
So many politicians today are running for office and spouting their
allegiance to Jesus. Not because they are Christian in the true sense
but because they know that millions of people will vote for them
just because they say they follow Jesus and are Christian.
It does not make any difference if you support war against innocent people.
It doesn't make any difference if you are against healthcare and help for
children and old people.
It doesn't make any difference if you are against spending money to help
the poor or disabled.
It doesn't make any difference if you allow thousands to lose their homes to a hurricane.
All that matters is that you say you are a Christian and are against
gays and abortion.
GAYS, ABORTION, AND JESUS
Even though Jesus was not against gays, you as a good Christian
politician must be.
And about abortion. I am also against it. But I will tell you what I am against more.
I am against the idea of the social structure being run by Christians who would dispatch the clergy to arrest women and doctors .
Just like they do in Iraq, and Saudi Arabia, and Iran, and Afghanistan, and Pakistan.
They are religious countryies and their politicians are religious and they live by religious rules.
THE CHRISTIAN SHARIA LAW
THE CHRISTIAN TALIBAN
That is what so many want here, and that is why 3 people sit on the supreme
court now who believe in those things.
So that one day the law would rip your door down and carry you off to prison
in the name of Jesus.
HOW DIFFERENT IS THE JESUS TEACHING
FROM THE CHRISTIAN TEACHING
Where in the Bible does Jesus say you should belong to a
church or a particular religion.
It doesn't because that is not what Jesus taught.
TAKE THE JESUS LITMUS TEST AND SEE
IF YOU ARE REALLY A FOLLOWER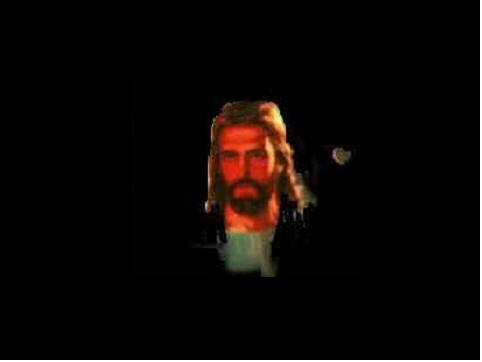 Think of the those who destroyed the world trade center and
killed thousands of people.
Think of Osama Bin Laden and Al Queda and as you do ponder
on the words of Jesus and think of them when you hear the politicians
use his name and say they follow him.
Can you follow Jesus when he says things like this?
Matthew 5:40. And if any man will try to take away your coat,
let him have your cloak also.
43. It's been said love your neighbor, and hate your enemy.
44. But I say love your enemies, bless them that curse you,
do good to them that hate you, and pray for them which
despitefully use you, and persecute you.
46. For if you love people who love you, what reward have you?
47. And if you salute only your friends you're not doing anything
more then anyone else.
Can you love Osama Bin Laden?
Can you love the people that flew the planes into the world
trade center?
Who would stand up in church and proclaim their love for
Osama Bin Laden and the members of Al Queda. No one of course.
But if you cant then you are not a follower of Jesus Christ and all
your talk is just that, talk.
CAN YOU FORGIVE THE TERRORISTS?
According to the Bible they went up to Jesus and asked him
how much did they have to forgive people who did wrong things
to them and Jesus said 7X70 times.
In other words, you never stop forgiving them.
Can anyone stand up and say that they love Osama Bin Laden
and Al Queda and offer them complete forgiveness for what
they have done?
How many followers does Jesus have now?
THEY TOOK PRAYER OUT OF SCHOOLS
Christians say the trouble with the country is that they
took public prayer out of schools
Jesus said this
Matthew 6:5. And when you pray, don't be like the hypocrites,
for they love to pray in public so everyone may see them.
That's their reward.

6. But you when you pray, find a private place and shut the door.
Pray in secret; and your Father who sees in secret
shall reward you openly.
Do you agree with Jesus that Public Prayer should not be allowed
but that all prayer should be done in secret?
Most Christians would vote for public prayer in schools regardless
of the fact that Jesus said no to it.
AS CHRISTIANS JUDGE OTHERS
WHAT WOULD JESUS DO?
So many people judge gays or judge people of other religions,
or judge people whose social values are different then theirs.
Yet they claim Jesus as Lord, but what did Jesus say?
Matthew 7:1 Don't judge others and you won't be judged either.

2. The way you judge others is the way you're going to be judged,
and the way you treat others is the way you're going to be treated.
3. And why do you look at the speck in someone else's eye ,
but you don't consider the log that's in your own.

4.You want to try and correct the way someone else lives but you
don't do anything about the way you live.

5. You're a hypocrite. Clean yourself up first before you try to
clean up someone else.
THE ANTI GAY CHRISTIAN
In order to be a good Christian politician these days you have to
come out against gays.
In the time of Jesus they were called natural eunuchs.
There were three kinds of eunuchs then.
There was the mutilated eunuch or the castrated one .
There was the Eunuch who gave up sex for religion, Like the celibacy
oath priests take.
And there were those who are the Gays of today who at that time were
called Natural Eunuchs.
And though many Christians today say gays are living in sin
because homosexuality is a choice, this is what Jesus said.
Matthew 19:12. For there are some eunuchs, which were so born from their
mother's womb:
How many Christians can deal with that ?
I AM NOT AGAINST CHRISTIANITY
I'm not coming out against Christianity, I am coming out in favor of it because it does not exist.
It has never been tried.
I am saying that Jesus was not interested in having someone praise him he was interested in people obeying him.
That is the mark of a Christian, one who obeys Jesus. And where are they?
CURRENT CHRISTIANITY IS NOT CHRISTIAN
AT ALL
I am all for Christianity that preaches obedience to Jesus Christ.
But the Christianity today says all you must do is accept Jesus as
your savior.
That is not what Jesus said.
That is not what the Bible said.
The Bible said in
Hebrews 5:9 that Jesus is the author of salvation for
all who obey him
Jesus said in
Luke 6:46 that you cannot call him Lord unless you do
what he said to do.
The first thing he said to do was to enter within yourself, separate from thought and touch the single eye or pineal gland.
Christianity today teaches against that.
JUDGE NOT
And as far as judging other people and what they do this is what Jesus said.
John 8:7. He that is without sin among you, throw the first stone.
Whats your name, Ted Haggard, Jimmy Swaggert, Pat Robertson ,
Jim Bakker or who?
And as far as Judging other people whether they are gay or what, Jesus said this
John 8:15 You judge after the flesh; I judge no man.
You know what's funny about this. So many conservatives are against
universal health care.
They say people have to save up, go to work and support themselves and stand on
their own two feet.
You know what Jesus said?
Matthew 10:8 8. Heal the sick, freely you have received, now freely give.
Freely you have received now freely give.
He didn't say that you should give them healing if they can afford it.
Or if they have a job. He said give them healing. Period
---
HOW CAN YOU BE A FOLLOWER OF JESUS
AND VOTE AGAINST FREE HEALTH CARE?
Nobody's saying you have to dig in your pocket.
That is not the point here.
The point is that if you say you are a Christian and vote against health
care for people then you are a hypocrite and you are not a Christian at all.
---
NOW LET'S GET DOWN TO THE REAL JESUS RULES
Now here's the test of a real Jesus follower.
Matthew 19: 21. Jesus said go and sell what you have, and give it to the poor.
Be a conservative and make people take care of themselves.
Make them save up for it
Thats the Christian way.
We have to take care of the oil companies. Make sure they are
in good health. No time for the poor and disabled. Others will tend to them.
And what did Jesus say about these very people who say they are Christians.
Matthew 25:40. When you have done it for the least among you,
you have done it for me
When you have done it for the least among you.
Well you may call yourself a conservative but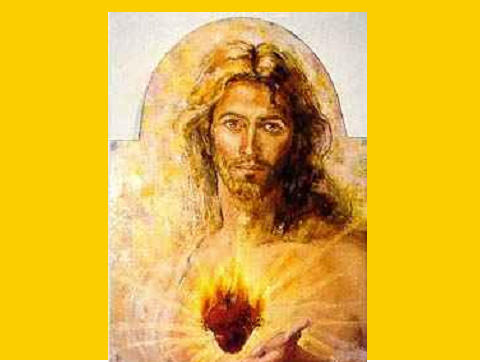 Jesus was a bleeding heart liberal.
The point is that you cannot be a conservative and be a Christian.
Your prime concern as a Christian has to be with the poor and the
sick and loving your enemies and forgiving everyone over and over.
You have to be a person that does not look to find Jesus in church or
in religion but rather you have to be a person who looks to find
Jesus within yourself.
You cant be a Christian and pray to Jesus to keep our troops safe.
You have to pray to Jesus to keep both sides safe and to end the conflict.
CHRISTIANITY DOES NOT EXIST
So you see. There really is no such thing as Christianity today.
May we all, reconsider our feelings based on the true teachings
of Jesus Christ.
May we be at peace with ourselves, each other, and all who
live on this planet.
If we will only agree to do what Jesus Christ said to do, then
the one whom we all seek, will come.
---
If You Can Donate, Or For DVD's, Flash Drives, Or E Books
Click
Here
TO RETURN TO THE HIDDEN MEANINGS HOME
PAGE CLICK HERE