TRANSLATE THIS PAGE INTO ANY LANGUAGE
WE ARE LIVING PHOTONS

HOW OLD IS YOUR TWIN?
AND BELIEVE IT OR NOT
YOU HAVE ONE
---
A WHOLE LOT OF SHAKING GOING ON
We are living in a time of a great shaking, a great change,
leaving us to wonder every day, what's coming next.
WHERE IS THE SHAKING COMING FROM?
But the real question concerning what's coming has to
fall back on the more important question, where is it coming from,
and why is it coming in the first place.
---
CAN WE USE COMMON SENSE
IN CONSIDERING THESE THINGS?
Common sense, and only common sense.
Nothing scientific that involves quantum physics, classical physics, religion,
spirituality or any other form of study.
Simply common sense.
---
LOOKING INSIDE OF OUR HEADS
Common sense achieved by looking inside of a human head.
INSIDE OF YOUR HEAD IS STUFF
Every head has the same stuff inside.
And it is stuff.
Organic, meat stuff.
Stuff that hungry animals would eat and enjoy in the same
way that some people enjoy eating liver, or tongue,
or rump roast or whatever.
---
IS THAT STUFF IN THERE YOU ?
IS THAT YOU?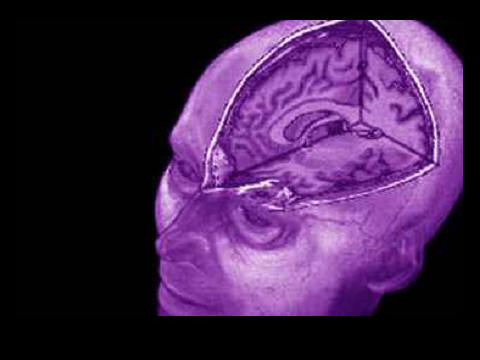 The common sense question is, is that stuff in there you?
Is that stuff capable of thinking and loving and hating and wishing.
WHAT ARE YOU, MEAT LOAF?
If that is you then you are meat.
No different then you see in the supermarket meat department.
Exactly the same.
Let's use some more common sense and look again
---
YOUR HEAD IS A COMPUTER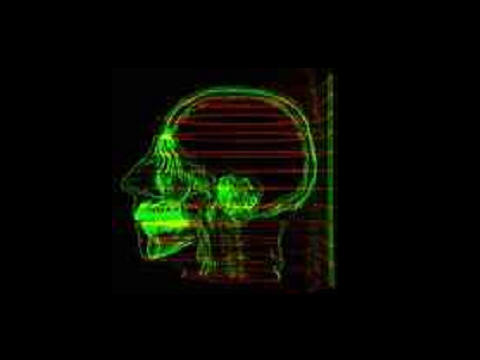 This a radiograph picture of the inside of a human head.
Is that you?
---
WHAT ARE YOU, PLASTIC AND METAL?
Does it make sense to you that that mess inside is doing
the loving, the hoping, expressing the concern etc?
Is that all there is?
That stuff in there and that's you?
---
SO THE STUFF LOVES,
AND FEARS, AND PLANS ETC.
THE STUFF DOES THAT?
Your stuff is no different then everybody else's stuff.
If they take your picture they will see
the same thing.
One more. A bit more graphic.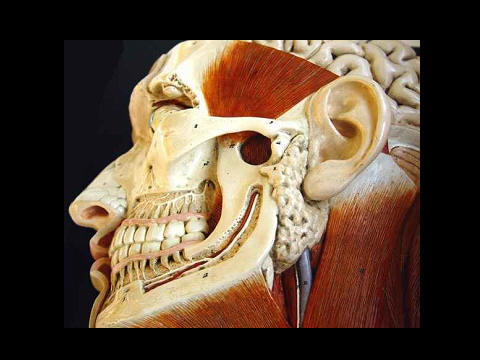 PRETTY SCARY LOOKING STUFF
Does common sense tell you that all of that meat,
and bone stuff could not possibly be the source
of your decisions, your hopes, your concerns, your love etc?
Stuff is stuff, and stuff does not have the ability to hope,
or be concerned, or love.
Let me show you the inside of a computer.
---
A COMPUTER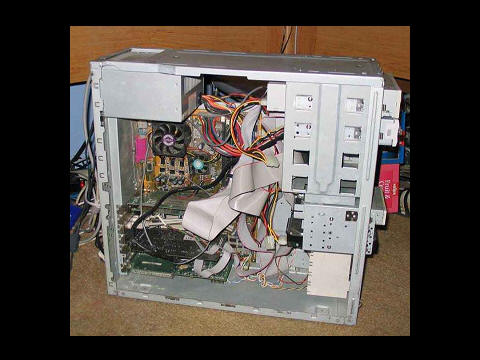 Again common sense.
This is plastic and metal stuff.
Yours is meat stuff.
Do you think the stuff inside of this metal box can put
together web sites.
Do you think that it can write documents etc.
---
SOMEONE HAS TO OPERATE THE STUFF
Does common sense not tell you that someone has to operate
that stuff.
Does common sense tell you that whether its metal and plastics
or meat and bone, there has to be an external intelligence
of some sort to use it properly?
So let's take the computer and put it somewhere else to
define more clearly this appeal to common sense.
---
THE COMPUTER ON YOUR SHOULDERS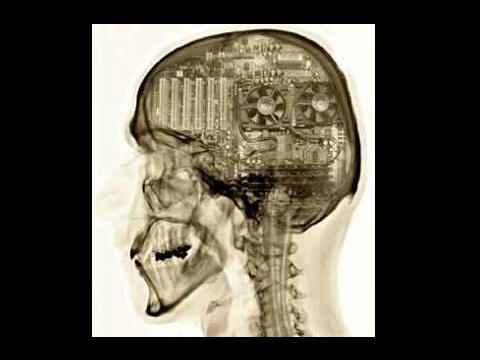 WOW LOOK AT YOU
We took the plastic and metal computer, and put it inside of the
meat bone computer, to give you a more graphic idea as to what this
thing called a head and body actually is.
Now finally side by side.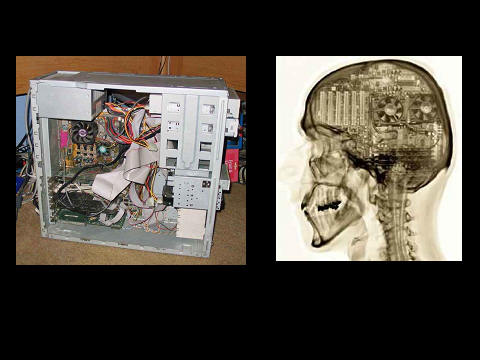 A BOX WITH STUFF IN IT ON THE LEFT
AND A HEAD WITH STUFF IN IT ON THE RIGHT
A computer is a computer.
---
WHO DREAMED UP THE COMPUTER ON THE RIGHT?
THE ONE WITH THE HEAD STUFF
The one on the right is much more sophisticated then the one on the
left, because the one on the right was designed by an alien being
far advanced beyond the civilization that created the one on the left.
But they both have one thing in common.
SOMEBODY HAS TO OPERATE IT
They both require an intelligence to operate them.
They cannot function without input from an intelligence.
In both cases the input comes from the same source.
The same person.
That person is you.
---
YOU ARE NOT THE MEAT STUFF
YOU ARE THE OPERATOR
Not the meat and stuff you, but the invisible photon you, that religion calls the
soul.
So we look again at the two computers .
Right below them we see the operator of both.
The photon you.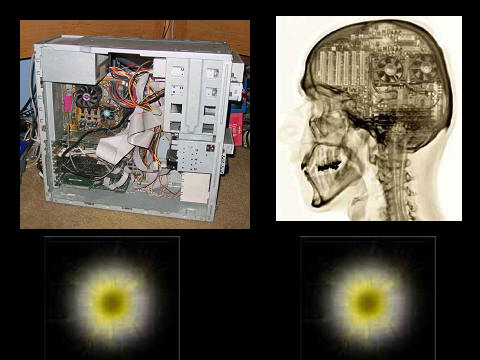 THE PHOTON YOU
OPERATES THE STUFF
WHETHER ITS PLASTIC OR MEAT
You have stuff on the left of metal and plastic,
and stuff on the right of meat and bone.
Both stuff need an intelligence to operate it.
It must have something not made of meat or bone,
plastic or metal.
It must have photon.
From out of the realm of dark matter comes the
intelligent you that operates stuff
and makes it work.
---
DOESN'T THIS MAKE SENSE ?
I was searching for common sense as we move forward
and I hope you agree that we have found it.
Last week Charles and I sat for a short while and discussed
some of the things that we have been sharing, and Charles raised
what I believe is a good question.
---
HOW DOES SCIENCE KNOW IF THIS IS TRUE?
IS IT JUST BASED ON MATHEMATICS?
The physicists and scientists that talk about parallel universes
and twins that we have in those places etc.
How do they know?
Is it all just based on mathematics ?
How can they be so sure?
---
IS THIS A REASONABLE ANSWER?
I pondered that, looking for a reasonable answer,
since we are trying to be reasonable,
and I think, I have come up with one, but you will have to judge.
How can these scientists be sure of what exists in the
invisible realm we call spirit, or whatever.
---
HERE ARE THE SCIENTISTS
I HAVE BEEN QUOTING
This is a group of those whom I have been quoting
in various meetings.
So the question is how do they know?
---
THEY ARE TRAINED TO KNOW THINGS THAT
WE DO NOT
Well let's consider something.
They obviously know things that we do not know because of their
studies and training etc etc.
You know things that other people do not know because
of your studies and training.
But let's divide the room.
LET'S PRETEND YOU ARE THE SCIENTIST
Let's say that you on the right side are the scientists
and you know things, and the people on the left side are us
who can only ask the question: HOW DO THEY KNOW?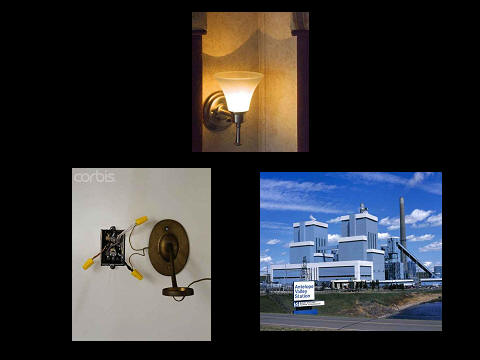 A LIGHT FIXTURE, ELECTRICAL WIRING, A POWER PLANT
The light fixture is visible.
YOU'RE THE SCIENTIST AND KNOW THAT THERE IS WIRING IN THE
WALL, EVEN THOUGH WE CAN'T SEE IT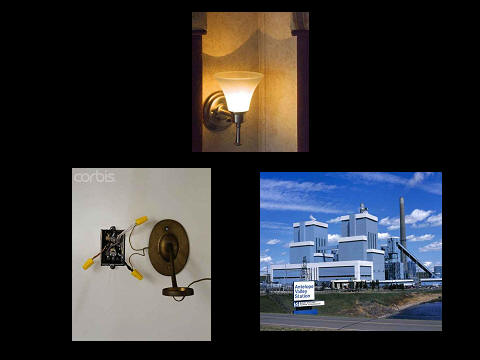 You know that there must be wiring inside the wall.
(Bottom Left Of The Above Picture)
YOU KNOW THAT THERE IS A POWER PLANT THAT SENDS THE
ELECTRICITY TO THE WIRING EVEN THOUGH WE CAN'T SEE THE
WIRING OR THE POWER PLANT
You know that there must be a power station to feed that wiring.
SO YOU THE SCIENTIST EXPLAINS TO THE REST OF US HOW THIS
ALL WORKS BECAUSE YOU THE SCIENTIST KNOWS.
EVEN THOUGH WE CANNOT SEE ANYTHING BUT THE LIGHT
You the scientist knows that the visible light could
not exist without the invisible wiring and power station.
One could not exist without the other two.
---
LET'S APPLY THE SAME COMMON SENSE TO US
Check the pictures below.
Again we have to consider those who are scientists, and know what
must exist that cannot be seen in order for the visible to exist.
Like the light cannot exist without the wire and the power station.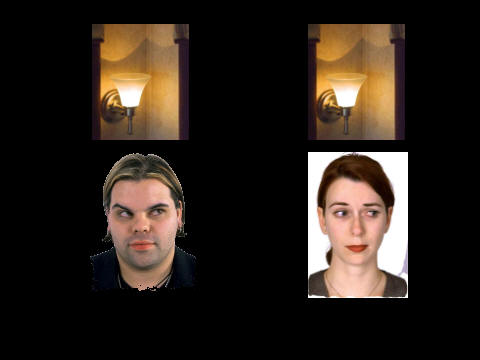 We know that women exist and men exist, because we can see
them just like we can see the lit wall lamps that exist.
WE KNOW WHAT INVISIBLE ENERGY POWERS THE LAMPS
WE DON'T SEEM TO UNDERSTAND WHAT POWERS US
But we do have some hints.
---
THE BIBLE ?
The Bible says that life began by an atom ionic bond.
Taking the rib out of Adam to make Eve is symbolic
language for creating an ionic bond.
The Bible says we are light as God is light.
---
SCIENCE EXPLAINS THE SYMBOLS
Knowing that we are atoms, and there is no doubt about that,
as much as there is no no doubt about the wall lamps.
But just like the wall lamp needing wiring, and a power station,
scientists such as David Deutsch tell us about ourselves as atoms.
---
NOT ONLY ARE WE THE UNSEEN FORCE
THAT OPERATES BODIES,
BUT WE ALSO HAVE TWINS AS WELL !!!!!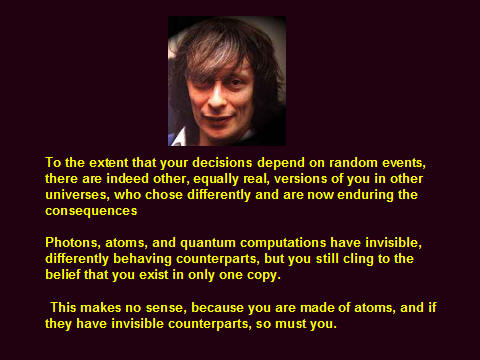 ABOVE: David Deutsch of Oxford University.
There are equally real versions
of you in other universes.
Atoms have invisible differently behaving
counterparts.
You are atom, so you must have invisible counterparts.
So how does this work out.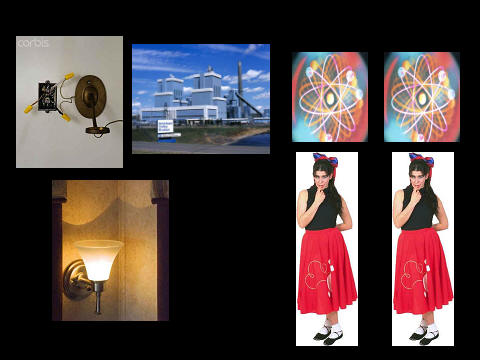 The lamp has above it, unseen counterparts, the wiring and
the power station.
WE ALSO HAVE UNSEEN COUNTERPARTS
SHOWN ABOVE THE WOMAN
The scientists like David Deutsch say that our visible bodies
(like the lamp) have an unseen counterpart which is the atom,
and since the atom has twins then so must we.
You cant have light without the wiring and power station.
You cant have people without atoms, photons, and twins.
---
YOUR TWIN
Now I want to spend just a wee bit of time on atom twins.
I am not going to go into detail because scientifically it
goes over my head and I will have you searching for a pillow.
---
THE NATURE OF ATOMS IS
THE NATURE OF YOU AND ME
I just pulled out a couple of lines that I felt would
give us some inkling as to the nature
of atoms, and why the scientists conclude
we all have twins in parallel universes.
Remember these atoms are you, and here you will see
one of the earliest experiments back
in the late 1800's and why the scientists involved
were shocked and surprised.
YOU ARE ATOMS, NOT MEAT AND BONE
ABOVE: Science when an element emitted an alpha particle, it
produced an element two places to the left.
An element that emitted electrons produced an element
one place to the right.
In other words elements reproduce themselves.
This is a rather long document on that web site.
I just pulled out this short paragraph
because it says something about our inner being.
THE ATOM MAKES COPIES OF ITSELF
Notice that the atom element is creating copies of itself.
Two places to the left and one place to the right.
---
NATURE DOES WHAT IT DOES
Just like when you eat.
Your body takes care of the digestion,
you have nothing to do with it.
Your bodily functions of all kinds take care of
themselves without your interference.
---
NATURE TAKES CARE OF YOU
AND YOUR CLONES
In the same way nature operates without
your interference, or knowledge ,
and it is actually producing copies of yourself to the
left and to the right.
Very strange things go on inside of us
without our knowledge.
---
YOU CAN SEE WHAT YOU'RE
NOT LOOKING AT?
Your photon being knows what you want to see
even when what you are looking at is not
what you think it is.
WHAT ?
Your being will simply allow you to see what you want
to see when you are looking at something
totally different.
Confusing?
YOU ARE ABOUT TO READ A TEXT PERFECTLY
IN WHICH EVERY WORD IS SPELLED WRONG.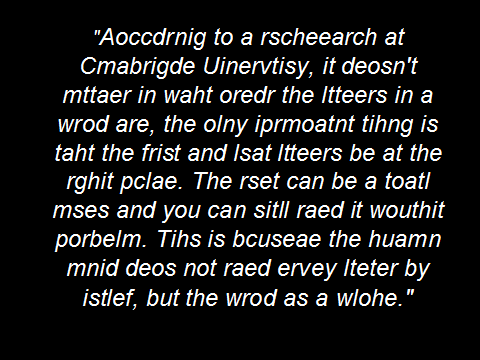 WHAT YOU READ WAS RIGHT
WHAT YOU SAW WAS WRONG
So here you looked at words that were not what you
were saying, but you knew what they were anyway,
and you did not need any time to practice reading it.
What you saw was something different then what
you read, but what you read was right,
even though what you saw was wrong.
Your being did not require you to train to do this,
or to practice, or study.
You photon being does it, even though you did not
know it could do it, or was doing it.
---
THE REALITY OF OUR TWINS
This next article on atoms comes from a web site called
Technology Review and it has to
do with the makeup of the
atomic structure of copper of which I know nothing, but there
is something interesting concerning the atoms in the copper.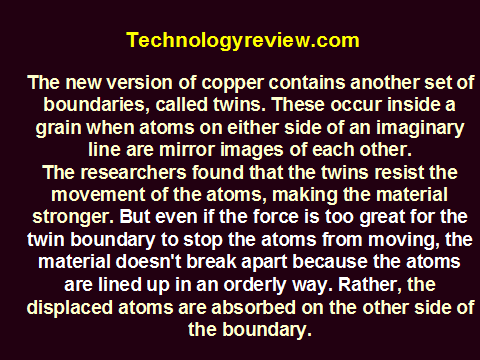 ABOVE: Copper contains boundaries called twins.
Atoms on either side of an imaginary line are mirror
images of each other.
We may not know anything about the atomic structure of copper
but again we see the reality of atomic twins.
Two of the same just like you and me.
IF ATOMS HAVE TWINS, AND THEY DO
SINCE YOU ARE ATOMS
YOU MUST HAVE TWINS, AND YOU DO
There are atom twins, and that is why
David Deutsch said if atoms have twins,
since we are atoms we must have twins as well.
---
IT'S NOT A DREAM, IT'S YOUR TWIN
There are numerous copies of you, and you know that
by what you think are dreams, which are really
your twin which activates when this copy of you shuts down.
You go on with the other copies that are awake and active.
WHEN YOUR BODY SHUTS DOWN OR SLEEPS HERE
YOU CONTINUE ON IN YOUR BODY THERE
---
HOW OLD ARE YOU, REALLY ?
Have you ever thought, how old you would be if you
died here, and then were in heaven or some other mythical place
that religion has made up.
How old would you be?
Would your friends and relatives who have passed
on be the same age as when they physically died?
We try to consider these things with a primitive mentality .
We absolutely have no understanding
of ourselves, or the existence we find ourselves in.
We are photons and when we leave the body we have no age.
Everybody that we know who died, left their body and entered
the quantum parallel world as brand new.
So when you meet them again you will all be young and full of life.
---
STOP TRYING TO BELIEVE WHAT
YOU HAVE NO CONCEPT OF
Take a look at this and maybe it will convince you to
just go into meditation and stop trying to figure things out.
This is from a web site called the
Electron Centennial Page.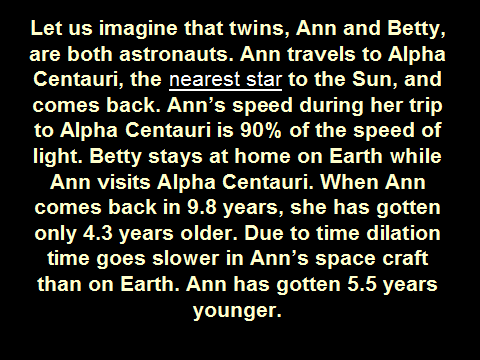 ABOVE: As you go out into space, you become younger
then the people left behind.
THE FURTHER YOU GO, THE YOUNGER YOU GET
So when you travel into a different realm in space the
further you go the younger you will be.
You could conceivably go to a realm where you would
not age at all because the inertia would be so slow.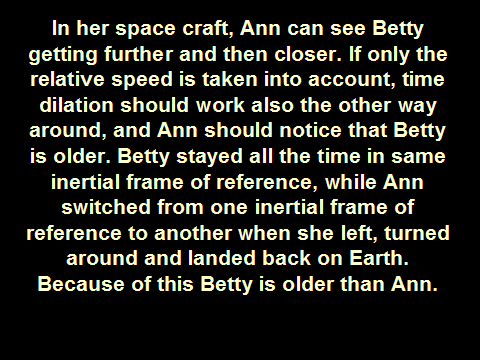 ABOVE: Because of the change in the inertial frame of reference.
Betty who stayed on earth became older then
Ann who went in space.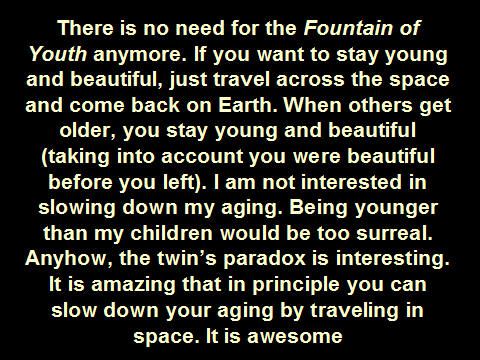 ABOVE: You can stay young and beautiful by
traveling across space.
---
REMEMBER YOUR OTHER SELVES
Remember now, your other self is already there.
To the right maybe older, to the left maybe younger.
SO WHY DO WE TURN TO RELIGION?
It is awesome how we try to understand all of this
through religion, and wind up singing songs, and
making up nonsense.
If we take what we have seen today about ourselves,
the facts from a scientific stand point say that
we are two beings.
---
WE REALLY ARE PHOTONS DRIVING BODIES
We are a human being making earthly physical
3 dimension decisions and we are
a light being photon, who's decisions are made automatically
without any input from us.
Again the nuclear twins slide.
An alpha particle to the left or an electron to the right.
Done without anyone's knowledge or involvement.
ABOVE: Atoms making copies of themselves just like you.
---
THE RIGHT SIDE
And is the electron producing the element to the right
following the Jesus statement as given here.
Where Jesus says, below, cast your net to the right side,
he also says to get into meditation and activate the single eye
which brings you into the quantum realm of photon.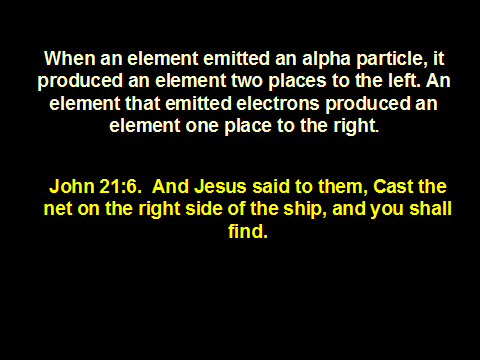 ABOVE: Science says the element makes copies of themselves
on the left and on the right. Bible, Jesus says cast your
net to the right side.
Does nature do automatically what it instructs us to do voluntarily?
---
THINGS HAPPEN WITHIN US WITHOUT
OUR KNOWLEDGE
Anyway it is obvious that things go on in us and around us
without our knowledge for an intelligent purpose.
Things happen that must happen ,either to extend the life of the
species, or the universe itself.
---
PACAL VOTAN AND 2012
Things seem to occur to correct automatically what
has been done voluntarily, and is not this
the idea put forth by Pacal Votan concerning Dec 21 2012,
that voluntarily the race will become
so absorbed with material and industrial things that they
will lose their interdependence with nature?
WHEN WE VIOLATE NATURE, NATURE VIOLATES US
In other words there is a point at which the invisible intelligence
we have seen as photon, and electron itself, will do what must be done
if the earth race does not?
Let me give you an idea of what I am talking about.
---
ILLUSION AND REALITY
You have to be aware of the difference between illusion and reality.
What seems to be happening is illusion.
What is actually happening is reality.
If you get to the point of being able to understand that,
then you will take a giant step towards the movement of your being beyond the restraints of 3 dimensions.
---
ONE STEP BEYOND
And yes you will recognize people you loved, and knew,
in this physical plane whose bodies died.
If you understand how this all works then you will understand
the true nature of who you are and how you operate.
There is no reason why we should be mentally separated
from those who have physically died.
---
WE ARE PHOTON AND THEY ARE PHOTON
They are photon and we are photon.
The difference is, we have a body and as far as we know,
they do not have a body.
So we cannot communicate with them body to body,
but why cannot we communicate with them photon to photon?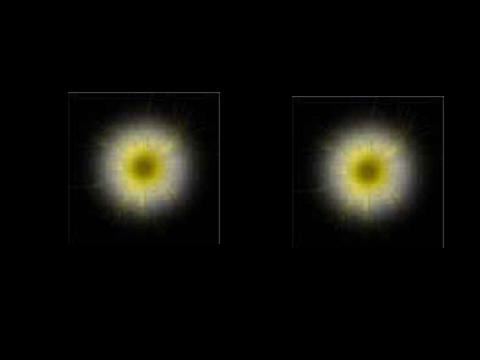 I
F WE IGNORE SUPERSTITIOUS RELIGION
WE WILL RECONNECT WITH OUR DEPARTED ONES
IN THE QUANTUM REALM
The reason we have not communicated with them, is because
most of us follow religious traditions that came out of the ignorant middle ages, or as history has called them The Dark Ages.
---
WE FOCUS ON THE BODY INSTEAD
OF THE PHOTON
IT'S LIKE A POLICE OFFICER GIVING
THE TICKET TO THE CAR
INSTEAD OF THE DRIVER
We have adopted the equally ignorant religious obsession
with the physical body, instead of the person who operates
the body, who is photon.
Whenever you see a scientific report on how the body works,
you always note that the text speaks about "you".
But they never identify "you" let me show you.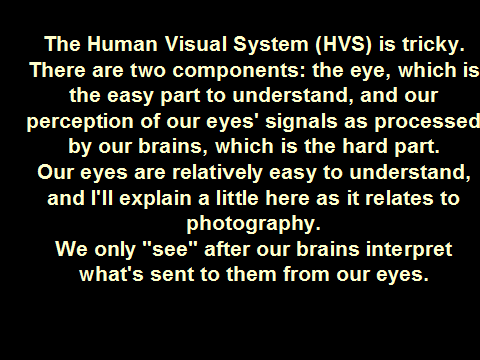 ABOVE: Notice that last paragraph, WE only see.
Every statement you will read about this says,
this is how
WE see, this is why WE see colors,
this is how the brain communicates so WE can see.
WHO IS WE?
The big question here is who is we, or who are we?
We can only see after our brain interprets what is sent to it.
But who are we.
There are only two choices.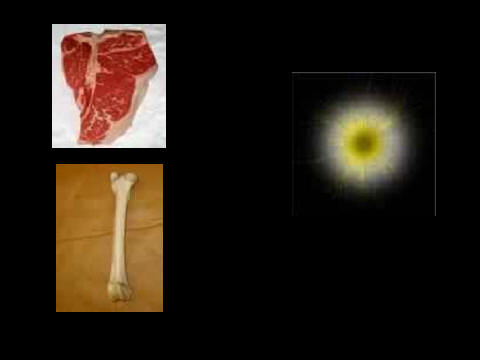 We are either the meat and bone on the left, who is receiving
the picture from the eye or we are the photon on the right.
IS MEAT AND BONE INTELLIGENT?
If you are going to pick the pictures on the left then
you are saying that there is an intelligence in meat and bone.
The only place the signal from your eye could be going
is to someone who can interpret it or act upon it.
---
WHICH IS INTELLIGENT
MEAT AND BONE?
OR PHOTON?
Is the meat and bone intelligent, or is the photon intelligent.
Let us solve that .
What I am about to show you is the cover of a book written
by
Gary Zukav called The Dancing Wu Li Masters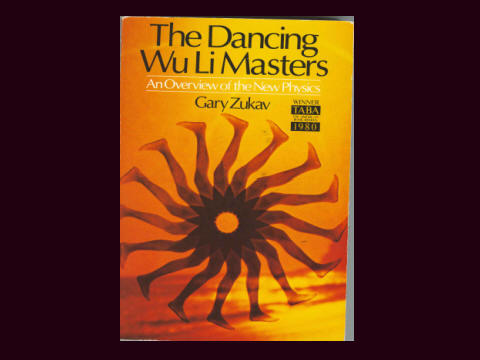 Here he writes about an experiment that took place,
and the conclusions reached.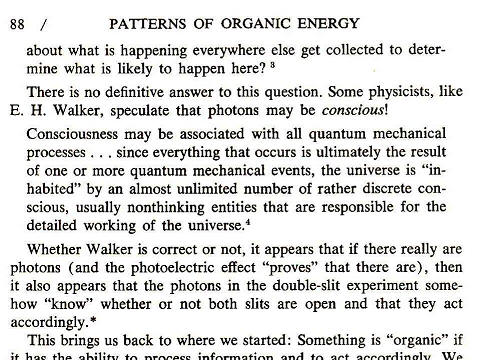 ABOVE: It appears that the photons in the double slit
experiment somehow know whether or not both slits are
open and they act accordingly.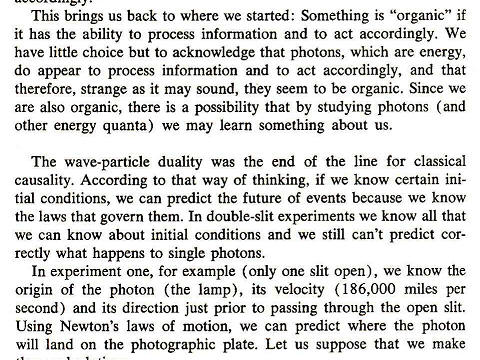 ABOVE: Something is organic if it has the ability to
process information and to act accordingly.
Photons do appear to process information and
act accordingly and that therefore they seem to be organic.
Since we are also organic there is a possibility that by
studying photons we may learn something about us.
So the determination of the experiment was that the
photon has the ability to process information and
to act accordingly.
That would mean it is organic.
Now what does the word organic mean?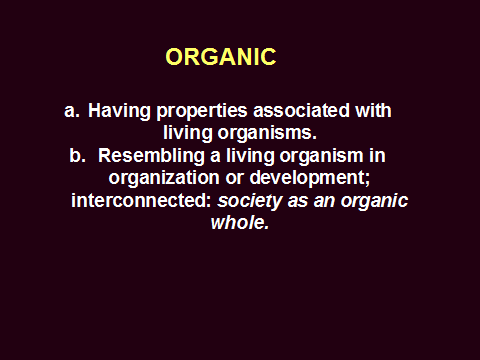 THE PHOTON IS INTELLIGENT,
THE PHOTON IS ORGANIC
THE PHOTON IS YOU
That answers the question as to where the signal from the eye is going to be read, and by who.
Either the meat and bone on the left, or the intelligent photon on the right who has the ability to process information and act on it.
So if you finally are prepared to understand your true nature
as photon, and realize that even people we think are dead are
live photon beings, then you are ready to step with me beyond
the green door and into the realm of the living.
---
If You Can Donate, Or For DVD's, Flash Drives, Or E Books
Click
Here
TO RETURN TO THE HIDDEN MEANINGS HOME PAGE CLICK HERE
Non Profit Org. Under New Age Christian Village Church AKA
Hidden Meanings