DOES COLOR EXIST?
ILLUSION AND REALITY
There are two aspects here.
Illusion and reality.
Let me give you a perfect example of illusion involving you.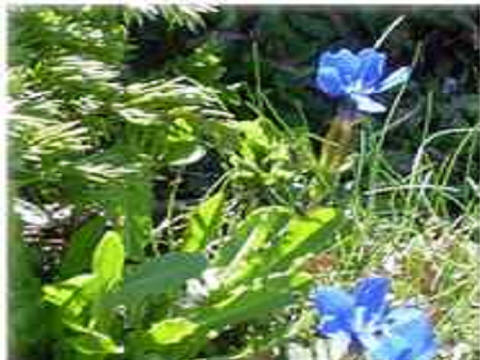 Here are flowers and green foliage.
This is how you see them, but this is an illusion.
MEET DR. PETER GOURAS
It is important that he is our witness because this is the
first time many people are going to be seeing this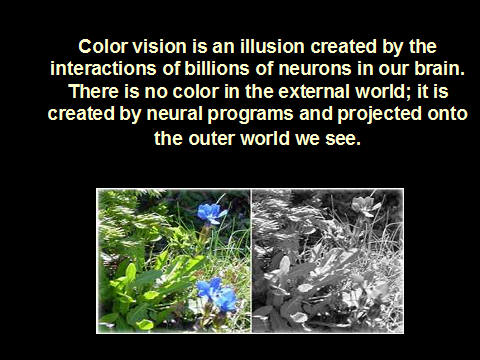 ABOVE: Color vision is an illusion created by billions
of neurons in our brain.
There is no color in the external world.
It is created within our brain.
ABOVE ON THE LEFT WHAT WE SEE
ON THE RIGHT, WHAT IS REALLY THERE
There is the illusion on the left, and the reality on the right,
and Dr Gouras explains.
Inside of your head is where the color is created by billions
of brain neurons, and thenprojected on to the outside so that
the leaves appear green.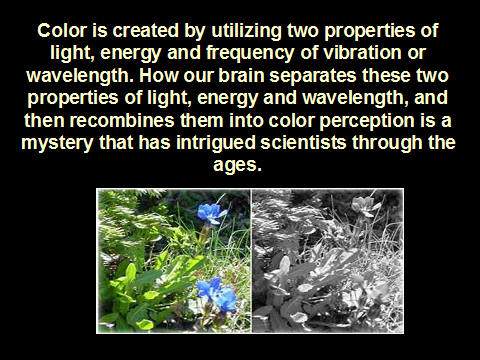 ABOVE: Color is created from two properties of light and
the frequency of the vibration of the wavelength.
How our brain does this is a mystery.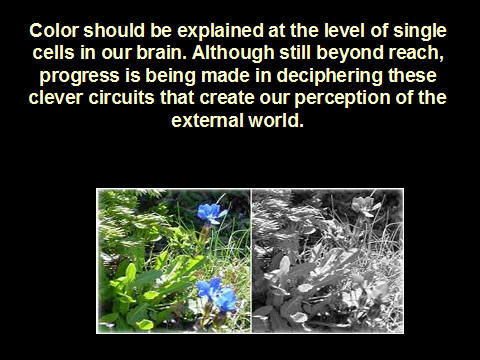 ABOVE: Color should be explained at single cells in our brain.
Progress is being made in deciphering these clever
circuits that create our perception of the external world.
---
CLEVER CIRCUITS IN YOUR HEAD
GIVE YOU A PERCEPTION OF COLOR
There are electrical circuits in the brain that read wavelengths .
Two properties of light, energy and frequency of vibration
or wavelength deciphered in the circuit to create a color picture
where there is none.
---
YOU ARE A PHOTON
IN THE BACK OF YOUR HEAD
ELECTRICAL IMPULSES PROJECT A PICTURE
AND THAT'S WHERE YOU SEE IT
But who is supposed to look at the color picture?
Photon, and where does photon watch it from?
In the viewing room, in the back of your head?
ISN'T WHAT WE DON'T KNOW AMAZING?
---
If You Can Help, Or For DVD's, Flash Drives, Or E Books
Click
Here
TO RETURN TO THE HIDDEN MEANINGS HOME PAGE
CLICK HERE
Non Profit Org. Under New Age Christian Village Church AKA Hidden Meanings
INDEX
| | |
| --- | --- |
| Dr Peter Gouras | Peter Gouras |
| Images Google unless otherwise noted | |
| John Hopkins University Medical Center | |
| National Eye Institute | |