TRANSLATE THIS PAGE INTO ANY LANGUAGE
IS THE CRUCIFIXION
OF JESUS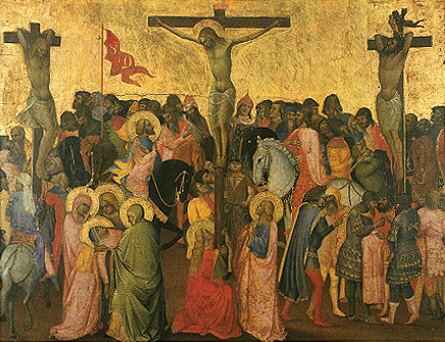 QUANTUM ENTANGLEMENT
OF PHOTON?
---
HOW DARE I SAY THAT GOD
AND JESUS ARE PHOTONS.
Quite possibly for the first time, the entire Biblical story
of Jesus, and the sacrifice, and our salvation,
begins to make sense.
I have reached some pretty radical conclusions about the
Jesus Bible story.
I had one person write me that I must be crazy by calling God,
and Jesus photons.
Well number one most people do not know what a photon is,
and number two.
I did not call God and Jesus photons, the Bible did.
---
HOW DO I KNOW?
THE BIBLE TOLD ME SO.
So let us clarify this because of its importance.
I have called God a photon.
Does the Bible support this?
We have to make sure because
the entire premise here is based on that.
Before I show you the proof, let me discuss the source of
the Biblical information.
---
THE BIBLES ORIGINS CONCERNING LIGHT
The Old Testament, and the New Testament, were written
in Alexandria Egypt under direction of the Greek Ptolomies.
They incorporated into the Bible the works of the classic
Greek minds that actually set the foundation for civilizations
move into the realm of philosophy and science.
DEMOCRITUS
Information about the atom was first put forth by
Democritus in 460bc
ABOVE: Democritus developed the idea of atoms.
He called basic matter particles , atoms.
We are talking about Greek teachers, whose influence
was incorporated into the Bible by those who composed it
in Alexandria Egypt under the Greek Ptolomies.
That is how science which was then covered in mythology
by symbols, finds its way into the scriptures.
We have the first discussion of atoms presented by the
Greek Democritus in 460bc.
That suggests why it is reasonable to consider that the story
of the first man Adam and the first woman Eve are actually symbols
of atoms developed through nuclear fission as an ionic bond .
Removing an electron from one atom and putting it into another,
produces positive and negative ions.
Positive/Negative Male/Female
When we consider how the teachings of classic Greek science
were incorporated into the Bible, and when we consider light/photon
and the Bible saying God is light:
It is not difficult to see where that came from and how it got into
the Greek Bible
---
THE NATURE OF THE UNIVERSE
TEACHINGS OF
LUCRETIUS AND EUCLID OF GREECE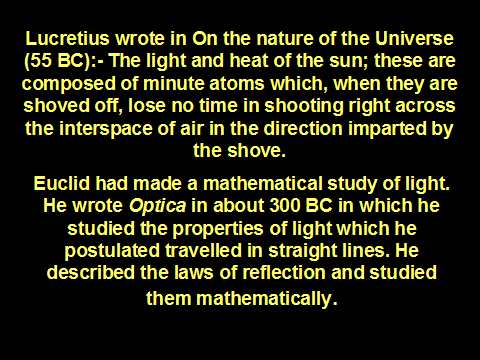 ABOVE: Lucretius wrote that the light and heat of the
sun are composed of atoms.
Euclid made a mathematical study of light and described
the laws of reflection.
THE CLASSIC GREEK SCIENTIST
HERON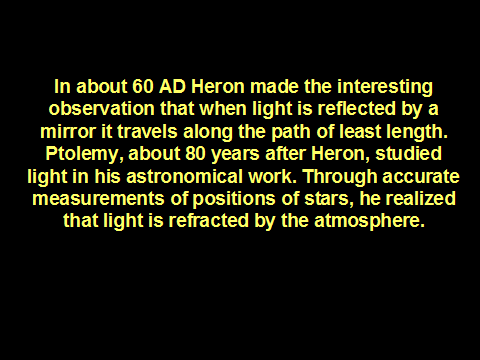 ABOVE: In 600ad Heron said that when light is
reflected by a mirror it travels along the path of least length.
Ptolemy measured the stars and
stated that light is refracted by the atmosphere.
You have just reviewed the writings of people who understood
the workings of the sub atomic light realm before, and
during the time of Jesus.
---
THE ORIGINAL SCRIPTURES WRITTEN IN GREEK
UNDER GREEK DIRECTION
INCORPORATING THE WORK OF GREEK SCIENCE
The Bible was written in Alexandria Egypt under Greek direction.
It was written in the Greek language, by those practicing
the composition of mythology.
Utilizing the Greek understanding of science in ancient times,
we found the story of Adam and Eve
as the story of nuclear fission, and ionic bonding,
with the source of the information being Democritus.
We saw God and Jesus being described as light
---
WHAT DOES IT SAY?
That is why the Bible says what it says.
And what does it say?
.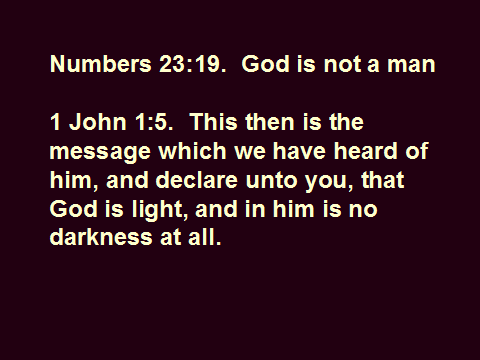 ---
LIGHT
You have the Greek writers of the Bible taking from
the minds of the classic Greeks in science, who wrote
about atoms and light, 500 years BC, and the Bible turns
up identifying what we call God, as light.
Not a human being, but light.
Being influenced by minds such as Domecreitus, Lucritus etc, we
show Atom and Eve as ionic bonding, and God as light,
And that is what we have.
Greek mythology covering Greek science.
And we call it The Bible.
---
THE LIGHT/PHOTON OF THE WORLD
The Bible identifies Jesus as the light of the world and the son of God.
We also have the Bible saying, God is not a man, God is light.
Thus Jesus is the son of light.
The Bible says we are created in Gods image and likeness
meaning we are all light.
And when the Bible says God is not a man, God is light ,
it means God is photon.
Intelligent light messenger particle.
---
THE SACRIFICE IS QUANTUM SCIENCE
Once we understand God as photon, Jesus as photon,
and you and me as photon, then the entire
story of Jesus coming to earth to sacrifice himself for us to
make us one with God, suddenly
becomes a reasonable, absolute fact.
JESUS HAS TO DIE
SO WE BECOME ONE WITH GOD
The Bible story says that Jesus had to come to the earth and
die so that we could become one with God.
---
IT BECOMES REASONABLE
If God is photon, and Jesus is photon, and we are photon,
the Bible story follows quantum science.

Let us proceed on the basis of the Bible statement
that God is light, photon.
---
TWO ENTANGLED PHOTONS ARE ONE
In the quantum realm, when two photons are entangled they are one.
For Bible study purposes we are going to identify the photons
in the laboratory experiment of teleportation.
Photon A, B and C.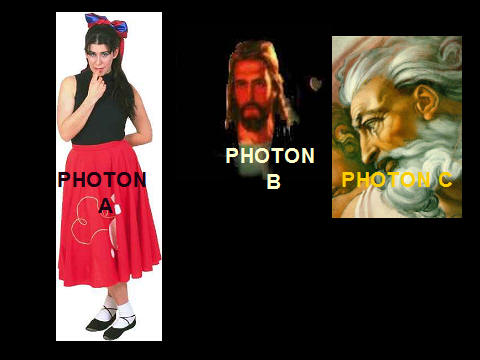 The quantum teleportation procedure you are about
to see will use A B & C and so
In the picture above you see the three.
A, B, and C
To make it a bit easier to comprehend let us identify
A, B, and C , for this study
L
et's identify A as , you and me.
B as Jesus
And C as God
Let us go to the quantum procedures as they are carried
out in the laboratory.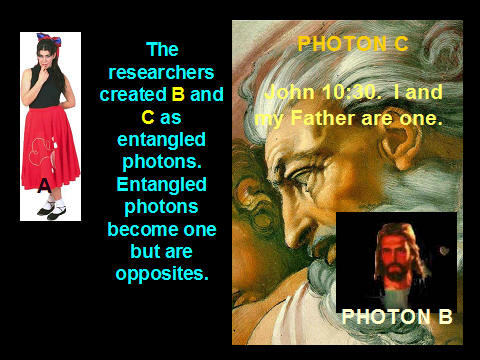 B AND C ARE JESUS AND GOD
SINCE B AND C ARE ENTANGLED PHOTONS
God and Jesus entangled photons are one.
And the scripture confirms that.
If you understand Photon B, and Photon C, being
entangled as one.
You can understand the scripture that reads I and my father are one.
That would mean that the scripture by identifying
God and Jesus as light , or photon,
is scientifically correct in saying that the two are actually one.
Jesus also says, when you see me you have seen the father.
That we can understand now because since they are entangled photons,
they are one.
BUT WHERE DOES THAT LEAVE US
WHAT ABOUT YOU AND ME?
HOW CAN WE GET TO BECOME ONE WITH PHOTON C "GOD"?
Something has to be done to bring us to
God , Photon C.
LET US SEE WHAT THE RESEARCHERS DID TO MAKE THIS HAPPEN
NOT TO MAKE US ONE WITH GOD,
BUT TO MAKE PHOTON A (YOU AND ME) ONE WITH PHOTON C
(WHO WE NAMED GOD)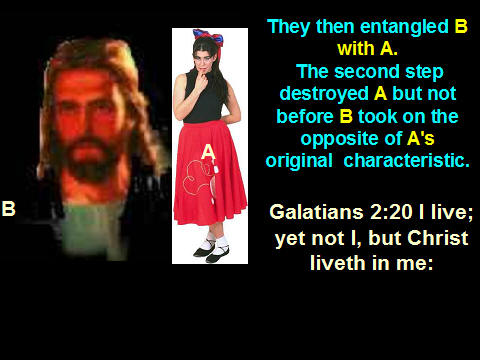 Do you see what happened.
B photon Jesus, must sacrifice its existence as B photon Jesus,
Photon B Jesus had to take upon itself the original characteristics
of Photon A You and Me .
In other words Jesus becomes one with us.
Now what happens?
Since Photon B Jesus is now one with us, the Bible can say
Galatians 2:20 I live yet not I, but Christ lives in me.
Absorbing photon B (Jesus) into ourselves makes this possible.
By this quantum entanglement, the Jesus photon sacrificed
itself to become one with us.
We have become one with the Jesus photon.
BUT NOW THE GOD PHOTON MUST DO SOMETHING BECAUSE
IT ALWAYS MUST BE ONE WITH B THE JESUS PHOTON
BUT THE JESUS PHOTON DOES NOT EXIST ANYMORE
IT HAS BECOME ONE WITH US
AND SO JESUS WHO USED TO BE PHOTON B IS NOW
YOU AND ME PHOTON A
SO LOOK WHAT HAPPENS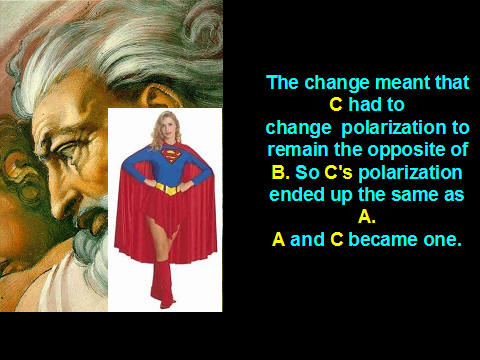 The sacrifice of Jesus photon B sacrificed itself and took
upon itself the characteristics of photon A you and me.
But the God photon must stay one with the Jesus
photon even though the Jesus photon is now you and me.
Jesus is no longer the B photon.
Jesus is now the A photon, you and me.
And since God must always stay one with Jesus
God (Photon C) must change polarization.
And when God (photon C) changes polarization to
stay one with Jesus, God now becomes one with you
and me because Jesus is one with us.
There is no more Photon B
Photon B died and became Photon A
You and Me
The sacrifice of photon B Jesus, makes us
one with Photon C, God
---
A WORD TO SHOCKED CHRISTIANS
For you Christians who might be spinning in your pews.
I am in no way diminishing the sacrifice of Jesus to make
us one with God.
I am simply explaining it so that there is no doubt that it happened.
I am explaining how God and Jesus are one, and how we become
one with God through the sacrifice of Jesus.
I know no one ever explained this before but Jesus told me to do it.
---
If You Can Help, Or For DVD's, Flash Drives, Or E Books
Click
Here
TO RETURN TO THE HIDDEN MEANINGS HOME PAGE CLICK HERE
Non Profit Org. Under New Age Christian Village Church AKA Hidden Meanings
INDEX
| | |
| --- | --- |
| Democritus | Democritus |
| Euclid | Euclid |
| Heron | Heron |
| Images Google unless otherwise noted | |
| Lucretius | Lucretius |
| Ptolemy | Ptolemy |