TRANSLATE THIS PAGE INTO ANY LANGUAGE
ALL THE WORLDS A STAGE
AND WE ARE THE ACTORS
THE GREAT CHANGE
AS WE PASS DECEMBER 21 2012
AND ENTER AQUARIUS
THE GREAT CHANGE?
A BLACK AMERICAN PRESIDENT
WITH A MUSLIM NAME
The totally bizarre election of the President of the United States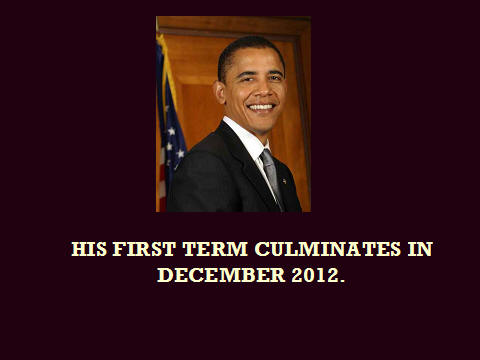 IN 2012 HIS FIRST TERM CULMINATES
IN 2012 THE PROPHECY SAYS THAT THIS
EARTHS CURRENT LIVING VALUES WILL CULMINATE
We have the amazing Pacal Votan prophecy concerning 2012, which is obviously playing itself out in our life time, and right before our eyes.
There is also something else interesting about this.
With everything we have been through.
---
WHO IS WRITING THIS SCRIPT
It seems that someone somewhere is diligently
orchestrating all of this.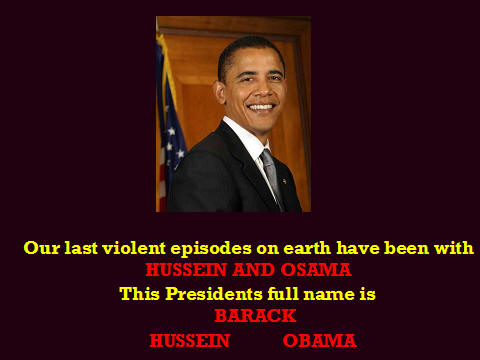 IT SEEMS AS IF THIS IS ORCHESTRATED BY SOMEBODY
DOESN'T IT?
Some may think this is stretching it a bit, but remember, if this is coming from the higher photon which I am saying it is, then it is up to us to be alert to all clues that come our way.
WE ARE IN A DRAMA AND THERE IS A DIRECTOR
AND YOU SHOULD BE FOLLOWING THE CLUES
The key to understanding life, and the nature of life, is for us as human beings to understand that existence, is a form of drama.
---
ALL THE WORLDS A STAGE
Things are orchestrated for us so we may experience and learn.
Strange things occur that have happened before.
The play seems to go on with different actors playing out their parts.
And we are part of that play.
THINGS JUST DON'T HAPPEN BY ACCIDENT
We think that everything is something that just happened from out of nowhere, but that is not true.
As William Shakespaere said.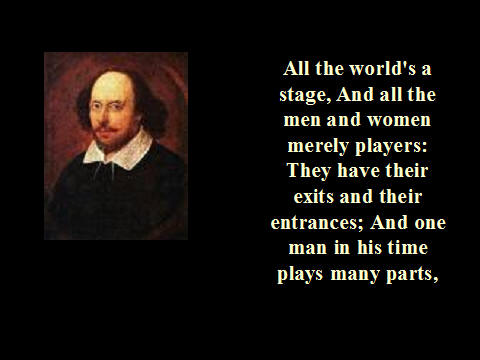 WE ARE ALL PLAYERS AND WE ALL PLAY MANY PARTS
Shakespeare goes on to describe the change that takes place in the human being from infancy to very old age.
Coming into life without teeth and leaving without teeth, that sort of thing.
But that is the microcosm.
That is the players role on earth in this age.
However the players have roles that go beyond this age and actually become sort of overlapping entities moving into different life cycles.
---
WHAT DID SHAKESPEARE SAY?
WE ALL PLAY MANY PARTS
KENNEDY--LINCOLN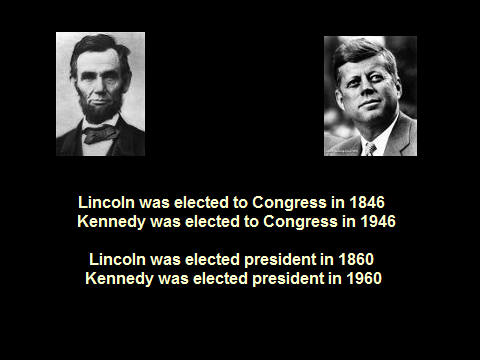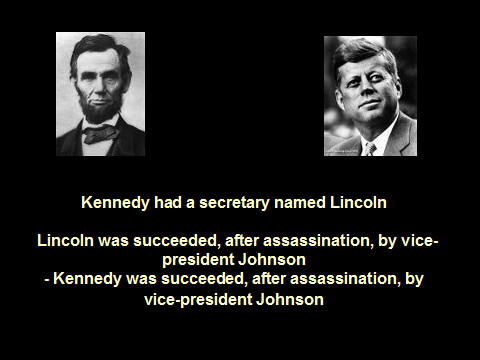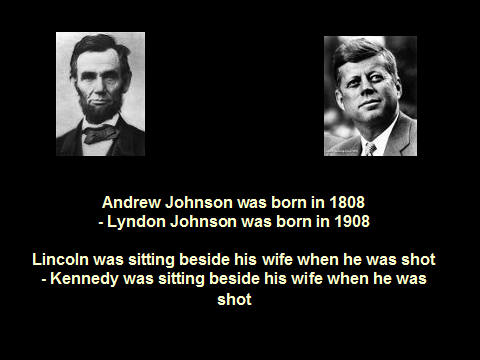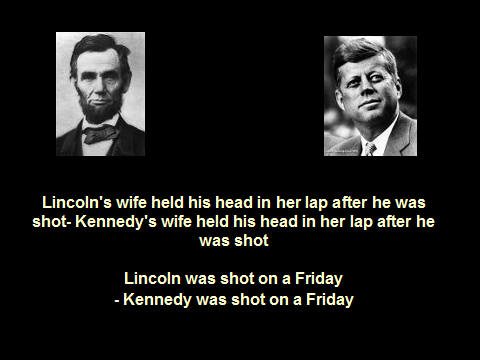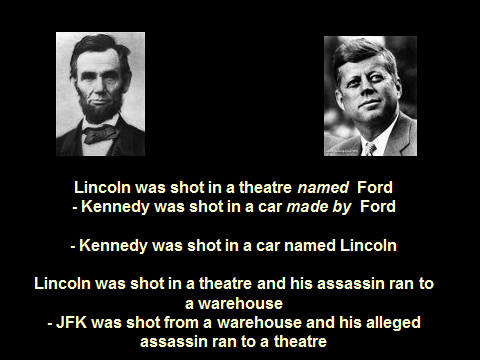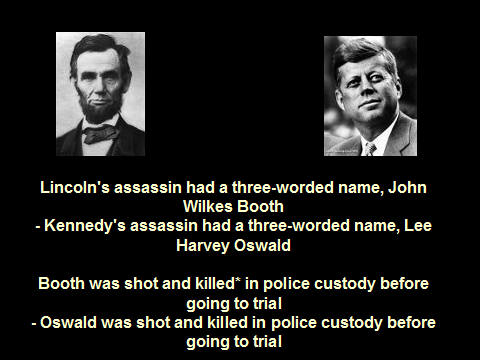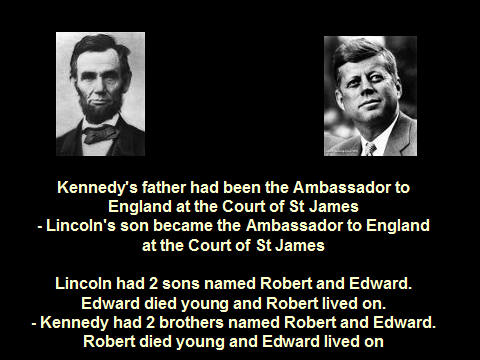 LOOKS LIKE THEY PLAYED AT LEAST TWO PARTS
---
SYNCHRONICITY
In the early 1900's psychoanalyst Carl Jung coined a word synchronicity which means "coincidence with a purpose".
So few of us have any idea that the things that happen are laid out for us, so that we continue to repeat and learn, repeat and learn.
DID YOU KNOW THIS WAS GOING ON?
So very few have any idea this is going on.
---
MOSES-MARTIN LUTHER KING
How could the Biblical story of Moses and the reality of Martin Luther King not be intelligently programmed, when one considers the circumstances.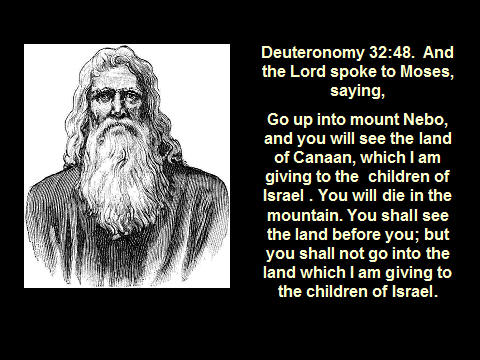 ABOVE: MOSES LED HIS PEOPLE. GOD TOOK HIM TO THE
MOUNTAIN TOP, SHOWED HIM THE PROMISED LAND.
MOSES COULD NOT GO INTO THE PROMISED LAND
THEN HE WAS DEAD
So Moses went up to the mountain top to see the promised land but he could not go in, and the next day he was dead.
Martin Luther King came to the microphone in Atlanta Georgia and said this,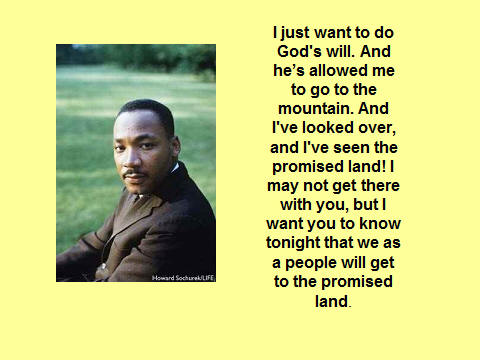 ABOVE: I'VE BEEN TO THE MOUNTAIN.
I'VE SEEN THE PROMISED LAND.
I MAY NOT GET THERE WITH YOU
AND THE NEXT DAY HE WAS DEAD
He went to the mountain top, saw the promised land andthe next day he was dead.
How is this not a play that has been orchestrated for a purpose and all the people taking part, players in that play?
THIS IS A MAGIC TIME
AND THE DRAMA IS UNFOLDING
We have seen the chaos over the last couple of hundred years, the extreme violence, the disregard of nature, resulting in the global warming, the many wars, the economic meltdown
There are too many things that are happening and have happened for us to simply attribute it to coincidence.
This is a magic time that is more unique then those strange myths told in the Bible.
---
1190---0911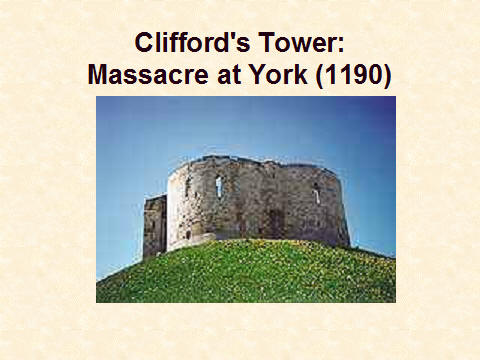 This is Cliffords Tower in York England.
In 1190 an attack took place against
Jewish people who tried to hide in the tower and they were all killed.
This was act 1 of that particular drama.
WHAT WAS ACT 2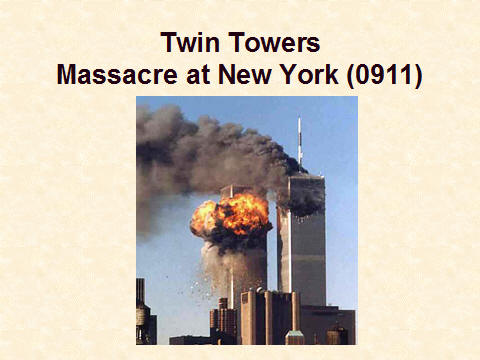 So there is act 2 of the drama.
THE PLAY SO FAR
Putting together the entire play so far, what do we have.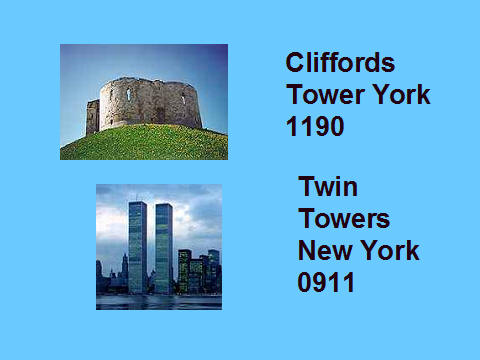 A LESSON WE FAILED TO LEARN
Do you see the Karmic lesson acted out here?
WE LEARNED NOTHING FROM THE VIOLENCE
OF 1190
SO WE WERE DOOMED TO REPEAT IT ON 911
What did we learn from the violence directed against others because of their beliefs with the massacre in 1190?
Obviously nothing.
So Karmically we were doomed to repeat it on 0911.
---
WILL THERE BE ACT 3 ?
And it appears we again have learned nothing up to this point and thus can anticipate the drama will continue with act 3.
Unless of course, people of hate finally begin to sit down and discuss things, and reason together.
---
FLIGHT 587 AND OZAMA
Shortly after the 911 attacks something else strange and synchronous happened.
First look at Jewish History as it connects to the destruction of the temple.
ABOVE: THE TEMPLE DESTROYED IN 587
So here you see the importance of the year 587 in Jewish history.
Keeping in mind the nature of the attacks against Cliffords Tower in 1190 York and the Twin Towers in 0911 in New York, look what occurred a short time after the 0911 attack.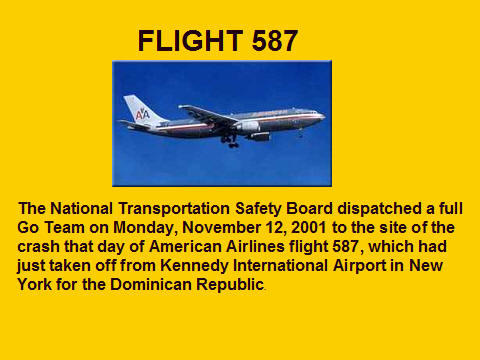 ABOVE: FLIGHT 587 GOES DOWN
TWO MONTHS AFTER 911
This crash killed all 265 people on board the plane.
Of course 587 just 2 months after the 911 attack is curious, but what makes it more curious is the planes destination.
FLIGHT 587 WAS HEADED TO SANTO DOMINGO
Flight 587 with that synchronous number was on its way to Santo Domingo in the Dominican Republic.
A RIVER FLOWS THROUGH SANTO DOMINGO
There is a river that flows through Santo Domingo and its name allows me to insert this event as part of the drama.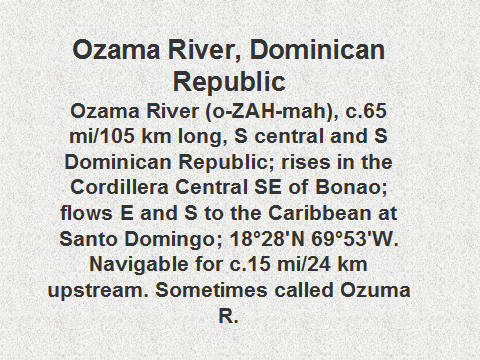 THE RIVER THAT FLOWS THROUGH SANTO DOMINGO IS
OZAMA
Flight 587, 2 months to the day from 911, crashes on its way to Santo Domingo where the river that flows through it, is called Ozama.
The play.
JEWISH TEMPLE 587
The destruction of the Jewish temple in 587.
CLIFFORDS TOWER 1190
The attack on Cliffords Tower in York in 1190.
TWIN TOWERS 911
The attack on the twin towers in New York on 0911.
OZAMA
Flight 587 two months
to the day crashes on its way to the place of the river called Ozama.
---
WHO ORCHESTRATED THIS DRAMA
AND WHY?
Everything that is happening or has happened is orchestrated by the great light.
It does not mean that terrorists had anything to do with the crash of flight 587.
The Karmic energy ordained by the supreme light orchestrated it.
THE ENERGY RUNS UNABATED ON ITS OWN
And on that day, if you still may question the significance of what I am telling you.
Consider this.
ABOVE: THE WINNING NEW JERSEY LOTTERY
NUMBER FOR THE DAY FLIGHT 587 CRASHED
WAS 587
---
4555
DOES GOD LIVE AT 4555 ?
You can look throughout the internet and you will never find a comment by anyone concerning the location of the supreme light and supreme light beings we call God and spirits as being centered in Galaxy 4555.
YES, I HAVE SAID THAT 4555 IS WHERE GOD LIVES
Only one person has ever made that statement and that is me and some of you were here when I first made it years ago.
A BIT OF SYNCHRONICITY
A STRANGE COINCIDENCE THAT HAPPENED TO ME
IT HAPPENED A NUMBER OF YEARS AFTER I
PUBLICLY IDENTIFIED 4555 AS GODS DWELLING PLACE
After twenty years of managing the cable television system in Brick NJ, I was made aware of the coordinates of the tower in Brick that brought the signals down to the system.
I learned this several years after I had first commented on 4555 here.
This is the Federal Aeronautic Tower Registration .
Notice the latitude.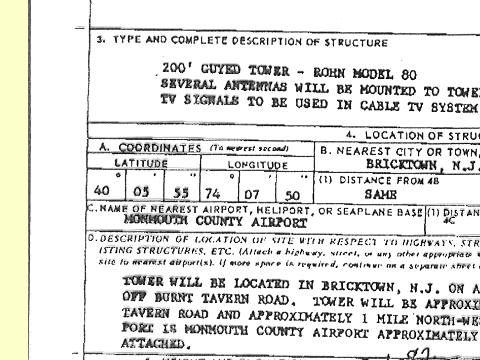 ABOVE: FOR 20 YEARS I WAS THERE BRINGING
DOWN SIGNALS FROM ABOVE
YET, I NEVER KNEW THE LATITUDE WAS 4555
I know this was orchestrated by a higher source.
I was telling people for years that the place where what we know as God is centered is galaxy 4555, not knowing that for 20 years I was working at that exact latitude on planet earth. 4555.
---
PHOTONS FROM ABOVE DESCEND TO US
AND CARRY OUT THINGS WITHOUT OUR KNOWING
What we can see with these synchronous events, is the direction of world events being orchestrated and carried out by a higher force.
A PHOTON ENTERS YOUR BRAIN AND ATTEMPTS
TO CHANGE DECISIONS.
MANY TIMES IT CAUSES CONFUSION
MANY TIMES YOU WILL SAY, I DON'T KNOW WHAT MADE
ME SAY THAT, OR DO THAT.
The fact that these things occur as they do means that there is a plan to be carried out, and regardless of how those investigating why these things happen reach a conclusion, the plan will be
carried out.
There are messages from the photons contained within the names and events of everything that happens .
In the same way that I have brought you messages
relative to Supernova 1987a, and Eta Carina, etc.
So I started this message with the strange connection of the name of the of President Obama to those figures we have recently encountered in current history.
---
THE MESSAGE FROM THE ONE WITH US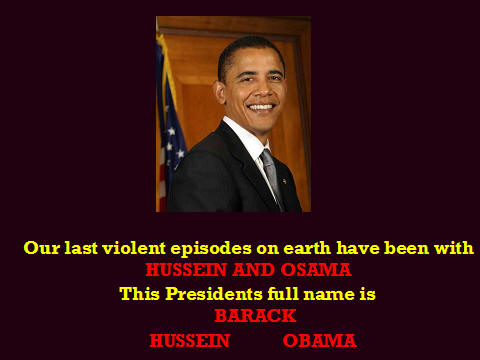 ABOVE: IT MEANS THOSE WHO TRY TO UNDO
WHAT SOMETHING SOMEWHERE HAS DONE, BE CAREFUL
We look at names and we see a connection.
A connection that one must ponder as being
related to a higher order.
WHAT DOES IT MEAN?
IT MEANS A GREAT CHANGE HAS OCCURRED.
THE PRESIDENTS NAME.
THE TIME OF GREAT CHANGE
AND A MESSAGE THAT THE CHANGE HAS BEEN
ORCHESTRATED BY THE SUPREME PHOTON SOURCE.
THE CHANGE IS UPON US
The shaking is upon us and if we have paid attention
to the synchronous events I have laid out for your here, then you now have a message from the supreme photon, that through this time of uncertainty and change, we have a compassionate God with us, who is manipulating events.
Now do your part and allow him to manipulate events within you via
your meditation.
---
If You Can Donate, Or For DVD's, Flash Drives, Or E Books
Click
Here
TO RETURN TO THE HIDDEN MEANINGS HOME PAGE CLICK HERE