WHY I AM AGAINST CAPITAL PUNISHMENT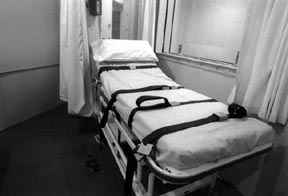 Human beings are two parts.
The physical part that was created by our mothers and fathers, and the inner light photon part, which entered into our bodies as they were still inside the womb.
It is the light photon which is the part that animates the body.
---
THE BULB OR THE LIGHT
Consider our bodies as the bulb and the inner energy or photon, as the light within the bulb.
Then ask yourself.
When you throw away a burned out bulb, do you throw the light away with it.?
Of course not.
And is it not true, that when you connect a new bulb the same light returns ?
JESUS PUT IT THIS WAY
Matthew 12:43. When the unclean spirit is gone out of a man, he walks through dry places, seeking rest, and finds none.
44. Then he says, I will return to my house from where I came, and when he does, he finds it empty, swept, and garnished.
45. Then he takes with himself seven other spirits more wicked than himself, and they enter in and dwell there: and the last state of that man is worse than the first. Even so shall it be also unto this wicked generation.
So when we dispatch the unclean spirit back into the ether, are we bringing back someone who is seven times worse then the one we thought we killed?
The teaching of Jesus is clear.
Unless the light within is changed, and the evil broken from it, that evil light will leave the body, search for another one, return, and when it does the situation will be much worse.
In other words, executing someone kills the body, but not the person.
That evil must be kept alive and the mind worked with to drive it out.
Whether by psychotherapy, or drugs, or whatever it takes.
---
BECAUSE IF WE DON'T
The evil light within that person will return , enter another body, and carry out against other innocent ones what is imbedded in its light nature.
Violence, murder etc.
Thus the words of Jesus are fulfilled in our disobedience sanctioned by so many.
---
WE ARE CREATING MONSTERS
By executing people are we creating seven times the violence for ourselves.
From the looks of the violence that permeates the world, it would seem that that is exactly what we are doing.
Execution destroys the bulb, not the light
CHECK IN LET ME KNOW YOU WERE HERE CLICK HERE
Your donation to help keep this work going CLICK HERE
Non Profit Org. Under New Age Christian Village Church AKA
Hidden Meanings
TO RETURN TO THE HIDDEN MEANINGS HOME PAGE