TRANSLATE THIS PAGE INTO ANY LANGUAGE
WHAT ARE WE AS PEOPLE?
AND
IS IT POSSIBLE TO TOUCH THE "OTHER SIDE"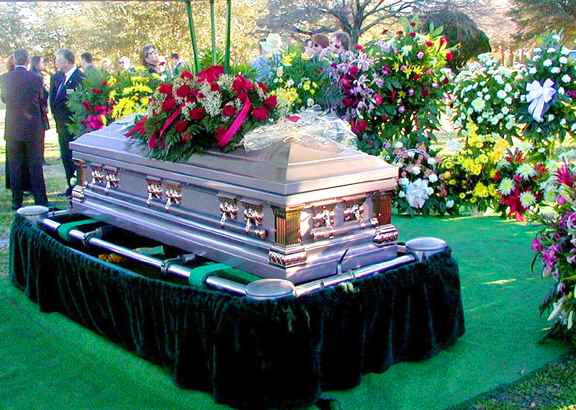 ---
WHEN WE THINK THAT SOMETHING IS NOT POSSIBLE
WE SHOULD CONSIDER JUST HOW LITTLE WE KNOW
We recently discussed some strange yet interesting facts about our nature as human beings.
Facts we simply never were told before.
---
DID YOU KNOW THAT COLOR DOES NOT EXIST OUTSIDE OF YOU?
Color does not exist and what we see is actually inside of our heads in a small room at the back in a part of the brain called the visual cortex.
We do not see any images outside of ourselves.
OUR RETINAS PICK UP IMPULSES
Our eyes pick up the photon reflection packets from outside and transmit it to the room in the back of our brain where it is decoded to give us the illusion that we are seeing.
In reality we are photons and do not have eyes to see.
Thus the decoding provides us with the picture in consciousness.
My purpose for discussing this is to try and demonstrate how what we think
we know, is absolutely wrong.
---
ISN'T IT AMAZING
WHAT WE DON'T KNOW ABOUT OURSELVES?
The more I thought about this, the more I realized that we know absolutely nothing about who, and what ,we are and we have been totally confused and led off a cliff by religious people who also know absolutely nothing.
---
WE REALLY ARE PHOTONS
OPERATING MATERIAL BODIES
We are photons, made in the image and likeness of the supreme photon we call God.
Our eyes do not see images and our ears do not hear sounds.
Both pick up vibrations which are then deciphered inside of our head into images and sounds in the realm of consciousness.
---
THE IMPULSES THAT ENTER US FROM THE OUTSIDE
ARE DECIDED BY THE INNER ELECTRICAL CIRCUITRY
All of our senses are transmitted through wiring in the body and then deciphered from coded electrical language that makes the photon think it is a physical being when it is not.
So we lose all touch with our true identity by thinking we are physical beings when we are not.
---
IT REALLY IS ALL AN ILLUSION
We are electrical particle photons, and electrical signals are transmitted into us through the circuitry of the physical body giving us the illusion that we are actually part of the body.
It is all a great illusion of packets of electrical signals.
---
IT'S DIFFICULT TO ACCEPT
BECAUSE NO ONE
EVER TOLD US THIS BEFORE.
It's not difficult for me to explain based on science, but it is difficult for both you and me to hear.
I can see things, I can feel things, I can hear things.
I scratch and itch, I soothe and hurt.
And yet all of those things are simply electrical signals directed to our photon person which give us the illusion that we are a physical person.
---
IT'S REALLY A 3D MOVIE
Did you ever go to a 3d movie.
It appears as if things are flying out from the screen right to your head.
You even duck.
But there is nothing flying.
It just looks that way.
Its an illusion.
---
HOW DO WE SEE THINGS AND
WHO IS DOING THE SEEING ?
Last week we read a description of seeing that said the brain unscrambles all of the electronic signals so we can see.
THE QUESTION IS WHO IS THE "WE" THAT CAN SEE?
No matter how sophisticated and marvelous the brain is as a computer ( and it is), it is still material.
It processes signals so that something can use them.
That something is photon.
---
OUR TRUE HERITAGE IS PHOTON
The Bible confirms God is photon, Jesus is photon and we realize being made in the image and likeness of God we too are photon.
IF GOD IS LIGHT THEN GOD IS PHOTON
IF WE ARE MADE IN GODS IMAGE
THEN WE ARE PHOTON
An intelligent entity alien to 3 dimensions known as photon.
It is you and me.
---
WE TRULY ARE ALIENS
You and I are alien visitors to planet earth in the 3 dimension realm, allowed the use of a body.
As photons we are cast in the middle of a struggle between our heritage of light, and this heavy material, and very heavy heritage of darkness.
IF THE DEAD ARE PHOTONS WITHOUT A BODY
AND WE ARE PHOTONS WITH A BODY?
THEN
WHY CAN'T WE COMMUNICATE WITH THE DEAD?
BECAUSE WE DON'T UNDERSTAND
BECAUSE WE ARE RELIGIOUS
What makes it so hard to find those who have gone on from this physical life is our total misunderstanding of what we are and what they are.
---
WE ARE LOOKING FOR PHYSICAL PEOPLE
INSTEAD OF PHOTONS
We are looking for physical people who have died instead of understanding that they are exactly as we except we currently have temporary body custody.
They are still photon, just as they were when they had a body.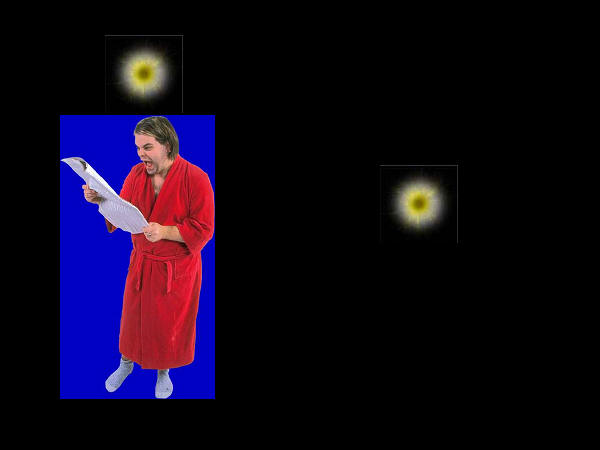 ABOVE LEFT PHOTON WITH BODY
ABOVE RIGHT PHOTON WITHOUT BODY (DECEASED?)
There we are, the photon with the body on the left, totally consumed in the physical things with no idea that he is really that photon up there over his head.
---
WHY CAN'T THE PHOTON WITH THE BODY COMMUNICATE WITH THE PHOTON
WITHOUT THE BODY?
So what is there to prevent the live photon with the body from communicating with the live photon on the right without the body who is our dearly departed loved one or friend.
OUR LACK OF UNDERSTANDING IS THE ONLY THING
The answer is nothing, except our total lack of understanding of how this works and what we are to expect.
---
I PLEDGE ALLEGIANCE TO PHOTON !!!

Remember we were created as photon and we will always be photon. Photon is our nationality and our heritage, so to return to photon is to return to our heritage.
YOUR NATIONALITY IS PHOTON SO YOU
MIGHT AS WELL ACCEPT IT
Over and over I have shared with you the basis for understanding ourselves as photons which is intelligence, consciousness, and understanding our bodies as cars.
YOU DRIVE YOUR BODY LIKE YOU DRIVE A CAR
There is no difference between you getting into your car and driving it and you getting into your body and driving it.
---
WE HAVE TWO NATURES
You have two natures.
THE LEFT SIDE AND THE RIGHT SIDE
You have a nature in the physical 3 dimensional world, and you have
your natural nature in the non dimensional sub atomic quantum world.
That is the nature of photon.
---
THE PHYSICAL OPERATES THROUGH
THE LEFT SIDE
In the 3 dimensional world you operate via the physical senses of sight, taste, touch, smell and hearing.
That is the way the physical realm works.
---
THE NON PHYSICAL PHOTON
WORKS THROUGH THE RIGHT SIDE
In the non 3 dimensional world you operate via electrical impulses which communicate to you in the same way that you talk to yourself or think, except there are no English words or any other kind of nationality or tradition involved.
IT'S ALL CONSCIOUSNESS
Everything in the photon realm is consciousness through electrical impulses.
EVERYBODY IS PHOTON
THERE ARE NO CHRISTIANS, JEWS, MUSLIMS OR ANY
NATIONALITIES.
IT'S ALL PHOTON
Everyone in existence is photon.
The separation into countries, and nationalities, and
religions, is all made by the lower mind.
It does not exist in your true realm.
---
PHOTONS LOOK FOR BODIES TO HAVE
SENSUAL EXPERIENCES
All photons look to be able to operate bodies because that is where the more gratifying experience is.
Sex, food, nature.
All things beautiful which require a physical body to experience is the desire of all photons
---
WHAT PHOTONS REALLY ENJOY IN A BODY
RELIGION CALLS SIN
This is a most basic lesson that has never been understood by people and for that reason we have been totally misled on the nature of life and our enjoyment or lack of it, in living.
ARE YOU WILLING TO DUMP ALL OF YOUR TRADITIONAL BELIEFS?
Can we sit back and take in the reality of what we are and where we have come from,and what we find ourselves immersed in?
THE ONLY WAY TO GET BACK TO YOUR TRUE SELF IS TO
DUMP ALL THE STUFF THAT HAS BEEN FORCED ON TO YOU
AND CALLED TRADITION, FAMILY, AND GOVERNMENT
Are you willing to throw everything you have ever learned about yourself, and what life's meaning is, in the garbage can, and start from scratch to realize yourself and how everything works for the very first time?
---
MOST PEOPLE ARE SHOCKED WHEN TOLD OF THEIR TRUE NATURE
Probably the best way to awaken people to a new perspective as to what reality truly is, is to shock them.
Tell them something that is so bizarre that they have to pay some attention.
The response has to be, what? are you crazy? I never heard that before.
It has to be something that is true but something that no one has ever told you before.
Something that is just a shocker.
---
HERE IS YOUR FIRST SHOCKER
Brought to us by Dr Peter Gouras.
READ ABOVE: DR GOURAS CREDENTIALS ARE IMPECCABLE
WHAT HE SAYS HAS TO SHOCK YOU EVEN THOUGH IT
IS ABSOLUTELY TRUE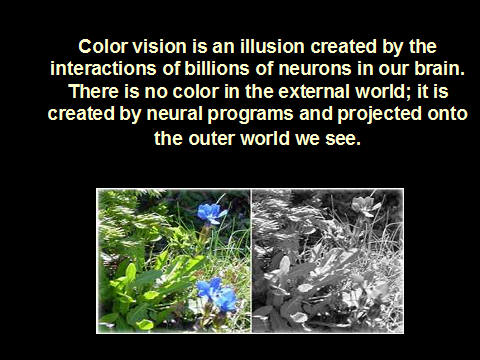 ABOVE: COLOR OUTSIDE DOES NOT EXIST.
IT FORMS INSIDE OF YOUR BRAIN
THE WORLD IS LIKE THE PICTURE ON THE RIGHT
THE PICTURE ON YOUR LEFT FORMS INSIDE OF YOUR HEAD
---
HOW COME NOBODY EVER TOLD US BEFORE
THAT COLOR DOES NOT EXIST?
What?
How long have I been alive and no one ever mentioned that to me before?
IF COLOR IS AN ILLUSION
WHAT ELSE IS AN ILLUSION?
What else have we not been told?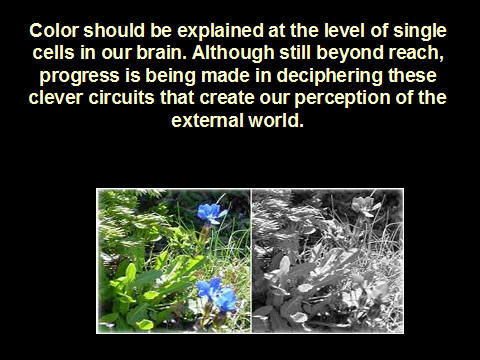 ABOVE: CLEVER CIRCUITS CREATE OUR PERCEPTION
OF THE WORLD
THAT'S WHY SOME PEOPLE ARE COLOR BLIND
IT'S A QUESTION OF THE ELECTRICITY CIRCUITRY INSIDE
There is something that is electrical circuitry in our head that creates a perception of the external world.
---
WAIT A MINUTE
ELECTRICAL IMPULSES GIVE US A PERCEPTION OF
WHAT'S OUT THERE ?
Everything out there, (if there is an out there), is gray or nothing.
IS ANYBODY THERE
And is there anything out there in the first place or is it all a perception that we have, based on illusions created into our photon consciousness by electrical circuitry?
Something in our brain body electrical circuitry produces packets of electrical information that provides a perception to our photon consciousness concerning what existence in a 3 dimensional realm is supposed to be.
It gives us a perception of what is supposed to be an external world.
---
WHAT DOES PERCEPTION MEAN?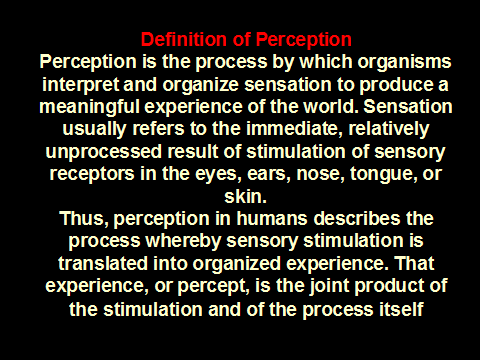 ABOVE : PERCEPTION IS AN ELECTRICAL PROCESS
BY WHICH ORGANISMS INTERPRET SENSATION.
THE ELECTRICAL IMPULSES ARE TRANSLATED INTO WHAT
WE PERCEIVE AS REALITY
So perception, or what we think is going on out there is the product of electrical stimulation of the senses.
Stimulation of receptors in the eyes, ears, nose , tongue or skin, sending signals to our photon self as to what we are to perceive or experience as reality.
We are not experiencing the outer reality , we are receiving electrical impulses as to what the outer reality should be perceived as.
---
THEN IS THERE REALLY AN OUTER REALITY?
IS ANYTHING OUT THERE, REALLY ?
Is there really an outer reality at all?
If something is hitting our photon selves with electrical packets that create a perception of what reality is, then the reality we think is there is really nothing more then the electrical packets that are continually bombarding us.
---
CONTINUING WITH
THE DEFINITION OF PERCEPTION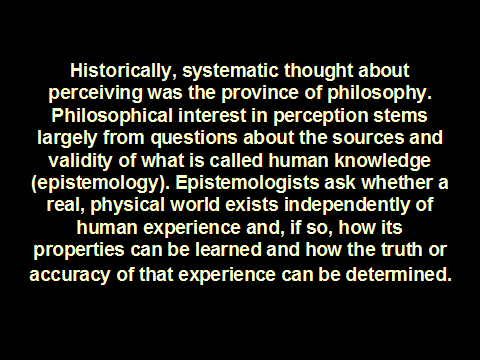 ABOVE: BASICALLY WHAT WE CONSIDER REALITY
WILL NOT BE THE SAME WITH EVERYONE BECAUSE SOME
PEOPLE PERCEIVE THINGS DIFFERENTLY THEN OTHERS.
THUS IF TWO PEOPLE PERCEIVE SOMETHING OUT THERE
DIFFERENTLY, WHAT IS REALLY OUT THERE?
So the question is obvious.
WHAT WE THINK WE SEE IS NOT REALLY SEEN
WE RECEIVE ELECTRICAL SIGNALS INJECTED INTO US
AS PHOTONS AND WE THINK THOSE SIGNALS ARE REALITY.
Since we are photons who perceive the existence of a world , not
on actual contact but on the basis of electrical signals that are injected into us as photons, does a real physical world exist or are we simply players in some kind of matrix like video game?
---
ARE WE PLAYERS IN THE MATRIX?
CONTINUING WITH THE DEFINITION OF PERCEPTION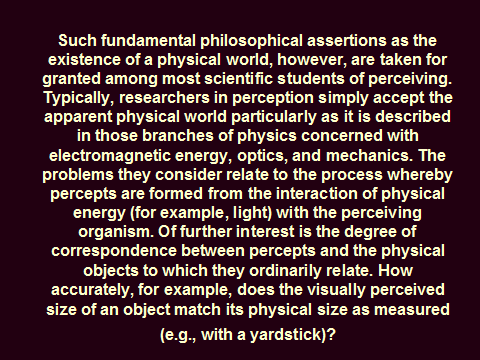 ABOVE SCIENCE WILL ACCEPT THE REALITY
OF AN OUTSIDE WORLD, BUT THERE IS A QUESTION
CONCERNING THE REALITY BECAUSE IT COMES FROM
INTERACTIONS OF ELECTRICAL IMPULSE ENERGY.
So science says ok, a physical world probably does exist.
But their concern is the interaction between the physical energy that is called outer reality with the perceiving organism which sends the electrical impulses to us to tell us what we should be perceiving.
AND WHO IS "US" THAT SHOULD BE PERCEIVING
---
WHO IS US?
So they raise the question, if we look at a perceived object.
Electrical impulses say that the object is an apple.
How big is it.
How much does it way.
It's an apple if there is such a thing, compared with the perceived version that we get through electrical impulses.
IT ALL DEPENDS ON HOW THE IMPULSES MOVE THROUGH
OUR CIRCUITS AND GIVE US A CONSCIOUS PERCEPTION
IT SOMETHING GOES WRONG WITH THE WIRING WE ARE
GOING TO SEE SOMETHING DIFFERENT
You see, we are not actually taking part in the real outer world.
Our so called reality is based on electrical impulses that are injected into our photon being which operates the body.
---
SENSES DISTURBED FROM WHAT
You have heard of people who have lost their sense of smell, or touch or sight.
When those senses turn off because of a failure of the electrical circuitry then those things cease to exist.
---
THERE IS NO VISIBLE WORLD OTHER THEN
THE PERCEPTION OF ONE THAT WE (WHO IS WE?) RECEIVE FROM ELECTRICAL IMPULSES.
There is no visible world, there are no such things as odors, there are no such things as physical objects to touch.
And so what we call reality is not reality at all, but rather electrical
impulses inserted into our photon selves to create for us a perception of reality.
Which begs the next question.
Is it possible for there to be reality at all, since the only way we can
experience it is through electrical impulses that create the illusion for us making us think that we are involved in all this.
---
IF OUR ELECTRICAL CIRCUITRY SHUTS DOWN
SO DOES OUR REALITY !!
As soon as some of these electrical signals shut down, we then can only experience the part of reality that was not a part of the circuitry that was shut down.
If the vision circuit goes bad then visible reality no longer exists.
If the audio circuit goes bad then audio reality no longer exists.
If all the circuitry shuts down, then that's that.
---
CAN OUR PHOTON SELVES BE INJECTED WITH A REALITY
THAT AN ALIEN BEING WANTS US TO HAVE?
Which then leads to the question as to whether our photon self can be injected with perception packets that some higher being wants us to perceive as reality, or can reality be constructed in such a way that things that are physically there cannot be picked up by our sensors and thus do not allow us to know of their existence?
IN OTHER WORDS, CAN WE BE PROGRAMMED TO SEE A
REALITY THAT SOMEONE ELSE DESIRES US TO SEE.
TO SEE WHAT THEY WANT REALITY TO BE?
But you say, I take a picture with my camera, so I know what reality is.
---
A CAMERA PICKS UP PHOTONS TOO
But the camera is doing the same thing the eye does.
It picks up photon particles and translates them into an image which is then chemically recorded .
The camera is not seeing a reality.
It is having impulses reflected off of its lens and translates those
impulses into what the impulses communicate as reality.
---
THAT DOESN'T LOOK LIKE ME
There are many times when you see a picture of yourself, you will say. That doesn't look like me.
Of course it doesn't because it is just a perception, not the real you
which in reality outside the realm of photon particles does not exist anyway.
Do you understand that.
A picture of you is a collection of photon particles that assemble to provide a perception of the physical you.
---
LET US CONSIDER PERCEPTION AGAIN
Let me just briefly take you through this perception thing and notice from the web site the references to you, and us, and we, etc.
In describing the process of impulses being transmitted into the
brain, there are many references to you, us, and we.
You will see what I mean
THIS IS THE HUMAN PROCESSING MACHINE KNOWN AS A BRAIN
DECODING IMPULSES SO AS TO PROVIDE
US WITH A PERCEPTION OF WHAT'S OUT THERE
---
This is from the Charles Sturt University On Line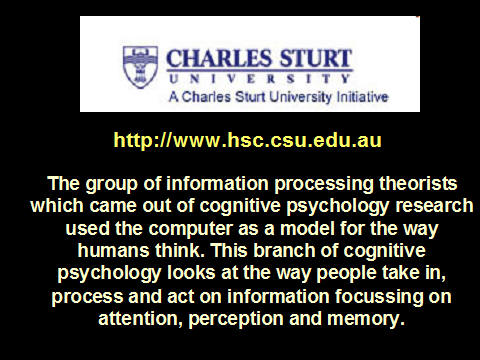 ABOVE; THE WORK IS TO LOOK AT HOW PEOPLE
PROCESS AND ACT ON INFORMATION
So this is how we will approach it.
Comparing the human brain to a computer.
As we go along, keep in mind that both the plastic computer
and the brain computer, require an operator
---
THAT OPERATOR I PROPOSE
IS PHOTON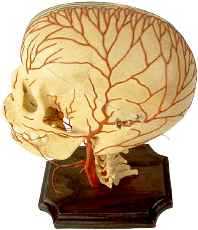 ABOVE: THE HUMAN BRAIN ACTS LIKE A COMPUTER. IT TAKES IN THE IMPULSES, ORGANIZES IT, STORES IT FOR LATER
USE.
THE EYES AND EARS ARE CONSIDERED AS THE KEYBOARD
OF THE PLASTIC COMPUTER.
A COMPUTER ON YOUR DESK
AND A COMPUTER ON YOUR SHOULDERS
Basically there is the comparison between the computer that sits on your desk and the computer that sits on your shoulders.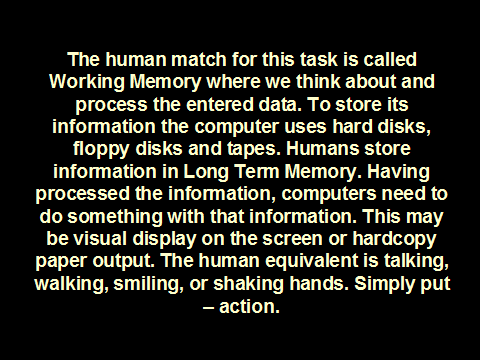 ABOVE: NOTICE WHERE IT SAYS THAT THE BRAIN HAS A WORKING MEMORY WHERE WE THINK ABOUT THE PROCESS THE DATA.
THE QUESTION IS WHO IS WE ?
DO YOU SEE WHERE I'M COMING FROM?
THE BRAIN IS SEPARATED IN THE REPORT FROM WE.
WE OPERATE THE BRAIN BUT IT DOES NOT CLARIFY WHO WE IS.
---
HARD DISKS FOR THE DESK COMPUTER
LONG TERM MEMORY FOR THE HEAD COMPUTER
I THINK I SEE, MAYBE.
So we see that the activity that appears to be going on in the physical realm is actually the result of electrical information into hard disks on the desk computer and long term memory in the shoulder computer.
The long term memory idea of course needs further discussion because we have to determine where that is located.
---
MEAT CANNOT STORE MEMORIES
Obviously the packets of information cannot be placed in meat which is the make up of the physical body.
So the actual place where this information is stored would seem to me
to be reasonably described in the realm of the sub atomic rather then the physical brain
Next we see a diagram on how the external information is programmed through your head.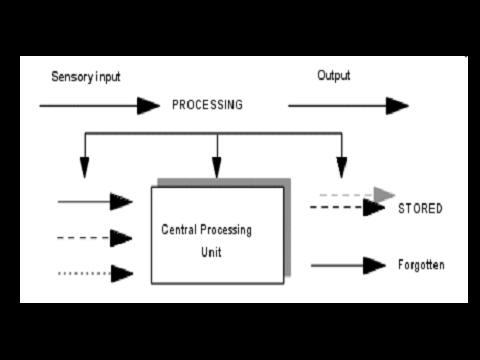 ABOVE: LEFT SENSORY INPUT IS WHAT WE REACT TO.
PROCESSING UNIT IS THE ELECTRICAL BRAIN.
OUTPUT: ACTIONS WE TAKE AFTER SIGNALS PROCESSED.
STORED: MEMORIES OF THE INPUT WE RETAIN.
FORGOTTEN: DELETE BUTTON ACTIVATED AND WE FORGET.
That diagram is extremely over simplistic but nevertheless you get the idea.
Now as they sum up this operation, we come to the part which is also found in the other descriptions of the operation of the human brain mind that begs the fundamental question.
---
WHO REALLY IS
"THEY" OR "WE" OR "US" ?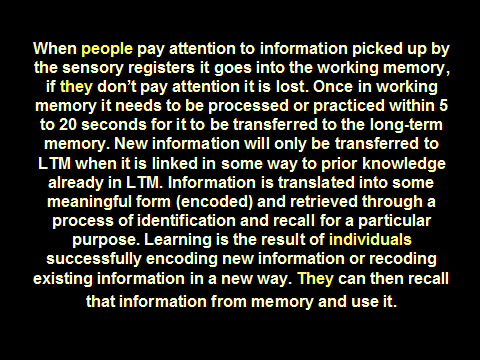 ABOVE: YOU HAVE 5 TO 20 SECONDS TO PUT SOMETHING
INTO LONG TERM MEMORY BEFORE IT IS PUT IN THE FORGOTTEN
BASKED.
THE BRAIN LONG TERM MEMORY ONLY RECORDS NEW INFORMATION WHEN THE IMPULSE CODES CONNECT IT TO
SOMETHING PRIOR.
THIS IS DONE BY BRAIN IMPULSE CODES
NOTICE ABOVE THE WORDS IN YELLOW
PEOPLE, THEY, INDIVIDUALS.
IT IDENTIFIES PEOPLE, AND THEY, AS SEPARATE FROM THE BRAIN.
SO WHO ARE THEY?
---
SOMEONE INSIDE OF YOUR HEAD HAS TO
ACT ON THIS INFORMATION
Someone has to get this information and act on it.
EITHER THE MEAT AND BONE INSIDE OF YOUR HEAD
ACTS ON IT.
OR YOU DO. THEY'RE NOT THE SAME
Is it the meat and bone that operates your body, or is it you, the photon of light that is caught up in this game called 3 dimensional existence?
---
THE CONSCIOUSNESS IS IN THE PHOTON, YOU !
That is who you are.
A photon receiving packets of information from electrical sensors in
the body, that give you, a photon with no eyes, no ears, and no other stuff, a perception of being a person with a body in a wild, wild world.
---
A HUMAN BEING IN 3 PARTS
So the conclusion has to be that there are three parts to a human being.
PHYSICAL
One is the physical part the carries out life in the material realm.
ELECTRICAL
The second is the electrical part that delivers the codes necessary for both the body to move and for the photon to decide.
PHOTON
The third part is the photon which makes the decisions based on the electrical information received.
The fact that we are photons occupying physical bodies for periods of time does create problems in our understanding of who and what we are.
Let us look again at ourselves in the physical state we experience here and also in our natural photon state.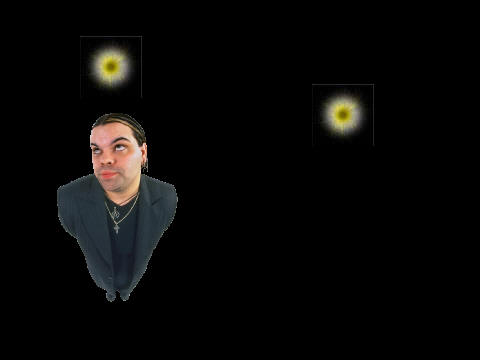 ABOVE: OUR SELF PHOTON WITH THE BODY WE OPERATE
RIGHT: OUR SELF PHOTON WITHOUT THE BODY
---
HOW DO WE COMMUNICATE WITH THE DEAD ?
We have a photon with a body which is us, and we have a photon that as far as we know does not have a body.
Those who have physically died.
Their body died but they as photon beings are very much alive
You cannot communicate with anything that is dead.
But those we say have passed on simply have had their bodies shut down.
They are very much alive.
We don't know if they have moved on to another body but that is not our concern, our concern is communicating photon to photon.
---
YOU CANNOT COMMUNICATE BODY TO PHOTON
In other words you can't communicate with them body to photon because they have no body.
You can only communicate body to body in this physical realm.
In the quantum realm there is no body.
You must communicate with them photon to photon or as Jesus put it.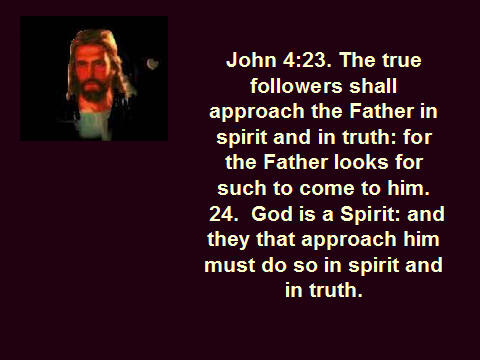 GOD IS SPIRIT MEANS GOD IS PHOTON
AND MUST BE APPROACHED PHOTON TO PHOTON
IN THE SAME WAY.
THE DECEASED ARE PHOTON AND MUST BE APPROACHED PHOTON TO PHOTON
There is no other way, whether it be God, Jesus, those who have passed on etc.
It cannot be body to spirit (photon) because the two function differently.
It has to be photon to photon, and it has not been taught that way and that's why no contact has really ever been made.
---
RELIGION HAS FORCED YOU TO ABANDON REALITY
Your real identity is as photon and not as a human being, but you have been forced to abandon that reality and now you follow people with robes and candles who have no idea that the only way to communicate with the higher light is electrically, in the realm of photon.
---
RELIGION DOES NOT UNDERSTAND QUANTUM REALITY AND YET
IT IS RELIGION THAT THE MASSES FOLLOW
Oh no they say, you have to follow our ways.
THE BIBLE ITSELF REFUTES THEIR WAYS
And what the Bible says in the slide above is the most difficult thing to get into peoples heads.
---
WE CAN ONLY INTERACT WITH GOD
PHOTON TO PHOTON
CONSIDER ANIMAL INSTINCT
THAT IS PHOTON TO PHOTON
What we call God does not interact on the physical human plane.
It is a totally different plane of photon which is only available in meditation.
ABOVE: THE WAYS OF THE QUANTUM WORLD ARE
UNLIKE THOSE OF OUR 3 DIMENSION PHYSICAL WORLD
---
RELIGIOUS GAMES IN A SERIOUS WORLD
We have never been allowed to understand this.
WE TREAT THE QUANTUM LIGHT LIKE SANTA CLAUS
Jesus loves the little children, God bless our troops,
God let me have a new I Pod.
All this craziness which cannot possibly work because we are
communicating body to photon which is impossible to do.
That's why Krishna, and Buddha, and Jesus admonished us to find that essence within.
YOU CANNOT ENTER ON YOUR TERMS OR
YOUR RELIGIONS TERMS.
YOU MUST ENTER ON NATURES
TERMS.
According to our religion the way is reading books
and singing songs, and reciting prayers.
---
GODS WAYS ARE PHOTONS WAYS
The truth is we absolutely do not understand Gods ways because Gods ways are photons ways.
And so you are left with your religious group all alone on planet earth because you have no understanding of the realm of photon and meditation.
---
THE DOOR IS LOCKED AND
YOU MAY NOT HAVE A KEY
Thus the door is locked and you're standing outside on planet earth with the stock brokers, the preachers, and the politicians.
As Sir William Crookes called them many years ago when he tried to discuss the reappearance from the dead of Katie King, "the know nothings".
---
COMMUNICATING WITH THE PHYSICALLY DECEASED IS VERY NATURAL
There is no reason why we should not be able to be in communication with those who have physically died.
WHY ARE WE UNCOMFORTABLE WITH SOMETHING THAT
IS SO NATURAL?
It is a very natural and normal thing to do, but there are significant reasons why we have not been able to do it.
Our problem in communicating with those who have gone on is based on this.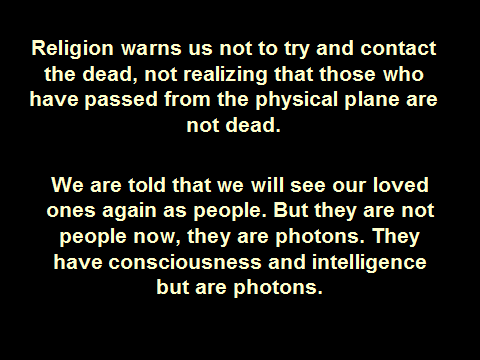 RELIGION CONSIDERS THE DECEASED DEAD BECAUSE THEY
ARE OBSESSED WITH THE PHYSICAL.
THEY ARE NOT DEAD.
ONLY THEIR BODIES ARE DEAD.
THE DECEASED ARE PHOTONS WITHOUT BODIES.
THEY HAVE KNOWLEDGE, UNDERSTANDING, MEMORIES ETC.
WHEN THE VEHICLE BREAKS DOWN THE DRIVER DOESN'T DIE
Because a car breaks down does not mean that the person driving it is dead.
Because a body breaks down does not mean that the photon driving it is dead.
---
RELIGION MAKES
WHAT IS NATURAL AND BEAUTIFUL
SPOOKY AND SCARY.
Religion which tells us we should not contact the dead places some kind of spooky fear on the subject by convincing us that once a body dies the photon operating it becomes a scary dweller in the land of the dead.
THAT IS RELIGIOUS NONSENSE FROM SUPERSTITIOUS PEOPLE
You must reject that ignorant assumption and realize that a person with a body or without a body is the same person in the quantum realm, and the difference is only apparent in the physical bodily realm which is shut out from 90% of reality.
The physical realm (WE) is kept in a bubble prison so (WE) do not do to the the rest of the universe what we have done to the earth.
---
THE DECEASED EXIST OUTSIDE OF
THE BUBBLE THAT WE ARE CONFINED TO.
Real life where those who have passed on exist, is outside of the prison bubble where there are no preachers, or politicians, to peddle fear through their superstitions.
---
THE BUBBLE UNIVERSE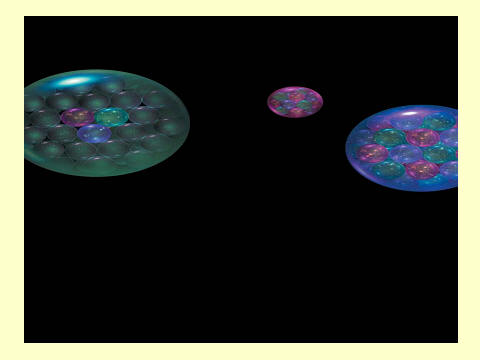 WE ARE CONFINED TO THE BUBBLE
SO WE DO NOT MESS UP
THE CIVILIZED PART OUTSIDE
This is an artists rendering of the Bubble universe where we are safely kept away from the rest of the universe lest we damage it as we have damaged our own.
---
WE WILL BE ALLOWED TO EXPERIENCE THE FULLNESS OF LIFE WHEN WE LEARN TO BEHAVE
There is a reason why we are only allowed to experience 10% of matter that exists.
The good stuff is off limits until we learn how to behave.
Our stuff is under the control of preachers and politicians and God will not allow that bizarre behavior to infect other parts of the
universe.
---
DON'T ALLOW THE IGNORANT
TO KEEP YOU AWAY
FROM YOUR DECEASED LOVED ONES
But we continue to follow the know nothings in their attempts to keep us from those we have loved in the physical realm.
We get totally consumed by teachers in our religion, our tradition, our government.
They have us kill in the name of patriotism, and Christianity, and constantly feed our ignorance.
---
OUR TRUE NATIONALITY AS PHOTON
KNOWS NO COUNTRIES OR RELIGIONS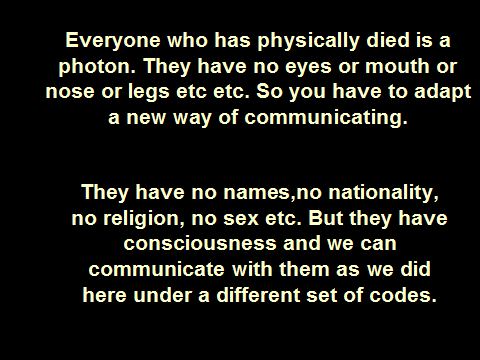 ABOVE: THOSE WHO HAVE PHYSICALLY DIED MUST NOW COMMUNICATE IN THE SUB ATOMIC PHOTON WAY.
THEY HAVE NO NATIONALITIES OR SEX ETC.
IT IS A WAY THAT IS NEW TO US THAT WE HAVE BEEN KEPT FROM UNDERSTANDING BECAUSE OF RELIGION
The idea of using a different set of codes for communicating with those who have passed from this physical realm is very important.
Their appearance to you will be in the quantum realm without any connection to the physical bodily realm, though you will be alerted to their attempts to contact you and their nearness by what Carl Jung called synchronicity.
Coincidences with a purpose.
---
WHEN SYNCHRONICITY OCCURS
When something of this nature happens you have to direct your attention to them in quantum.
Let me give you an example.
BE ALERT TO WHAT YOU THINK IS A COINCIDENCE
IT COULD VERY WELL BE THEM!
A coincidence may be the way initial contact is made.
So whenever a coincidence occurs, follow it. Think upon it.
Get into meditation.
It could very well be someone very important to you getting your attention.
---
DON'T ALLOW RELIGIOUS FEAR
TO DEPRIVE YOU OF YOUR REUNION
We have to forego the nonsense of religious fear so as to be able to reunite.
---
EDNA RETURNED
One day not long ago, Joan and I walked into the meditation room and there were a few people gathered there.
One person, a woman who I had not recognized, I walked up to, approaching her from her right side.
FROM THE SIDE SHE LOOKED JUST LIKE
JOANS DECEASED MOTHER
I had the immediate thought that she resembled Joan's mother Edna.
I ASKED HER NAME AND LOOK WHAT SHE SAID
I came in front of her and shook her hand and asked her her name and she said Edna.
Now this is the way that the quantum world, which is the real natural world operates in communicating with our dense physical world.
---
AFTER THE CONTACT WAS MADE
THE PHYSICAL RESEMBLANCE DIMINISHED
From the front she did not look 100% like Joans mother but that is not the point.
She looked like Joan's mother to me as I approached her, and
that is what went through me head.
Then when I reach here I find out her name is Edna.
Curiously this occurred at the time when I was beginning to study our relationship to the true world of the deceased that we have failed to recognize.
---
RECOGNIZING COINCIDENCE IS THE FIRST STEP
This is the first step in learning how to reunite.
We begin to discuss the subject of reuniting with those deceased and suddenly, we have an experience that we perceive to be some kind of relationship with a loved one who had passed on from this physical plane.
We began speaking about reuniting with departed loved ones, we walk into a room, a woman is sitting here who I perceived as resembling Joan's mother Edna , and her name is Edna.
---
TELL THE OBSTRUCTING RELIGIOUS ONES
TO GET OUT OF THE WAY
We accepted the premise that Joan's mother was making contact.
As far as religious people who deny this reality are concerned, we simply tell them to step aside and stop obstructing such love as this.
---
RECOGNIZING THE ATTEMPTED CONNECTION FROM THE OTHER SIDE
Now we get to a very important point in determining how to reunite with departed loved ones, and friends
What did I just tell you about Joan's mother and the incident that took place?
I perceived that the woman looked like Joan's mother.
A PERCEPTION TOOK PLACE
That was my perception.
It wasn't that she looked like a twin or anything like that.
It was the way I perceived her appearance.
The way she appeared to me.
In other words the message came to me, Joan's mother, and the next thing was the name Edna.
The contact was made.
---
THE PERCEPTION WAS NECESSARY
TO MAKE THE CONNECTION
If I did not perceive the appearance as connecting to Joan's mother initially then the name Edna would not have been a connection.
PERCEPTION COMES FROM PHOTON ACTIVITY WITHIN THE BRAIN
PHOTONS PROVIDE CODED IMPULSES TO THE BRAIN
THE MESSAGE IS TRANSLATED TO US THE INNER PHOTON
THE MESSAGE IN THIS CASE WAS "LOOKS LIKE JOAN'S MOTHER"
Let me show you a picture of Edna in her younger days .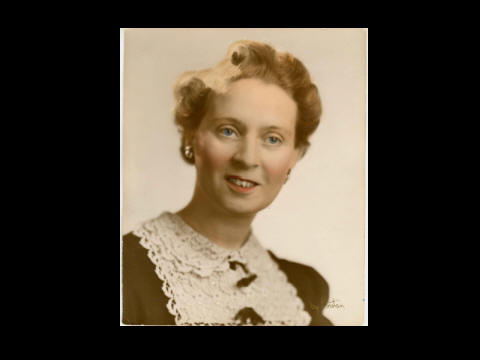 ABOVE JOAN'S DECEASED MOTHER EDNA
---
WHERE HAVE WE COME SO FAR ?
So where has this taken us.
We raised the subject of reuniting with loved ones and friends
who have passed on.
We had an experience with perception of the resemblance to Joan's mother Edna, by a woman who resembled Edna and had come here, and who introduced herself as Edna.
WE THUS CAN CONFIRM A CONTACT WAS MADE FROM
THE PHOTON WHO PREVIOUSLY OPERATED WITHIN
THE BODY OF JOAN'S MOTHER EDNA.
THE ENTIRE EVENT STARTED WITH A COINCIDENTAL
PERCEPTION
And the whole thing began with my perception.
So let us go back to an understanding we shared in the beginning of this message.
---
PERCEPTION THAT EXISTS IN OUR HEAD
Something in our brain body electrical circuitry produces packets of electrical information that provides a perception to our photon consciousness concerning what existence in a 3 dimensional realm is supposed to be.
LET'S MAKE IT SIMPLER
THE WOMAN IN THE CHAIR GIVES OFF PHOTON LIGHT AS ALL THINGS DO.
THE PHOTON WHICH IS JOAN'S DECEASED MOTHER TRANSMITS PHOTON ENERGY WE PICK UP SUGGESTING JOAN'S MOTHER AND THE WOMAN SITTING IN THE CHAIR
THUS I NOW HAVE A PERCEPTION OF THE WOMAN IN THE CHAIR LOOKING LIKE JOAN'S MOTHER
THE WOMAN GIVES HER NAME AS EDNA WHICH WAS JOAN'S MOTHERS NAME
SOLUTION:
JOAN'S MOTHER WHO IS NOW PHOTON, USED THIS SITUATION AS AN OPPORTUNITY TO MAKE CONTACT
JOAN'S MOTHER PHOTON ENERGIZED A VIBRATION I PICKED UP FROM HER WHICH GAVE ME A PERCEPTION OF HER CONNECTED TO THE WOMAN IN THE CHAIR.
I WALKED OVER TO THE WOMAN IN THE CHAIR WITH THAT PERCEPTION IN MY MIND AND SHE GAVE ME THE NAME EDNA.
WE THEN ACCEPTED THAT A REAL LIVE CONTACT WITH THE OTHER SIDE HAD TAKEN PLACE.
A signal inside gave us a perception of what was outside
---
DEFINING THE WORD PERCEPTION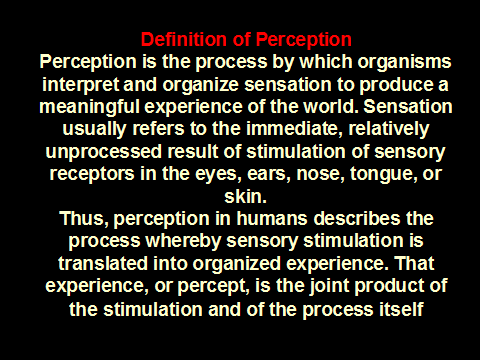 ABOVE: THE VERY BEGINNING TELLS YOU.
ORGANISMS ORGANIZE SENSATION TO PRODUCE AN EXPERIENCE.
IN OTHER WORDS ELECTRICAL IMPULSES PRODUCE THE
PERCEPTION AS TO WHAT IS OUTSIDE.
THUS A DECEASED PERSON, NOW A PHOTON, TRANSMITS
ELECTRICAL IMPULSES TO YOU.
YOU ABSORB THEM AND THEY BECOME A PERCEPTION
---
NOW IT IS UP TO YOU TO ACCEPT THAT FACT THAT
CONTACT WITH THE OTHER SIDE HAS OCCURRED
Electrical packets of information arrive which are translated into an organized experience which is the product of the stimulation (in this case photon packets from Joan's mother Edna.
The woman in the chair becomes a target.
The perception is her resemblance and her name Edna.
---
ELECTRICAL IMPULSES FROM THERE AND HERE
CREATE SYNCHRONICITY.
A COINCIDENTAL PERCEPTION
WHICH IS CONTACT
The two create a perception of a concept, or idea, or view ,attached to our physical form of Joan's mother.
Now since we have begun to understand the workings of reuniting with the deceased we know that Edna has made contact.
---
WE RIDICULE REALITY BECAUSE OF RELIGION
But Edna is also aware of the fact that we on the dense 3 dimensional plane have a very difficult time in responding, because we are either too scared because of religion, or prone to ridicule such contact because of religion.
---
WE HAVE TO EXERCISE OUR PINEAL ELECTRONICS
THROUGH MEDITATION
In other words we have to practice, practice, practice, to overcome the years of stupid brainwashing that we have endured from religion, which has separated us from our beautiful love experiences.
So what happened here.
Let us evaluate it based on what we have already shared .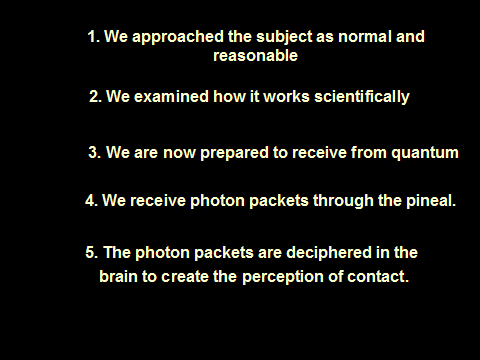 ABOVE: ONCE WE ACCEPT THAT CONTACTING THE DECEASED IS POSSIBLE AND NORMAL, THEN WE FOLLOW ALONG HOW IT WORKS.
---
DARK AGES MENTALITY CALLED RELIGION
IS TRYING TO INSTRUCT YOU
The first thing you must realize is that the people who warn you not to contact the dead, and that it is evil etc, are the very ones whose traditions come from the dark ages when science was not allowed.
They have taught you the most bizarre things under a threat that if you did not believe them, and give them your money, you would go to a hell that they also made up to keep you in line.
---
DROP RELIGION AND RECOGNIZE
QUANTUM REALITY
Once you study the quantum realm and realize that electro photon packets are received into the brain, which in turn are deciphered to provide a perception of physical reality, then you should have absolute confidence in dealing with this subject.
---
BE ALERT TO CONTACT
DON'T LET RELIGIOUS PEOPLE INTERFER
E
Next you make up your mind to be alert to any contact and insist that you will not be turned away from this experience of love because of superstitious religious people whose ideas have caused so much hurt and violence upon the earth.
Then you will be ready, then you will begin to receive;
---
THIS IS QUANTUM SCIENCE OF PHOTONS AND ELECTRONS
DEVILS AND DEMONS ARE NOT INVOLVED AND DO NOT EXIST
You will also understand that all activity in the quantum realm is real and you can put away any notion of devils and demons etc.
DEVILS AND DEMONS ARE SYMBOLIC TERMS
FOR HUMAN THOUGHT
There is only photons and electrons etc, and how we receive them, and what we do with them, creates devils and demons which turn out to be human thought.
What we are discussing here is not some hocus pocus, religion, spirituality or any other mind boggling, faith requiring information.
---
THIS IS NORMAL, NATURAL, ACTIVITY
THAT YOU HAVE BEEN CREATED TO TAKE PART IN
BUT YOU HAVE TO USE THE EQUIPMENT YOU WERE GIVEN
What we are discussing is a natural, normal, activity of nature that we can all take part in when we are prepared to walk away from preachers and politicians.
---
SIR WILLIAM CROOKS AND THE WOMAN HE BROUGHT BACK TO LIFE, KATIE KING
As we understand all of this we then should have a much better take on what occurred with Sir William Crookes as he brought Katie King back from the dead.
William Crookes, a brilliant scientist of the 19th century brought a woman by the name of Katie King back from the dead.
And what was his statement before the English parliament to those of science and religion who ridiculed him for saying he could
bring someone who had died back .
What did he say?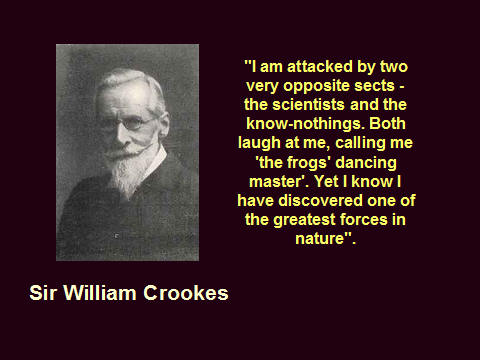 ABOVE: WILLIAM CROOKES SAID HE DISCOVERED ONE OF THE GREATEST FORCES IN NATURE.
THE FORCE IS WHAT WE HAVE BEEN DISCUSSING HERE.
THE QUANTUM FORCE OF PHOTON, ELECTRON, AND PERCEPTION
Note that Sir William Crookes did not say that he had touched God or found the spiritual pathway or anything like that.
He said that he had discovered one of the greatest forces in nature.
---
THE GREATEST FORCE IN NATURE IS PHOTON
What he was saying, is that seeing and speaking with someone who has returned after physically dying is a natural thing, which is a scientific reality.
NO ONE ELSE MAY EXPERIENCE YOUR EXPERIENCE
BUT THE QUANTUM REALM HAS PROVIDED THE
IMPULSES TO YOU TO GIVE YOU THE PERCEPTION
OF REALITY
One of the greatest forces in nature is the ability of the photon particles to create a perception which exists within a persons head that they are seeing something outside of themselves that is really not there.
Everything is reduced to packets of electrical information of photon impulses and it is then deciphered to create a perception of an existence.
---
IT IS NOT THE MEAT AND BONE OF YOUR BODY EXPERIENCING THIS
In other words it is not the meat and bone of your body seeing and hearing etc.
WHAT YOU PERCEIVE IS INSIDE OF YOU
It is the packets of photon information that are deciphered by the computer structure of the brain, which then inputs the deciphered packets into the photon that you are and what you see turns out to be inside of you.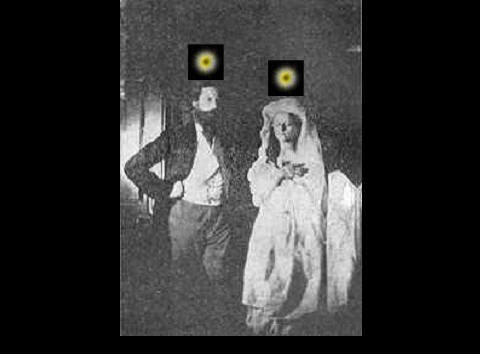 ABOVE: PICTURE OF WILLIAM CROOKES AND DECEASED KATIE KING.
I HAVE INSERTED PHOTONS ABOVE THE HEADS.
IT IS THE PHOTONS THAT PROVIDE THE EYES OF THE WITNESSES AND THE LENS OF THE CAMERA WITH THE PERCEPTION THAT KATIE KING IS THERE.
---
SOMEONE ELSE WHO JUST HAPPENED UPON THE SCENE MAY SEE NOTHING.
So now here is Katie King standing with William Crookes.
The dead woman with the live man, but the interesting part is not focusing on two bodies but on two photons.
LOOK AT THE PICTURE ABOVE AGAIN
UNDERSTAND THAT IT IS THE PHOTONS INTERACTING AND CREATING THE PERCEPTION
THE CAMERA THEN BURNS THE PHOTON CODED PERCEPTION ON TO THE FILM AND WE ALL SEE WHAT WAS NOT REALLY THERE IN A PHYSICAL SENSE, BUT WAS REALLY THERE IN THE QUANTUM REALM OF THE SUB ATOMIC
---
THERE ARE TWO METHODS OF ELECTRICAL PERCEPTION AT WORK HERE
KATHIE KINGS IMPULSES ARE VIA THE PINEAL GLAND
So Katie King with her white dress appears via the pineal.
WILLIAM CROOKES AND PHYSICAL PEOPLE APPEAR VIA THE EYE RETINA
THE CAMERA PICKS UP THE PHOTON ACTIVITY FROM BOTH
Two photons which pump information into our body photon giving us the perception of seeing two people.
So then what is the universal power William Crookes was talking about?
---
THE SUB ATOMIC POWER WE CALL GOD
THIS IS THE POWER SIR WILLIAM CROOKES WAS TALKING ABOUT
The power in the sub atomic realm for photons to enter within the bodies electrical circuitry, and communicate back to our photon, a perception of what we think we see based on the photons properties.
---
EVEN IF IT IS NOT THERE
IF YOU PERCEIVE IT, IT IS THERE
So we say, we see William Crookes.
Of course he's alive and has a body.
YOU ONLY THINK YOU'RE SEEING WILLIAM CROOKES
But the problem with that assessment is you're not seeing William Crookes at all.
His photon has entered your electrical system and the properties of his photon is deciphered and input into your photon giving you a perception of a man with a snappy vest.
---
IT MAKES NO DIFFERENCE IF THE BODY IS ALIVE OR DEAD
IT IS THE PHOTON THAT TRANSLATES INTO
A PICTURE WITHIN OUR CONSCIOUSNESS
And so it makes no difference if he is alive or dead because it is his photon that reflects off of our retina or pineal gland, and that is what translates the coded packets into a picture of a man , or a picture of a deceased being.
ONLY KATIE KING'S BODY DIED
NOT HER PHOTON
Katie Kings photon which did not die when her body did is there, and the photon of Katie King enters the single pineal eye and transmits a signal in the eye retina, of a woman in a white dress which is then injected into our photon.
---
WE HAVE NOT SEEN EITHER PERSON
BUT WE HAVE PERCEIVED BOTH
So we have not seen either person, alive or dead.
We simply perceived the appearance based on electrical photon impulses which decipher forms to our photon person.
---
NOW KATIE KING AND WILLIAM CROOKES IN THEIR REAL FORM
NOW WE SEE WHAT THEY REALLY LOOK LIKE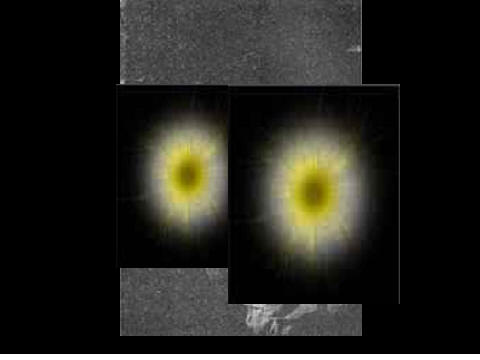 So as far as our perception is concerned since photons cannot die, a William Crookes photon and a Katie King photon is completely acceptable in the scientific realm.
Their photons are there and their photons, being packets of information paint an electrical impulse image of a man and a woman based on their photon properties.
---
DO NOT MAKE A MISTAKE AND CONSIDER THIS WHICH IS NORMAL TO BE STRANGE
WHILE ACCEPTING RELIGION WHICH IS STRANGE TO BE NORMAL
I am not running off on some strange toot here about photons and making things up.
I showed you the report from Gary Zukav from his book the Dancing Wu Li masters that photons are conscious.
In the report from his book, he spoke of an experiment where scientists confirmed how photons communicated with each other and used intelligent decisions to change course.
---
PSYCHOANALYST CARL JUNG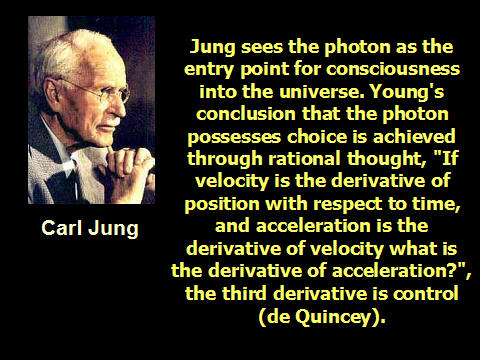 ABOVE: CARL JUNG SEES THE PHOTON AS THE ENTRY POINT OF UNIVERSAL CONSCIOUSNESS.
PHOTON IS CAPABLE OF RATIONALE THOUGHT.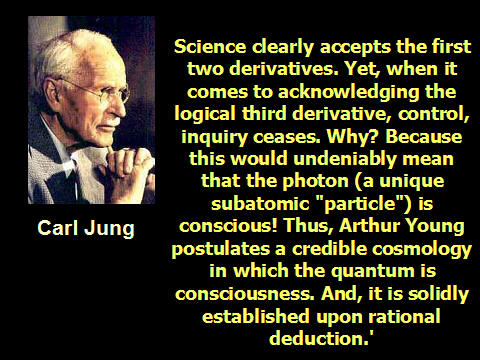 ABOVE: PHOTON IS CONSCIOUSNESS.
THIS AND THE REPORTS OF OTHERS SUCH AS ARTHUR YOUNG NOTED ABOVE, CONFIRMS EVERYTHING YOU HAVE READ HERE.
---
SO WHAT'S IT ALL ABOUT ?
What does it all mean?
It means that consciousness is photon, and photon is light, that enters the body and brings messages that are deciphered to our person photon.
We are also photon, and operate our body as a driver would operate a car.
---
IF YOU WISH A REUNION
THEN YOU MUST ARRANGE IT VIA PHOTON
If you wish to meet with loved ones who have physically died and passed on then you will do it via photon.
They can not appear before you physically because nobody does.
EVERYTHING THAT APPEARS AS AN IMAGE TO YOU
IS ACTUALLY A PHOTON IMPULSE IMAGE
AND THE PHYSICALLY DECEASED ARE NO EXCEPTION
What appears before you is photon which enters and paints a picture which you perceive as someone.
Thus your loved one can appear right before you as photon which you could not see.
---
SOMEONE SPECIAL COULD BE NEXT TO YOU RIGHT NOW
BUT YOU MUST ELEVATE YOUR PINEAL ELECTRICAL ENERGY THROUGH MEDITATION.
STIMULATE THE PINEAL INTO A VIBRATION TO ABSORB THE PHOTON NEXT TO YOU WHICH CAN THEN BE DECIPHERED INTO A VISION.
If you stimulate the electron and attract the photon into you, then the photon will send electrical impulse packet information into your photon and you will perceive contact.
YOU MUST STIMULATE AND EXCITE THE ELECTRON FOR
THIS TO WORK
That is necessary.
You want to be filled with a
view or perception of contact with a deceased loved one.
That loved one is photon or light as is everything else you perceive.
---
YOU MUST SUMMON THE DEPARTED PHOTON PERSON INTO YOU AND THERE IS A SCIENTIFIC WAY OF DOING THAT
The difference between that photon and the living bodily photon is that you must summon the departed photon to you.
How do you bring the light into you.
What did Jesus say?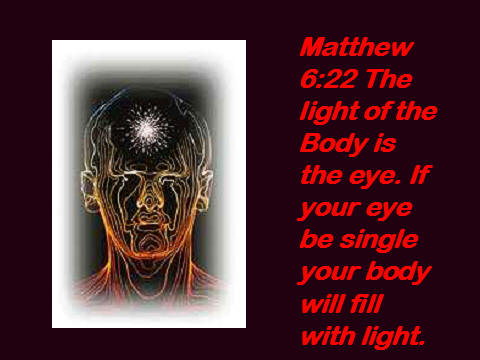 ABOVE: IF YOUR EYE BE SINGLE YOUR BODY WILL FILL WITH LIGHT MEANS IF YOU STIMULATE THE PINEAL GLAND OF THE BRAIN YOU WILL ABSORB PHOTON
There are electrons in the pineal gland and you want to do something with them so they attract your departed loved one to you.
In other words you want to attract the photon which is your departed loved one.
Is it scientifically possible to do that?
---
NASA PHYSICIST JOHN CRAMER
AND
USA TODAY APRIL HOLLODAY
PHYSICIST JOHN CRAMER
ABOVE: THE PHOTON (YOUR DECEASED LOVED ONE) LOOKS FOR AN ELECTRON WHICH CAN ABSORB IT.
IN OTHER WORDS, YOUR DECEASED LOVED ONE IS WAITING FOR YOU.
So we have an active photon seeking a loved one and the loved one can be an active photon seeking us.
But what makes it possible for us to absorb the departed, loved one photon?
AGAIN, PHYSICIST JOHN CRAMER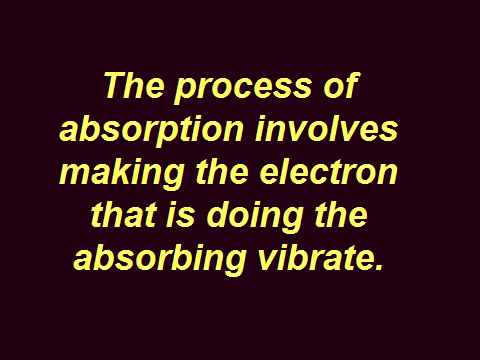 ABOVE FROM JOHN CRAMER, YOU MUST MAKE THE ELECTRON VIBRATE.
IN THIS CASE YOU MUST STIMULATE THE PINEAL GLAND OR SINGLE EYE AS JESUS SAID.
THEN THE PHOTON WHICH IS YOUR DECEASED, CAN ENTER YOU.
The electron that absorbs the light is the pineal electron, or the single eye electron and as we just saw, Jesus said if your single eye electron is active you will absorb light which is photon.
So you make the electrons in the pineal active by causing them to vibrate in your meditation by concentrating on them which in turn allows them to absorb the photon which is the departed one you are seeking.
---
NATIONAL AERONAUTICS AND SPACE ADMINISTRATION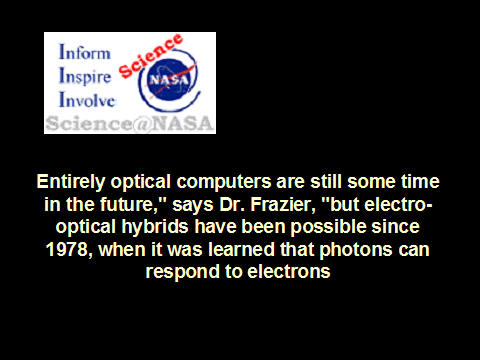 READ ABOVE: NASA IN 1978 IT WAS LEARNED THAT PHOTONS RESPOND TO ELECTRONS.
THE ELECTRONS IN YOU WANT THE PHOTONS OF THE DEPARTED TO RESPOND.
IS THAT NOT TRUE?
So there is your documentation from NASA that photon light can respond to vibrating electrons.
Or as Jesus said, if you vibrate the electrons in the single eye, your body will fill with photons.
You will open the door for your departed loved one to enter so you receive the perception of an encounter.
---
APRIL HOLLADAY OF USA TODAY
ABOVE: AS LONG AS YOUR ELECTRONS ARE IN HARMONY WITH THE SPIN AND MOMENTUM OF THE EXTERNAL PHOTON, (WHOMEVER THAT MAY BE), THE CONTACT CAN BE MADE.
The spin and momentum of your loved ones photon would obviously harmonize with yours and so instead of repelling it, you would absorb it.
That is how it works.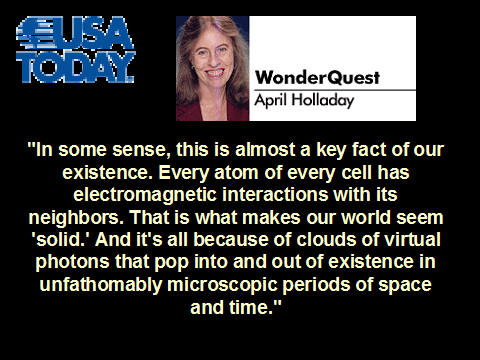 ABOVE: THE KEY TO OUR EXISTENCE. YOUR CELLS HAVE ELECTROMAGNETIC INTERACTIONS WITH NEIGHBORS. VIRTUAL PHOTONS POP IN AND OUT.
BE READY WHEN THE ONE YOU ARE SEEKING POPS IN
What I have shared with you is true and scientifically accurate.
But you will have to work at this in your meditation if you want it to be yours.
WHETHER YOU WILL WORK ON THIS, IS UP TO YOU
I HOPE THAT YOU WILL
---
If You Can Donate, Or For DVD's, Flash Drives, Or E Books
Click
Here
TO RETURN TO THE HIDDEN MEANINGS HOME PAGE CLICK HERE