TRANSLATE THIS PAGE INTO ANY LANGUAGE
DECEMBER 21 2012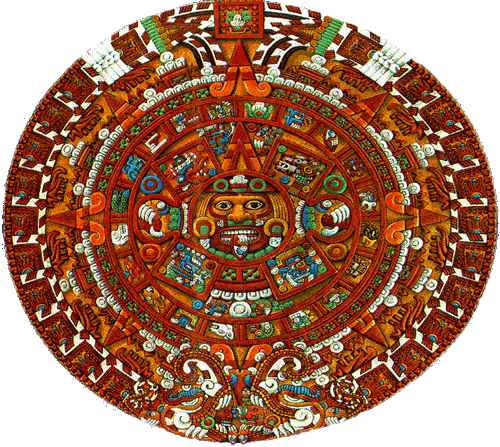 HAPPY ENDING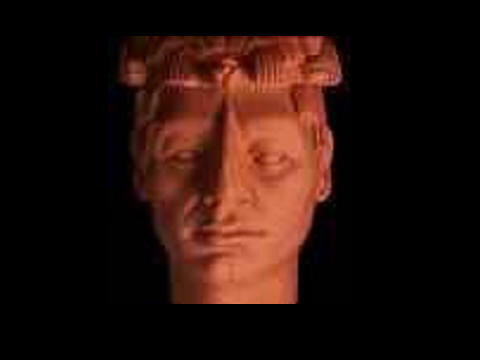 google image
PACAL VOTAN WHO MADE THE PROPHECY
OF DECEMBER 21 2012
Pacal Votan made the prophecy in 600ad about the culmination of life on the planet as we know it and a change to a new mind set to form on Dec 21 2012 at 11:11am.
THE BIRTH OF A NEW WORLD A NEW MIND
Now we will look at distinct possibilities relative to what occurred on Dec 21 2012 relative to a new world and a new mind.
---
THE CHANGE BEGAN ON THAT DATE
Two things to keep in mind.
NATURE
1. This has to do with an industrial society losing touch with nature, and the problems that result .
TIME
2. The second has to do with our existence based on man made time rather then natural time.
OUR TIME IS MAN MADE
We made up the hours and minutes, days, months , years etc. But they do not necessarily harmonize with the universe time, based on the precession of the equinoxes, and the solstices, and the interaction with the sun.
---
E MAIL
I received an e mail from a person in California who was questioning the date of Dec 21 2012 as being accurate because of the different lapses and changes that have been made in time by people, over the centuries since time began to be recorded.
TIME KEEPING HAS BEEN CHANGED BY SO MANY FOR SO LONG HOW CAN DECEMBER 21 2012 BE AN ACCURATE DATE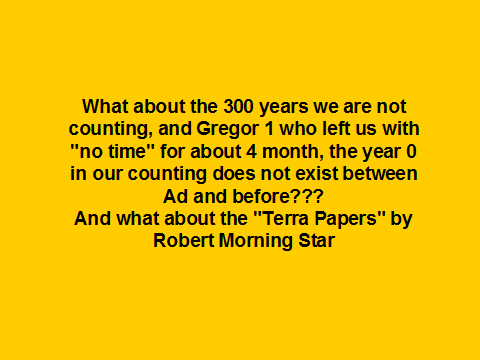 READ ABOVE: WHAT ABOUT THESE THINGS, THE CHANGES BY GREGORY, THE TERRA PAPERS, ETC.WHAT ABOUT ALL OF THOSE CHANGES.
The response I gave to this person is as follows.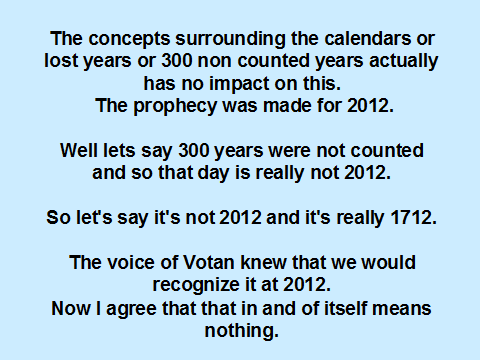 READ ABOVE: IT MAKES NO DIFFERENCE WHAT WE CALL THE DATE.
WHATEVER YOU WANT TO CALL IT. IT IS WHEN THE SUN ALIGNS WITH THE CENTER OF OUR GALAXY FOR THE FIRST TIME IN 26,000 YEARS.
ACCORDING TO OUR MAN MADE CALENDAR, THAT WAS DECEMBER 21 2012.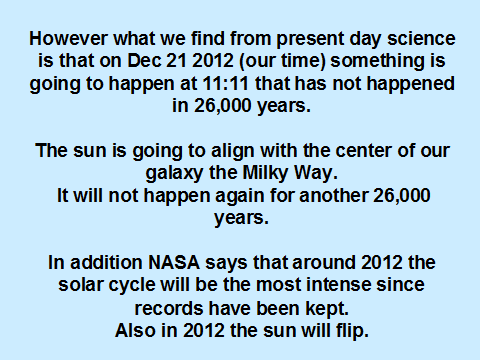 READ ABOVE: THE SUN DID WHAT IT HAD TO DO AT THAT EXACT TIME.
CALL IT WHATEVER YOU WANT.
ALSO NOTE THE FINAL PARAGRAPH ABOUT THE 2012 SOLAR FLARES.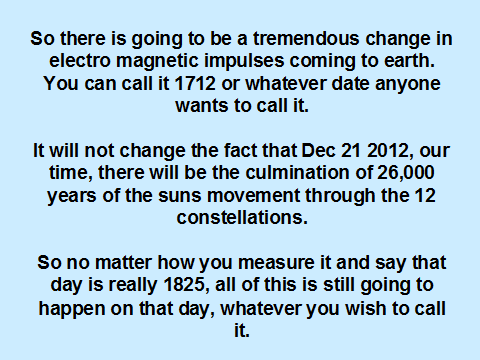 READ ABOVE: ON THAT DAY, WHATEVER YOU WANT TO CALL IT, SOMETHING HAPPENED THAT ONLYHAPPENS ONCE IN 26,000 YEARS.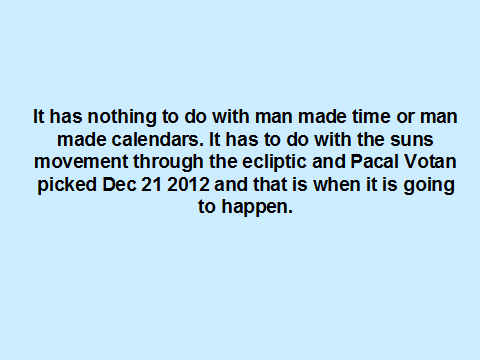 READ ABOVE: WHAT HAPPENED ON THAT DATE WOULD HAPPEN EVEN IF WE CALLED IT JANUARY 3 1654.
NOTHING WE COULD CALL IT COULD CHANGE IT.
The misunderstanding here is exactly what Pacal Votan was referring to in 600ad.
THE LIVING PROPHECY.COM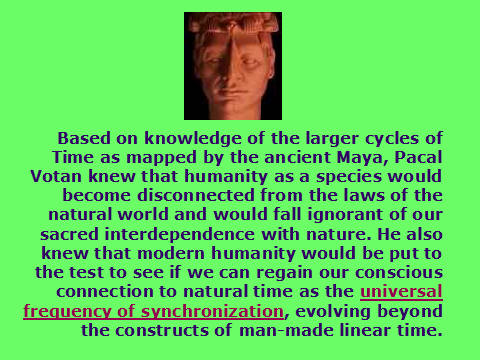 google image
READ ABOVE: WE HAD NO PREVIOUS IDEA THIS WAS COMING BECAUSE WE DID NOT FOLLOW NATURAL TIME.
WE MADE UP TIME THAT DID NOT INCLUDE THE SUN ALIGNING
WITH THE CENTER OF OUR GALAXY.
This is important.
WE DO NOT KNOW WHAT TIME IT IS
Pacal Votan said that the time we follow throws us completely off kilter with the actual time of the universe.
---
WE KNOW THE EARTH SEASONS, THERE ARE FOUR
WE DO NOT KNOW THE COSMIC SEASONS THERE ARE TWELVE
We know when the spring, summer, fall, and winter come on the earth, but we have no idea when the seasons come throughout the universe.
The reason we do not know is again because of religion.
RELIGION HAS MADE US IGNORANT OF NATURAL TIME
THE SAME REASON THEY THREW GALILEO IN JAIL. THEY ARE AFRAID OF THE COSMIC SIGNS
If anyone starts talking about astrology, or the impact that the heavenly bodies have on people and the earth, they are put down as a tool of the devil or some other equally stupid thing.
---
THERE IS NO SUCH THING AS DEC 21 2012
The age change did not happen on Dec 21 2012 , because there is no such thing as Dec 21 2012.
We made all of that up for our own use.
We made up calendars, with months named after Greek Gods, and days of the week named after planets, and minutes and hours and all that stuff.
So December 21 2012, is something we made up to try and put some order into our daily comings and goings.
THE CULMINATION OF THE AGE HAPPENED ON COSMIC TIME , NOT OUR TIME
It happened at the point where the sun aligned with the center of the milky way galaxy which happens once every 26,000 years, and we identified that as Dec 21 2012 by our own record keeping.
---
IF WE FOLLOW NATURAL TIME WE WILL KNOW WHEN COSMIC THINGS ARE GOING TO HAPPEN
If a person follows universal time instead of man made time then we will know when things are going to happen based on the change of electro magnetic impulses hitting earth and the human brain from the cosmos.
---
THERE ARE SEASONS OF THE UNIVERSE
For the most part we are ignorant of these things because of religion.
We know how one season is different from another on earth, but we never consider or even think of how one season is different from another in the cosmos.
COSMIC SEASONS ARE DIFFERENT AND EFFECT US DIFFERENTLY
And those cosmic seasons effect us in the same way that earth seasons effect us.
For everything there is a time, above and below.
---
CLIMATE CHANGE
Climate Change is a perfect example of a cycled event that occurs relative to the interaction of the earth and the universe.
Climate change is not a threat to the earth in an of itself.
THE TIME OF GLOBAL WARMING BECOMES DANGEROUS WHEN WE ARE UNAWARE OF IT AND PUMP TOXINS INTO THE ATMOSPHERE.
BECAUSE WE DON'T FOLLOW NATURAL TIME WE ARE NOT AWARE OF THE TIMES OF THE WARMING AND COOLING
When its natural properties interact with our man made properties of industrial pollution into the atmosphere, then you have the problem we face now.
---
SCIENTIFIC PREDICTIONS
I previously brought you the following information from NASA
READ ABOVE: SOLAR CYCLE PEAKING IN 2011 OR 2012 WILL BE INTENSE.
THE MOST INTENSE SINCE RECORDS HAVE BEEN KEPT.
IN 2012 DURING THE INTENSE CYCLE THE SUNS POLES WILL SHIFT THE REPORT SAID,
WE WERE UNAWARE OF THIS BECAUSE WE DO NOT FOLLOW NATURAL TIME
The reason most people are not aware of this is because our time is not figured on the basis of cosmic time but rather man made time.
We know nothing about solar cycles unless NASA tells us.
---
WE DO NOT KNOW AND THIS IS WHAT PACAL VOTAN SAID
We have no idea what effect they have had or will have.
All we know is spring, summer, fall, winter.
But about the cosmic seasons that effect our earth seasons, we know nothing.
---
THE
MOST INTENSE SOLAR CYCLE
WHILE THE SUN FLIPS !
And so we were left to wonder, if the solar cycle will be bad, or the sun flipping at the same time will be bad, or whether climate change, and industrial pollution will factor in.
Do not be lulled to sleep because Dec 21 2012 has gone by.
Remember that is based on our man made calendars not by cosmic law.
WE ARE TOLD WHAT'S GOING ON BY THE MEDIA WHO ALSO DO NOT FOLLOW NATURAL TIME AND THUS ALSO DO NOT KNOW
All we know is climate change, because that is all that is discussed by the media.
---
EVERYTHING IN LIFE IS ON A REGULAR CYCLE
We have no idea that the other things are going to happen and that they occur on a regular 11 year cycle.
WE HAVE CUT OURSELVES OFF FROM NATURE
As Votan said, we have cut ourselves off from nature, and the cosmos, and thus we are ignorant.
IS IT SUMMER, OR IS IT WINTER?
Can you imagine not knowing if it was summer or winter or spring or fall?
Can you imagine if no one knew what time it was?
That is exactly what the overwhelming number of people on earth experience.
They have no idea of the season that will bring the sun flip, or the intense solar cycle, or the aligning of the sun, with the center of our galaxy
EVERYTHING HAPPENS ON TIME BUT NOT OUR TIME
We don't know that these things happen at certain cosmic times, because we do not realize that cosmic time exists.
---
HOW CAN WE PREPARE
FOR WHAT WE DON'T KNOW IS COMING?
We prepare ourselves for summer, and winter, but how do we prepare for the cosmic seasons when we don't even know that they exist?
And if we don't prepare ourselves how can we live withinthe cosmic system?
That would be like wearing a fur coat in August ,or going to the beach in February.
We wouldn't do that because we keep track of the seasonal signs of the earth, but we do not even know that there are cosmic seasons.
---
THE BEES
There is another point we should consider now.
We have a very serious situation.
Bees are disappearing all over the world and the impact is severe in the US.
Look what
Albert Einstein said.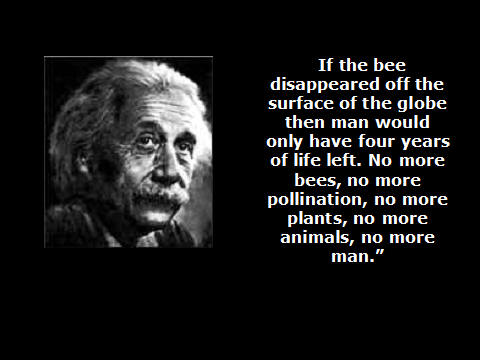 google image
READ ABOVE: IF THE BEES DISAPPEAR, LIFE WILL HAVE ONLY FOUR YEARS LEFT
That's scary and it should be because the bees are disappearing.
---
NOW SOME GOOD NEWS !!

google image
The bees haven't disappeared yet ,so why can't human beings take steps to make sure that they don't disappear.
STOP FACTORY FARMING
STOP PESTICIDES THAT IMPACT BEES
STOP BLACK TOPPING EVERY VACANT LOT
Do more planning on where we are going to put shopping centers so we stop blacktopping everything in sight.
Why cant we do that?
WE CAN CHOOSE TO MAKE THINGS RIGHT
It's not Gods choice, it's not natures choice, it's our choice.
We can stop the bees from disappearing and not have to worry about the 4 year time span suggested by Einstein.
But we have not done that.
And so if we do nothing, then we have chosen to commit a form of suicide.
IT'S NOT 2012, OR PACAL VOTAN, IT'S US
EITHER WE CHANGE OUR WAYS OR
NATURE WILL CHANGE THEM FOR US
If we choose to do nothing, nature herself will do something.
That in a nutshell is the prophecy of Pacal Votan, about December 21 2012
---
OUR TRAINING IS NOT TO PROTECT NATURE OUR TRAINING IS TO MAKE MONEY
We are trained that the earth, and the cosmos are separate from us, and have nothing to do with our choices, and we also have been trained on earth that our first concerns must be about making money .
That means that nothing can get in the way of our industrialization.
Nothing, and that includes nature.
---
WHAT HAS HAPPENED TO
OUR NATURAL INSTINCT?
There is a need for us to reestablish our instinct. That is our link with the universe and what we call God.
NO WILD ANIMALS DIED IN THE TSUNAMI BECAUSE THEY KNEW IT WAS COMING. GOD TOLD THEM THROUGH INSTINCT
PEOPLE DID NOT KNOW
When the tsunami hit and thousands of people died, rescuers did not find bodies of any wild animals.
The reason was that their instinct told them that there was a natural event that was about to take place, and they all moved to higher ground and were safe.
---
CHINA EARTHQUAKE
Well it happened again recently in China where they had so much devastation from the 7.6 earthquake.
huffpost.com
READ ABOVE: AN UNUSUAL MASS MOVEMENT OF FROGS CAUSED PEOPLE TO RUN FOR COVER
Animals are totally connected to what we call the God world.
It is the sub atomic invisible quantum world and they know when natural danger is approaching.
---
MEDITATION REESTABLISHES OUR NATURAL INSTINCT AND OUR INTERCONNECTEDNESSWITH NATURE
It is absolutely essential that we regain our instinct ,and that means the need for meditation.
ASKING GOD DOES NOT MAKE IT HAPPEN
Not praying, and asking for something.
READING, SINGING, RAISING HANDS WILL NOT MAKE IT HAPPEN
Only reconnecting naturally, through meditation, willrestore us to natural harmony.
---
CHRISTIANS ARE WAITING FOR JESUS TO RETURN
AND SO THEY HOPE AND HOPE FOR ARMAGEDDON AS LONG AS IT HAPPENS SOMEWHERE ELSE
It is why they hope for a nuclear holocaust in the middle East, so Jesus will return.
They expect to see him riding down through the clouds on a white horse.
In a hail of bullets and bombs.
They are totally disconnected from nature.
---
THE
RAPTURE
The word rapture means catching up.
That means raising ones consciousness to the higher light realms, the higher mind, but religious people believe it means that they are going to fly up into the air to meet Jesus.
Here is a Christian poster and you can see for yourself.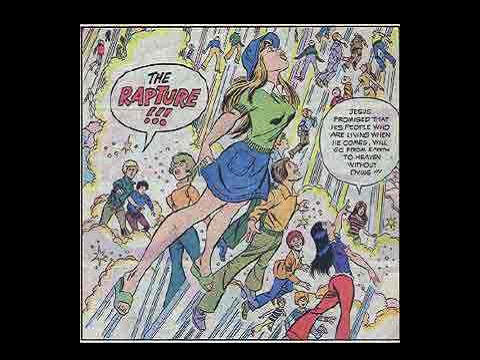 chick
Here is a total misunderstanding of what it means to rise up and meet Jesus in the air.
AS LONG AS WE ARE TOTALLY IGNORANT TOWARDS REALITY AS THIS WE WILL NEVER REGAIN HARMONY WITH NATURAL REALITY
AS JESUS SAID, "THEY LOOK AND LOOK BUT DON'T SEE, THEY LISTEN AND LISTEN BUT DON'T UNDERSTAND"
Instead of this knowledge of the renewed mind, and the restoration of life upon planet earth as the great light intended, we have been given totally misunderstood doctrines such as people flying up through the sky.
Is it any wonder that we have lost contact with nature, with God.
Those who have taught us had no idea what these things meant and as a result we lost our connection with what we call God.
The silver chord has been cut.
---
PACAL VOTAN DECEMBER 21 2012
ENOUGH IS ENOUGH
THE LANDLORD CAME TO INSPECT HIS PROPERTY
Pacal Votan said there would be a time when enough was enough and nature and all of its life would come to collect the rent and ask why we have done so much damage to this property which is not ours.
And he said that that time of accounting would begin on Dec 21 2012.
---
SOMEONE ELSES WORDS ABOUT DECEMBER 21, 2012 THAT YOU SHOULD READ
I found a writing about 2012 and I want to share it with you.
Unfortunately it does not have the name of the author and so we will just evaluate it as is.
I present it to you because I think it really tells us what is to be expected now that the alignment has taken place and we are moving into Aquarius
THE AUTHOR OF THE FOLLOWING IS UNKNOWN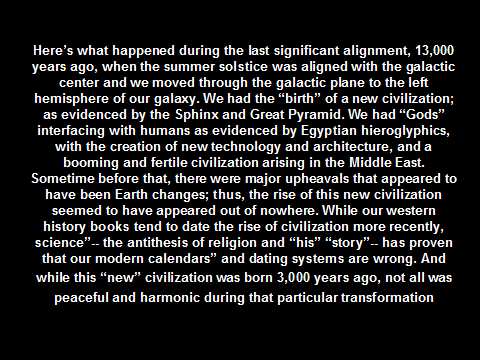 READ ABOVE: 13,000 YEARS AGO WAS THE LAST SIGNIFICANT ALIGNMENT.
NEW CIVILIZATIONS WERE BORN.
THE SPHINX, AND GREAT PYRAMID WERE BORN.
EGYPTIANS GAVE US NEW TECHNOLOGY AND ARCHITECTURE, NEW CIVILIZATIONS
IN THE MIDDLE EAST.
Years ago the great change impacted the left hemisphere of the human psyche which brought us to the time of new technology etc.
13,000 YEARS AGO WAS DIRECTED TO THE PHYSICAL
DECEMBER 21 2012 WAS DIRECTED TO THE SPIRITUAL
The winter solstice of Dec 21 2012 at 11:11 is impacting the right hemisphere of the human psyche which is the God side.
---
CAST YOUR NET TO THE RIGHT SIDE
As Jesus said in the scripture cast your net to the right side.
The last slide above comments on the wars of Gods which I propose would be the horrific devastation caused by storms upon the earth. While the comment about the wars of men is something we know about through the brutal experiences of history.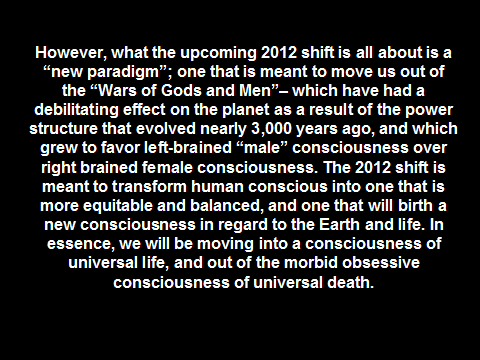 READ ABOVE: 2012 TO 2013 BEGINNING A NEW PARADIGM.
MOVING US OUT OF THE WARS OF GODS AND MEN.
A SHIFT OF HUMAN CONSCIOUSNESS TO BE MORE BALANCED.
And that is something we are seeing today as people are moving more to an inner spiritual mind balance and away from external religion.
A NEW CONSCIOUSNESS OF UNIVERSAL LIFE TO OVERCOME THE CONSCIOUSNESS OF UNIVERSAL DEATH.
---
FOR PROFIT WE HAVE WAGED WAR ON ONE ANOTHER
I thought about Senator Kennedy and the brain tumor that he succumbed to.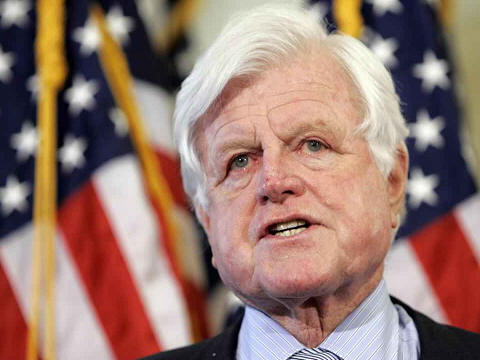 google image
Millions of people have suffered from cancer through the years , as he experienced before his death.
WHAT HAS BEEN DONE TO CONFRONT NATURE RUN AMUCK NAMELY CANCER?
Instead of spending billions, and billions, and billions of dollars, in an effort to cure the disease, we took the money and spent billions, and billions, and billions of dollars on bombs to drop on people.
OH GOD WHY DID YOU ALLOW THIS TO HAPPEN IS WHAT WE PRAYED WHEN A LOVED ONE WENT THROUGH THE PAIN OF TERMINAL ILLNESS,
Distressed people will turn around and say, why did God let this happen, or why is there so much suffering in the world.
The answer is obvious ,and that is what began the great mind change on Dec 21 2012.
GOD DID NOT ALLOW IT WE ALLOWED IT
We took part in it.
Just as Pacal Votan said, we allowed our love of the material things and our need to protect them at all costs, eliminate our understanding, and need to be in harmony with nature.
There has to be a change in the mind and it is anticipated that it will come with the move into Aquarius which began December 21 2012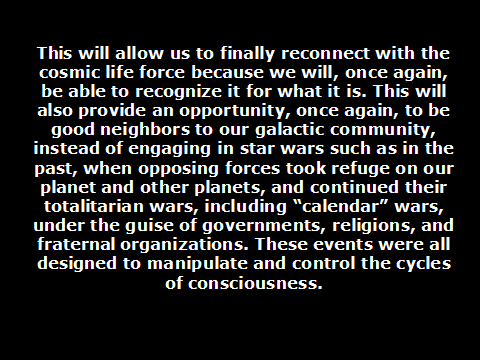 READ ABOVE: WE WILL RECONNECT WITH THE COSMICLIFE FORCE.
WE WILL INTERACT IN PEACE WITH THE UNIVERSE.
WE WILL STOP STAR WARS AND IGNITE STAR PEACE. A NEW CONSCIOUSNESS
The manipulation of the mind by religion, government, and corporations who strive to control the mind to do its bidding, is what hopefully we will see come to an end.
These are the exciting possibilities that connect us with Votans prophecy of Dec 21 2012 and what possibly might take place.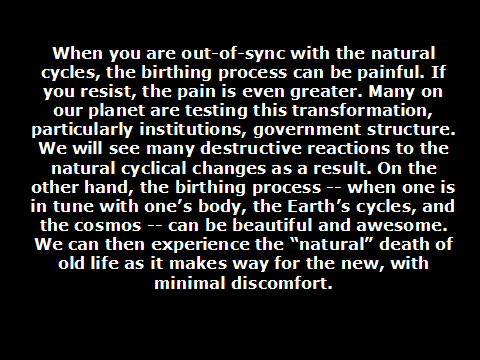 READ ABOVE: WHEN YOU ARE OUT OF SYNC WITH NATURE, THE BIRTHING CAN BE PAINFUL.
THERE WILL BE SOME DESTRUCTION.
BUT IF WE ARE IN HARMONY WITH THE CHANGE IT CAN BE BEAUTIFUL AND AWESOME.
THE NATURAL DEATH OF OLD LIFE AND THE BIRTH OF THE NEW
There will be opposition to this great cosmic change. In the same way that there is opposition to the necessary government change .
That will be troublesome to many.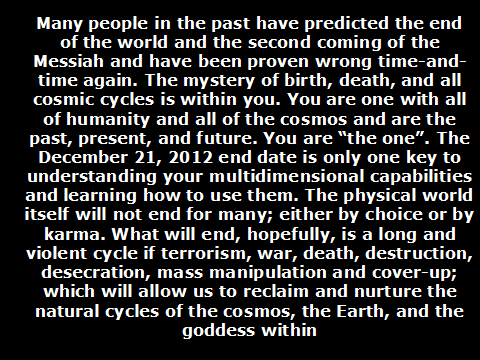 READ ABOVE THE MYSTERY OF COSMIC CYCLES IS WITHIN ALL OF US.
DEC 21 2012 WAS THE KEY TO INNER UNDERSTANDING.
THE EARTH DID NOT END AS THOSE WHO SEEK PROFIT OUT OF IT SAID.
WHAT WILL GRADUALLY END IS THE VIOLENT CYCLE OF TERRORISM, WAR, AND DESTRUCTION.
WE WILL RECLAIM THE NATURAL CYCLES OF THE COSMOS.
What a beautiful possibility.
REPLACING THE SUPERSTITIONS OF RELIGION WITH THE REAL PROMISE OF NATURE
R
eplacing
the complete misunderstandings of religion with the real promise of nature and the supreme light.
Changing the minds that have been so responsible for the wars, starvations, sicknesses, by using their power to fight and kill, rather then to love and heal.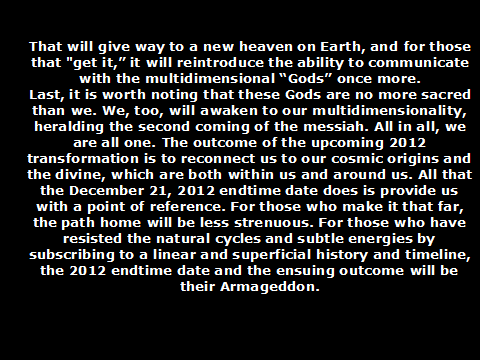 READ ABOVE: A NEW HEAVEN ON EARTH.
THE SECOND COMING OF THE NEW MIND.
TRANSFORMATION. A RECONNECTION TO OUR COSMIC ORIGINS.
TO RESIST THE NATURAL CYCLES CAN CAUSE A PERSONAL ARMAGEDDON.
CHRISTIAN PREACHERS SUPPORT WARS IN
THE MIDDLE EAST AGAINST THE SURVIVAL OF NATURE,YET THEY CLAIM TO BE FOLLOWERS OF JESUS WHO WOULD NOT BREAK A BRUISED REED, ACCORDING TO THE SCRIPTURES
And how is it that those in the public eye both politicians, and preachers, will encourage war in the Middle East to kill and destroy, and then in the same breath refer to themselves as followers of Jesus Christ.
The same Jesus who said not to kill, to reason with one another, to heal the sick, to visit those in prison, to help the poor, is extolled by those who live in mansions, and scream for bombs to drop on Muslims ,so the prince of peace may return.
---
DO YOU SEE WHY THERE HAD TO BE A DECEMBER 21 2012 CYCLE CHANGE?
Because the earth people would not effect the change themselves.
THE GREAT CHANGE IS COMING WITH THE NEW AGE
The great change is upon us and day by day you will witness it with your own eyes.
Take notice of everything that seems to be a great surprise.
It has been ordained by the supreme photon, the great light you call God, for it is time for the earth and those who live upon it to be restored, to a civilized and caring element of social oneness.
STAY ALERT TO THE CHANGES TAKING PLACE AROUND YOU
May you stay alert and as Jesus said, be found not sleeping .
I do not refer to physical sleep, but rather mental sleep, spiritual sleep.
WELCOME THE GREAT CHANGE
Stay awake and welcome the new age with love, joy, peace and healing. Something this old battered world has seen far to little of.
Let us follow the instructions of Jesus Christ who told us that first we must seek for the kingdom of God which is within us by activating the single eye.
Do as He said and suddenly you will know what the great 2012 prophecy was about and your part in it.
So let us together evoke the name of the Great Sun God, the great light.
AMEN
---
I DO NEED YOUR HELP TO KEEP THIS GOING
FOR PAY PAL CLICK ON THIS LINK CLICK HERE
FOR NON PAY PAL CLICK HERE
BILLS VIDEOS ON FLASH DRIVE CLICK HERE
BILLS WRITTEN WORKS E BOOKS CLICK HERE
BILL'S DVD'S
CLICK HERE
TO RETURN TO THE HOME PAGE CLICK HERE
Non Profit Org. Under New Age Christian Village Church AKA Hidden Meanings
INDEX
| | |
| --- | --- |
| Albert Einstein | |
| Chick publ. | |
| Google Images | |
| | |
| Senator Edward Kennedy | Senator Edward Kennedy |