TRANSLATE THIS PAGE INTO ANY LANGUAGE
THEY ARE AGAINST GAYS
BUT SUPPORT WAR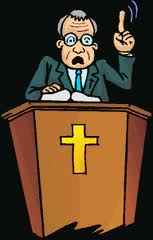 CONFLICT AMONG CHRISTIANS:
Many Christian leaders who appear on television are
strong supporters of Americas wars
Their reasoning is based on this.
A war between different factions in the middle East can
become Armageddon and herald the return of Jesus
riding a white horse through the clouds.
But Christians are then caught in a self made conflict.
They claim that Jesus Christ is their Lord.
Yet they champion war.
They will then say that Jesus was not a pacifist because he
drove the money changers out of the temple.
They find any excuse they can to justify their beliefs.
Many Christians are against Gays
They are also supporters of war.
But which did Jesus come against.
Gays or War?
If you're not sure, it was war
And which of them can tell us who would Jesus bomb,
who would Jesus torture, whose house would Jesus blow up.
If you destroy a stem cell they call it sin.
But if you blow up a family in Iraq they call it justified.
Or as Bill O'Reilly would say 'that's war"
What would Jesus call it?
It doesn't work does it?
---
If You Can Help, Or For DVD's, Flash Drives, & E Books Click Here
TO RETURN TO THE HIDDEN MEANINGS HOME PAGE CLICK HERE
Non Profit Org. Under New Age Christian Village Church AKA Hidden Meanings
---