TRANSLATE THIS PAGE INTO ANY LANGUAGE
THE GREAT MIND CHANGE
FROM 2012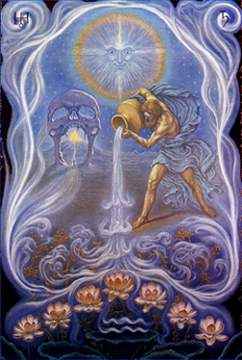 AS WE MOVE INTO AQUARIUS
Pacal Votan & The Stock Market
Here you see you a picture of the stock market
on Wall Street with the picture of Pacal Votan
superimposed on it.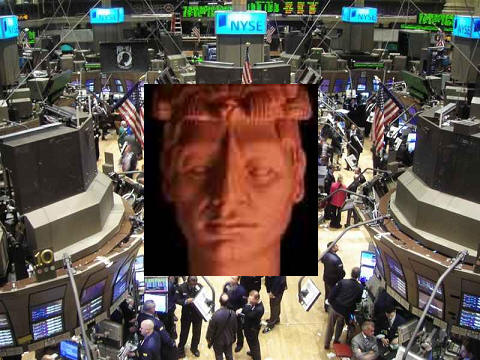 TWO IMAGES OF REALITY
Startling images because of the reality of both.
The financial crisis and the Votan prophecy.
THINGS ARE TO BE CHANGED, NOT RETURNED
TO "NORMAL"
For the most part people are desperately trying to
restore things to the way they were.
Not many are prepared to accept the fact that
what was, is not going to be what is.
The collapse is programmed .
It will work its way into an entirely new social process.
The collapse will be like suddenly pulling the top off
of a pressure cooker.
The food will not be cooked.
The steam and pressure will dissipate.
The area around the cooker will cool down and ways
will be found to do things differently.
WATCH WHAT IS GOING ON ALL AROUND YOU
---
AS JESUS INSTRUCTED US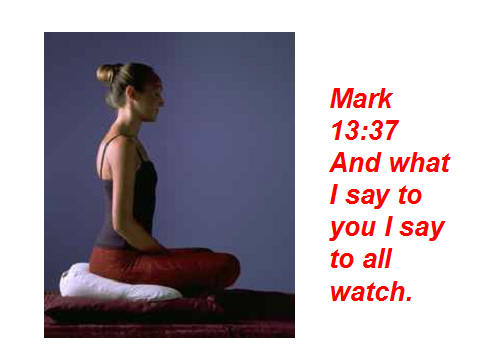 IT'S LIKE LIVING IN A TIME GONE BY.
OF PEOPLE WE READ ABOUT FROM LONG AGO.
What you are seeing happen before your eyes is amazing,
and something that really has never happened before.
But what makes what is going on so doubly amazing is that it
comes at the time predicted by Pacal Votan and Buddha as well.
We are right in the end time prophecy of Pacal Votan
and Buddha and the entire world is literally
changing before our eyes.
.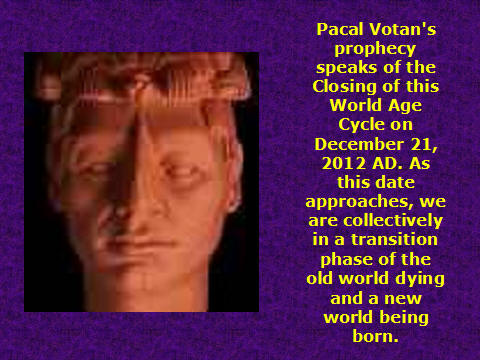 ABOVE: Pacal Votan said the world age cycle would close
on December 21 2012 and we would then begin a new cycle
carrying us into Aquarius, and now that we have passed
December 21 2012 we are in the transition phase of the
old world dying and a new world being born.
---
A NEW WORLD
The old world dying and a new world being born .
A new and completely different world .
And when you look at the headlines such as this one
from the Washington Post, you may
place your doubts behind you.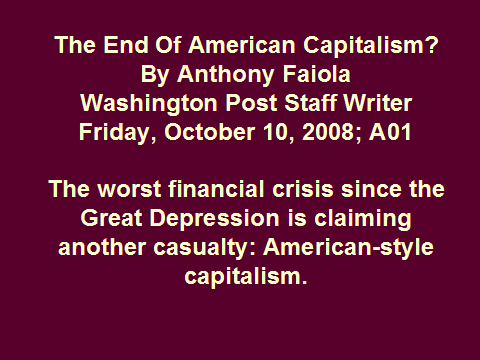 Did you every in all of your life think you would
live to see such a statement?
But you have, and as we close in on Aquarius you will
see other statements that will equally shock you.
---
WILL THE WORLDS LEADERS WORK
FOR PEACE OR MORE VIOLENCE?
Will the material minds that are working feverishly to head off
this meltdown work to institute a change from the need for
funds for violence, to funds for help and compassion ,
or will their work bring a change that will simply attempt
to hold off the meltdown to protect their money and
materialistic standard of life?
---
ENTER THE BUDDHA
The Buddha spoke 2500 years ago about this coming time
that he called the Latter Day.
He said that the collapse of life as we know it would occur in 2500
years which brings the time to now.
When you place the words of the Buddha together with the
words of Pacal Votan it is quite amazing.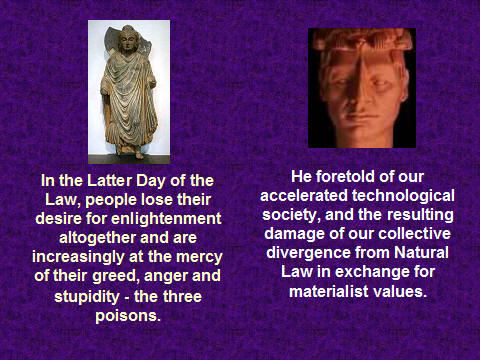 ABOVE: Buddha words left. People lose their desire for
enlightenment and are at the mercy of their greed,
anger and stupidity.
Pacal Votan words right. Our accelerated technological
society would result in our collective divergence from nature.
Look at the Buddhas words.
These words have been attributed to the financial
powers of this time.
Greed and stupidity which has caused a deep anger
around the world.
And Votan's words predicted a serious problem for all life
on earth because of our collective divergence
from natural law in exchange for materialist values.
---
WE NEED MORE SHOPPING CENTERS?
We black top and cement everything and then
argue about global warming.
We allow businesses to exploit people into loans that
they cannot afford with no regulations of any kind.
Greed, anger ,and stupidity, combined with an obsession
of materialist values and here you are with your world
collapsing all around you.
---
LATTER DAYS
The Buddha told us what would happen in this time
that he referred to as the latter days and he spoke of what
we would have to do in order to change the
devastation building around us.
It is something that you do not hear now.
He said.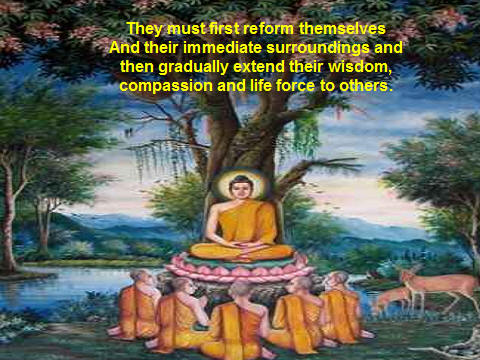 ABOVE: Buddha "They must reform themselves first.
And their immediate surroundings and gradually extend
wisdom and compassion and life force to others.
The key is that first line.
They must reform themselves and their immediate surroundings.
In other words, if there is going to be a salvation for the
planet and the people that live upon it,
there must be total reform.
One can only surmise that the reform is being carried
out by nature since such devastation has descended upon
the financial institutions of the world.
As we can see.
If they don't reform they will be reformed.
Let's look at a scripture from Revelation.
---
AND THE MERCHANTS SHALL CRY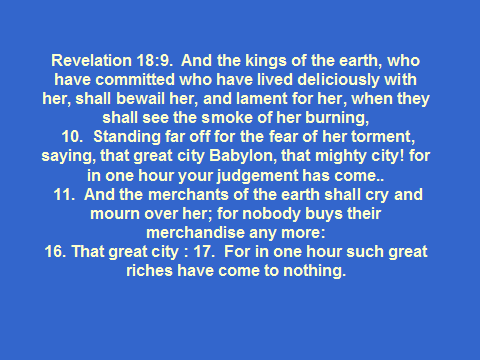 ABOVE: The kings of the earth shall cry when they see
the smoke of her burning.
That mighty city, in 1 hour your judgment has come.
And the merchants shall cry for in 1 hour such great riches
have come to nothing.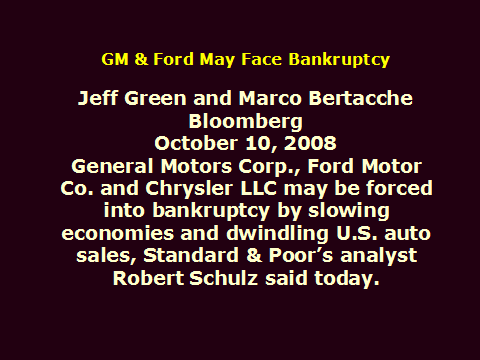 There it is.
The kings of the earth.
The merchants at the top.
I mean here is the prophecy of Dec 21 2012 telling us that in this
time we are living great changes will come upon the earth and
the materialists will fall and you will recall the headline saying that Ford, General Motors and Chrysler may go into bankruptcy.
Suddenly we realized that something serious and radically
different was happening.
We know that did not happen, but out of the blue, it came pretty close.
What else do we have to hear to understand that the prophecy
of Dec 21 2012 has come from a higher source?
The point being that the prophecy had to do with the entire world.
How bad was the time of the collapse.
The President of Italy put it this way.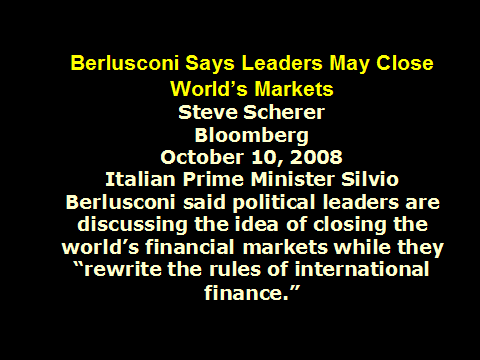 Though it didn't go there.
Again it was very close

What I want you to consider is that this is not something
that is caused by anything but greed and the powerful
oppressing the average person.
The predicted great change is something that is caused
by God to save the planet.
If it wasn't then Pacal Votan and Buddha would never
have known about it.
Buddha referred to this time as the latter days.
The time he said would come after 2500 years from
the time he spoke and that is now.
---
THE BIBLE MENTIONS THE BUDDHA
LATTER DAYS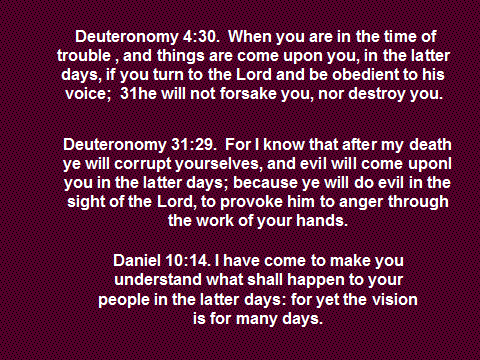 ABOVE: Three Old Testament scriptures that refer to the
latter days. Which are now according to Buddha.
This is the time spoken of as the latter days.
Buddha said that the time which
was 500 years ago would appear
in sections of 500 years each.
---
FIVE HUNDRED YEAR CYCLES OF
THE LATTER DAYS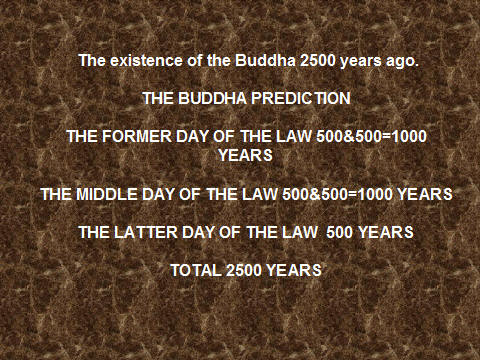 ABOVE: The Buddha framing of the Latter Days starts
2500 years ago and implements itself now in the time
we are experiencing.
As we have studied not only the prophecy of Pacal Votan,
it is important to consider the wisdom of the Buddha which
transcends religion and goes to the heart of the human psyche.
Buddha taught that it is human beings who tie the knot which
causes their predicament, but by following the new path
they can untie the same knot.
Buddha taught basically the same philosophy as did Jesus Christ.
Jesus said the Kingdom of God is within you.
Buddha said this.
---
COMPASSION LATENT WITHIN EVERYONE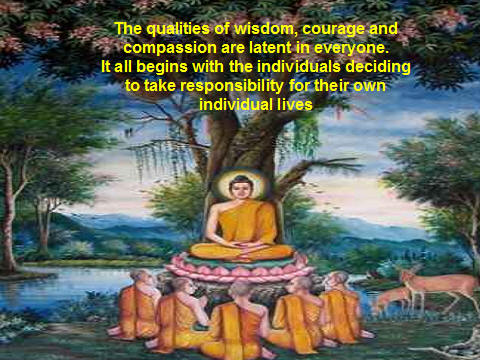 ABOVE: Wisdom, courage and compassion are latent in everyone.
It all begins with us being willing to be responsible for ourselves
by tapping that source.
He is saying that it must come from within us because it will
not come from anywhere else.
That was the philosophy that said you reform yourself and your immediate surroundings and then gradually extend the new force you receive to others.
What is being spoke of there is mediation.
You reform yourself by opening yourself to the higher light
in meditation and as your thinking and personality changes
you begin to see it move outward to others.
So the task of reforming yourself if a decision you make
to allow the light to enter within you during meditation
and causing the change.
This is the same thinking that Jesus expressed when he said
---
HOW WE LOSE THE KEY TO LIFE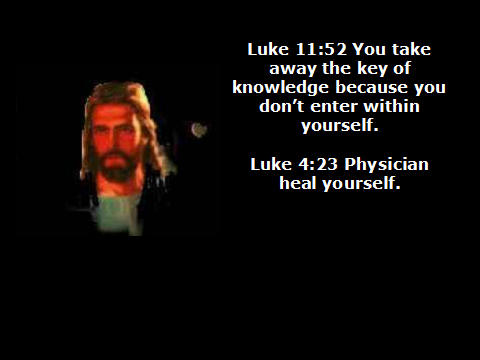 ABOVE: Jesus says we take away the key of knowledge
by not entering without ourselves.
We don't actually do the change to ourselves.
By going into meditation we allow it to happen.
Buddha said this which is so important in the times we live now.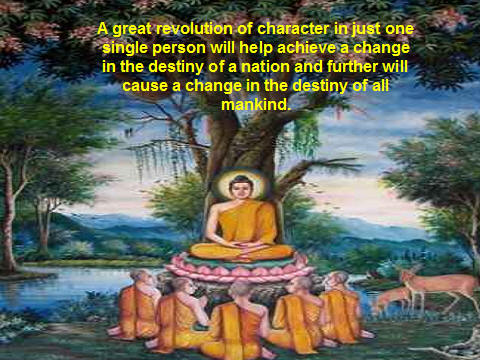 ABOVE: A change of character in one person can help
change the destiny of a nation.
That was the philosophy of both Buddha and Jesus.
Allow the transformation to take place within yourself
and it will spread to others.
The change that comes to our mind according to Buddha
will determine if we win or lose in life, and that philosophy
also applies to others around the world.
---
EITHER WE ACT OR NATURE ACTS
But you see how with what we are going through now how
the change is forced on us.
If we don't do it ourselves it will be done for us.
You have the materialistic financial institutions world wide
teetering on collapse.
Each action has an opposite reaction.
If you go to the extreme right and forsake regulation,
then you will wind up going to the extreme left and
nationalizing the same institutions that you did not want to regulate.
The Buddha describes what is happening to us now.
We are all effected by what is going on in the external world of finance.
---
WE CANNOT ALLOW THE PHYSICAL SYSTEMS
TO OVERWHELM US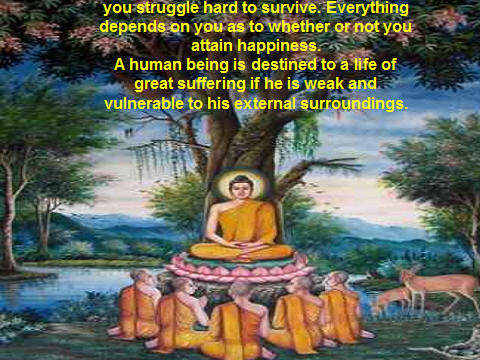 ABOVE: Individuals will suffer if they weakly allow
external surroundings to overwhelm them.
There is the key to survival in this time of the latter days
as we passed December 21 2012 and moved into Aquarius
If our direction comes from the kings of the earth instead
of the higher light in meditation then we are destined to a
life of great suffering.
That is why meditation is so important.
Our direction and mind change must come from within ourselves.
We must not be open to our lives being
dependent on the materialists but rather by the light.
The meditation.
Rising above all of this is the key, as the Bible says.
---
RISING ABOVE THE HELL OF
THE LOWER MIND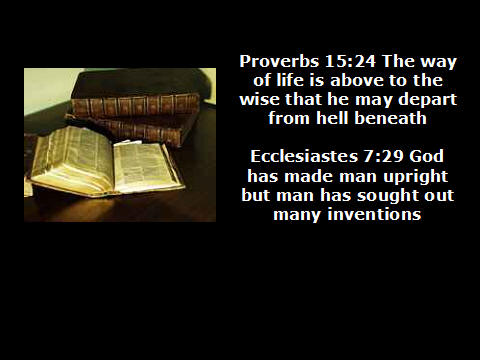 ABOVE: Hell is identified as the lower mind which one
can rise above through meditation.
Ecclesiastes says that we we were made upright.
In other words our direction should be coming from
the right hemisphere in meditation.
But as it says man has sought out many inventions.
That would include religion and the obsession with the
material side of existence.
The way of life is above .
Above is a way of describing the higher elements of the
mind that receives from the descending light that we call God
which comes to the right hemisphere.
Call it religion or whatever you wish.
We have tried to improve our state in life by joining this or that,
or by doing what someone else says, instead of finding
that higher light within.
You cannot invent new ways to happiness.
It is within you and you have to go within in
meditation to allow it to come to life.
---
OUR STRENGTH COMES FROM
OUR INNER BEING
WHICH MUST BE EXERCISED
IN MEDITATION
Buddha makes it clear that any problems relate directly
to our own strength.
When we are weak our problems seem large, when we are
strong our problems seem small.
In other words, it depends on how we feel at the time.
If we are in a bad mood a problem can be the cause of chaos.
If we are in a good mood then we can usually minimize the problem.
---
WE DO NOT REALIZE
THE POWER WITHIN OURSELVES
Generally we will sit around and look at one another and say,
what can you do, I have absolutely no control over what is going on.
But now we see the world financial leaders that the Bible
calls the Kings of the Earth saying, that there is nothing that they can do.
It certainly appears as if this cataclysmic event is beyond
anyone's control to resolve.
When I understand the predictions of Buddha and Votan
and see them unfolding right in front of our eyes, I have to also
immediately consider the signs in the sky.
---
THE BOOK OF LIFE
THE SIGN OF DNA APPEARS ABOVE
The Bible said let there be lights in the heavens and
let them be for signs.
A sign has appeared that all eyes should look upon.
It has appeared above us.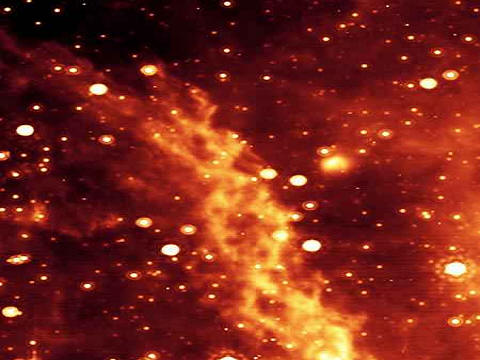 nasa image
The helix nebula.
The structure of DNA
What more distinctive sign could we see?
What is that which appears as intersecting lines.
What could it be?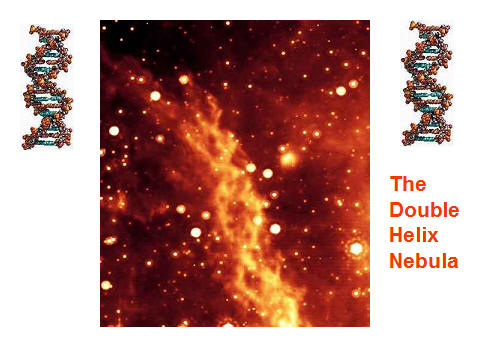 The DNA pattern in all life.
The Bible said let there be lights in the heavens and
let them be for signs.
Look what Professor Mark Morris of UCLA says about this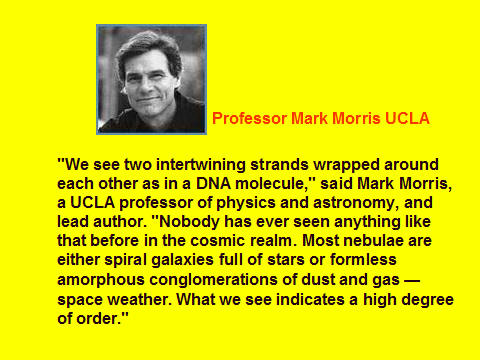 ABOVE: Professor Mark Morris of UCLA.
We see two intertwining strands wrapped around each
other as in DNA.
Nobody has ever seen anything like that before in the cosmos.
What we see here indicates a high degree of order.
The last line is the sign to all of us.
What we see indicates a high degree of order.
A high degree of order would indicate a higher intelligence.
Making its appearance at a time when all the world is trying
to figure out what's going on and what they can do to change it.
Let us consider this in light of all the changes and
predictions of things to come.
---
ADENINE COMES FROM DNA
What comes from DNA is Adenine.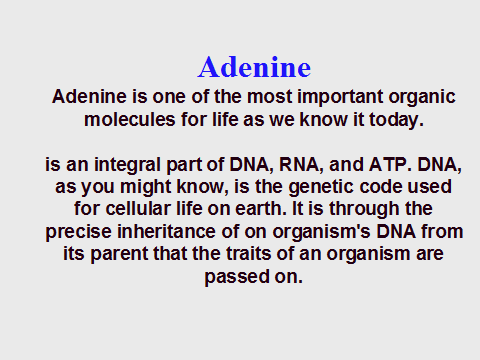 ABOVE: Adenine is one of the most important organic
molecules for life.
Notice the line that says it is through the precise inheritance
of an organisms DNA from its parent that the traits of the
organism are passed on.
Look again below at the Helix Nebula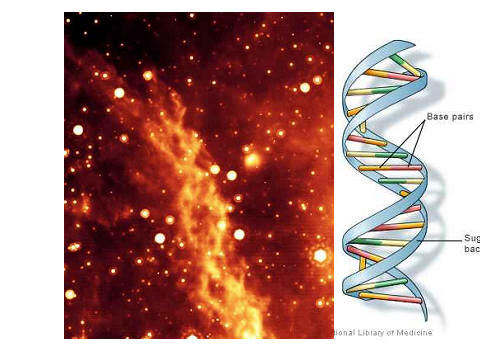 nasa image left google image right
Is what we are experiencing now the inheritance that is not
of the material and does this extend to the signs of Buddha
and Votan of the birth of a new world?
New life that will flow in harmony with nature and all creation.
---
If You Can Help, Or For DVD's, Flash Drives, Or E Books Click Here
TO RETURN TO THE HIDDEN MEANINGS HOME PAGE CLICK HERE
INDEX
| | |
| --- | --- |
| Berlusconi | Berlusconi |
| Bloomberg Steve Scherer | Steve Scherer |
| Bloomberg, Jeff Green | Jeff Green |
| Bloomberg, Marco Bertachee | Marco Bertachee |
| Chryslet | |
| Ford Motors | |
| General Motors | |
| Images Google unless otherwise noted | |
| King James Bible | |
| NASA | |
| UCLA Professor Mark Morris | Mark Morris |
Your donation to help keep this work going
For Pay Pal Click Where It Says Donate
CHECK IN LET ME KNOW YOU WERE HERE