TRANSLATE THIS PAGE INTO ANY LANGUAGE
THE SECRET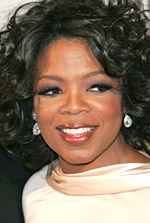 Oprah Winfrey
ADDITIONAL THOUGHTS ON MY
CRITICISMS OF THE SECRET
I have received response from my comments about "The Secret".
Some agree and some disagree which is the way it should be.
Some become a bit hostile.
They remind me of the peace marchers during the Viet Nam conflict.
Some of the peace people could be extremely violent and I guess
so can some of the positive thinking people.
---
A FEW MORE THOUGHTS
The concepts expressed in "The Secret" have been the very
foundation of the Born Again Christian movement for years.
Like everything else in life sometimes they work and
sometimes they don't.
That's the law of reality.
---
THE SECRET IS NO SECRET
The concepts have been taught for years and years by
a variety of teachers not the least of whom was
Dr. Norman Vincent Peale and his Power Of Positive Thinking.
The reason why this is so popular now is because it has been
extremely professionally packaged by Madison Avenue.
---
THE REAL SECRET IS THAT
"THE SECRET"
DOES NOT UNDERSTAND
THE REAL LAW OF ATTRACTION
The law of attraction has been polluted into a vehicle for
people to get what they want, money, a job, a car,
a healing , whatever.
The real law of attraction and the real Secret is to allow yourself
to receive the Christ mind via meditation so that you receive not
what you want to have, but what God wants you to have.
What God wants is not for you to have cars and millions of dollars,
but compassion and concern for the less fortunate,
love and respect for nature, and all living things.
Not competition and desire for things, but compassion
and desire for peace.
---
A POSITIVE ATTITUDE ?
Millions of people are mentally defective and cannot express
an attitude other then what comes from the drugs they must take.
Do we exclude them ?
If two people express a positive attitude about getting the same job
and one doesn't get it, does that mean that the positive attitude in
the successful persons life became a negative for the
other persons life ?
Did the little baby born with a serious birth defect create
his/her own reality ?
---
LET US LIVE THE TRUE SECRET
Let us live within ourselves to the true law of attraction
and attract to ourselves the plight of the sick and the hungry,
the plight of those who die and are injured in unjust wars,
the plight of those who are unable to think positively for
whatever reason.
Let us attract the Christ mind and concern ourselves
with them and not us.
As Jesus said:
Mark 4:19. The cares of this world, and the deceitfulness of riches,
and the lusts of other things entering in, choke the word,
and it becomes meaningless.
That is the real secret.
---
If You Can Help, Or For DVD's, Flash Drives, Or E Books
Click
Here
TO RETURN TO THE HIDDEN MEANINGS HOME PAGE CLICK HERE
Non Profit Org. Under New Age Christian Village Church AKA Hidden Meanings
INDEX
| | |
| --- | --- |
| Dr. Norman Vincent Peale | Norman Vincent Peale |
| Images Google unless otherwise noted | |
| Oprah Winfrey | Oprah Winfrey |
| Power Of Positive Thinking. | |
| The Secret | |