THE TWO PARTY SYSTEM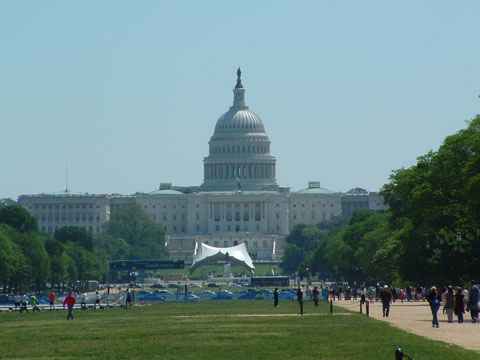 Don't you feel disgusted as you watch politicians scream at each other every time something goes wrong ?
The participants never speak about the issues from the standpoint of right or wrong, but rather how does it effect their party.
Even the commentators on TV echo the same stuff.
If they're liberal, it's always the conservatives fault, if they're conservative it's always the liberals fault.
Right or wrong, morality or immorality, is never a consideration any more.
It's always how can I cover up the mess so it does not effect my party, or how can I spin it so it effects the other party.
Wouldn't you love to see politicians who don't belong to either party , but judge things and make laws, not on the basis of who gave them the most money, or how it will effect their party, but rather on whether an offense has been committed and how it can be resolved in the interest of the rest of us.
When Bill Clinton was impeached, the Democrats voted no and the Republicans voted yes.
It had nothing to do with what was right and what was wrong.
It's how can we cover it up and protect our party and what we may have done wrong, and from the other side, how can we use this to our advantage.
The rest of us have to sit and watch the combatants, and their favorite reporters scream at each other and never deal with the problem.
---
GLOBAL WARMING AND EVOLUTION
So many people have trouble looking at the middle.
They have to firmly take a position on one side or the other.
It becomes the source of much of the worlds violence.
It always has to be their way or no way.
Consider Global Warming and Evolution
Evolution: Some say evolution is the only way.
The other side says, not so, creation is the only way.
But no one considers that the body evolved until it was to the point where it could host the created person.
The photon person, the soul, the spirit.
Thus evolution and creation are correct.
---
Global Warming
Some say industrial pollution , carbon dioxide is the culprit.
The other side says, not so, this is a cycle of the earth that has gone on for ages and ages.
But no one considers that the earth goes through cyclic change.
But the industrial pollution and carbon dioxide magnify the results of natural cyclic changes far beyond what would be a natural change.
We have politics and religion, and people choose their groups side.
They argue and fight and the answer is never found.
In the Bible Jesus said, the way is narrow and few find it.
That's because the way is the middle and few go there.
---
THE RESULTS OF OUR LOSS IN VIET NAM
They told us what we had to fear from Iraq and Saddam Hussein.
But they told us the same thing about Viet Nam.
So we had 50,000 Americans killed there and 3 million Vietnamese
They won.
Not because they had a better army,
but because the people there did not want us to win.
Now look at the horror that has happened as a result of Viet Nam
not being overthrown by us.
This is what the so called enemy has done.

Viet Nam Hotel Reservations Viet Nam Tours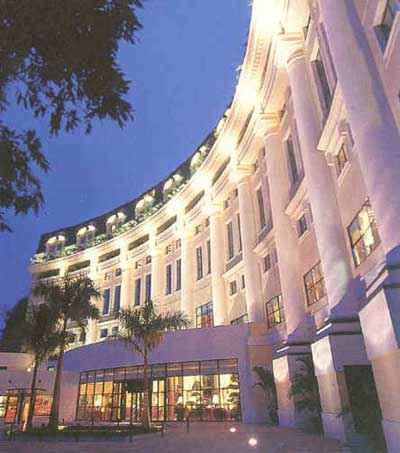 Hanoi Hilton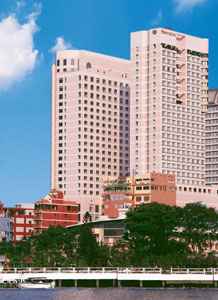 Saigon Sheraton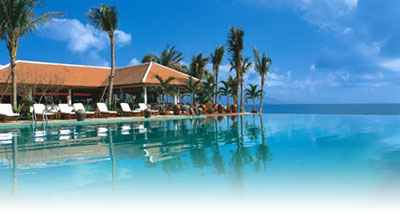 Anaman Resort and Spa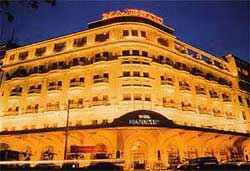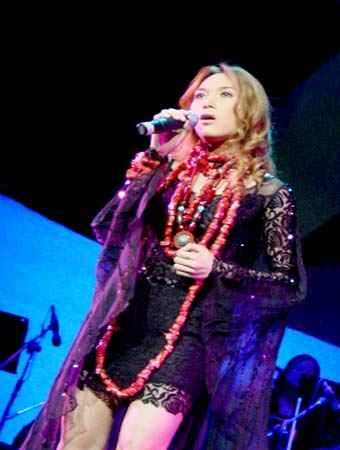 5 Star Majestic Hotel Hanoi A Vietnamese night club singer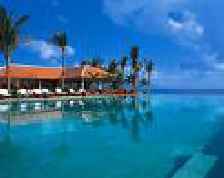 Viet Nam Infinity Resort
The Viet Nam Flamingo Palms
And if you go into your local department store, this is what you will find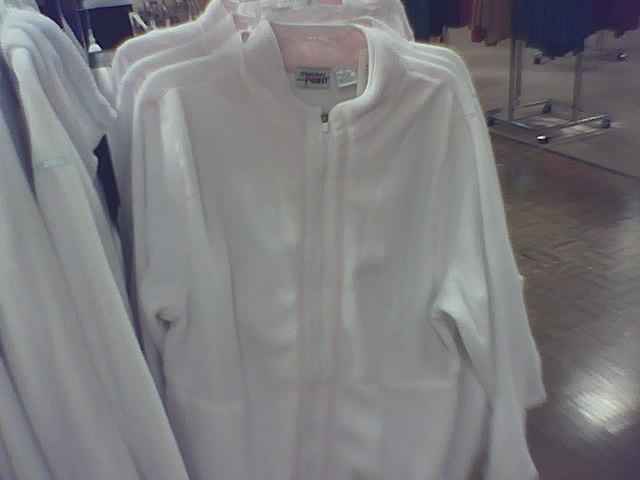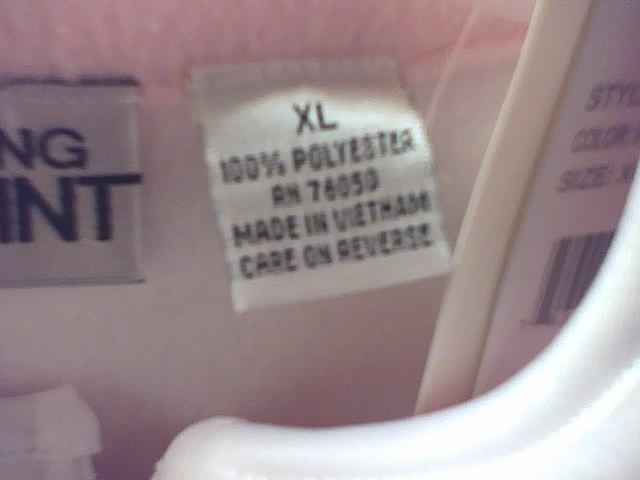 ABOVE : Made In Viet Nam
All of this was built with American money through American investors.
If you would like to vacation in Viet Nam there are commercial American airlines with regularly
scheduled flights, to take you there.
Evidently American businesses have no problem with these people that we were
taught to fear and to kill.
And 56,000 young Americans died because of it.
Who will apologize to them?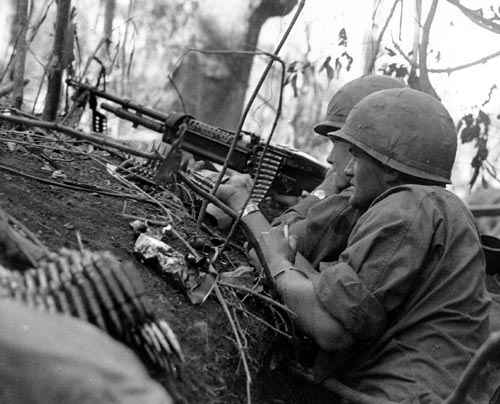 No one
Such is the horror of unfounded fear.
And then we killed, and were killed in Iraq, because they told us what we had to fear.
And we go on pretending that it's just the others who are terrorists.
---
INTELLIGENT DESIGN OR EVOLUTION
The former president announced his feelings that "Intelligent Design" should be taught in public schools.
That was to appease his religious followers.
Unfortunately they all have made a serious error.
Intelligent Design is already being taught in all public schools.
It is called evolution.
God chose evolution as the creative technique so that each species would be able to adapt over long periods of time to natural changes.
Evolution , a very intelligent design.
---
PRO CHOICE OR PRO LIFE
These days there seems to be a constant theme, that one was either pro life or pro choice .
This is not necessarily so.
I am anti abortion, but I am pro choice.
I would do everything I could to convince a person contemplating an abortion to have the child.
I am pro life.
My pro life stance extends beyond the fetus to animals as well.
I help an ant walk from one side of the room to the other. I think, wow that's like walking to California.
So I become a 747 and lift the ant , hoping I am placing it down at its destination.
I am pro life.
I try as hard as I can to influence the person to give birth to the child.
But I am against government storm troopers forcing that choice.
I am pro choice.
Bill
---
LET THEM SPIN
Unless you just accept the strange as being normal, unless you are not influenced in your thinking by others who will try to teach you their ways, unless you totally open yourself up and accept these things, you will never experience them.
If a child tells us of such things, we tend to try to talk him or her out of it.
You're just imagining, or you had a bad dream.
We never can come to grips with the reality of this though we go to church and pretend that we do.
When we see a child spinning, we try to stop them , not realizing that the spinning is their closeness to God.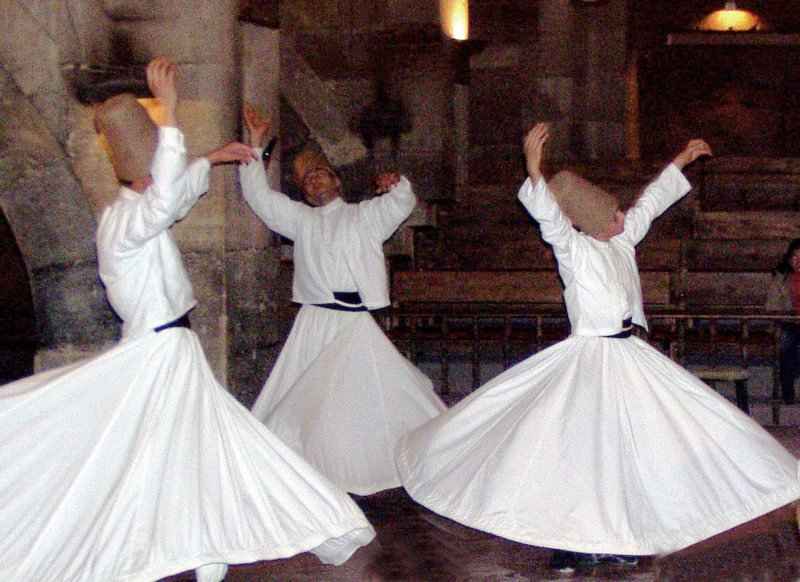 The whirling dervish spin for hours upon hours which takes them into the deepest meditation and communion with God.
But when we see a child spinning we stop them.
Because we do not know what they know.
---
DO YOU BELIEVE IN GOD?
Most people immediately say "Yes" but the truth is, what they really believe is what their particular religious leader, or group, told them about "God".
Other then that, they have no idea.
THE WORD GOD DOES NOT EXIST OUTSIDE OF THE EARTH
In reality there is no one in the universe called God.
God is a spin off of the English word Good ,as Devil is a spin off of the English word evil.
So when someone says, do you believe in God they are really saying do you believe in Good.
The Bible from cover to cover is Greek mythology and so as all Greek myth , it took the essence of good and made a person out of it, who wound up to be someone with a long white beard sitting up on a cloud watching everything you do.
In reality good is an essence of the human psyche which manifests through the right hemisphere of the brain.
Good and evil is an essence that manifests through the left.
Do you believe in good ? Of Course
Do you believe in evil ? Of course
Is it reasonable to form a belief in another's mythical description of those two elements as God and the Devil?
Of course not.
So my response would be " my meditation takes me to a realm where such words and descriptions do not exist, where belief does not exist, where questions such as these do not exist, and where the input for physical existence is total good.
---
YOUR PLEDGE OF ALLEGIANCE
TO THE SYSTEM
Unfortunately though extremely well intended, we have accumulated so many controllers of our lives and our peace, that we now find ourselves without independence at all.
We are controlled from without by government, religion, corporations, friends and families, and from within by our own minds which have been so disturbed by them.
You have to believe the way they believe, you have to fight those that they wish to fight, and you have to hate those whom they wish you to hate.
You have to, or you are not a member in good standing.
You're not considered one of them.
Rules, regulations, doctrines, laws.
The burden of living with the group, and living under the groups ways, and then having to stand up and sing the songs of freedom while you observe their demonstrations of brutal savagery take a serious toll until ones physical body breaks down and one simply drops dead, is put in a box and buried in the ground.
Having spent a few years trying to obey the laws of the lawless, but now stiff and cold, a totally meaningless excursion on a disturbed planet.
BUT TAKE HEART
THE WHITE HORSE HAS BEEN SPOTTED IN THE SKY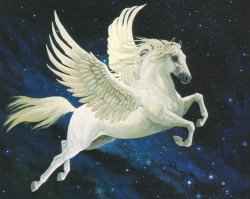 ---
HAS THE WHITE HORSE OF REVELATION APPEARED ?
I have proposed Eta Carina to be the 7th Angel of Revelation.
The 7th Angel of Revelation brings forth the white horse that forces the mass mind change on Earth.
The white horse is Pegasus whose father is Poseidon the God of the sea.
Pegasus was initially portrayed as a white sea horse.
Hubble shows us Eta Carina, and if you have an eye to see, then look to the left outline and what is there ?
ABOVE: If you look closely o the left side, you will see the white sea horse.
Pegasus has appeared with the seventh Angel.
---
Is reincarnation real?
Does it really happen ?
Let us consider those who say it is real and those who say it is not.
FIRST, THOSE WHO SAY "YES REINCARNATION IS REAL "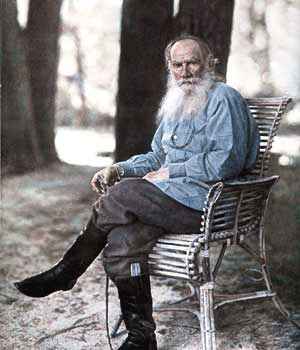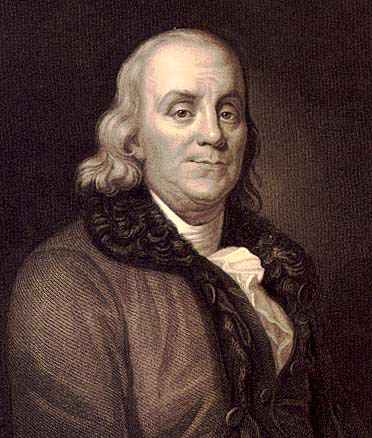 Leo Tolstoy Benjamin Franklin Jack London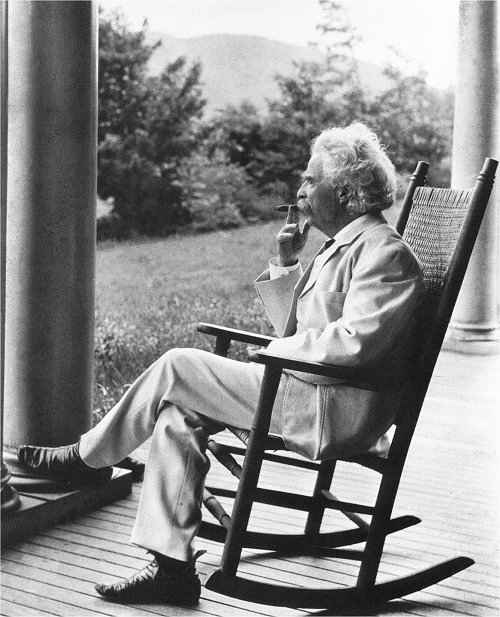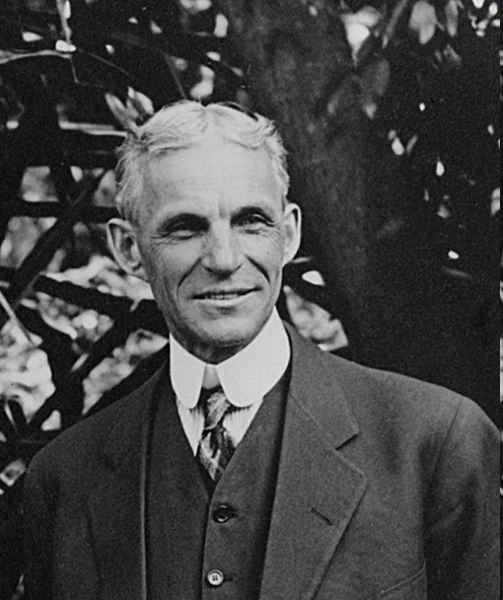 Mark Twain Henry Ford Ralph Waldo Emerson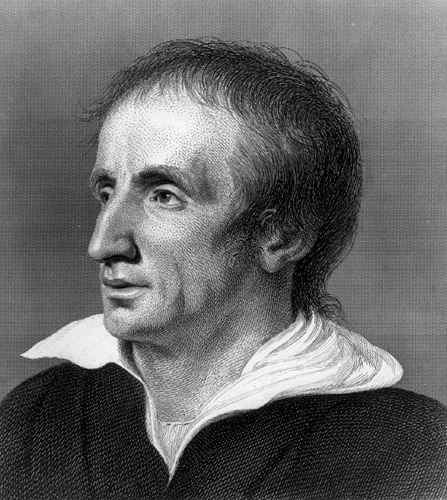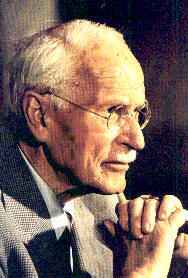 William Wordsworth Socrates Voltaire Carl Jung
NOW THOSE WHO SAY "NO REINCARNATION IS NOT REAL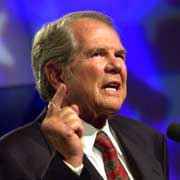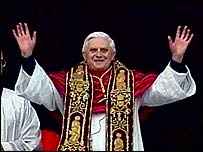 Pat Robertson The Pope The Late Jerry Falwell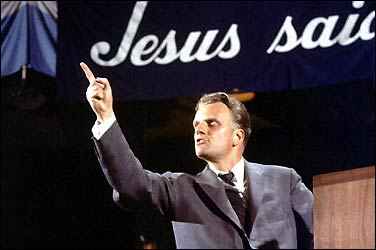 John Hagee Billy Graham The Late Paul Crouch
WHICH GROUP APPEARS MORE CREDIBLE TO YOU?
---
REINCARNATED ASTRONAUT
AND
THE BOY WHO LIVED BEFORE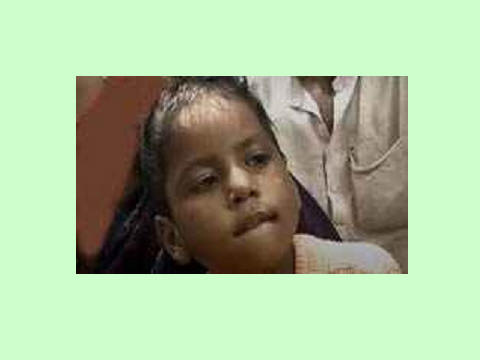 This little girl from a remote region of India says that she lived before and her name was Kalpana Chawla and she was killed in the sky.
Kalpana Chawla was an Indian Astronaut who died when US space shuttle Columbia crashed four years ago.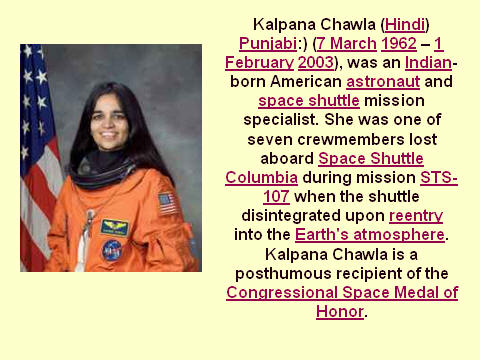 ABOVE: American astronaut, Kalpana Chawla
---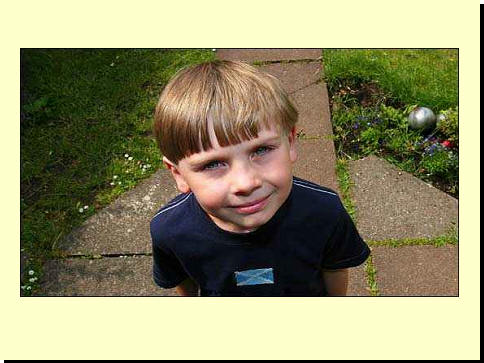 This is Cameron from Glasgow Scotland.
He says that he lived before with his family named Robertson in a white house near the bay on the Isle of Barra in Scotland.
His present family had never been to the Isle of Barra.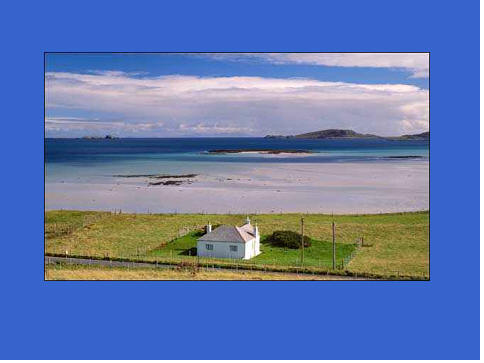 They went to the Isle of Barra and found this white house on the bay where a family named Robertson had lived many years ago.
Come on now. Forget what religion teaches and enjoy reality.
It has happened to you as well.
---
WHO IS IT THAT REALLY HEARS FROM GOD ?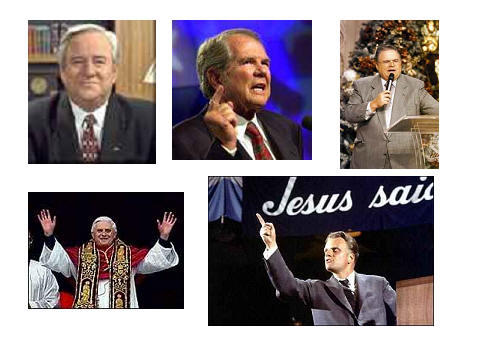 You all know who these men are.
They have reputations as being the ones who hear from God
But there is one person who stands out.
A person who knows in advance when a person is about to die.
He goes to that person 2 to 4 hours before death and stays with that person until he or she passes over.
This person has never been wrong and has received a plaque from the State of Rhode Island for the comfort he brings to those passing over.
Yes this person hears from God far more clearly then do those above.
He currently does his work in a nursing home in Rhode Island
Meet him now.
HIS NAME IS OSCAR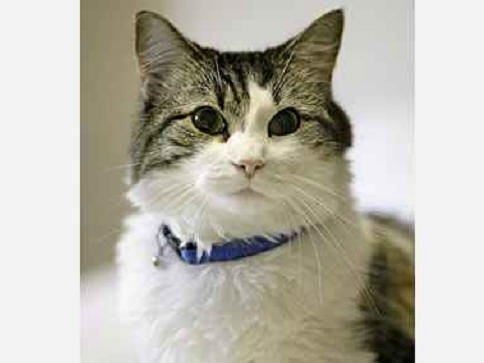 1 Corinthians 1:27. But God has chosen the foolish things of the world to confound the wise; and God has chosen the weak things of the world to confound the things which are mighty.
---
THE BIBLE IS NOT SUITABLE READING FOR CHILDREN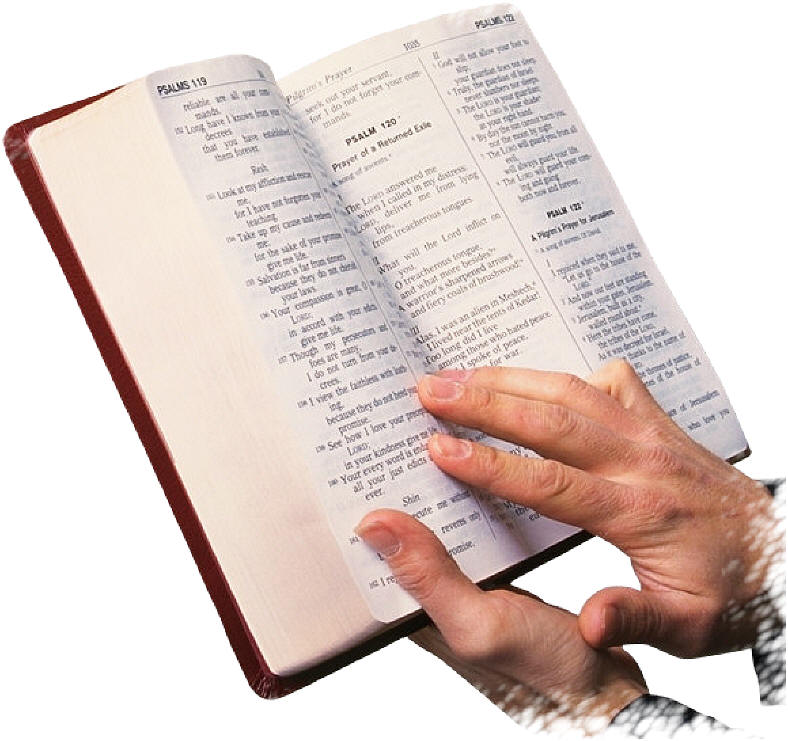 IT SAYS IN THE BIBLE THAT
ITíS OK TO KILL AND
SEXUALLY EXPLOIT LITTLE CHILDREN
Numbers 31:17. Now therefore kill every male among the little ones,
and kill every woman that has known man by lying with him. 18.
ut all the
women children, that have not known a man by lying with him, keep alive for yourselves.
IT SAYS IN THE BIBLE THAT
ITíS OK TO THROW WOMEN TO THE MOB
Genesis 19:5. And they called to Lot, and said to him, Where are the men
which came to your place tonight, bring them out to us, so we can get to know them.
6. And Lot went out the door to them, and shut the door behind him,
7. And said, look, don't do this nasty stuff with these men.
8. I have two daughters which have never had sex ; let me, bring them out to you,
and you can do to them whatever you want : only to these men do nothing; for they're my guests.
IT SAYS IN THE BIBLE THAT INCEST
IS OK FOR GODíS SAVED ONES
Ge
nesis19:34. The next day , the firstborn said to the younger,
ast night I had sex with father : let us make him drink wine tonight;
and you go in and have sex with him , that we may preserve the seed of our father.
35. And they made their father drink wine that night : and the younger arose,
and had sex with her father ; and he didn't realize she had laid down.
36. Thus both the daughters of Lot were made pregnant by their father.
This is the kind of stuff that is banned from television, but it's in the Bible !!
Do you want your children reading it ?
---
JESUS AND HOMOSEXUALS
In Jesus time there were 3 types of Eunuchs.
NUMBER 1. Those who abstained from sex for religious purposes.
NUMBER 2. Those who were castrated for harems.
NUMBER 3. Those born that way. These are people we refer to as gay today.
Jesus had no problem with any of them.
This is what he said.
Matthew 19:12
There are some eunuchs which have made themselves eunuchs for the kingdom of heaven's sake.
That's number 1
There were some eunuchs which were made eunuchs by men
That's number 2
There are some eunuchs which were born that way from their mothers womb.
That's number 3
Jesus had no problem with this.
---
JESUS AND ZEUS ARE THE SAME PERSON
Zeus was born to Rhea and the wicked king Cronus tried to kill him
and so Zeus was taken to Crete to escape the wicked king.
Jesus was born to Mary and the wicked king Herod tried to kill him and
so Jesus was taken to Egypt to escape the wicked King.
Zeus rode on the back of the white horse Pegasus
through the sky throwing lightning bolts.
Jesus is said to return riding on a white horse in the sky and says
his return is like lightning from the East to the West.
The Zeus story was told 1900 years before the Jesus story.
---
CHRISTIANS SERIOUS ERROR ABOUT SALVATION
Born Again Christians teach that salvation comes from accepting
Jesus Christ as your Lord by confessing that fact, and by
believing that Jesus died for their sins.
This simply is not Biblical at all. It is contrary to what Jesus taught.
The Bible teaches that salvation cannot come from saying anything or believing anything.
It can only come from studying the teachings of Jesus Christ and actually doing what he says.
Luke 6:46. Why do you call me , Lord, and not do the things I say ?
Hebrews 5:9 He became the author of eternal salvation unto all them that obey him;
Matthew 7:24 Whoever hears these sayings of mind and does them is
wise and builds his house on rock, whoever does not do them builds
his house on sand and it washes away.
Matthew 7:22 Many will say we prayed in your name and did wonderful
things in your name and I will tell them, get away I never knew you.
The crucifixion of Jesus does not change the fact that salvation
can only come from actually doing the things that Jesus said you must do.
This is a serious error of Christian doctrine.
Christianity has sent millions of people to their graves thinking
they were saved, when they actually were not,
because they never put into practice in their l
ives the things that Jesus said.
Jesus accepted homosexuals, Matthew 19:12
Jesus believed in reincarnation Matthew 17:10
Jesus believed in free universal health care Matthew 10:8
Jesus was against religious tradition Matthew 15:3
Jesus taught Yoga Matthew 11:29
Jesus was against praying in public Matthew 6:5
Jesus believed in the separation of church and state Matthew 22:21
So you see, what Christianity teaches and what Jesus taught have little in common
---
DECEMBER 21 2012
SOMETHING TO WORRY ABOUT
Let us become a bit more sober about 2012 as human beings, and ask ourselves,
what could this mean to you and your family.
Your children, your friends.
Everyone.
Let us go back to Pacal Votan 600ad and his reasoning as to why there
would be serious problems during this time of civilization.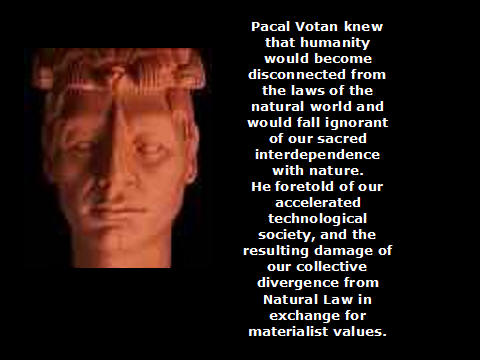 The problem that Votan foresaw was an obsession with material
things such as profit that would turn us away from our sacred
interdependence with nature.
In other words, we would start abusing nature,
we would start hurting nature, whenever natural ways
got in the way of making money.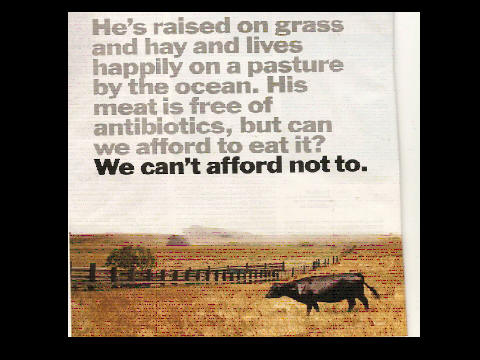 This is from l Newsweek magazine.
It speaks of a few farms left where animals are treated with respect and
decent living conditions before they are killed for food.
Notice that the meat from such animals is free from anti biotics.
The people who raise the animals in the article say they not only
earn their living with the animals but they respect the animals and
what they provide for all of us, and they want them to
live their lives in comfort.
But most of America is factory farming and nature is not respected there.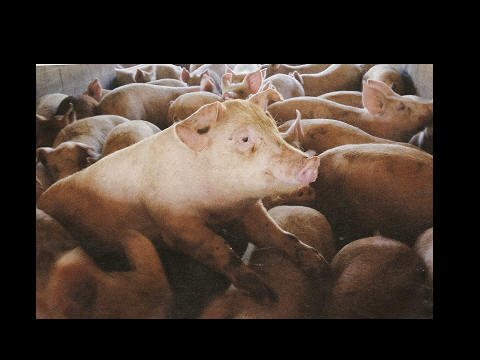 Thi
s is a factory farm where thousands of animals are made to
live on top of one another with no room to turn around.
They are filled with antibiotics so they don't give diseases to one another,
and you eat the antibiotics in their bodies.
The article says this is torture for the animals and
dangerous for human beings.
What follows is an article just released about concerns published by scientists at
John Hopkins University Hospital.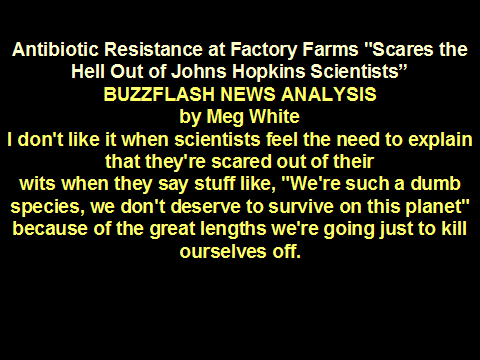 READ ABOVE: Antibiotic resistance at factory farms scares
the hell out of John Hopkins scientists. They say, we are going
to great lengths just to kill ourselves.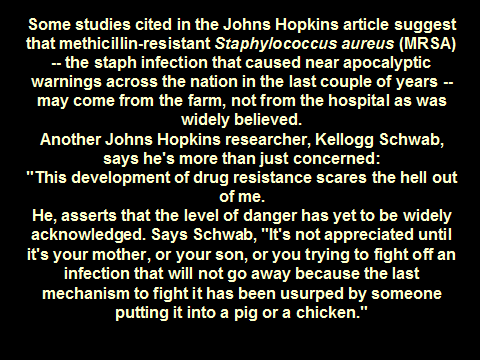 READ ABOVE: John Hopkins scientists, warn that staph infection
may come from the farm. This development of drug resistance
scares the hell out of me. You may not be able to fight off an infection
because the mechanism to fight it has been usurped by someone
putting it into a pig or a chicken.
Lets put the words of Pacal Votan next to those of the Johns Hopkins scientist.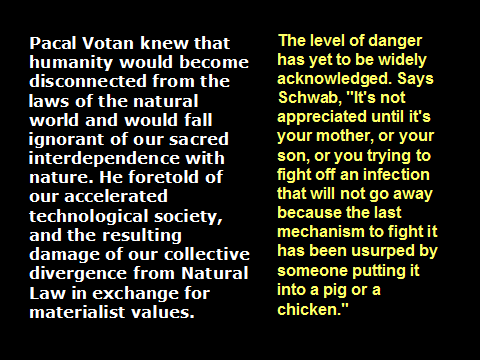 READ ABOVE: Left Pacal Votan, there will be damage to our societies because of our
divergence from nature in exchange for material values. Right John Hopkins scientists
Infections will not go away because the mechanism to fight is is upsurped
by someone putting it in a pig or chicken.
Doesn't it seem a bit fulfilling to you that Pacal Votan made this prediction
back in 600ad and now there is a fear spreading through the ranks of
scientists because of an abuse of nature that is being carried out for profit.
For profit we are killing ourselves.
And what do you do? Do you stop eating meat and chicken?
That of course is your decision.
But as you can see from none other then such a prestigious institution
such as John Hopkin, that the possibilities of a plague that will kill
many people is very real, because the profit motive has caused us to
fall ignorant of our sacred interdependence
with nature just as Pacal Votan said..
---
THE "AM I A CHRISTIAN ?" TEST
Let's Take The AM I A CHRISTIAN? Test
All you have to do is look at what Jesus taught and how he felt about certain things.
If you agree with Jesus, you're a Christian, if you don't, then you're not.
Here you go
So how did you make out?
Do you agree with Jesus on all of those points.
You gonna have to get saved all over again ?
---
If You Can Donate, Or For DVD's, Flash Drives, Or E Books
Click
Here
TO RETURN TO THE HIDDEN MEANINGS HOME PAGE CLICK HERE