TRANSLATE THIS PAGE INTO ANY LANGUAGE
WIMPS

AND THE

HOLY

GHOST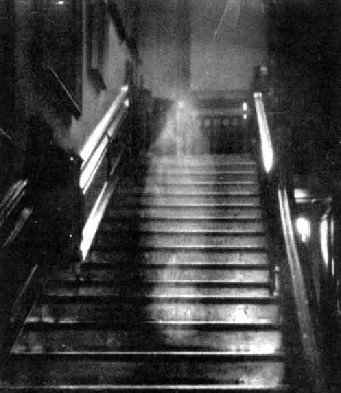 GETTING CLOSER AND CLOSER
Every time I sit down to write and to share things, I have the feeling of moving a bit closer.
Closer to that which we have all sought since the beginning of time.
---
TOUCHING THE UNTOUCHABLE
The touch of the invisible.
The hand of God if you will.
WE AWAIT EARTHS CHANGES
We have talked about the changes coming on the earth from Uranus & Aquarius.
The changes coming on the earth from Supernova 1987a, and Eta Carina.
The eye on fire and the 7th angel.
December 21 2012
---
LET'S BE HONEST
WE'RE ALL WAITING
FOR THE NEXT COSMIC SHOE TO DROP
The things we have witnessed have been stunning, and we now live on a planet that spins in a cacophony of confusion with all of us waiting for the other shoe to drop..
No one seems to know when this will happen , but it is obvious that we have ridden this planet earth on to the brink of meltdown.
MEDITATION BRINGS YOU
CLOSER AND CLOSER
Those who have sat in the darkness and found the light of meditation are carried closer, and closer, with a greater awareness of a soon impending entry into the world of the higher invisible light.
The things seen on the earth are testimony of the growing closeness of this contact.
A COMING CLOSE ENCOUNTER
OF THE HIGHEST KIND
What I will show you here makes it all the more awesome, and pushes us closer, much closer, to that close encounter of the highest kind.
---
A STRANGE WORD
KEEP IT IN MIND
I want you to look at a word, and I want you to remember it.
Hold it close to you, especially as these things continue to carry you closer and closer to the encounter.
This is the word.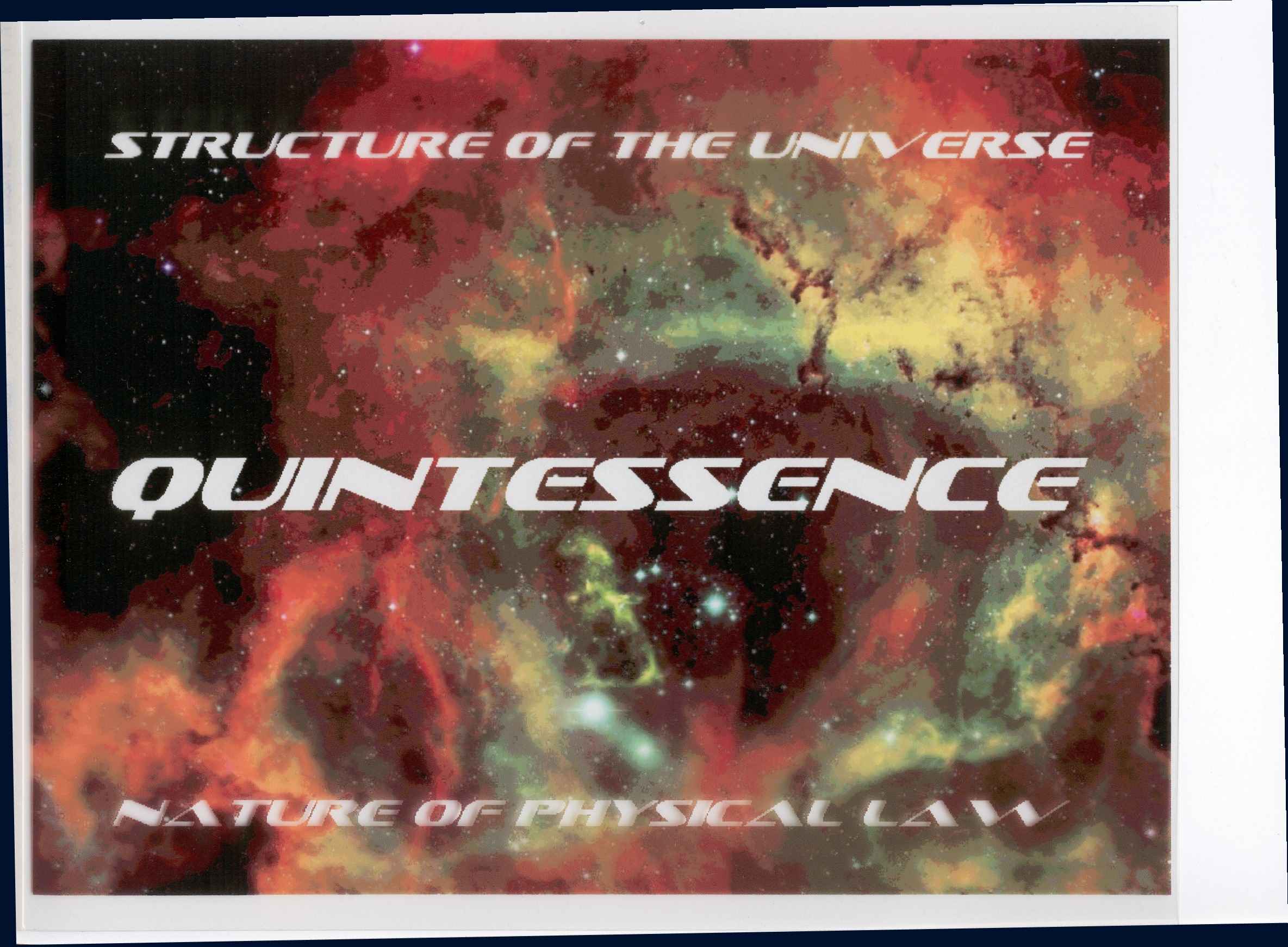 Quintessence
There are two things about the word Quintessence that I want to share with you initially.
DEFINING QUINTESSENCE
quin∑tes∑sence (kwĭn-tĕs'əns)
n.
The pure, highly concentrated essence of a thing.
In ancient and medieval philosophy, the fifth and highest essence after the four elements of earth, air, fire, and water, thought to be the substance of the heavenly bodies and latent in all things.
---
QUINTESSENCE AND THE BIBLE
So the word quintessence has a direct relationship to the basis of the Bible using the 4 elements of earth, water, air, fire.
QUINTESSENCE
Quintessence spiritually would be the new mind or the Christ consciousness.
A QUANTUM DEFINITION OF QUINTESSENCE
When you move away from the ancient definitions of Quintessence as being the highest realm and an essence within all things and move into the realm of physics, there comes another definition of Quintessence.
QUINTESSENCE AND PHYSICS
It is interesting that that word Quintessence has an ancient spiritual application and now we find in this age it has a contemporary application in Physics.
quintessence (physics)
In physics, quintessence is a hypothetical form of dark energy postulated as an explanation of observations of an accelerating universe.
ABOVE: QUINTESSENCE -- DARK ENERGY
Quintessence is dynamic, and generally has a density and equation of state that varies through time and space.
In these models, the quintessence field has a density which closely tracks (but is less than) the radiation density until matter-radiation equality, which triggers quintessence to start behaving as dark energy, eventually dominating the universe. This naturally sets the low scale of the dark energy.
ABOVE: QUINTESSENCE -- BEHAVING AS DARK ENERGY
Some special cases of quintessence are phantom energy
---
COMPARING SPIRITUAL AND SCIENTIFIC QUINTESSENCE
We see a strange connection.
QUINTESSENCE: SPIRITUALLY AS THE MOST HIGH ESSENCE
Quintessence with an ancient definition that encompasses all things or the most high spiritual essence.
IN GREEK
FIVE STAGES OF CONSCIOUSNESS
THE HIGHEST IS THE NEW MIND OR QUINTESSENCE
The Biblical connection to the Greek concept of the 5 states of consciousness, earth, water, air , fire and the new mind or Quintessence.
---
QUINTESSENCE
IN PHYSICS
THE INVISIBLE, UNTRACEABLE POWER
Then the physics connection to Quintessence used by science to describe an invisible and untraceable power or force, in the universe also equated with dark energy, dark matter, and phantom energy.
SOMETHING UNSEEN THAT EFFECTS THINGS PHYSICALLY
SOMETHING UNSEEN THAT EFFECTS THINGS THAT ARE SEEN
Phantom energy simply means as it appears.
Something unseen , and for the most part unknown that still effects things physically.
QUINTESSENCE
INVISIBLE POWER THAT MUST BE THERE
BUT CANNOT BE PROVED TO EXIST
Quintessence is the best word that would accommodate our concepts of spirit.
Invisible power on a cosmic scale.
Invisible power that shapes and controls the entire range of existence but yet cannot be proved to exist.
Something is out there, and in you and me, that we have called spiritual power, or the power of the holy spirit, that impacts all existence.
IT'S NEVER BEEN TOUCHED
BUT IT TOUCHES EVERYTHING
Though this invisible power we call quintessence is known to be something, it has never been touched, though its effects have been seen touching all things.
---
PROFESSOR PAUL STEINHARDT
EINSETIN EMERITUS PROFESSOR
PRINCETON UNIVERSITY
Professor Paul Steinhardt of Princeton University whom we quoted to you relative to parallel universes.
PROFESSOR STEINHARDT AND PARALLEL UNIVERSES
Professor Steinhardt told us in a previous report that parallel universes do exist and they are more bizarre then any science fiction writer could ever imagine.
Professor Steinhardt also works on Quintessence.
Paul J. Steinhardt is the Albert Einstein Professor of Science at Princeton University and a professor of theoretical physics.
He was an undergraduate at the California Institute of Technology, completed his doctorate at Harvard University and was formerly a professor at the University of Pennsylvania.
He is best known for his work in theoretical cosmology, where he helped develop the theories of cosmic inflation and quintessence.
---
WHAT RELIGION TAUGHT US WAS SPIRIT
SCIENCE IDENTIFIES AS QUINTESSENCE
What I want you to try and get here, is the fact that realm of spirit as we were taught it in religion, has now been taken up by the wise ones of this day outside of the realm of spirit ,with applications of science and reality.
The possible dwelling place of what we call God, and what we refer to as Holy Spirit.
NO PRIESTS, NO PREACHERS
NO NEED FOR FAITH
The subject which had been controlled by priests and preachers and required faith, has now been taken up by scientists and physicists with no faith needed.
IT'S THE INVISIBLE POWER
WITHOUT THE RELIGIOUS WORDS
It is the same invisible power that we called spirit but it no longer has the religious names to identify it.
HOW DOES QUINTESSENCE CONNECT
TO SPIRITUALITY ?
How do we connect this invisible power called Quintessence, and the invisible power called Spirit, in religious realms.
---
IS QUINTESSENCE AND SPIRIT THE SAME THING?
HOW DO WE KNOW THAT TO BE TRUE?
SYNCHRONICITY
We have to rely to a degree on the clues that are provided by the invisible itself.
In the realm of what is called Synchronicity.
COINCIDENCE WITH A PURPOSE
Something comes down and however it happens, it brings itself into connection with something that is for the most part entirely different, and the two things wind up relatively the same.
WHAT ?!
RUN THAT BY ME AGAIN PLEASE
---
RELIGIOUS QUINTESSENCE & SCIENTIFIC QUINTESSENCE
AS THE SAME THING
Religious being invisible power of the spirit.
The force controlling all things in the universe.
The realm within all of us that raises us to the highest level of mind above earth, water, air and fire.
HOW DO WE CONNECT THAT TO SCIENCE
ARISTOTLE KNEW QUINTESSENCE
THOUSANDS OF YEARS AGO

THOSE BEFORE ARISTOTLE SAID THERE WERE ONLY FOUR ELEMENTS
Greek philosophers before Aristotle reasoned that four elements comprised all matter:
earth, air, fire, and water.
ARISTOTLE ADDED THE FIFTH
Aristotle added a fifth element that he believed permeates all things and forms the substance of the heavenly bodies, which he called aither (our word ether).
HIS WORD ETHER
TRANSLATED INTO LATIN
BECAME OUR WORD
QUINTESSENCE
Ancient Greeks also referred to the aither of Aristotle as pťmpte ousia, the fifth essence,a term which by loan translation became quinta essentia in Medieval Latin,and our word quintessence.
---
ARISTOTLE AND STEINHARDT

What is interesting here, is that you have Aristotle thousands of years ago claiming this 5th invisible essence which we now call Quintessence.
And thousands of years later, we have Professor Paul Steinhardt of Princeton along with other scientists proving that Aristotle was right, by studying the same Quintessence.
NOW COMES THE GHOST CONNECTION
We come to the point where we are going to connect quintessence to the Biblical, or Spiritual things, which takes all of this into a new and most interesting dimension.
---
THE PICTURE BELOW IS PENTECOST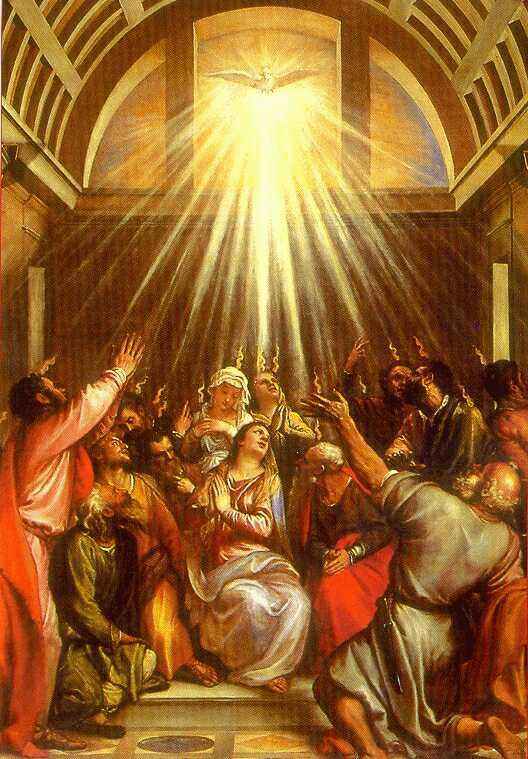 THE HOLY "GHOST" COMES DOWN TO THE EARTH
Pentecost is a religious theme of the descent of the Holy Ghost down to the earth.
A strange invisible power which is shown in the ancient art work, as descending down upon the earth in the form of light, which today we would consider electro magnetism.
NOW WE DEFINE THE WORD PENTECOST
USING A DICTIONARY
quin∑tes∑sence
ETYMOLOGY:Middle English, from Old French quinte essence, fifth essence, from Medieval Latin qu

nta essentia (translation of Greek pempt

ousi

) : Latin qu

nta, feminine of qu

ntus, fifth; see penkwe in Appendix I + Latin essentia, essence; see essence. quintessence (kwin-TES-ens) noun

Let us look up penkwe which etymology connects to quintessence
ENTRY: penkwe
DEFINITION: Five.
Derivatives include five, Pentecost, quintessence, finger, and foist.
PENTECOST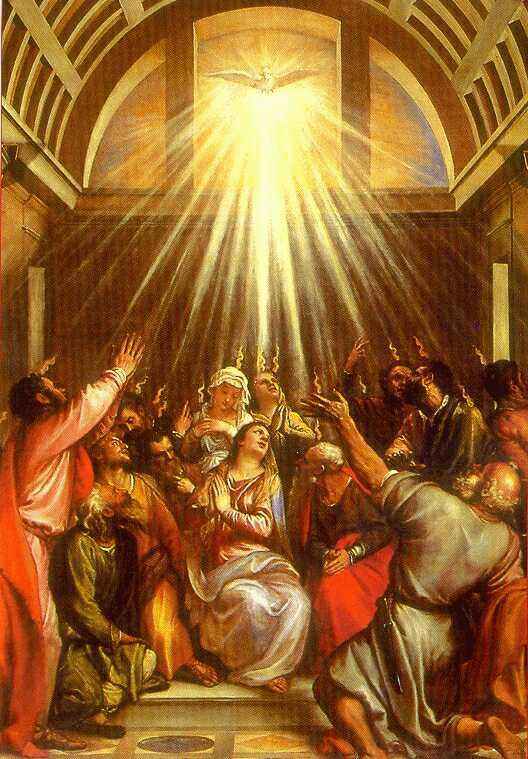 QUINTESSENCE
THERE IS THE GHOST CONNECTION
THE INVISIBLE GHOSTLY ESSENCE DESCENDING DOWN UPON THE EARTH
THE INVISIBLE DARK MATTER THAT IS 90% OF ALL EXISTENCE
WE HAVE FOUND IT
WHEN SCIENCE SPEAKS OF DARK MATTER
AND CALLS IT QUINTESSENCE
IT IS ACTUALLY SPEAKING OF PENTECOST
The descent of the heavenly power upon the earth.
---
THERE IS ANOTHER WORD THAT
CONNECTS TO ALL OF THIS
Another word that plays an important part in this power descending on the earth.

Notice how in the picture there are multiple light particles hitting the various people.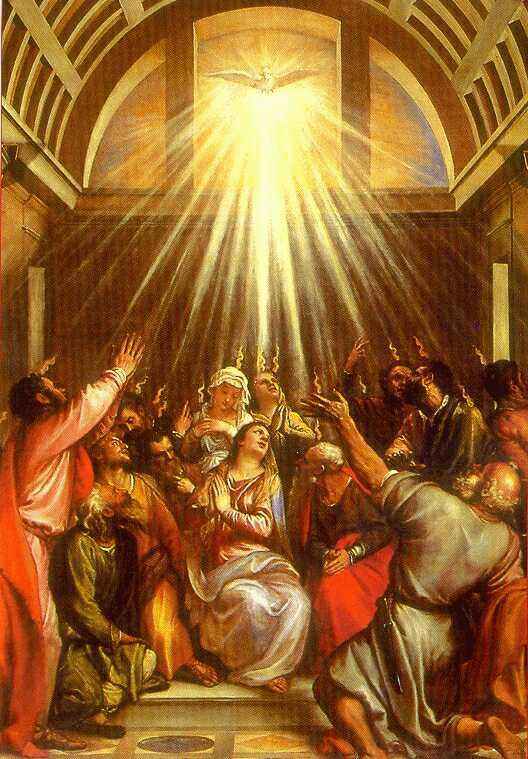 Keep that in your mind and also keep this other word in your mind.
The word is Wimps
Wimps are weak interactive massive particles.
---
HERE THEY COME
HERE COME THE WIMPS
As we consider Quintessence and Pentecost and the descent of this power on to the earth, I will just share with you this recent science headline.
Shall the WIMPS Inherit the Universe?
By Wil Milan
Special for SPACE.com
Consider that scientific headline and then consider these words of Jesus.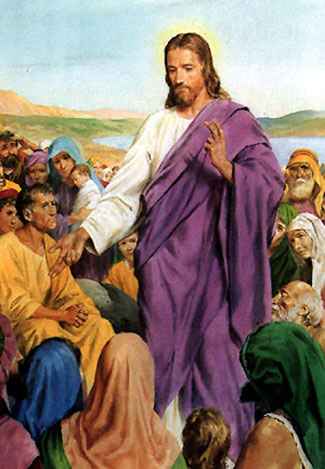 Matthew 5:5. Blessed are the meek: for they shall inherit the earth.
---
YOU MAY THINK THIS CONNECTION IS A STRETCH
<![if !supportLineBreakNewLine]>
<![endif]>You may think that itís a stretch connecting the meek, with the weak interacting massive particle, but hold on, and remember that this Bible was written by those of Greek persuasion familiar with Aristotle, who as we saw knew all about Quintessence..
THAT'S RIGHT
THE GREEKS WHO WROTE THE BIBLE WERE FAMILAR
WITH ARISTOTLE AND QUINTESSENCE
WHAT HAVE WE DEVELOPED SO FAR ?
---
PENTECOST=INVISIBLE GHOSTLY POWER
We have the Biblical teachings on Pentecost which is the invisible ghostly power descending to the earth.
WORD PENTECOST CONNECTION TO WORD QUINTESSENCE
We have the word Pentecost connected to Quintessence which is defined as an invisible cosmic power.
BIBLICAL MEEK INHERITING THE EARTH
WEAK PARTICLES DESCENDING UPON EARTH
And now you have the message of the meek inheriting the earth, and as you will see a new scientific discovery has just been made that suggests that indeed the weak particles are descending upon us.
WE CONNECT SCIENTIFIC DARK MATTER, DARK ENERGY & WIMPS
TO PENTECOST
So now when we think in terms of Dark Matter, Dark Energy, Wimps, etc.
We have to think of Pentecost and the descending power.
There really is no way out of it.
---
WE HAVE TO BASE OUR STUDY ON SCIENCE
FREE OF EMOTIONS CONNECTED TO RELIGION
All of the years that I have done this work, I have always tried to be very respectful of you and what I was saying to you.
I never wanted to say something to stir your emotions or have you waiting for something to happen that I thought would occur based on prophecies or that sort of thing.
I have tried always to back up what I have said with the very best documentation and the finest scientists and physicists that I could find .
STILL WAITING FOR SUPER NOVA 1987A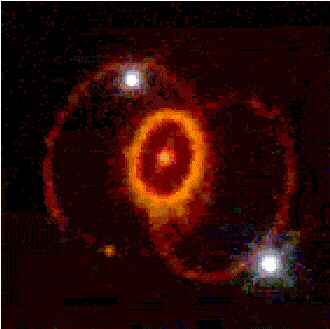 We are still waiting for the prediction that was made by NASA concerning SN1987a and the explosion that was to be visible on the earth in 2005.
SO FAR THAT HAS NOT HAPPENED
BUT
IT WAS A NASA PREDICTION
ONE DAY IT WILL HAPPEN
Since I proposed to you that SN1987a was the cosmic Pineal or Single eye, I felt that this would be a most important event. Let me show you the prediction from NASAís Goddard Space Flight Center
This is from George Sonneborn of NASA's Goddard Space Flight Center speaking about Supernova 1987a
"The gas is expected to soon glow at thousands of degrees, causing a final burst of light that will be visible on Earth in 2005."
IT HAS NOT HAPPENED YET
BUT I SHOWED YOU A VERY CREDIBLE SOURCE
WHO PREDICTED IT.
So we will just have to watch and wait.
This is very important.
If something does not happen as predicted I am not going to tell you to have faith ,or Gods ways are not our ways, or all that stuff.
I want to show you the source of the information and make sure that the source is credible.
---
IT MUST BE TRUE
THAT THE INFORMATION CAME FROM CREDIBLE SOURCES
What has propelled me on in this work for so many years, is an absolute conviction that I attribute to the light that has provided this information, that it is true and it will happen and it is happening.
I am without doubt that the things we have discussed here will take place and are taking place.
I wake every day and look to the news to see what has occurred.
WHAT IS EVERYONE WAITING FOR TO HAPPEN?
---
WHY DO THEY GO TO CHURCH'S AND MOSQUES ALMOST DAILY?
What are they looking for ?
What do they want to happen?
THEY WANT TO BE GOOD, JUST IN CASE
They are trying in some way to be in a good position with the invisible just in case what they have been told happens to be true.
They donít know.
THEY HAVE FAITH IN THEIR RELIGION
NOT SOMEBODY ELSE'S
JUST THEIRS
They have faith in their religion which told them all this stuff and so they show up because they donít know what else to do.
THEY ARE TRYING TO GET ON THE RIGHT SIDE
OF THE INVISIBLE
They show up to try and be on the good side of an invisible force of some kind.
THEY DON'T REALLY KNOW IF THE INVISIBLE ONE EXISTS
BUT THEY SHOW UP AT CHURCH JUST IN CASE
We donít know if this being exists at all but we better not take any chances, so we show up in church and sit for an hour while people up on the stage and go through some preaching, and other seemingly magic events.
THEY'RE SHOWING UP FOR THE INVISIBLE ONE
But no matter how you phrase it, we are showing up to try and make contact ,or allow contact to be made, with us by an invisible thing somewhere.
---
WE EVEN MADE UP WORDS TO DESCRIBE IT
We call it spirit, or Gods ,or angels or whatever.
So we file in, and watch the ceremony, whatever that may be, because even though we have never seen this invisible thing, maybe it does exist somewhere.
SOME DAY WHEN WE DON'T EXIST
WE BETTER BE IN GOOD STANDING
WITH THE BIG GUY THAT DOESN'T EXIST
And after all, some day we will not exist either and we better be in good with the non existent one just in case.
---
DOES GOD OR SPIRIT REALLY EXIST ?
I guess our primary question about God and spiritual things, is, does it exist?
OF ALL THE RELIGIOUS VERSIONS
WHICH ONE IS TRUE?
Of course in religion, its always our version that is true.
WE'RE TRYING TO FIND OUT IF SOMETHING THAT DOES NOT EXIST
EXISTS !!
But still we have to somehow find if that which does not visibly exist, really does exist, whether that be parallel universes, God , or what .
---
TOUCHING THE UNTOUCHABLE
SCIENTISTS DID IT
A team of scientists finally , for the first time, were able to measure something that they had an idea existed, that they believed existed, but have never seen, never felt, never confirmed.
Dark Matter Quintessence Pentecost
SOMEBODY HAS TOUCHED THE UNTOUCHABLE
And now , as we have shown here, we know that this Dark Matter is Quintessence, which is connected in our languages to Pentecost or the descent upon the earth of the power of God.
Dark Matter is what makes up 90% of the universe, yet no one ever before was able to prove that it exists.
It is like the God side of the brain only this time we are speaking of the God side of the universe.
The 90%, that which we can see makes up only 10%.
---
TOUCHING THAT WHICH WAS BELIEVED TO BE THERE
BUT WAS PREVIOUSLY UNTOUCHABLE
CAMBRIDGE UNIVERSITY ENGLAND
The discovery team is headed up by Professor Gerry Gilmore of Cambridge University in England. He is Professor of Experimental Philosophy, Deputy Director, Chair OPTICON
Look at his comments to see the significance of this discovery.
These are the first properties other than existence that we've been able to determine.
Prof Gerry Gilmore
Institue of Astronomy, Cambridge
Thatís quite a statement isnít it.
The first properties other than existence we have been able to determine.
The word existence in this sense would be defined as:
all the objective, specifiable details of the Universe
In other words all of the material aspects of the universe we can eventually determine.
But this is the first non material, non specific property.
It is something that even though we suspected was there because of its effect on other things, we still could never touch or measure, until now.
---
TOUCHING GOD, TOUCHING SPIRIT
IS THAT WHAT THIS IS ?
So you could say, though I cannot see or touch spirit, or God, I know its there because I see evidence of it in life.
Then one day, you actually touch it.
That is what this is about.
---
DR. GARY TOLLER, NASA SPACE LABS
Some time ago I shared with you a statement by Dr Gary Toller of NASA Space Labs about Dark Matter making up 90% of the universe.

Dr. Gary Toller
NASA Goddard Space Flight Center
Toller has used his data as another way to calculate total amounts of visible matter in the universe.
These calculations confirm other estimates that 90 percent of matter is the universe is missing, or unseen dark matter.
WE SEE 10% OF THE UNIVERSE
WE USE 10% OF OUR BRAIN
What makes this current find in England so important, is because if what we have proposed relative to the comparison between the universe and the human brain is correct, then we have estimates on both sides, that we only see 10% of the universe and only use 10% of our brain.
IF THE 90% OF US ON THE RIGHT SIDE IS GODS PART
THEN THE 90% OF EXISTENCE THAT WE CANNOT SEE
ALSO WOULD SEEM TO BE GODS PART
THE GOD PART HAS BEEN TOUCHED FOR THE FIRST TIME
That makes the 90% on the right side the God part and would lead us to consider that the 90% of the unseen universe or dark matter is also the God part which as we will see has now been touched for the very first time.
---

Dark Matter Comes Out Of The Cold By Jonathan Amos
BBC News Science Reporter
This strange material that dominates the Universe but which is invisible to current telescope technology is one of the great enigmas of modern science.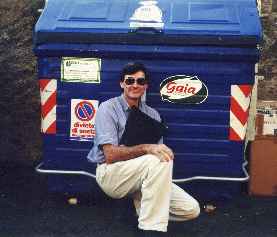 Prof. Gerry Gilmore
But now an Institute of Astronomy, Cambridge, team has at last been able to place limits on how it is packed in space and measure its "temperature".
"It's the first clue of what this stuff might be," said Professor Gerry Gilmore.
"For the first time ever, we're actually dealing with its physics," he told the BBC News website.
Ok so here is the implication.
Letís say that this Dark Matter, Quintessence, is the root of Pentecost with the descending spirit or Holy Spirit.
FOR THE FIRST TIME
PENTECOST-THE HOLY GHOST
HAS BEEN MEASURED
HAS BEEN TOUCHED
That is very significant when you consider what is happening upon the earth before our eyes and the interconnection here with spirit and science.
Has Pentecost been physically touched ?
---
Prof. Gilmore
Science understands a great deal about what it terms baryonic matter - the "normal" matter which makes up the stars, planets and people - but it has struggled to comprehend the main material from which the cosmos is constructed.
These are my comments: What I am proposing here is that what we have previously considered spirit or God or Holy Spirit, is Quintessence or Dark Matter and as Gerry Gilmore says is the main material from which the cosmos is constructed.
In other words it is the very essence of creation, in the universe and in you and me.
Prof. Gilmore
Astronomers cannot detect dark matter directly because it emits no light or radiation.
Its presence, though, can be inferred from the way galaxies rotate: their stars move so fast they would fly apart if they were not being held together by the gravitational attraction of some unseen material.
---
HE'S GOT THE WHOLE WORLD IN HIS HANDS
When I read that point that if there was not some invisible power holding all of this together it would fly apart, I thought of that old song,
Heís got the whole world in his hands.
Prof. Gilmore
With the aid of 7,000 separate measurements, the researchers have been able to establish that the galaxies contain about 400 times the amount of dark matter as they do normal matter.
It comes in a 'magic volume' which happens to correspond to an amount which is 30 million times the mass of the Sun.
IT'S MAGIC
IT'S GOD
Of course some of these things we cannot understand or comprehend, but I do appreciate the comment about magic volume.
In other words, it really does not make any sense.
It really cannot happen but it is, itís magic.
Or is it God.
Prof. Gilmore
"These are the first properties other than existence that we've been able determine."
The most likely candidate for dark matter material is the so-called weakly interacting massive particle, or Wimp.
---
HERE COME THE WIMPS
So enter the weak ones, the Wimps.
THE MEEK SHALL INHERIT THE EARTH
The meek shall inherit the earth, and for the first time scientists on earth have touched the invasion .
IS THIS THE COSMIC PENTECOST
The descent of something invisible, unknown, that leaves no trace of its own, but effects everything it touches
---
THE WIMPS
The meek inheriting the earth.
The power of Pentecost coming down in a way that the Bible symbolically showed.

Earth on the 'Wimp highway'
By Roland Pease
Mysterious sub-atomic particles from another galaxy could be raining down on planet Earth, according to a collaboration of astronomers.
MYSTERIOUS SUB ATOMIC PARTICLES RAINING DOWN ON EARTH
CONNECTED TO QUINTESSENCE
CONNECTED TO PENTECOST
IS THIS WHAT WE HAVE CONSIDERED
THE DESCENT OF THE HOLY GHOST WITH ALIEN IMPLICATIONS?
When you consider the connection of Dark Matter, Wimps, Quintessence and Pentecost ,and you see that mysterious sub atomic particles are raining down on earth , you must consider the possibility that indeed this is Pentecost.
Let me show you this scientific statement together with the Pentecost representation in art.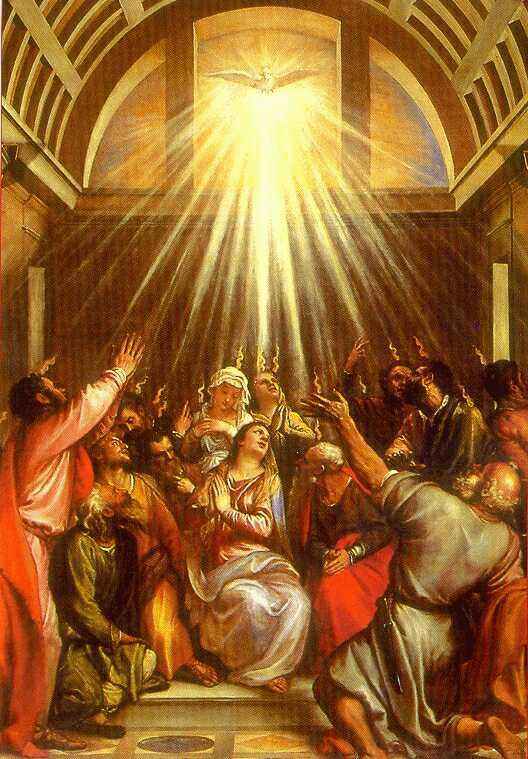 AGAIN THIS LINE FROM THE NEWS REPORT
Mysterious sub-atomic particles from another galaxy could be raining down on planet Earth, according to a collaboration of astronomers.
YOU HAVE TO WONDER DON'T YOU
Because even if you look at the painting, there has to be something coming down because the people in the picture see it.
THE PEOPLE IN THE PAINTING SENSE SOMETHING COMING DOWN TO EARTH
They sense something which means there is something with properties coming down to the earth.
---
Now let us go back to the Wimp Highway article.

The story concerns Wimps - standing for weakly interacting massive particles - which astronomers think may make up the bulk of the Universe.
For every kg of material made up from atoms like the ones we have in our bodies, or which make up the stars, there are up to 20kg of something completely different, whose principal quality is that it has never been actually observed directly by scientists.
ABOVE
FOR EVERY 1 THAT IS MATERIAL AND REAL
THERE IS 20 THAT IS IMMATERIAL AND REAL
THE WIMPS AS THE SPIRIT OR HOLY GHOST BEINGS?
So letís just fantasize here that the Wimps are the spirit or the higher light beings.
They make up the bulk of the universe and yet they have never been observed by scientists.
They are weak yet they are so many that their numbers overwhelm their strength.
They are coming to earth.
The meek shall inherit the earth.
The article goes on to say.

This seasonal variation has been a particular puzzle.
Should cosmic particles obey the cycles of the Earth?
The solution could come from a completely different branch of science.
In 1994, UK astronomers discovered a small galaxy just on the other side of our Milky Way galaxy, about to swallowed up by its larger neighbour.
Since then it has become clear that this Sagittarius dwarf galaxy, as it is been called, is actually orbiting over the poles of our own galaxy, with long streams of stars preceding and trailing the main body.
---
INTRODUCING PROF. KATHERINE FREESE
It was when dark matter expert Katherine Freese, from the University of Michigan, heard astronomer Heidi Jo Newberg, from the Rensselaer Polytechnic Institute, talk about these so-called tidal streams that an explanation for the puzzling seasonal Dama Wimp result started to crystallize.
"Part of this stream of stars is coming past our part of the galaxy, close to the Solar System," explains Heidi Newberg.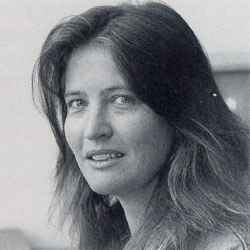 Prof. Katherine Freese
"Along with the stars being ripped out of the Sagittarius dwarf galaxy, there would be a large amount of dark matter and that would provide a Wimp highway that's coming right down on to the Earth," she said.
A wimp highway coming right down on to the earth.
Is this the spirit coming down to the earth?
Is this the Pentecost?
It certainly is the Quintessence.
---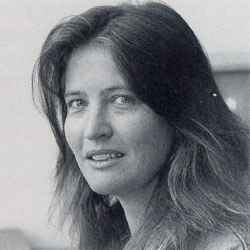 Prof. Katherine Freese
The argument is that we are stuck in the middle of a fast-moving stream of Wimps, billions passing through every square metre of the Earth (and our bodies) each second at speeds of over a million km/h.
But confirming that Wimps exist would only be the start of a bigger search - for the identity of what they actually are.
ABOVE: IS THIS WHAT WAS MEANT BY PENTECOSTAL HOLY GHOST POWER
GHOSTLY WIMPS PASSING THROUGH EVERY SQUARE INCH OF EVERYTHING?
I am about to show you an artists rendition of Wimps.
It portrays Wimps around and passing through our galaxy.
It gives you an idea about what is meant by the power of the holy spirit.
The massiveness of what we call light beings, the spirit world.
The world that exists everywhere but which we cannot see or feel and only as recent as last week were able to identify.
WIMPS
OR THE HOLY GHOST
HERE'S A PICTURE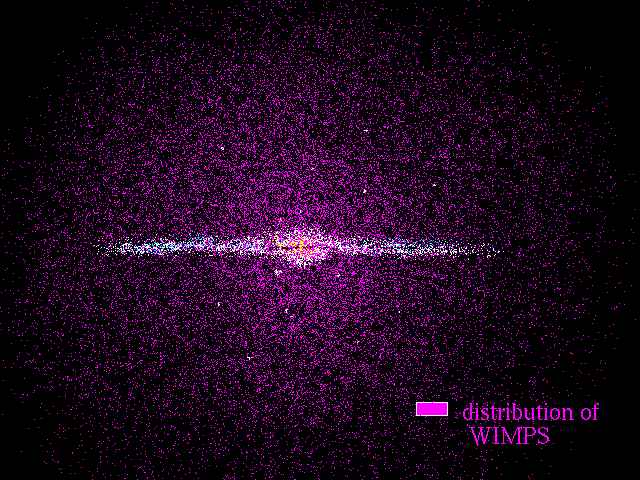 When you realize that wimps may be passing through us at a million miles per hour, it really shatters the religious theory about the stars and universe not having any effect on us as the religions try to assert when they put down astrology.
It makes no sense to think that we can live in the middle of all of this and it not effect us.
WELL READY OR NOT
HERE COME THE WIMPS
---
If You Can Donate, Or For DVD's, Flash Drives, Or E Books
Click
Here
TO RETURN TO THE HIDDEN MEANINGS HOME PAGE CLICK HERE