TRANSLATE THIS PAGE INTO ANY LANGUAGE
WHAT POWER ARRANGES
THESE THINGS ?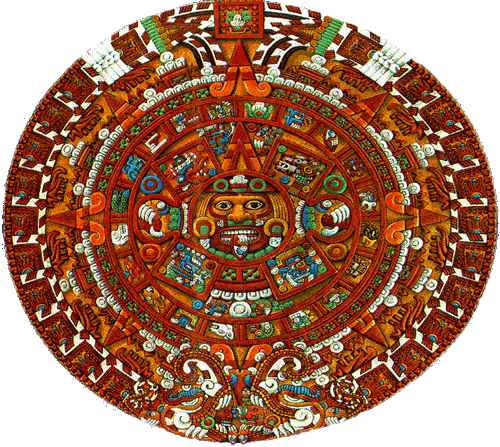 DECEMBER 21 2012
ENTRANCE TO THE NEW AGE
PACAL VOTAN
google image
PACAL VOTAN PREDICTED THE ADVENT OF THE NEW MIND
Pacal Votan of the ancient Mayans dating back to around 600 AD predicted the end of life on planet earth as we have known it and the advent of a new life, a new mind .
The beginning of the great change took place on Dec 21 2012 at 11:11am.
THAT DATE WAS THE COMPLETION DATE OF PISCES THE CHANGE WAS THE BEGINNING OF AQUARIUS
It also meant that in the years leading up to Dec 21 2012, changes would begin to take place which we experienced.
---
OBSESSION WITH MATERIAL
What we will experience as we move into Aquarius is a change in the mass mind that has become so infected with material inventions that has caused an obsession with profit and control, but has taken away its harmony with nature and the animals.
ABUSE AND NEGLECT OF NATURE
Pacal Votan knew that the obsession with the material things would cause us to abuse nature, and he predicted that the great change would come to correct the course of the human mind upon the earth.
We have been destructive towards the earth and abusive to the animals.
I opened the Huffington Post which is a news web site and I saw the following headline.
It could have been written by Pacal Votan Himself.
---
THE ANGRY EARTH
The Huffington Post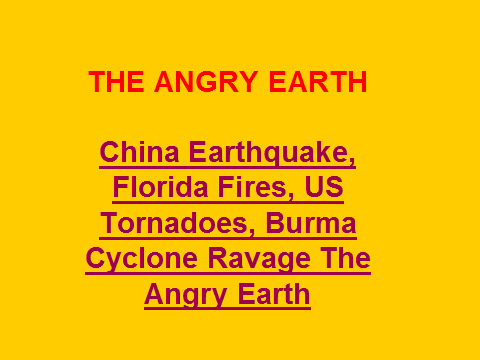 NONE OF THIS IS NEW
When we look at this we have to be honest and say none of this is new.
We have always had earthquakes, fires, tornadoes, cyclones etc.
But it's like anything else.
HAVE WE POURED GASOLINE ON THE FIRE ?
If you have a fire in a building that's bad.
But if that building is storing paint, or gasoline, that's much worse.
The concern has to be on conditions that may contribute to the problem.
A hurricane is bad but a hurricane that is fueled by very warm water is much worse.
---
HOW DOES NATURE STAND UP TO OUR INDUSTRIALIZATION?
The fact that we have always had these kinds of disasters still has to stand up to the conditions that are connected to our present technology, and industrialization, and what they do to fuel these situations.
In the same way that warm water fuels a hurricane or gasoline fuels a fire.
THINGS ARE NOT THE SAME AS THEY USED TO BE
In other words the nature we are living in now is not the same as the nature people lived in 100 years ago.
WE HAVE THE CONVENIENCES THAT SERIOUSLY IMPACT THE ENVIRONMENT
They did not have the conveniences we have today, but they also were not impacting the environment as we are today.
Starting 100 years ago we began developing all kinds of amazing things that have changed the environment we live in.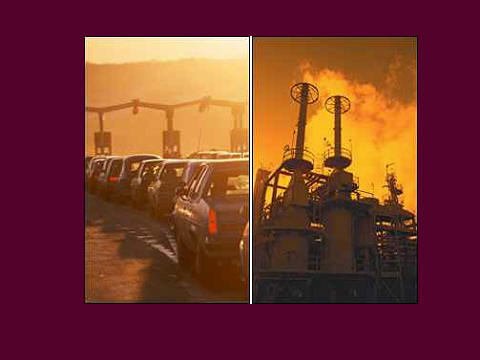 google images
YES OUR INDUSTRIALIZATION DOES HAVE AN EFFECT ON NATURE
---
THE POLAR BEAR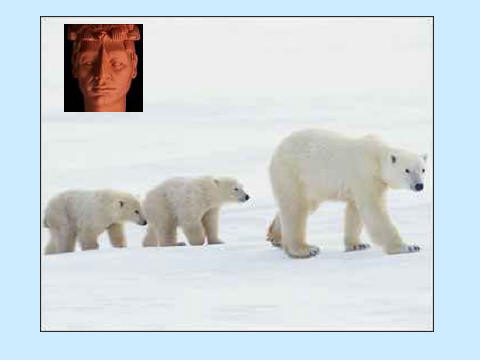 google images
THEY ARE A SYMBOL OF NATURE IN TROUBLE
There is a global warming disaster finally acknowledged by the US Government as it relates to Polar Bears.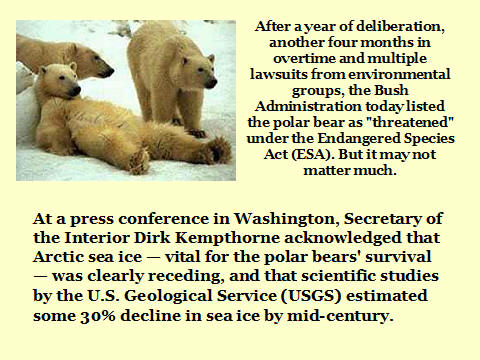 google image huffpost.com
READ ABOVE: THE POLAR BEARS LISTED AS AN ENDANGERED SPECIES.
ARCTIC SEA ICE RECEDING
google image
IS IT TOO LATE
THE ARCTIC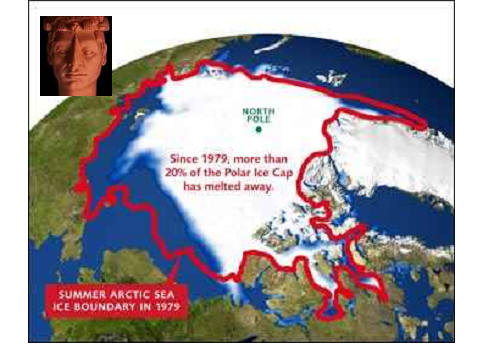 noaa plus google image of votan
Here you can see how the polar ice has melted away.
Something is happening.
---
THE NATURAL AND THE UNNATURAL
Global warming and global cooling are natural events.
But in this technological and industrial age, when global warming came along , we provided the gasoline in the form of our industrial pollution and instead of a simple fire we now have a holocaust.
---
PACAL VOTAN PREDICTED THIS IN 600AD
This is important because Pacal Votan predicted that all of this would culminate in a change of earthly existence
And he connected it directly to the earthly pollution that humans have brought upon the earth, and upon nature, and its wildlife.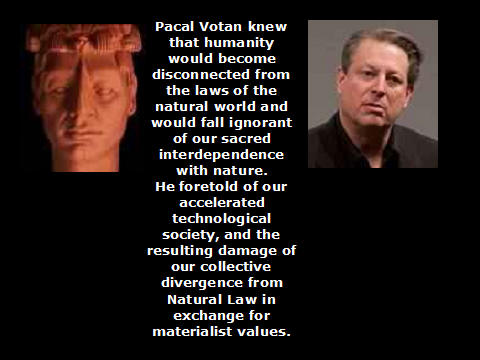 google images
READ ABOVE: PACAL VOTAN SAID HUMANITY WOULDDISCONNECT FROM NATURAL LAW BECAUSE OF MATERIALIST VALUES.
THIS IS THE ANTHEM THAT AL GORE CARRIED AS WELL.
YOU MAY HAVE A POLITICALLY NEGATIVE OPINION OF AL GORE BUT WHAT HE WARNED US ABOUT CLIMATE CHANGE IS CORRECT.
The difference is that when Pacal Votan said it in 600ad the earth was still pristine and had not been spoiled by the industrialization he predicted would happen.
---
WE DON'T HAVE A LOT OF TIME DO WE ?
You must be aware that what Al Gore is saying now is what Pacal Votan said in 600 AD when we had 2000 years to do something about it.
---
JUST A COINCIDENCE ?
You cannot simply look at something like this and say that it's just a coincidence.
What I mean by that is Pacal Votan in 600 AD said we would have problems at this time because of our abuse of nature, and now, we are having problems with climate change.
COINCIDENCE, OR IS IT SYNCHRONICITY?
Synchronicity is what Carl Jung called, coincidence with a purpose.
Coincidence with a purpose says, if we do not learn the lesson and correct the problem, we will repeat it over and over.
google images
The connection between Pacal Votan and current climate change is synchronicity, coincidence with a purpose.
Coincidence orchestrated by a higher mind.
Here is a perfect example of history repeating itself until we learn the lesson and correct the problem.
---
ELEVEN NINETY AND NINE ELEVEN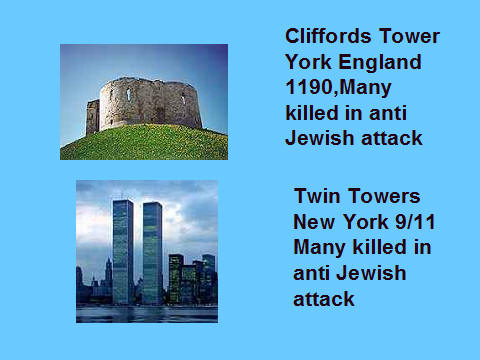 READ ABOVE: IF WE HAD LEARNED THE LESSON
OF BIGOTRY AND HATE IN 1190 WE WOULD NOT
HAVE HAD TO REPEAT IT ON 911.
WE STILL HAVEN'T LEARNED IT, SO IT WILL HAPPEN AGAIN
When the physical realm fails to learn the lesson then it is doomed to repeat it.
In this case violence is used to resolve religious problems.
Instead of talking to each other, the human reaction is to attack.
And so the problem goes on and the same disaster must be repeated.
---

google image
As Bob Dylan said, when will we ever learn?
Here is another synchronous event.
Coincidence with a purpose.
A story of a man leading his people out of bondage.
The same story acted out thousands of years later.
---
MARTIN AND MOSES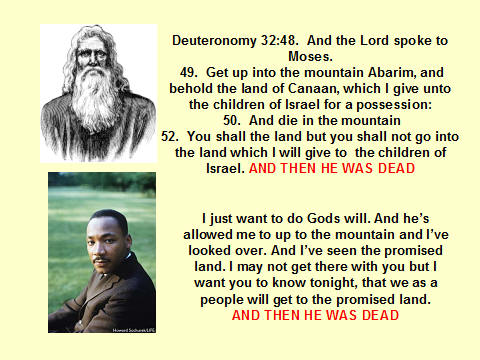 google images , dr king, bible
READ ABOVE: BOTH LED PEOPLE OUT OF BONDAGE
BOTH WERE TAKEN TO THE MOUNTAINTOP TO SEE THE PROMISED LAND
NEITHER WERE ALLOWED TO ENTER
BOTH DIED THE NEXT DAY
WHO WROTE THE SCRIPT?
Is there a supreme light?
Do you want to call it God ?
Or do you want to call it coincidence?
Call it whatever you want, but can't we get the picture?
It is so obvious.
The stage is set and the human mind is allowed to learn
and correct that which is incorrect.
---
THE STORY OF OPPRESSED PEOPLE
THE STORY HAS TO BE REPEATED AND REPEATED
The Moses story of oppressed people looking to be free.
The Martin Luther King story of an oppressed people looking to be free.
RUN THE STORY AGAIN
THEY DIDN'T GET IT THE FIRST TIME
And the reason that the second story had to be acted out is because we never learned the lesson of the first story.
The religious people like to tell about Moses opening the red sea, and the plagues on Pharoah, but they totally miss the point of the story which is about oppressed people here on planet earth.
---
THE OPPRESSORS
GOVERNMENT, CORPORATIONS,
AND RELIGION
People oppressed by those three.
It is something that we have not learned to this day.
We still wave the flags and sing the anthems and let the oppression continue.
But now the time seems to be running out.
google image
PACAL VOTAN POINTED TO 2012
THERE IS CONFUSION AND TURMOIL ON THE PLANET
BOTH HUMAN AND WEATHER, AND IT SEEMS TO
GROW DAILY.
CONFUSION AND TURMOIL PRECEDE CHANGE
OUT OF CHAOS COMES CREATION
---
IT HAPPENED FOR
THE FIRST TIME IN 26,000 YEARS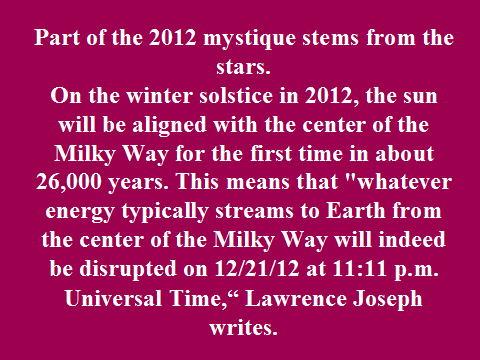 lawrence joseph
READ ABOVE: THE ENERGY STREAMS TO THE EARTH WILL BE DISRUPTED.
DISRUPTED FOR THE FIRST TIME IN 26,000 YEARS.
The first time in 26,000 years.
I would say that is significant.
No one can say it doesn't mean anything because it has never happened before.
You do not want to be complacent and think that because Dec 21 2012 has passed that it is over.
It is not over, it has just begun
And then we see this from NASA
---
NASA SAYS
SOMETHING IS GOING TO HAPPEN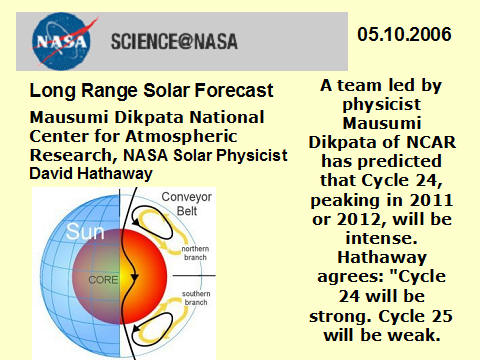 READ ABOVE: SUN CYCLES OF WILL BE INTENSE.
The National Center for Atmospheric Research and NASA agreeing that the sun cycle peaking in 2011 or 2012 was intense.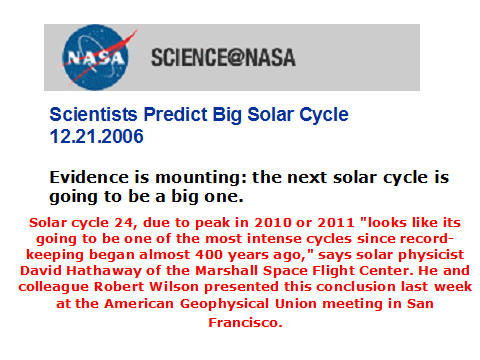 READ ABOVE: THE 2011 SUN CYCLE
THE MOST INTENSE SINCE RECORDS HAVE BEEN KEPT
The cycle predicted for 2010 or 2011 was to be the most intense since records were first kept almost 400 years ago.
If that isn't enough, what else did NASA predict for 2012
---
THE SUN IS GOING TO FLIP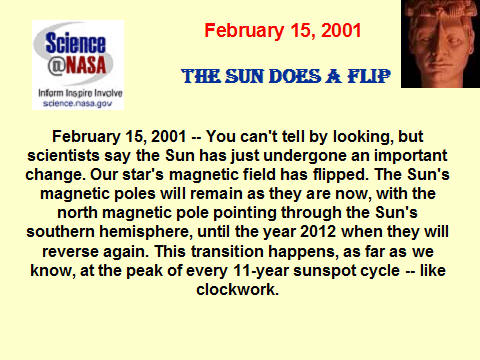 READ ABOVE: IN 2012 THE SUNS POLES REVERSED AGAIN
Not only did NASA say that the solar cycle was to be the most intense since records have been kept , but also at the same time the Sun did an 11 year flip.
---
AN 11 YEAR SUN FLIP IN 2012
So it's not just Pacal Votan who predicted serious earth events during this time. Here we also see that NASA has made a prediction of an intense solar cycle and a sun flip during the same time frame as Votans prophecy.
---
NASA AND PACAL VOTAN A CURIOUS DUO?
PACAL VOTAN AN ANCIENT ASTRONAUT?
And if you think it is silly to compare the statement of Pacal Votan from 2000 years ago to NASA of today, take a look at the carving that is on the cover of what is supposed to be the tomb of Pacal Votan.
SURE LOOKS LIKE AN ASTRONAUT DOESN'T IT?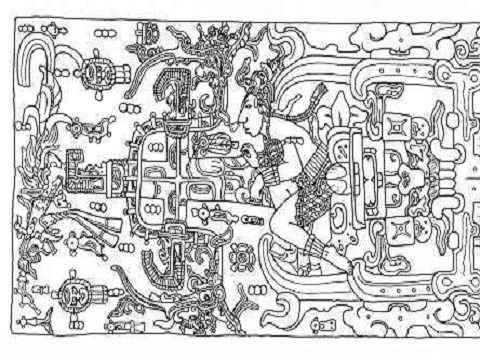 google image
This is the actual carving on the lid of the tomb alleged
to be that of Paccal Votan.
---
WHO WAS PACAL VOTAN REALLY?
IS THERE A SUPREME PHOTON, A GOD FIGURE, INVOLVED IN ALL OF THIS ?
A God figure, a supreme Photon in the quantum realm, an invisible intelligence , doing something for a particular purpose.
Remember these coincidences ?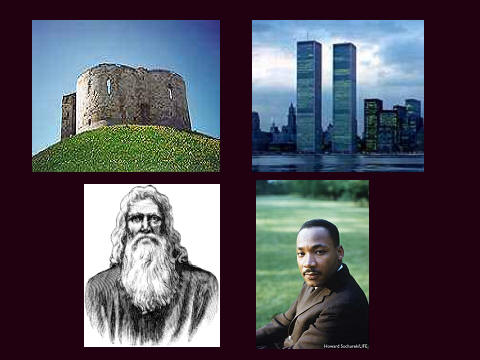 google images
ABOVE COVERED EARLIER IN THIS STUDY
1190 AND 911 AND MOSES AND MARTIN LUTHER KING
---
WHAT POWER ARRANGES THESE THINGS?
Do these strange events appear to have been arranged by some intelligence, and if you say yes, then ask yourself again , is what you are seeing in the world today also under the control of some quantum power that we call God?
OUR CONCERN HAS ONLY BEEN WITH
OUR MATERIAL "THINGS"
google image
PACAL VOTANS CONCERNS WERE THE SAME AS JESUS.
WE BECAME SO EMBEDED INTO THE LEFT SIDE THAT WE LOST TOUCH WITH THE RIGHT
The problem that Pacal Votan saw, was that when we began to invent all of our amazing technological things that put electrical energy and industrial pollution into the atmosphere, we would get so consumed in the corporate materialism , that we would forget our responsibility to live in harmony with nature.
---
THE EARTH AND ALL NATURE HAS LIMITS
This is exactly what has happened, and the pure truth is that the world was created with limits on what it could handle.
WE HAVE DEVELOPED HEAVY INDUSTRIALIZATION THAT HAS PLACED THE EARTH UNDER GREAT STRESS.
At the same time as proved by Votan there was a knowledge that the human race would become very industrialized, and activate many new energy devices that would effect the operation of the earth and its atmosphere.
HOW MUCH CAN YOU POUR IN BEFORE IT IS TOO MUCH?
Pacal Votan knew that the earth had a limit as to how much it could handle and he also knew that nature or God, would not allow that limit to be transgressed.
Thus he pointed to the time of change to begin in 2012
---
LET US RETHINK THE SUBJECT OF
NATURAL DISASTERS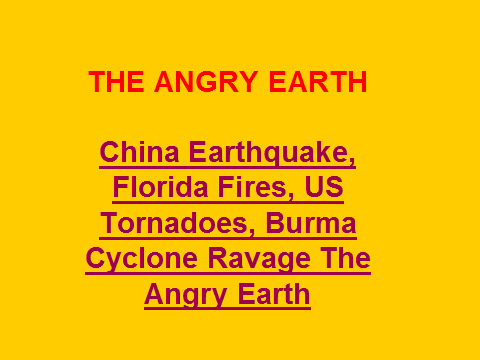 We were reeling in this country when the hurricane demolished much of New Orleans and as hurricanes battered Florida .
We witnessed things that are beyond comprehension.
Hundreds of thousands dead from a cyclone in Burma, over 50,000 dead from an earthquake in China.
The tsunami that took such a toll in Thailand.
When you see all of what is happening around us, and you look at the ancient prophecy of 2012, along with NASA's statements of severe solar disturbances it must give us pause.
Let us also consider Supernova 1987a, and Eta Carina.
Supernova1987a supposed to explode any time with light to be visible on earth during the day.
You have to wonder about great changes don't you?
---
HAVE WE WITNESSED A NATURAL ARMAGEDDON ?
If you ask the people in China where 50,000 people have died, or the people in Burma where hundreds of thousands have died, or those people who were swept away in the Tsunami , they will relate causes of great fear.
IT'S JUST NEWS AS LONG AS WE ARE NOT INVOLVED
Here in this country we have seen destruction that is quite awesome from all kinds of storms and fires, but most people go along paying no attention, as long as it does not get too close to their house.
---
THE BIBLE SPEAKS OF WHAT HAS BEEN AND WHAT MAY BE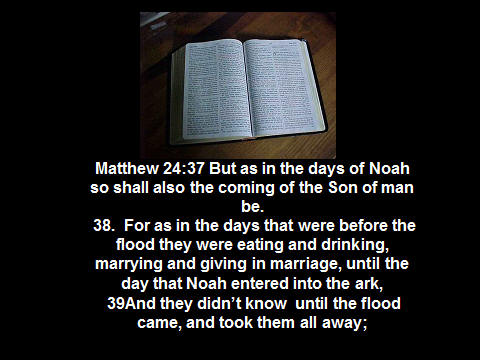 READ ABOVE: HUMAN NATURE IS NOT TO HEED THE WARNING.
JUST CONTINUE HAVING A GOOD TIME, UNTIL SUDDENLY EVERYTHING IS GONE
THESE STORIES ARE MYTHOLOGY THEY SPEAK IN SYMBOLS AS TO WHAT WILL HAPPEN
There is not going to be a flood such as Noahs, which also never happened.
The scripture is the mythology of nature, to tell you a deep and meaningful truth.
---
OUR ATTACHMENT TO MATERIAL
THINGS IS MORE IMPORTANT TO US
THEN OUR ATTACHMENT TO NATURE
What that scripture is saying is that people do not take anything seriously that may get in the way of their attachment to the material things.
google image
But as the scripture makes clear unless you take nature seriously and understand your place in its upkeep, when it cracks, you will fall in the crack, and as you are on the way down you may have a fleeting recollection that our actions have been wrong.
---
IS IT TOO MUCH FOR YOU?
YES IT TRULY IS.
You have every right to say, this is too massive, I can't stop this.

That is true.
NOBODY HAS ASKED YOU TO DO ANYTHING BUT PREPARE YOUR MIND
You have been asked to prepare yourself for whatever happens by reuniting the connection between you and the higher mind, between you and what you call God.
Which truly is between you and nature.
YOU MUST ACQUIRE A NEW INSTINCT
The only way on the face of the earth to do that, is to open yourself up to the right hemisphere of your brain in meditation, so that you may receive the electro magnetic information, which will be a new form of instinct that will communicate with you as to what to do as the time gets closer.
---
THE INFORMATION YOU NEED COMES FROM PHOTON AND THE ONLY WAY YOU CAN RECEIVE FROM PHOTON IS IN MEDITATION
There is no other way that the information can come to you and be placed in your mental computer machine then by meditation.
There is no one who can talk to you or show you anything, etc.
It must come as a new invisible electro magnet packet of information
YOU NEED TO RECEIVE WHAT ANIMALS ALREADY HAVE
When the Tsunami took place, many people died and were swept away.
But rescuers found something very strange there.
google image
They didn't find bodies of any wild animals.
Why not?
Because they have the instinct that people do not have.
ANIMALS KNOW FROM GOD
GOD ONLY TELLS US WHERE THE INFORMATION IS STORED.
IT IS UP TO US TO GO AND RETRIEVE IT
Animals know in advance, when nature will be disruptive, and dangerous, and they go to higher ground.
That is what they did in the Tsunami.
THAT DAY PEOPLE WERE DOING THE SAME THING THE BIBLE SAYS THEY DID IN NOAH'S TIME.
THEY WERE HAVING A GOOD TIME AND GOING ABOUT THEIR NORMAL BUSINESS DAY.
GENESIS: UNTIL THE WATERS SWEPT THEM AWAY
When the people sat and laughed and were having a normal day at the beach unaware as to what was coming, the animals were moving to the highlands and were safe.
That instinct is an uninterrupted God connection.
It is a connection that tells them when dangerous natural things are about to happen.
Your dog or cat has the same thing.
But you do not !
google image
Well we have been told by the ancient Pacal Votan, that there is natural trouble brewing.
---
MEDITATION TO RECONNECT THE NATURAL INSTINCT WE HAVE LOST
The only way on the face of the earth where you can receive the same information packet that the animals have is to sit in meditation, and sit there over and over.
What will be fulfilled as you sit in the darkness of meditation is what came forth from the Biblical Jesus.
SIT IN THE DARKNESS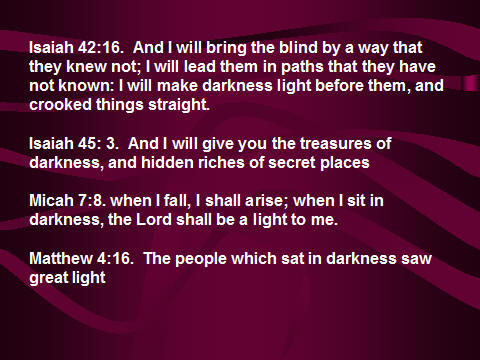 READ ABOVE
I WILL MAKE DARKNESS LIGHT
I WILL GIVE YOU THE TREASURES OF DARKNESS
WHEN I SIT IN DARKNESS THE LORD WILL BE A LIGHT
THE PEOPLE WHO SIT IN DARKNESS SAW GREAT LIGHT
What do you think this is talking about?
If your eye be single your body will fill with light is what Jesus said.
---
MELATONIN FLOWS ONLY IN THE DARK
The pineal gland of the brain is the single eye or light receptor, and the melatonin which carries the light flows only in darkness.
Don't you see, "the people who sat in darkness saw great light."
THE LIGHT MEANS TO BECOME ENLIGHTENED, TO UNDERSTAND
That does not mean a flash of light, it means you become enlightened and know.
It means you become enlightened like the animals,and know what to do when nature becomes angry.
It will instruct you what to do as we move into Aquarius the time of great change which began on December 21 2012.
google image
---
HOW CAN THIS ELECTRICAL CONNECTION BE RESTORED BETWEEN YOU AND THE SUPREME PHOTON ?
You may wonder just how electrical you are, and how your body can be fine tuned to the new electro consciousness that I am speaking of.
SOMETHING SHOCKING
Here is something that has shocked the scientific community, and I might add I find it quite shocking as well.
---
SCIENCE HAS FOUND ELECTRICITY IN YOUR BODILY CELLS
It says there are mighty electric fields found inside of living cells.
That's you and me.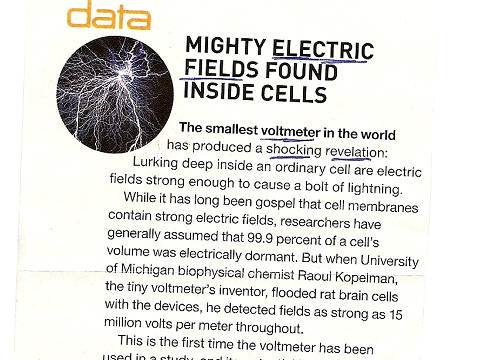 READ ABOVE: INSIDE AN ORDINARY CELL ARE ELECTRIC FIELDS STRONG ENOUGH TO CAUSE A BOLT OF LIGHTNING.
Electric fields within cells that are strong enough to cause a bolt of lightning are inside of your body.

15 MILLION VOLTS IN ONE TINY CELL IN YOU
Can you imagine this?
Fields as strong as 15 million volts. In just one cell.
How strong is that?
THIS STRONG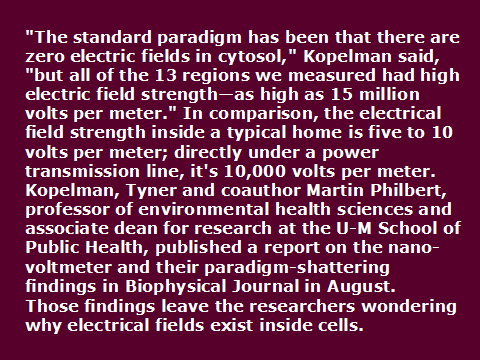 READ ABOVE: THERE IS MORE ELECTRICAL FIELD STRENGTH IN ONE OF YOUR CELLS THEN IN A TYPICAL HOME.
ABOVE IT SAYS:
RESEARCHERS WONDER WHY ELECTRICAL FIELDS EXIST INSIDE OUR CELLS
The last line is amazing.
Why do electrical fields exist inside cells?
WE KNOW DON'T WE?
This electro magnetic connection is to the supreme photon, you call God , and now we know to all of our amazement, that we have enough electrical power within one of your cells to generate a bolt of lightening.
That's real God stuff
---
THE LIGHTNING BOLTS OF ZEUS
Maybe now we can understand what the mythology of Zeus throwing lightning bolts means.
It means the great power of photon that is God ,in each one of our cells, exchanges this energy in meaningful power we call spirit.
---
WHERE HAVE ALL THE BEE'S GONE

google image
BOB DYLAN SANG
WHERE HAVE ALL THE FLOWERS GONE?"
HE MIGHT RE TITLE THE SONG NOW TO SAY,
WHERE HAVE ALL THE BEES GONE.
This is something that is happening that we are paying very little attention to.
The disappearance of bees.
Yes it's happening. and began in earnest just before Dec 21 2012
google image
---
WHERE HAVE ALL THE BEES GONE?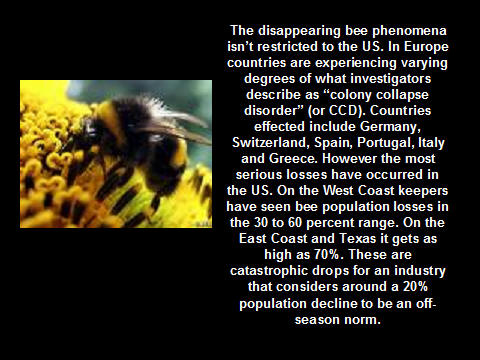 huffpost
READ ABOVE: BEES DISAPPEARING ALL OVER THE WORLD.
LOSSES OF 30 TO 60%
CATASTROPHIC DROPS
Here is another prophecy from a brilliant mind that is somewhat frightening.
ALBERT EINSTEIN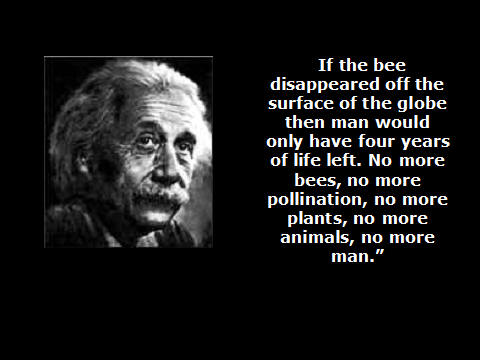 READ ABOVE: WHEN BEES DISAPPEAR HUMAN LIFE HAS ONLY 4 MORE YEARS
The Bees are not gone yet.
But it's the Noah story all over again
We can correct the bee disappearance .
We can change our neglect of nature.
If we do those things, then the change will be just as Pacal Votan said.
A new mind, a new understanding , and a new relationship with nature & each other..
BUT ARE WE WILLING?
If we are willing, we can all flow into the new age hand in hand with mother Earth.
The door of December 21 2012 has been opened.
Now we enter together
---
YOUR MEDITATION CAN MAKE YOU WILLING
This makes your meditation even more significant, and also makes the prophecy of Pacal Votan, even more meaningful.
We have totally lost our interaction and harmony with nature.
IF THE BEES ARE DISAPPEARING, WHY ARE THEY DISAPPEARING?
This comes from the web site December 212012.com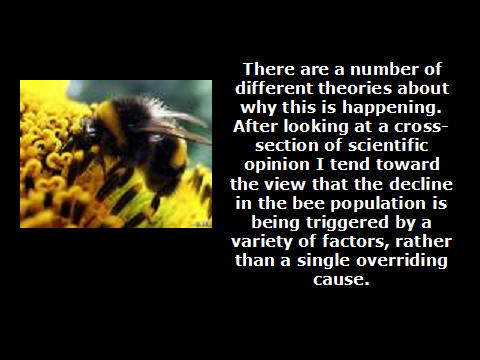 READ ABOVE: WHY IS THIS HAPPENING
A VARIETY OF FACTORS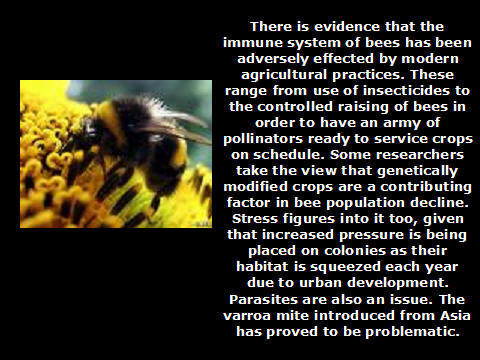 READ ABOVE: INSECTICIDES, CONTROLLED RAISING OF BEES.
GENETICALLY MODIFIED CROPS. STRESS PRESSURES FROM LOSS OF HABITAT. PARASITES.
WE HAD BETTER INCLUDE NATURE WHEN WE PLAN TO BUILD, AND HARVEST FOR OURSELVES
So we cut down the trees because we need more parking lots.
And we concoct all kinds of poisons to get rid of the pests that effect our income.
We call them pests because we really do not know what their purpose is.
And we build everywhere possible and drive nature into oblivion and the bees die .
Pacal Votan told us about Dec 21 2012 and the bees are disappearing.
There are people in power who can begin doing something about this.
But they have taken the stand that the economy is more important.
---
WHAT CAN YOU DO AND WHAT SHOULD YOU DO ?
START BUILDING YOUR ARK
I suggest that you begin to build your ark which is your inner place of meditation.
YOU KNOW CHANGES ARE COMING,
YOU ARE FULLY AWARE
Just like Noah, you are aware of great changes to come.
If you build your inner ark of meditation, the storm will come, but you will be safe, and eventually rise to the mountain top of the new age, the new creation.
Remember Pacal Votan did not predict the end of the world but rather the end of the age.
We can prepare ourselves now by a change of mind through meditation to move into the new age as theold one ended on December 21 2012.
If you do you will have nothing to fear. If we change our ways as we move beyond 2012
We will see together.
It's not the end, it's truly just the beginning.
CAN THIS BE OUR PRAYER TO ONE ANOTHER ?
May we who enter this new creation understand what we have done and dare not repeat it.
May we instead live in harmony and compassion with nature
---
I DO NEED YOUR HELP
FOR PAY PAL CLICKHERE

FOR NON PAY PAL CLICK HERE

BILLS VIDEOS ON FLASH CLICK HERE

BILLS E BOOKS CLICK HERE

BILL'S DVD'S

CLICK HERE

TO RETURN TO THE HIDDEN MEANINGS HOME PAGE CLICK HERE

Non Profit Org. Under New Age Christian Village Church AKA Hidden Meanings
INDEX
| | |
| --- | --- |
| Al Gore | Al Gore |
| Albert Einstein | Albert Einstein |
| Bob Dylan | Bob Dylan |
| Carl Jung | |
| Google Images | |
| Huffington Post | |
| King James Bible | |
| Marshall Space Flight Center | David Hathaway |
| Martin Luther King | Martin Luther King |
| | David Hathaway |
| Secretary Of The Interior Dick Kempthorne | Dick Kempthorne |
| US Geological Service | |
| Where Have All The Flowers Gone Bob Dylan | Bob Dylan |